Text: Owain Mckimm
Photos: Taitung County Government
Green Island may be tiny, but what it lacks in size it more than makes up for in rugged volcanic scenery, startling political history, and a tropical sense of abandon. Its hot springs and teeming coral reefs draw hundreds of thousands of visitors each year, almost all of whom whiz round the island on motor scooters. For those who perhaps want to take things a little slower, the island's compact size makes exploring by bicycle not just a possibility but a pleasure, and gives you the chance to avoid the irony of a gasoline-fuelled "Green" Island rampage to boot.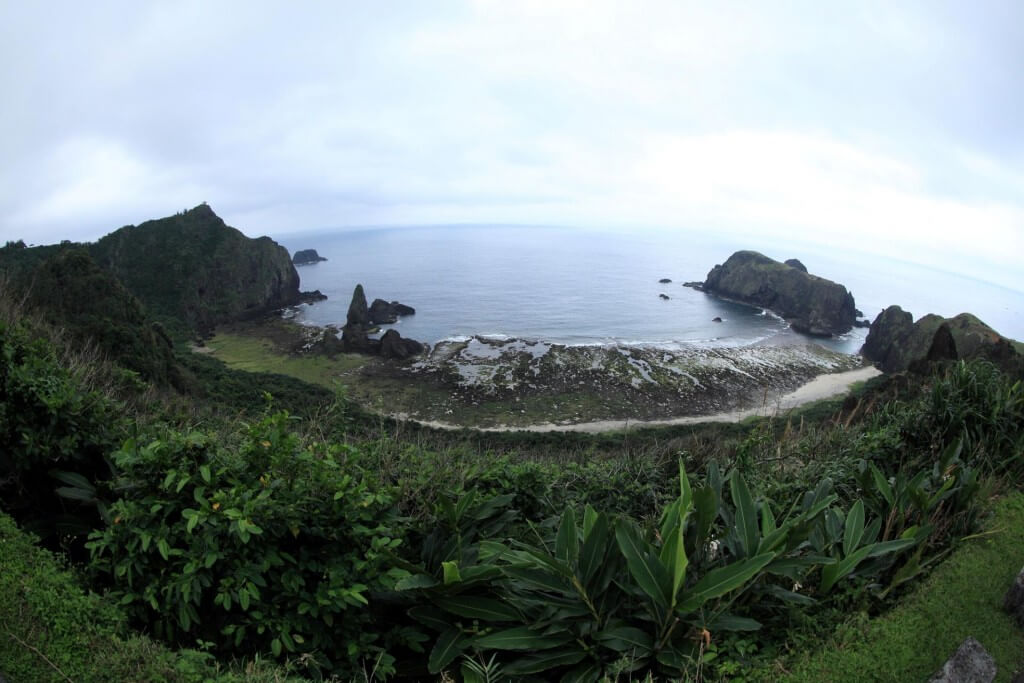 On a recent outing with friends, after arriving by ferry at Nanliao Harbor (南寮漁港) our first port of call is our guesthouse, where we drop our bags and rent our new wheels. Most, if not all, of Green Island's guesthouses offer packages when you book, which include ferry tickets (notoriously tricky to book by yourself), scooter rental, and a variety of activities such as snorkeling, guided hiking tours, and night safaris. Our package, booked through a cycling-adventure company, includes bicycle rental as well.
The island is encircled by a 20km ring road, and doing a full circle by bike takes a good three hours, longer if you want to explore the sights in any detail. Heading north along the west coast, we quickly enter Nanliao (南寮), the island's main village and a typical seaside strip replete with dive shops, restaurants, and beachwear suppliers. Come nightfall, a few bars open for those who want to stay up late; for others, a beer from one of the convenience stores enjoyed on the promenade is just as pleasurable.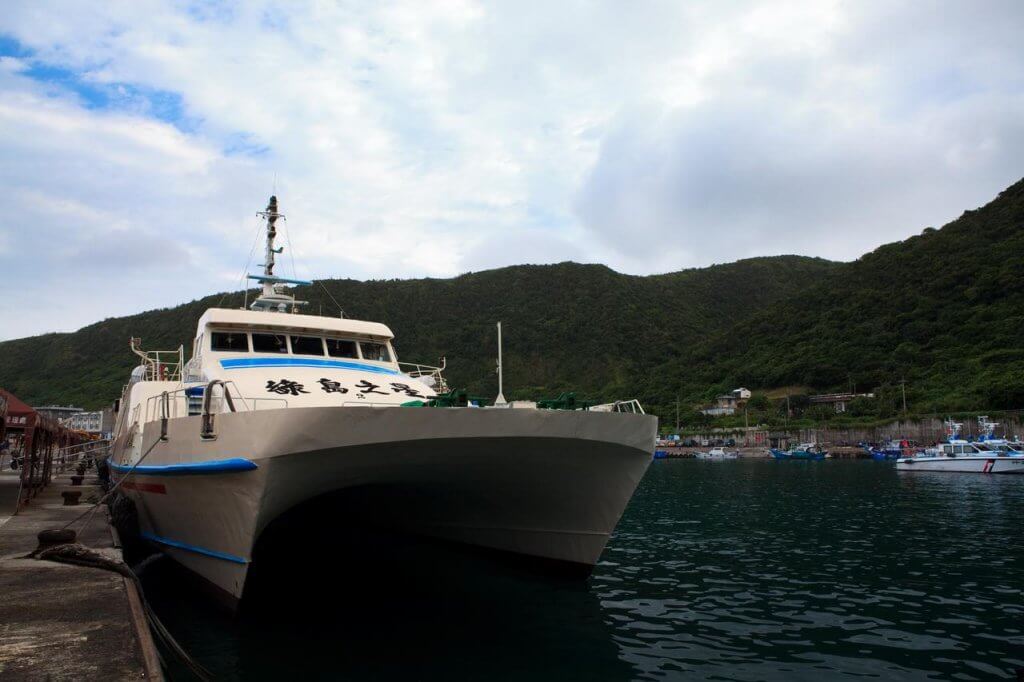 Nanliao is a fine place to grab lunch. Seafood dominates the menus of Green Island's restaurants, and the local specialty is fish boiled in a mixture of brine and ginger (to give it a spicy kick). Come spring, flying fish are carried past the island by the Kuroshio Current, and start appearing on the restaurants' menus. Lightly fried, they are a crispy-skinned, tender-fleshed delight. Seaweed soup is another island favorite, made with the abundant free produce that clings to the reefs skirting the coastline. During your trip you might even catch a glimpse of islanders poring over rock pools in the hunt for this oceanic bounty.
Soon after rounding the island's northwest corner and stopping for a quick look at the lighthouse there, we arrive at the Green Island Human Rights Culture Park (綠島人權文化園區). This huge one-time prison complex reveals the darker side of the island's past. During Taiwan's period of martial law (1949~1987), thousands of political prisoners were shipped off to Green Island to perform hard labor and undergo thought reform. The park's most striking feature is the high-security fortress, which has the dry title Oasis Villa (綠洲山莊).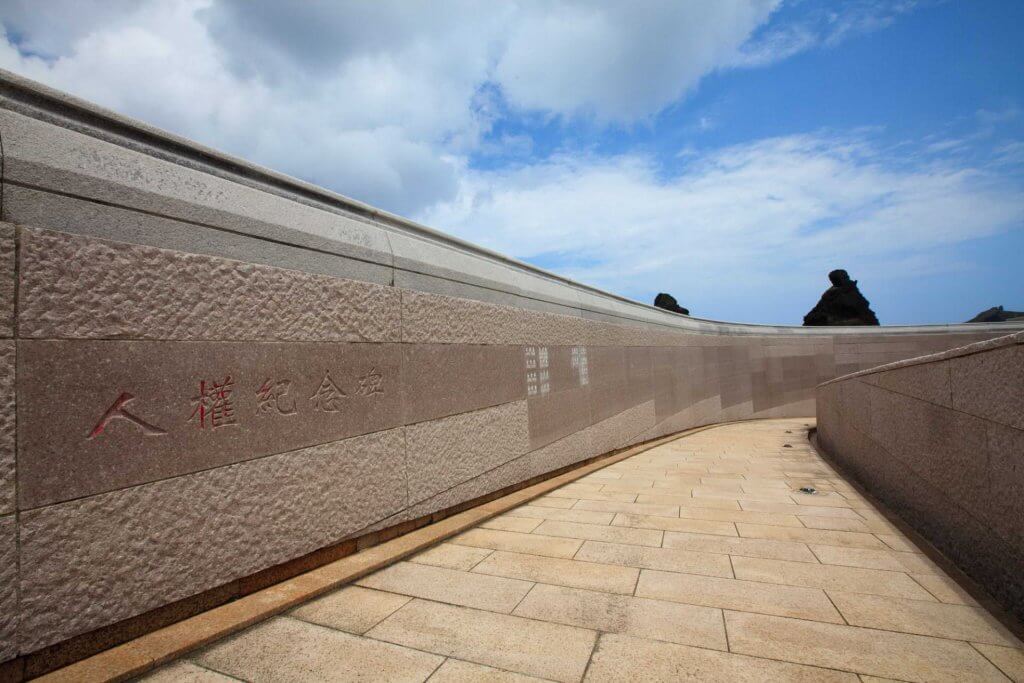 Four wings radiate from the building's hexagonal central hub, giving the appearance of a giant "x" on the landscape. The cells, which ten or more prisoners were forced to share, are spartan – whitewashed with wood-panel flooring and a squat toilet-cum-shower area with shin-high borders tiled a soul-destroying salmon pink. It's a somber place, and though the information boards are Chinese only, there is something haunting in just seeing the pictures of the men who were incarcerated here, some as they were then, others when they visited years after their release.
From here the road becomes a torturous climb for cyclists, though one that offers glorious views of the prison below. Eventually, we arrive at Guanyin Cave (觀音洞), a limestone cavern converted into a temple to Guanyin, the Goddess of Mercy. The cave houses a stalagmite in the (approximate) shape of the goddess, who faces the cave wall with her back to the worshiper. A sheet of stainless steel set on the alter acts as a mirror for her face, and it's considered respectful to caress the mirror after praying to give thanks for your blessing. A greater blessing for the tired cyclist, however, can be found outside the cave in the form of a food court.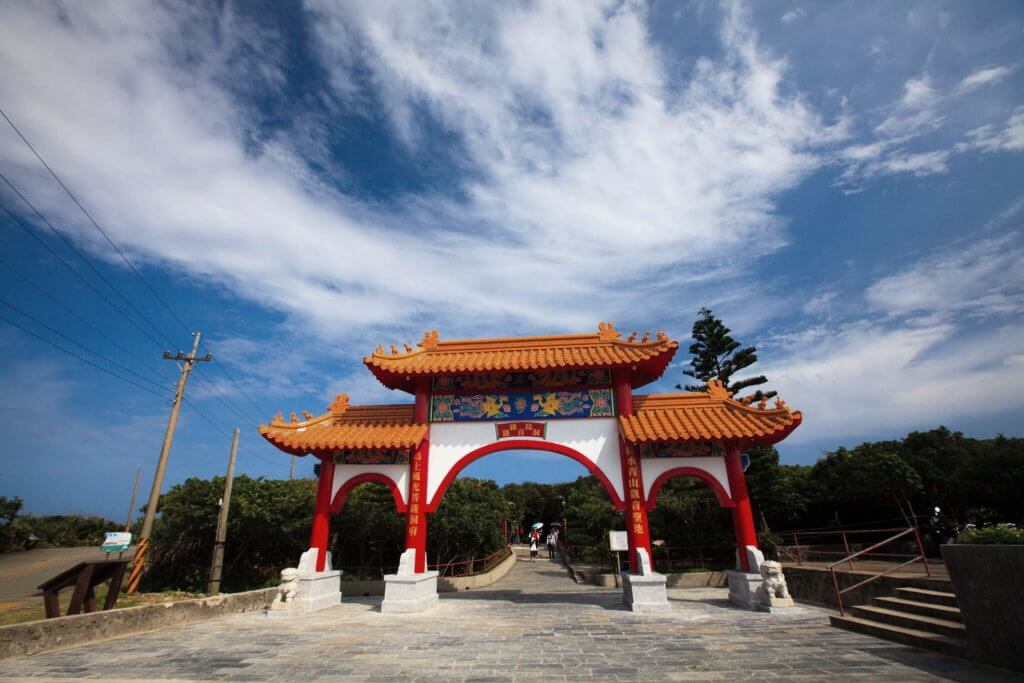 Climbing higher still, on the near crest of a steep incline we come to a sign for the Little Great Wall (小長城), a set of steps and viewing pavilions that undulates over the nearby promontory in a manner that recalls China's famed landmark. From the topmost pavilion, there is a great view over Haicanping (海參坪), a bay formed by the erosion of a volcanic crater, and at the far end we can see two distinctive rock formations – the Pekinese Dog (哈巴狗岩) and Sleeping Beauty (睡美人岩). The Pekinese Dog requires a slight suspension of disbelief, but Sleeping Beauty, body exuding from the cliffs and head resting in the ocean, is a magnificent sight.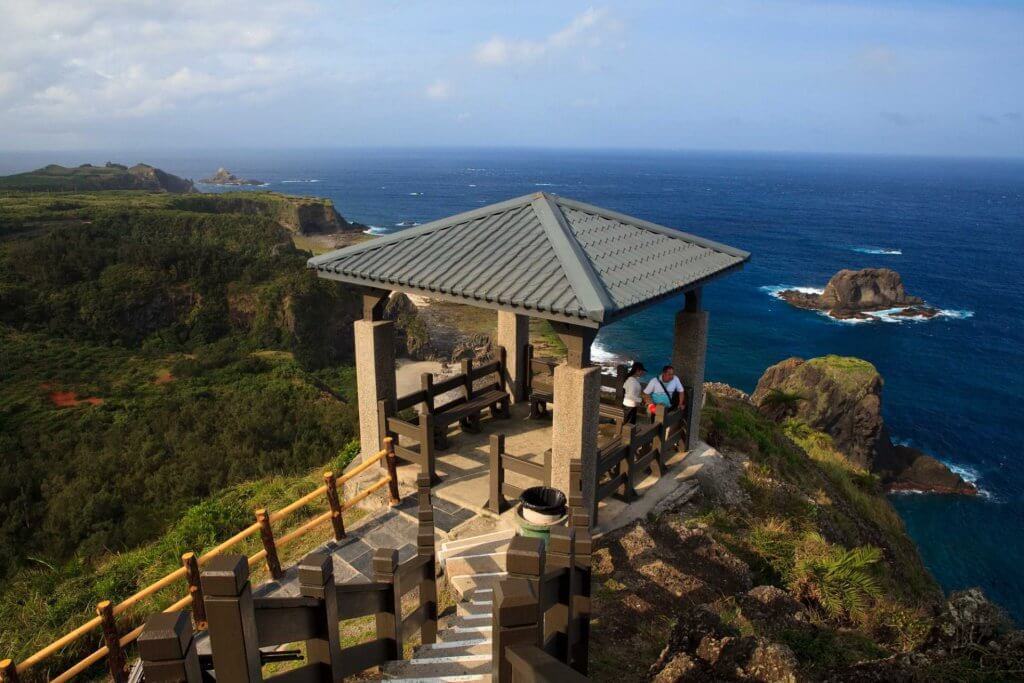 From here, it's a merciful downhill stretch most of the way to the Zhaori Hot Springs (朝日溫泉), where you can soak your aching calves in one of the few saltwater hot springs in the world. The springs are split into two sections, a set of modern tiled pools, which are temperature-controlled, and a set of three circular stone pools which lie on the tidal flat, surrounded by jagged reef rocks. The water temperature in the latter area is controlled entirely by geothermal heat, the tide – which floods the pools twice a day – and the sun.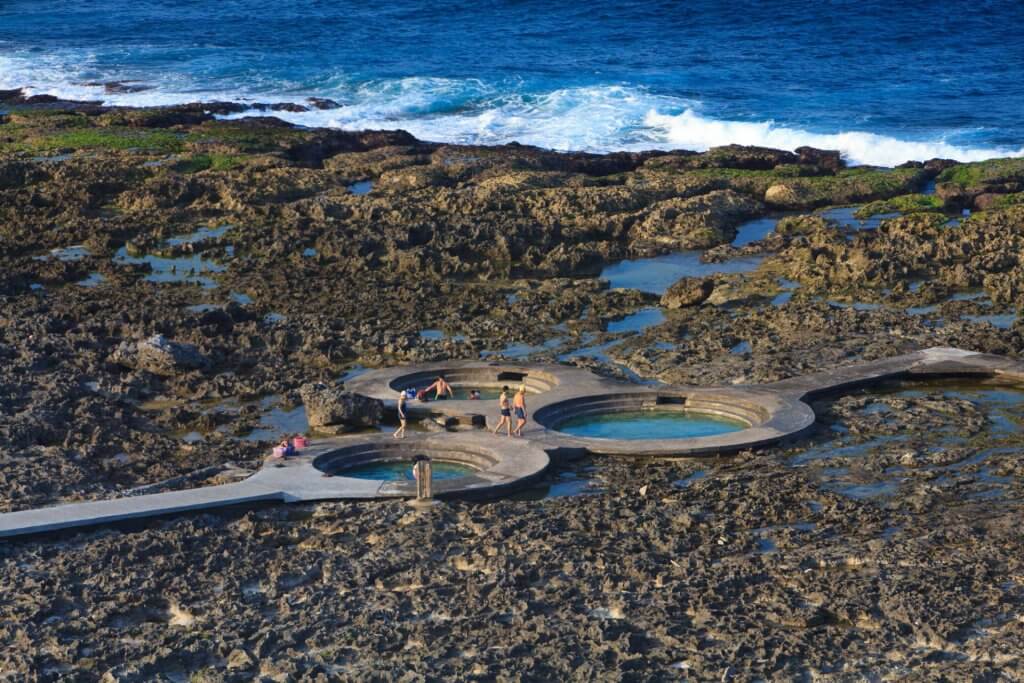 We scamper down to the stone pools for a dip, and find the temperature a pleasant 30-something degrees. Surprisingly, the water is clear and odorless, despite having a mild sulfur content, and leaves your skin feeling silky despite the salt content. In high-season (May to September) the pools are open from 5am to 2am, so late-night as well as pre-sunrise dips are possible. Taking a soak in the cool of pre-dawn, before the scorching tropical sun makes the idea of taking a hot dip unbearable, is quite an experience.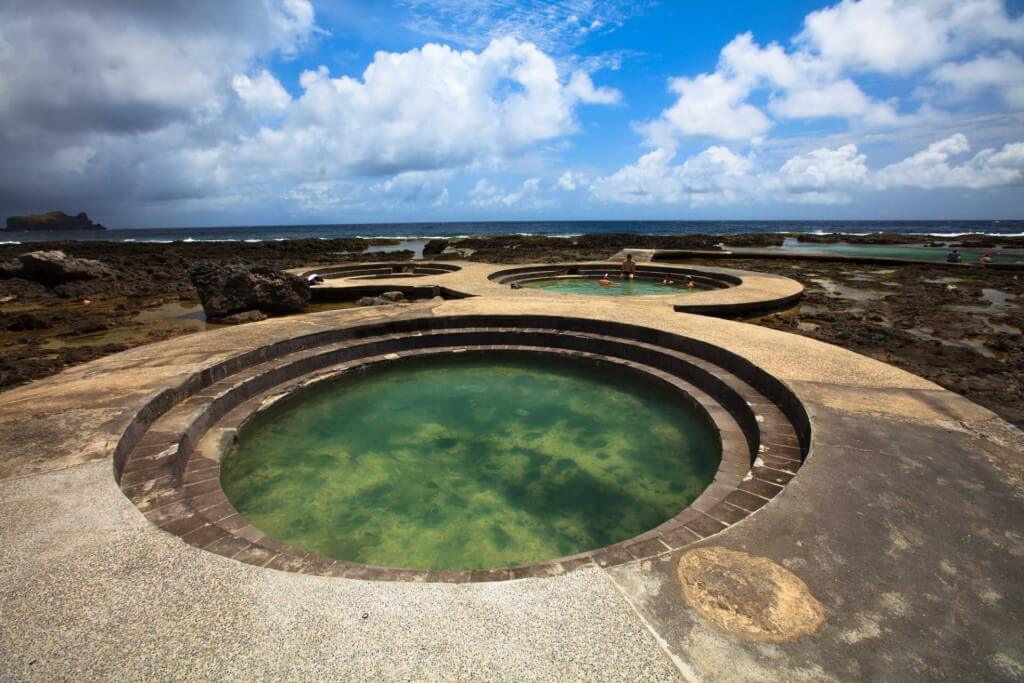 Evening comes, and after dinner at our guesthouse we are ready for a night safari. Our bicycles stabled for the night, we borrow the owner's eco-friendly electric scooters and head out with a guide for a now anti-clockwise after-dark island tour. Most of Green Island's wildlife is best seen at night – coconut crabs, gem-faced civets, flying foxes – and in one particular spinney of screw pines we espy a Tsuda's giant stick insect, an endemic, parthenogenetic species that secretes a defensive fluid from its thorax which, rather pleasingly, smells of mint.
It's the sika deer, however, that is Green Island's biggest zoological draw. Though not native to the island, these deer were brought here on mass in the 1970s and farmed for their antlers. At one point there were more deer than permanent human residents. Now, due to habitat destruction and over-hunting on the mainland, Green Island is one of the best places in Taiwan to see these creatures in the wild.
In 2007, the government established the Sika Deer Ecological Park (梅花鹿生態園區) – a protected area with a NT$300,000 fine for even stepping off the road onto the field. It's here that we come after dark, the silent hum of our electric scooters barely registering with the scores of sika deer feeding in the cool night air. Outside the park, however, deer are fair game, and sika venison is a popular dish on the island, and a tasty relief for seafood-phobes like myself.
The next morning, we go snorkeling, Taiwanese style. After being asked to put on life jackets, we are taken to Chaikou (柴口), a diving area on the north side of the island. Our guide then hands out six flotation rings, tells us to grab on, two snorkelers per ring, and we are hauled out to sea and towed around the reef in convoy. A lot of protesting may get you a respite from your life jacket, but seeing as a large percentage of Taiwanese can't swim, their caution is understandable. And though it may seem restrictive at first, as soon as you let go and enjoy the ride you soon discover it's a lazy man's dream. The guide does all the hard work and you get to enjoy the island's 660 species of fish and 200 plus species of coral, which carpet the seabed and cling to the rocks, resembling platters of mushroomoid cilia, bulbous brains, and strange, misshapen tubers.
All too quickly, it's time to board the ferry back to Fugang on the mainland, and Green Island is soon shrinking in our wake. We leave knowing that we have left plenty unexplored, many a cove unseen, many a cave not entered. Green Island's nooks and crannies are plentiful, and not to be rushed. We see them simply as places to explore the next time we visit.
This article was published in Travel in Taiwan magazine (July/Aug., 2014)
Learn more about Taiwan outlying islands :
Journey to Another World – Orchid Island
Xiao Liuqiu Island: Pearl of Taiwan's Southwest Coast
The Penghu Pearls – Islands Close to Taiwan's Heart, Yet a World Away
Where Taiwan Is Not Quite Itself The Remote, Rugged, and Very Different Matsu Islands
Kinmen – Garden Built on a Granite Fortress
Guanyin, Snakes & History's Ghosts: An Afternoon on Turtle Island