Though I've lived in Taipei over 20 years, I'd never made it to the top of the city's iconic Mt. Qixing, or Seven Star Mountain, known for its riveting views of Taipei, the mountains beyond, and of the rugged, whitecap-washed north coast. Today was the day, the scenic Mt. Qixing Trail my path into the north Taiwan sky.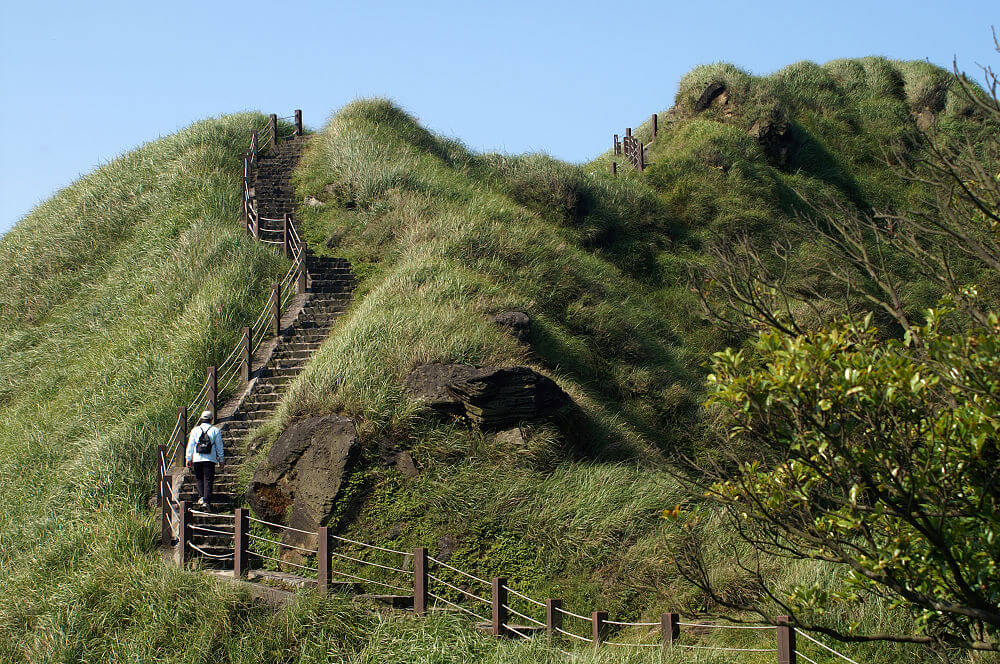 I was a short distance from the Taipei Main Station launch-point for my group on a MyTaiwanTour guided hike to the Seven star mountain's main and east peaks (9am departure, return 6~8 hours later). However my own launch-point was a symbolic one, Taipei's historic North Gate a popular tourist site. The gate points directly at the main peak of Seven Star Mountain to the north, supposedly aligning the area's positive natural energies, allowing good feng shui energy pour in. I peered through the archway tunnel from the south side and, sure enough, the distant main peak aligned perfectly with the gate's central axis. Bathed in the positive qi energy streaming through, I headed out on the quick walk to Taipei Main Station, ready for my big hike.
MyTaiwanTour gives you two tour options for the Seven Star mountain day-hike adventure. For one, you meet your guide at Taipei Main Station, and take a bus up into the city's north-side mountain massif. With the other, you're picked up by your guide and a MyTaiwanTour bus at your hotel. A big fan of the city's clean, efficient, inexpensive bus services, I opted for the former.
Our guide, introduced everyone to each other and introduced how Taipei's buses work to the Taiwan newbies. Then we hopped on a bus and were off! Our destination was the large visitor center in Yangmingshan National Park, a short walk from the Yangmingshan Bus Station, where we got off. The airy center has displays and videos in English explaining the park's ecology, geology, and human history. Be sure to sit a moment and enjoy the splendid view up to the two peaks you'll soon be conquering. Also note that the center's lower deck has a bright café and souvenir shop with a tree shaded patio.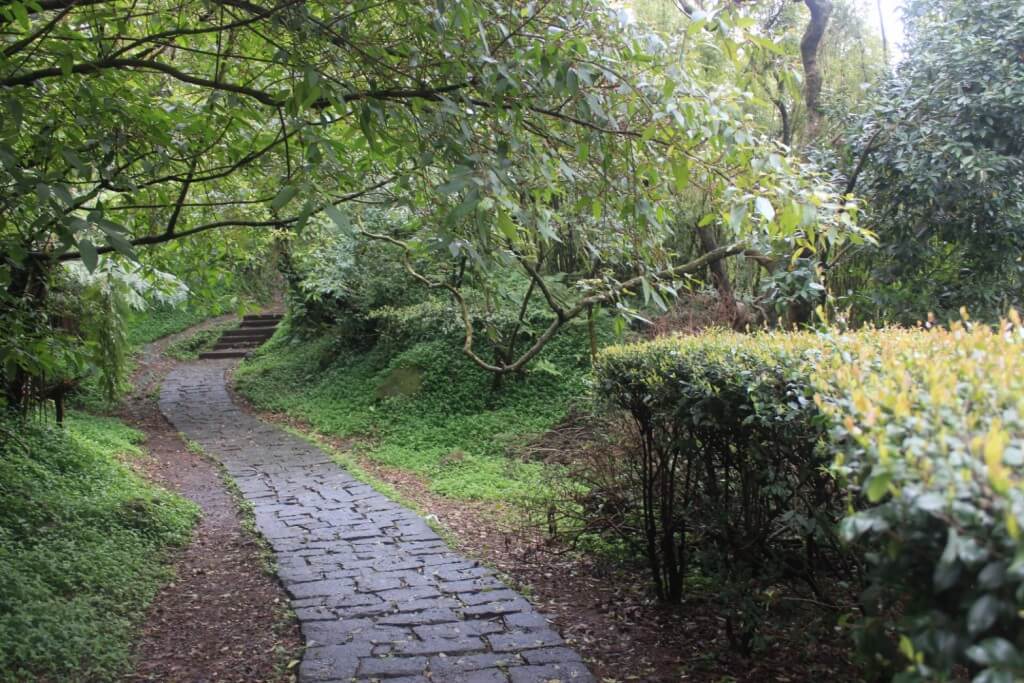 Hikers are responsible for their own food and gear; if you need something, the shop probably has it. This is your last chance to stock up on food, water, snacks, or clothes. Yangmingshan's weather is unpredictable, so be prepared. Umbrellas are not recommended, as the winds are often too strong. Note that these are the last toilet facilities you'll see until the other side of the mountain.
A number of trails head up to Mt. Qixing's peaks. The trailhead for ours is just north of the visitor center. From here it is 2.4km to the Main Peak. We quickly found ourselves interacting with a steady stream of middle-aged and older hikers descending the mountain. Many were listening to portable radios, gifting us with Taiwanese music. Give local hikers a friendly Mandarin Chinese "Ni hao" and you'll get a smile and a "Ha-low." Give them a hearty Taiwanese "Li ho!", however, and you'll likely get a pleasantly surprised look plus an instant new friend.
In Chinese culture it is believed that the most powerful qi gathers at the tops of mountains, strongest in the dawn hours. Many dedicated senior qi-hunters regularly make early-morning treks up local peaks, descending reinvigorated by the qi and – likely – from the exercise itself.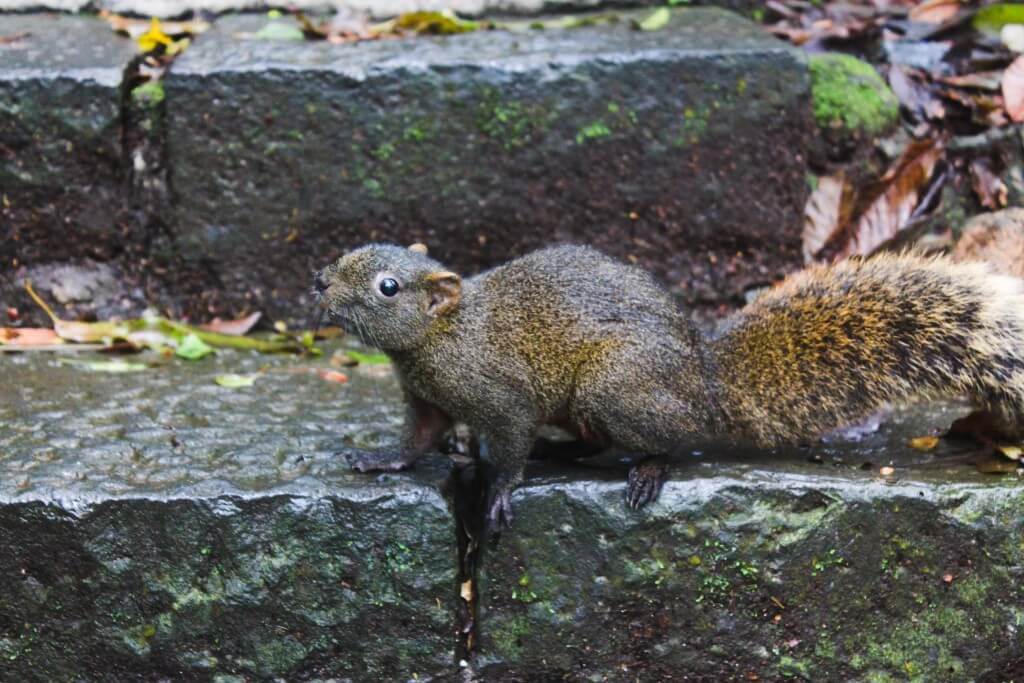 If you love birds or butterflies, you might feel you've hiked straight into heaven. This park is a grand oasis of thriving life, attracting 168 different species of butterfly, 123 bird. We were greeted and regaled by Mt. Qixing denizens on our mountain foray, the most notable being what I call "paintings on the wing" birds. At the Miaopu Entrance, a Formosan Blue Magpie began flicking its tail to get my attention. Later I spotted a Muller's Barbet who was placidly inspecting me, looking like a tiny painter's palette placed on a tree branch and forgotten. Next up were a duo of Red-Headed Tree Babblers, happily feeding on scurrying ants. After this was a Red-Bellied Squirrel, who ambled along a spell right beside me, sure that the small digital camera in my hand was something edible and obviously perplexed as to why this human wasn't sharing. The animals were like a show that didn't stop until we stepped on the bus to go home later.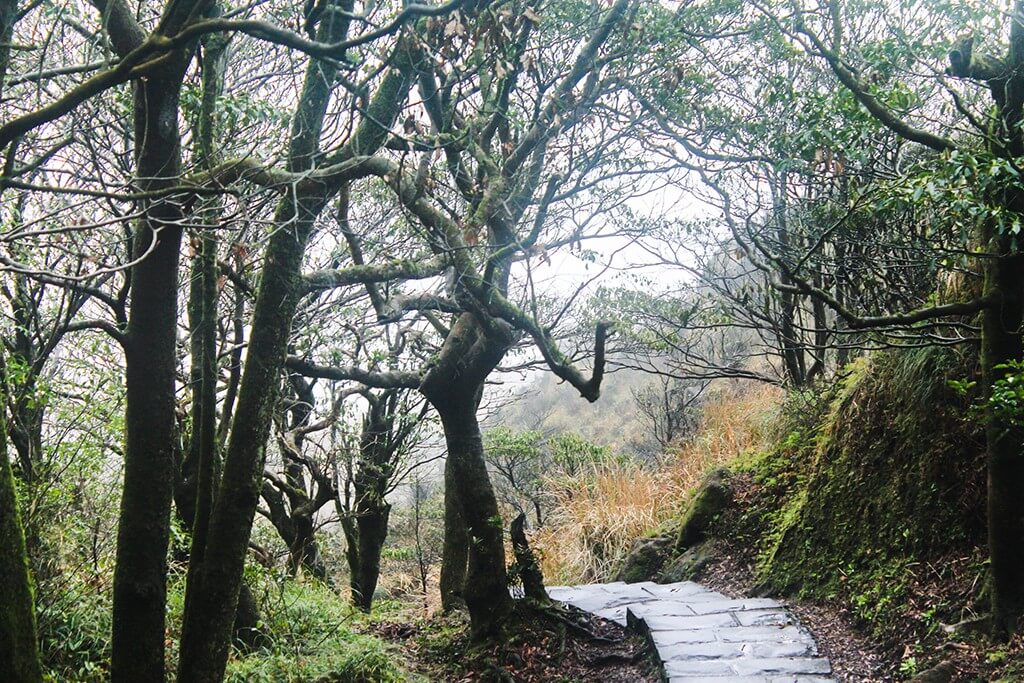 The Mt. Qixing trails are almost fully stepped. We marveled at the rugged persistence of the hardy fellows who hauled the heavy rock to the upper reaches. From the entrance, you are in forest, and will come to a rest pavilion after about 20 minutes of relatively easy walking. Do just that – rest a bit. For from this point the trek dramatically steepens. Stop for a drink and to soak in the splendid far-off views behind you.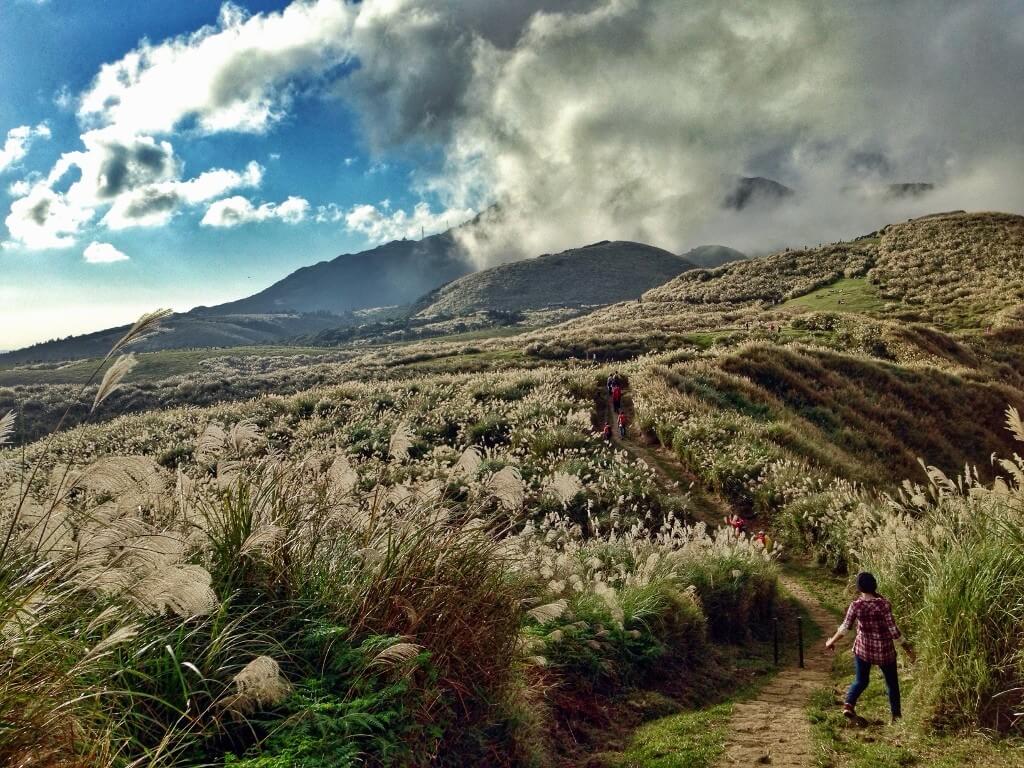 Eventually you emerge out of the trees into an area of tall grass, bushes, and bare rock. You can't see the peaks yet – another 20 minutes to go. Then, suddenly, there they are; the trail flattens out and the two summits are right before you. Congratulations.
A couple minutes further on and you'll find yourself at a trail split, the two options leading respectively to the two summits, which are a mere 0.3km apart. The main and east peaks are tall, narrow column-like jumbles of angular boulders that to me, raised a Roman Catholic, looked like the remains of soaring cathedrals left abandoned and collapsed in on themselves, or perhaps like Mt. Olympus and the ruins of ancient temples of the immortals.
The trails take you to the tops of both peaks. Ascend the Main Peak and you stand at the pinnacle of Taiwan's highest dormant volcano. From here you should be able to point out the "seven stars" – its seven knobby summits, said to be laid out in the same format as the stars of the Big Dipper. To the south is the iconic Taipei 101 tower. Beyond the East Peak is Mt. Huangzui, its broad flattened top the park's most intact volcanic crater. On the west is the meandering Tamsui River, rolling towards the ocean.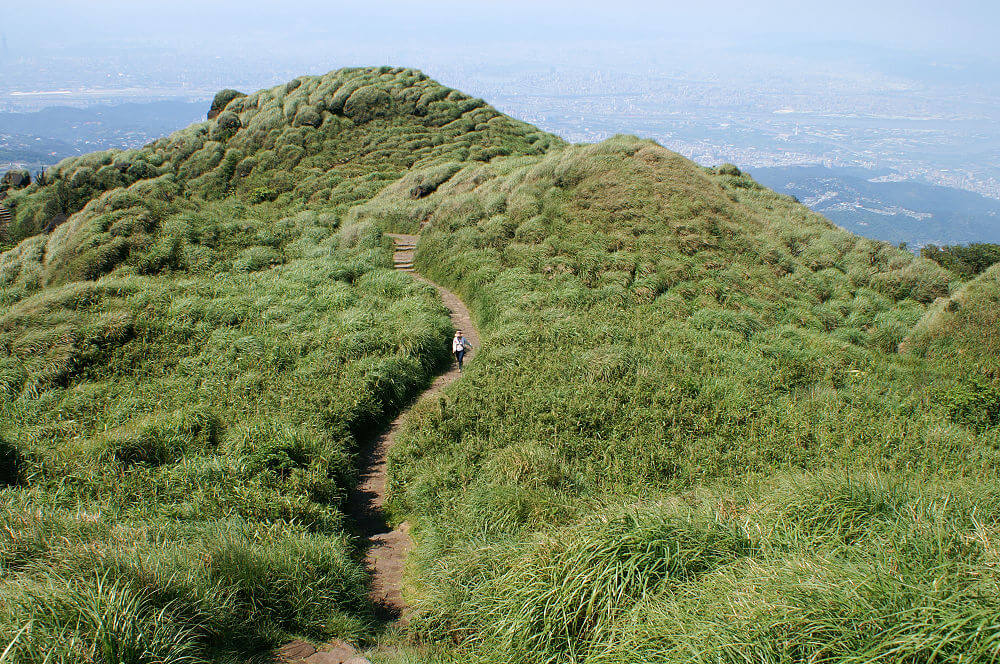 Back to the aforementioned trail split. On your ascent, the group has come up Mt. Qixing's southwest face. The East Peak trail takes you right over its pinnacle and then down the mountain's east face, total length 2.1km. A number of sections are quite steep – so be careful! About mid-way down, the mountain flattens out just enough to provide space for quiet, hidden-away Qixing Park. Designed as a rest stop for hikers, there are large and small pavilions plus stone tables and chairs – and washroom facilities. Nearby, down a short side trail, is charming, eco-protected Menghuan ("Dream") Pond.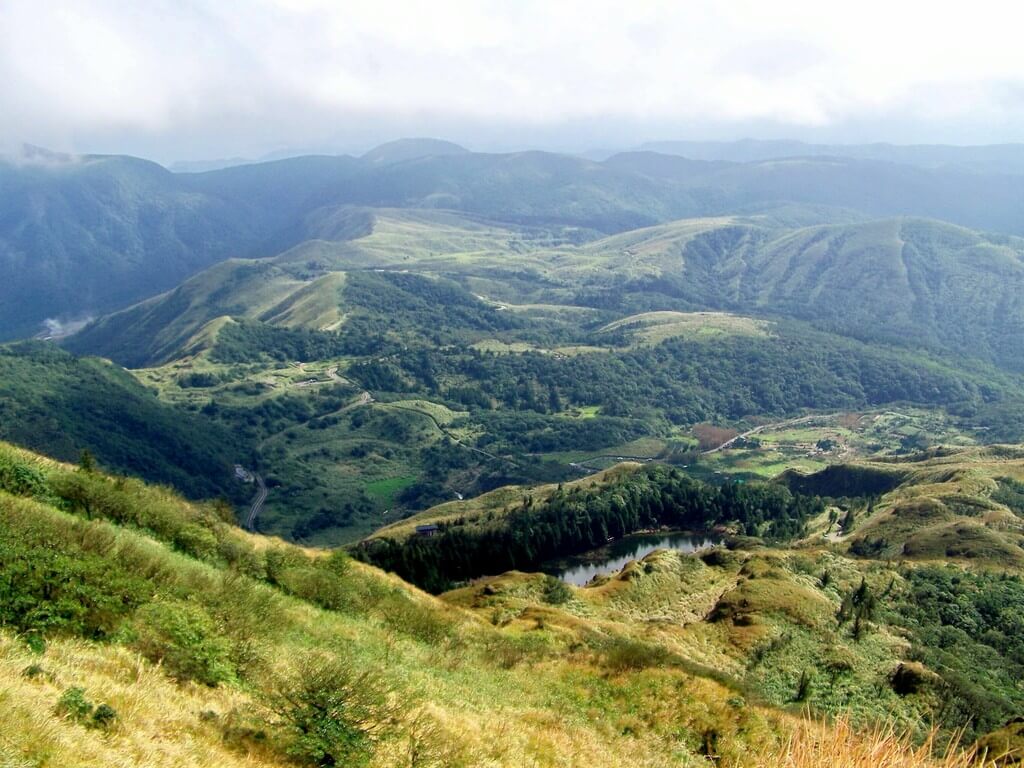 We struck up a conversation with a group of merry hikers in a pavilion who meet up once a week to climb the local peaks. They had tea and hot food, and invited us to sit down for a drink. Later on we met up again when my group stopped to admire a Chinese Bamboo Partridge standing between clumps of tall grass right at trailside. We discovered she was guarding her brood, who twittered away nervously, unseen, in the grass beyond. During the runway show a confident Elegant Five-lined Skink decided to make a cameo appearance, wondering what all the fuss was about.
Just before reaching the mountain's foot, we found a viewing deck with wood seating perched at its tip, about a hundred meters off the valley floor. To the right is a photogenic cluster of tourist farms where flowers and ornamental plants are grown. Directly below is Lengshuikeng.
Qingtiangang is an expansive grassy plateau formed by lava from a mountain on Mt. Qixing's southeast. It is a well-known backdrop for wedding-photo shoots. This was once part of a smuggling trail used to bring fish from the north coast into Taipei Basin, used to avoid paying taxes to Chinese and, later, Japanese authorities.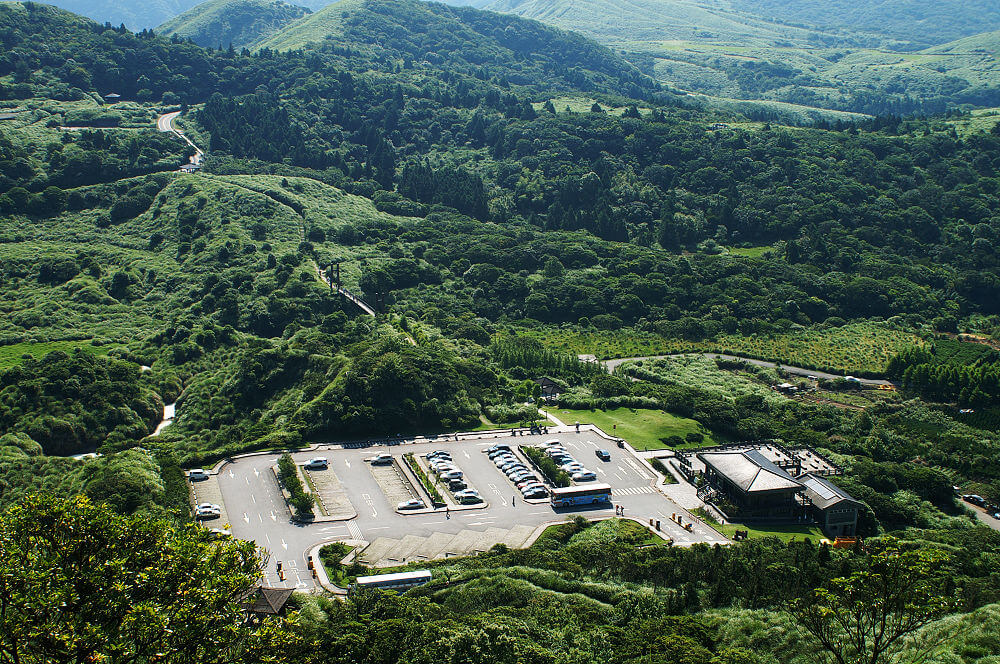 Lengshuikeng ("Cold Water Pit") is the name of a cold spring lake near the base. The two most prominent nearby features are the Jingshan Suspension Bridge and white, sulfur-laden, Milk Pond, reached via the trail network connecting Qingtiangang and Lengshuikeng Visitor Center, where there are displays on the area's geology, ecology, and history, plus food/drink and washroom facilities.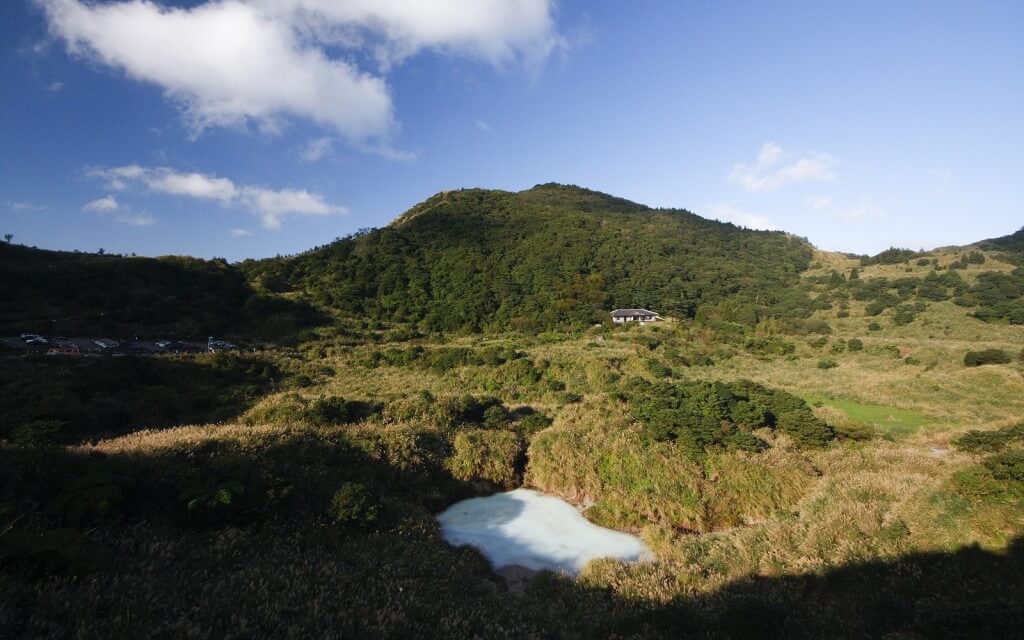 Right where the spring exits the mountainside are two rustic Japanese-style bathhouses, one each for males and females, where you also bathe Japanese-style, au naturel. Local hikers love to end their outings with a resuscitating soak. We settled for rejuvenated feet with a session at the cozy open-air communal foot-soak pool, serenaded by a chorus of Taiwan Whistling Thrushes in the bushes directly before us, protected by a squadron of bug-eating swallows dive-bombing down the mountainside directly above us. Use of the facilities here is free.
And with that, our hiking tour was, all too soon, a thing of the past. We hopped aboard a bus back to Taipei. As she bade everyone farewell, our guide gave us a last bit of good advice well worth passing on here: You'll no doubt be good and hungry by this point, so note that right beside the metro station is Shilin Night Market, one of Taiwan's best-known snack-food bazaars, it's not to be missed. (Read more: 6 things to do in Taipei that should be on every visitor's bucket list)
Happy trails!
Sign up for MyTaiwanTour's Seven Star Mountain Hike now!
More Mountain Tours:
Into the Mountains – Exploring Taipei City's Outskirts
Snow Mountain – A Winter Hike on One of Taiwan's Most Beautiful Mountains