Taiwan is overflowing with beautiful, exciting and magical places. Taroko Gorge, Sun Moon Lake, Alishan, to name just three well known spots. But in this article we'll take you to a few secret spots, true gems known mostly to locals (and in few cases, not many of those). Want to experience something truly unique? Check out a few of these spots on your next Taiwan trip!
No.4 – Bayien village
Located in picturesque Yangmingshan National Park, This pretty village was originally on a route fishermen and farmers trekked on the way to Taipei city to trade their wares. Now it provides visitors a quiet spot from the ever buzzing metropolis. Enjoy the rolling farms as you stroll through this relaxing area. When the fog rolls in, Bayien village is particularly picturesque.
No.3 – Li Song wild hot spring
If it's off the beaten path adventure you're after, a trip to Li Song may well be the ticket. This wild hot spring is one of Taiwan's most beautiful untamed hot springs and also one of it's most difficult to reach. Located deep in the mountains of Taitung, visitors must descend steep paths, climb rocks and fjord a river on the way to this isolated spot. Having a local guide will keep you on the right trail and will make the arduous journey safer and easier to navigate. After the long trek a spring of hot waters will ease any sore muscles. Crystallized minerals in bright yellow, green, brown and orange decorate the canyon giving you a feast for the eyes while you soak your bones.
No.2 – Elephant Trunk Rock
Located on the north coast of Taiwan not far from the popular Yehliu Geopark, far fewer tourists know about this pachyderm-shaped natural arch. Mother Nature's artistic side is seen all along this stretch of coastline in the form of natural sculptures and cliffs formed by the crashing sea. Geological mushrooms abound on this trail but it's advisable to visit during a dry day as the rocks become slippery when wet. If you brave the climb to the head of the elephant panoramic views of Badouzi, Bitou Cape and Keelung Island await you.
No.1 -Laomei Green Reef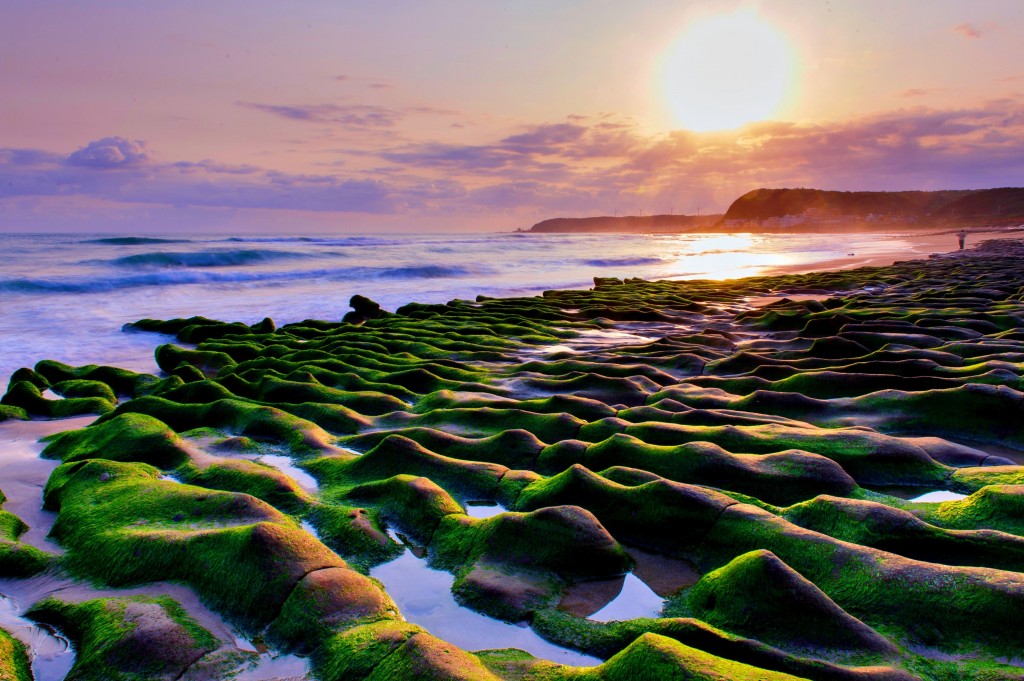 Laomei Reef is a testament to the power of the ocean. These distinctly shaped volcanic rocks were formed over millennium by the accumulated force of the daily tide. The winter months bring a special alchemy to the area. Because the reef is partially submerged during the day only to later be exposed to the sun a brilliant algae seasonally forms on the rocks. While these geological formations are beautiful any time of year, the best time to visit is during April and May when the bright green algae is at its peek. Before visiting be sure to check the tide table as the reef is under water during part of the day.
Read More : Eight Secret Spots in Taiwan (Part I)