The story of Jiufen is in many ways a riches to rags (and back to riches, but of a different sort) tale. The small town about an hour away north of Taipei was built just outside of an active gold mine during the Japanese occupation, and it's said that gold was plentiful during the good days. But the town is also remembered for a darker history during the later days of occupation when it was the site of a POW camp whose prisoners were made to labor under hard conditions. (Read more: Remembering Taiwan's Kinkaseki POW Camp on Tomb Sweeping Day)
Jiufen became associated with historical darkness of a different sort when Taiwanese director Hou Hsiao Hsien used the scenic mountain town as setting for much of the action in 1989's "A City of Sadness". The film focused on the then still taboo topic of Taiwan's 228 massacre and the period of terror that followed. Despite the dark theme (or more likely because of it, coming at a period in history when Taiwan was finally allowed to discuss once-forbidden topics) "City of Sadness" was a great success both internationally and domestically. The film led to Jiufen's rebirth as a tourist town.
This resurgence was magnified greatly by another film, one which in many ways helped to restore the town's more cheerful golden glow. When Hayao Miyazaki's animated film "Spirited Away" swept box offices across Asia and the world in 2001, many believed that the inspiration for the town in the film had been the winding and colorful streets of the Jiufen. To this day, the town remains a must-visit pilgrimage site for millions of the film's fans.
Jiufen's old street is a colorful riot of sight, sound and fragrance, packed with shops, cafes and old-world charm. The street is as much a draw for foodies as for film buffs, packed with stalls serving an astounding variety of goodies like beef noodle soup, xiaolongbao, taro ball soup, fried stinky tofu, tempura, sticky rice with pork, red beans cakes. Though some dishes are Taiwanese standards, others are distinctly local favorites. Be adventurous!
The town is also known for its plethora of tea houses, most of which have beautiful atmospheres and offer lovely views from their terraces. If you are a fan of "Spirited Away," one of these tea houses may look familiar, as it's said to be a direct inspiration to the one in Miyazaki's film. Expect the tea at this spot to be a bit more pricey than the other places: Fame comes at a price. But the view alone is worth it as is the high-quality Tieguanyin (鐵觀音) and Alishan Mountain tea they serve.
Though lacking Jiufen's cinematic luster, nearby Jinguashi is no less worth visiting. A former mining area, visitors to Jinguashi can explore the old tunnels and visit an excellent museum dedicated to the area's former gold mining glory. Among the items on display is a chunk of pure gold weighing 230kg. But perhaps the most well known of Jinguashi's golden attractions is its Golden Waterfall, which gets its name from the color of both the water and rocks, remnants of pyrite and other minerals picked up by the water on its journey through the area's old mines. From the falls, the waters flow into a nearby harbor where it mixes with seawater and forms a small bay known as the Yin-Yang Sea.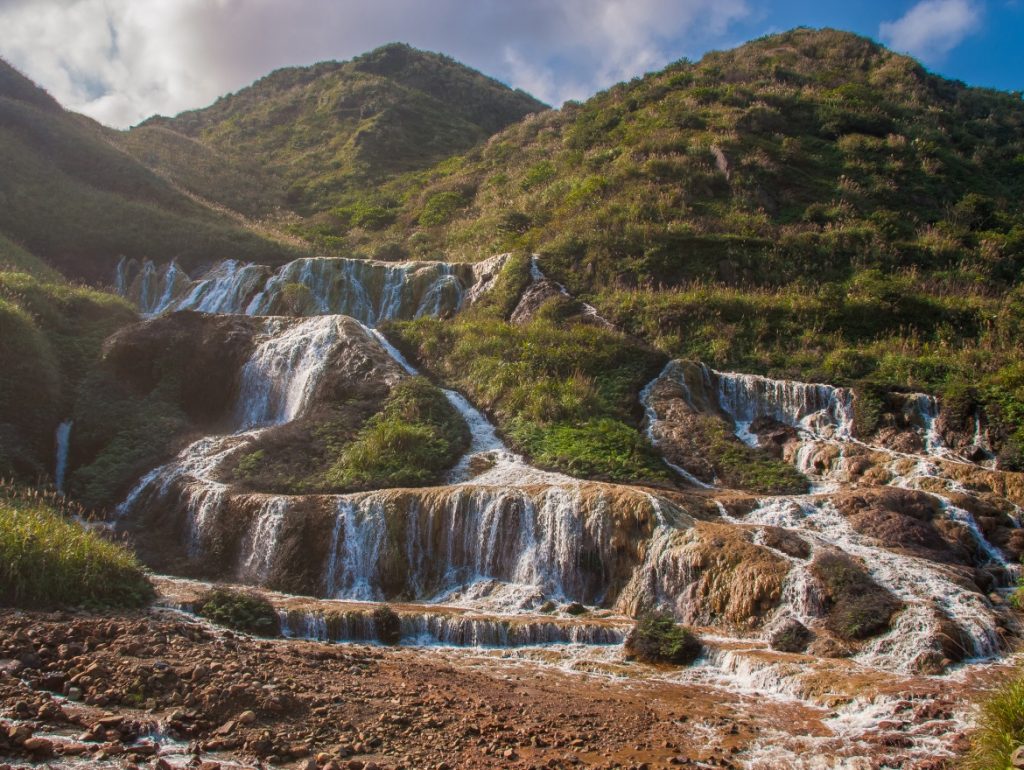 With excellent hiking, amazing food, beautiful scenery and history galore, Jiufen and Jinguashi are two spots within shouting distance of Taipei well worth spending a day. Though the gold may be (mostly) gone, the glitter remains, perhaps shining more brightly than ever. (Read more: Jiufen, Jinguashi, & Shuinandong- Exploring the History and Scenery of Three Attractive Tourist Towns in Northeast Taiwan)
Interested in making Jiufen and Jinguashi part of a full day's exploration of Taiwan's beautiful northern coast? Both are part of MyTaiwanTour's  Jiufen and Pingxi day tour.