Last week we talked about a few of Taiwanese festivals happening during the first half of the year. (If you haven't already read that post, check it out first.) We continue this week with the festivals of the year's second half.
6. Keelung Mid-Summer Ghost Festival
When: Begins on the 1st day, 7th  lunar month and continues for 30 days
Where: Keelung, New Taipei City
The Celebration: Although the 7th lunar month is traditionally considered ghost month throughout Chinese culture (basically the month when restless spirits roam the earth seeking to be placated by mortals), the month has taken on a greater meaning in the harbor city of Keelung, where a great battle between various clans was fought in the late Qing dynasty. After elders from both sides called a truce, the fallen from both sides were honored with prayers and a parade, which has since morphed into a month-long festival with fireworks, parades & partying.
Read more: The ghosts were out in Keelung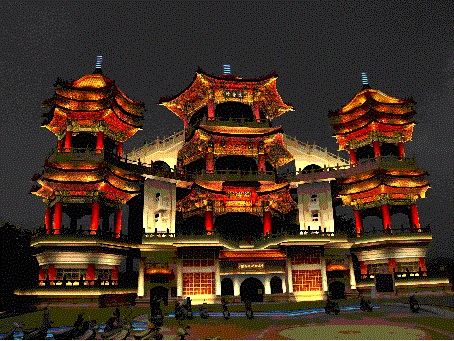 Insider tip: The big event of the festival happens the 15th night of the month (lunar calendar) when floats containing ceremonial paper temples are paraded through the city before being brought to the coast, filled with spirit money and placed on the water. They're then set on fire as a way of sending prayers and blessings to the spirit world.   The event goes very late, so spend the night in Keelung to make the most of it. (And as long as you're here, why not have dinner at the Keelung Miaokou night market?)
7.Qixi Festival, AKA Chinese Valentine's Day
When: 7th day, 7th lunar month
Where: Island Wide
The Celebration: The Qixi Festival celebrates the sad tale of two celestial beings,  Zhinü (the God of Heaven's 7th daughter) and Niulang (the cowherd), lovers banished to opposite sides of the galaxy and allowed to meet only the seventh day of the seventh lunar month. In recent years the holiday has more-or-less morphed into a couple's holiday akin to Western Valentine's day. If you're traveling as a couple in Taiwan, this is a good day to bring your significant other to a fancy restaurant, though be sure and book early.
Insider Tip: Popular spots for couples in Taipei include the Ferris Wheel atop the Miramax shopping center in Neihu, the Rainbow Bridge close to the Raohe Night market, and basically any love motel in town.
Mid-Autumn Festival, AKA The Moon Festival
When: 15th day, 8th lunar month
Where: Island wide
The Celebration: Though there are a few different folklore stories involving romantic liaisons between mythical creatures (including, naturally, the goddess of the moon), this holiday is at heart a traditional harvest festival. As such, it's an especially great time for feasting. Folks gather all over Taiwan to grill meat, drink beer and look up at the full moon, and many a wandering western visitor has found themselves an honored, well-fed guest during the Mid-Autumn festival.
Insider Tip:  Look at the moon, but don't point. According to legend, the Chinese Goddess of the moon, Chang'e, doesn't take kindly to being pointed at, and may retaliate by cutting off the offending pointer's ear.
Click here for more Taiwanese Taboos.
8.Double Ten Day
When: October 10
Where: Island wide
The Celebration: Double Ten Day, AKA The National Day of the Republic of China commemorates the 1911 Wuchang Uprising which led to the collapse of the Qing Dynasty and the start of China's Republican Era, which, politically speaking, still lives on in Modern day Taiwan. Though there are fireworks and official ceremonies held all over Taiwan, one city each year is given the honor of holding an official fireworks display On the 10th of October each year celebration and official ceremony are held around Taiwan. The major official firework event will only hold by one city, but the other cities will proceed with its own celebration and activities.
Insider Tip: 2017's biggest Double Ten day festival will be happening in beautiful Taitung City, meaning that you enjoy a massive fireworks display on 10/10 and head up to Dulan to surf on 10/11!
9.Christmas Season
When: Much of December, culminating on December 25.
Where: Various spots around the island
The Celebration: OK, we know…technically speaking, Christmas is anything but a traditional Taiwanese holiday. But there are a couple of very compelling reasons to plan your vacation to Taiwan around the Western world's most anticipated holiday (besides the whole time off issue). First, though not everyone in Taiwan gets into Christmas (it's not even a public holiday), those who do get into it really take the seriously from an artistic standpoint. Last year, both Taipei 101 and the nearby Xinyi shopping district had an informal competition to see which one could be the most Christmas-y, and will likely do so again this year. Not to be outdone, Taichung's artsy CMP block featured a huge Christmas themed art installation.
Read more: Christmas in Taiwan
Insider Tip: If you're here over the Christmas season, you might as well stick around for New Years Eve. But if you're in Taipei, book your hotel in advance. This is one holiday Taiwan takes seriously!

10.Secular / Not Trad Holidays: Spring Scream
When: First Weekend in April
Where: Kenting, Pingtung County
The Celebration: Taiwan's Woodstock, this long running music festival is a celebration of music, art and general joi de vivre. Since the first 'Scream in 1995, the festival has grown exponentially from a one-stage festival with a handful of (mostly) local acts to a multi-venue extravaganza drawing 250+ bands from around the world.
Read also: An Island of Festivals – Exciting Music Events Around Taiwan
Insider Tip: Accept no substitutions. Since the early 00's, the Spring Scream name has been co-opted by various area imitators hoping to cash in with lesser festivals. Book your tickets through the official website  to avoid being waylaid.
Start planning your holidays and customize your experience in Taiwan with MyTaiwanTour.