Small in size though Taiwan may be, the island is incredibly diverse when it comes to culture, flavors and experiences offered.
Taiwan is even pretty diverse when it comes to weather. it's not at all uncommon to hop on the High Speed Rail on a rainy day in Taipei and disembark in Tainan 90 minutes later under sunny skies. This very rarely happens to folks taking the Amtrak from Seattle to Portland, despite the two cities being roughly the same distance from one another as Taipei and Tainan.
(We had way too much fun seeing how Taiwan sizes up to other countries and various American states on The True Size website!)
So while geographically petite (as countries go, though many are way smaller), Taiwan punches above its weight class in pretty much every other category.
A few months back, a fun little map called "9 ways to divide Taiwan" made the social media rounds, popping up first on the Facebook page of the artist who created it, Taiwanball and later at the Taiwan News.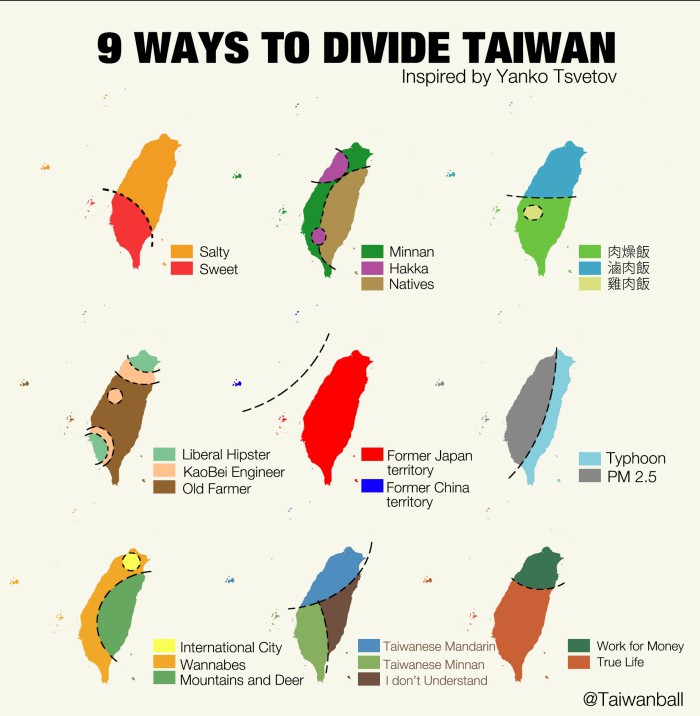 Some of Taiwanball's presumed divisions of Taiwan were cultural, others linguistic and still others geographical (typhoons on the east coast and bad air from China on the west). Mostly though, these divisions are kind of tongue in cheek. (Kao Bei means whiner in the Taiwanese dialect, so we guess TaiwanBall isn't a fan of the Hsinchu Science Park.)
Taiwan Scene also divides up Taiwan in the "places" category of our website, though our divisions are based strictly on geography. In the interest of making it easier to plan your next trip to Taiwan – and to find the right articles to suit your interest on our website – we've prepared this basic introductory article to the divisions of Taiwan (at least according to us).
Encompassing the counties of Taipei, Taoyuan, Hsinchu and Miaoli, Northern Taiwan is where a pretty fair chunk of Taiwan's population resides, and is (of course) where you'll find the excitement, luxury and culture of our capital city, Taipei.
Many visitors have spent their entire Taiwan experience exploring Taipei attractions without ever once leaving the capital's confines, which is understandable given just how much the city offers. Naturally, a lot of the articles in our Northern Taiwan section concern fun stuff to do in Taipei City. (Ultimate Taipei Experience in a day)
There's more, of course. Taipei isn't just Taipei City; the area around the city has distinctly non-urban attractions like Jiufen old street and Yaming mountain, not to mention some of Taiwan's best hot springs, traditional villages and more. And of course, there are three other counties in Northern Taiwan with attractions (and cities) of their own. (Hike through the ethereal volcanic beauty of Yamingshan National Park with locals.)
Central Taiwan is where you'll find Taichung, Changhua, Yunlin and Nantou (the latter being Taiwan's only landlocked county).
Closer to the coast are vibrant cultural hotspots like Lugang and Taichung city, and Nantou is a great place for mountain climbing and nature expeditions of all sort, and is also where you'll find one of Taiwan's most visited landmarks, the always-beautiful Sun Moon Lake. Though definitely off the usual tourist path, Yunlin county is home to bucolic farmland (including Gukeng, Taiwan's preeminent coffee growing region) and a number of surprising cultural attractions. (Discover the magic of Sun Moon)
Encompassing the counties of Yilan, Hualien and Taitung, Eastern Taiwan is considered by many the most beautiful chunk of Taiwan. (Read more:Top 10 places to visit in Asia in 2016, from Lonely Planet)
This is in small part due to what the east doesn't have (big cities, population and pollution) and in big part to what it does, namely mile after mile of picture-perfect coastline, two mountain ranges, the scenic rift valley and way more.
Eastern Taiwan is where a good chunk of Taiwan's aboriginal groups live, so it's a great place to head to explore Taiwan's vibrant tribal culture. It's also where you'll find Taroko Gorge, the hot springs of Ruisui and Zhiben, tons of organic farm-to-table restaurants, great surfing spots and, oh yes, the best bicycling roads in Asia.
Chiayi, Tainan, Kaohsiung and Pingtung are the four southernmost counties in Taiwan, and it's here that you'll find the earliest traces of Han Chinese culture on the island intermingled with thriving cities packed with vibrant culture both ancient and modern. (Cultural and Historical exploration in Tainan)
Tainan is Taiwan's first capital, and an absolute must visit for anyone interested in history and culture. Chiayi is home to Alishan, one of Taiwan's premier mountain areas, and Kenting, on the southern tip of Pingtung, is sometimes called Taiwan's Cancun. This is the region to hit if you want to mix culture and history with outdoor activities.
Though off the usual tourist trail, Taiwan's outer islands of Kinmen, Matsu, Penghu, Green Island, Lanyu and Xiao Liuqiu are each worth visiting in their own right.
The Taiwan Strait islands of Kinmen and Matsu are filled with historical relics ranging from structures built in the Ming and Qing dynasties to more modern reminders of the islands' position on the literal frontline of the last stages of China's civil war. Located halfway between Taiwan and China, Penghu is a beautiful windswept archipelago offering culture, beauty and some of the world's best windsurfing and kitesurfing spots.
The east coast islands of Green Island and Lanyu (Orchi Island) are both must visits for travelers interested in culture, history and nature. And easy to reach Xiao Liuqiu has tons of opportunities for scuba diving, snorkeling, hiking and cultural travel.
No matter what you're looking to experience in Taiwan (or where you're looking to go), MyTaiwanTour can make it happen. Check out our website to learn about our customized Taiwan tours.