Located off the coast of Southern Taiwan's Pingtung county, Xiao Liuqiu (also known as Little Okinawa) exists in that perfect mid-point of "known to locals" and "largely overlooked by international travelers." Unlike well-trammeled Taiwan scenic spots like Sun Moon Lake, Taroko Gorge and Alishan, Xiao Liuqiu hasn't gotten much international press. Indeed, outside of a few intrepid international travelers who find their way to the island, most westerner visitors to Xiao Liuqiu are local expats who'd likely prefer that the island remain a secret. ( Xiao Liuqiu Island 3- Day Free & Easy Package)
To the aforementioned group, apologies: Awesome destinations never stay secret for long, so take solace in having found the place first.
For everyone else, it's time to let the cat out of the bag (so to speak). Here are 10 reasons to visit Taiwan's (mostly) hidden Island Gem.
1. Xiao Liuqiu is easy to reach…
Liuqiu is by far the easiest of Taiwan's wai dao (outer islands) to reach, requiring a scant 35 minute shuttle from Kaohsiung's HSR station to Donggang harbor followed by an even quicker ferry ride to the island. As Liuqiu is in the usually-peaceful Taiwan strait (as opposed to the often vomit-inducing stretch of the Pacific you need to cross to get to either Lanyu or Green Island), no Dramamine is needed.
2. …and even easier to get around.
Being just under 7 square kilometers in size, Liuqiu is small enough circumnavigate on an easily-rented electric scooter in about an hour, making it super easy to get from place to place. But don't let the diminutive size fool you into thinking there's not a lot to do on the island, starting with the waters off the island.
3. Xiao Liuqiu is a nautical paradise…
The island is part of a protected coral preserve, off limits to commercial fishing. The coral-rich waters off the coast make Liuqiu a paradise for snorkeling a scuba diving, and there are several great dive shops that do everything from equipment rental to full PADI courses (and everything in between). Even if you aren't into getting wet, you can still check out the coral by taking a tour on a glass bottom boat operated by Discover Lamay.
4. …With plenty to keep you on land.
You'll want to spend a day or two exploring the various nature areas on the island, which are spread out throughout the island and offer plenty of opportunity for short hikes, cave visits, photo taking and communing with nature in general. Some of the areas – like Beauty Cave (美人洞), Black Cave (烏鬼洞) & Wild Boar Ditch (山豬溝)  – are part of Xiao Liuqiu's park system (one ticket gets you access to all for two days). Others, like the Lobster Cave and Liuchiu Lighthouse (and its nearby Ancient tree) seem unregulated. All are worth visiting.
5 . The island is rich in religious culture…
Xiao Liuqiu definitely punches way above its weight class when it comes to traditional culture, and while Wikipedia puts the number of temples on the island at 38  (which is still an impressive 6 per square KM), locals claim the number is more than double that when various shrines and other religious sites are taken into account. Whatever the number (we've heard 80+), even serious temple lovers would be hard pressed to visit anything close to them all without actually moving there.
6. …But remarkably laid back.
Really, we can't stress how chill the place is (even by southern Taiwan's normally relaxed standards. Most everyone drives slowly, and cool places to hang out abound. Head over to the Coral Cafe  in town where you can sip cappuccino while listening to records (yep, actual vinyl) while looking out over the harbor. There are a bunch of small bars serving cocktails and craft brews on the main drag. The island even has it's own pretty damned good beer brand, Captain Beer.
7. Xiao Liuqiu has more quirky art than you can shake a stick at…
Taiwan is a place filled with quirky art, so much so that the sight of a glass church shaped like a ladies shoe or an entire village covered in psychedelic cartoons barely makes the news anymore. A brief jaunt by electric scooter around the island reveals quickly that this artistic spirit is alive and well on Xiao Liuqiu. From planned art venues (like the mini-museum set up next to Black Dwarf cave) to painted murals on the sides of guesthouses offering strange interpretations of the laws of physics to…whatever a dozen rubber Croc shoes laid out intentionally on spikes, Xiao Liuqiu is a good place for art voyeurs.
8. …And some pretty quirky places to stay as well.
Unlike Penghu, which has a fair share of high-rise hotels, nearly all of the accommodations in Xiao Liuqiu are of the boutique hotel / guesthouse / bed & breakfast variety, which generally tend to have a bit more character than your average Holiday Inn. Accommodations on the island range from colorful two-story guesthouses with a Caribbean vibe to  Siheyuan, traditional Southern Chinese style courtyard houses.
9. Folks on Xiao Liuqiu are friendly…
Of course it's a given that people are generally friendly everywhere in Taiwan. (Taiwanese penchant for Renqingwei, or "human touch" has become something of trademark.) But it's also pretty established that the further away from big cities you get, the more relaxed people tend to be. So it's only natural that the combination of Taiwanese renqingwei with the overall vibe of one of Taiwan's most laid-back spots is bound to produce a population who are especially welcoming to visitors.
10.  …And finally, Cats!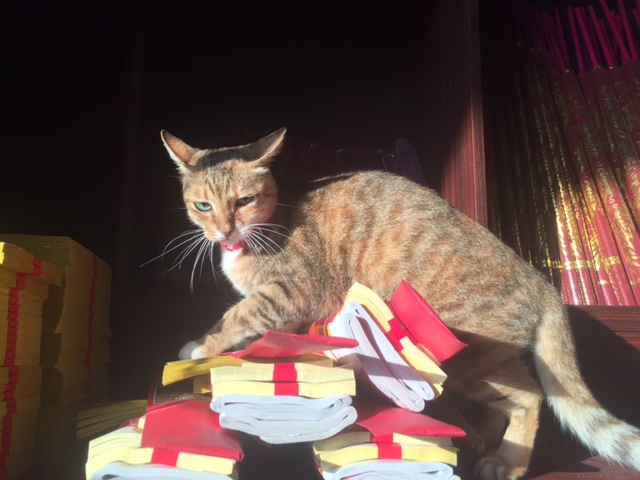 A lot has been written about the Houtong cat village outside of Taipei city, but for our money serious ailurophiles (*cat lovers*) owe it to themselves to head to Xiao Liuqiu. Thanks to an ongoing TNR ("Trap – Neuter – Release") program, there are a few hundred (according to locals) cats living on the island. While some are shy, others are quite friendly (especially if you happen to be eating). If you're the sort of traveler who spends inordinate amounts of time trying to befriend local cats, you'll never be bored on Xiao Liuqiu.
Looking to visit Xiao Liuqiu?  Book the Xiao Liuqiu Island 3- Day Free & Easy Package now or let MyTaiwanTour custom design a tour for you!