Isla Formosa…Beautiful Island! Home to lovely mountains and stunning beaches, ancient temples and exotic cultures, excellent cuisine and magnificent architecture.
I'm sorry. Did you say Magnificent architecture?
Hear us out.
We imagine readers familiar with our beloved island home are looking a bit askance at our last proclamation. After all, temples and Japanese colonial buildings aside, Taiwan isn't exactly known for possessing a wealth of "magnificent architecture."  Charitable travel writers have referred Taiwan's architecture as "homely but lovable," and well into the last decade of the twentieth century, travel guides regularly called Taipei "the ugly duckling of Asia".
The evolution of Taiwan's Architecture
This wasn't entirely undeserved, and largely the product of Taiwan's tumultuous history in the mid-twentieth century.  So before we can look forward, we need to look back.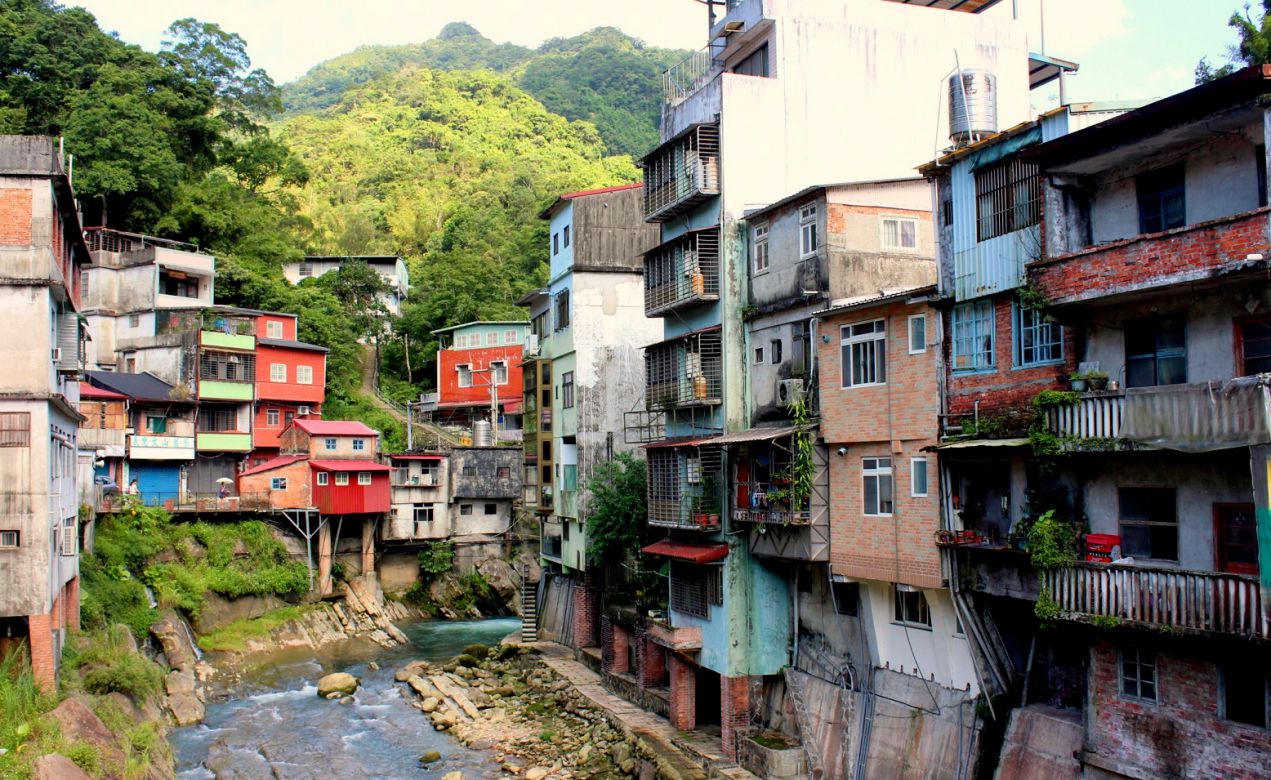 With the arrival of about two million Mainland Chinese following the end of China's civil war in 1949, Taiwan (especially its urban areas) faced a serious housing shortage. Expediency, not beauty was the priority of Taiwan's mid-twentieth century architects. Added to the mix was the fact that the political party ruling Taiwan in the mid-twentieth century didn't see Taiwan as a permanent home, and therefore weren't particularly motivated to make their "temporary base of operations" look pretty. So while Taiwan experienced seriously rapid growth in the second half of the twentieth century, most of it tended to lean towards practicality rather than beauty.
 The Fifties to the Eighties: Classical Chinese Style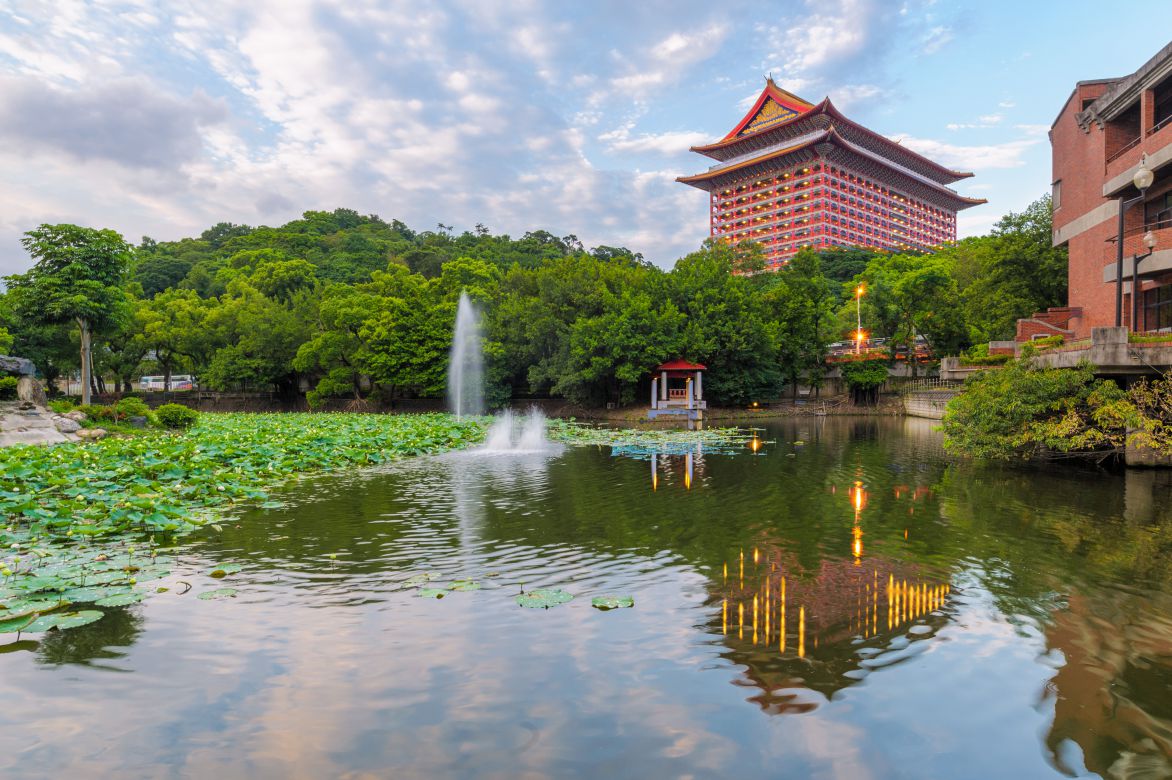 There were some noteworthy exceptions, prestige pieces constructed between the 1950's and 1980's combining both function and beauty. Many of these buildings are still iconic features on Taiwan's architectural landscape, most notably the Taipei's Grand Hotel (an opulent five star hotel where Chiang Kai-shek entertained visiting dignitaries), the National Palace Museum (where stored artwork liberated from China was kept for safekeeping), and the iconic Chiang Kai-shek Memorial Hall and nearby National Concert Hall and National Theater. (Read more: 6 things to do in Taipei that should be on every visitor's bucket list)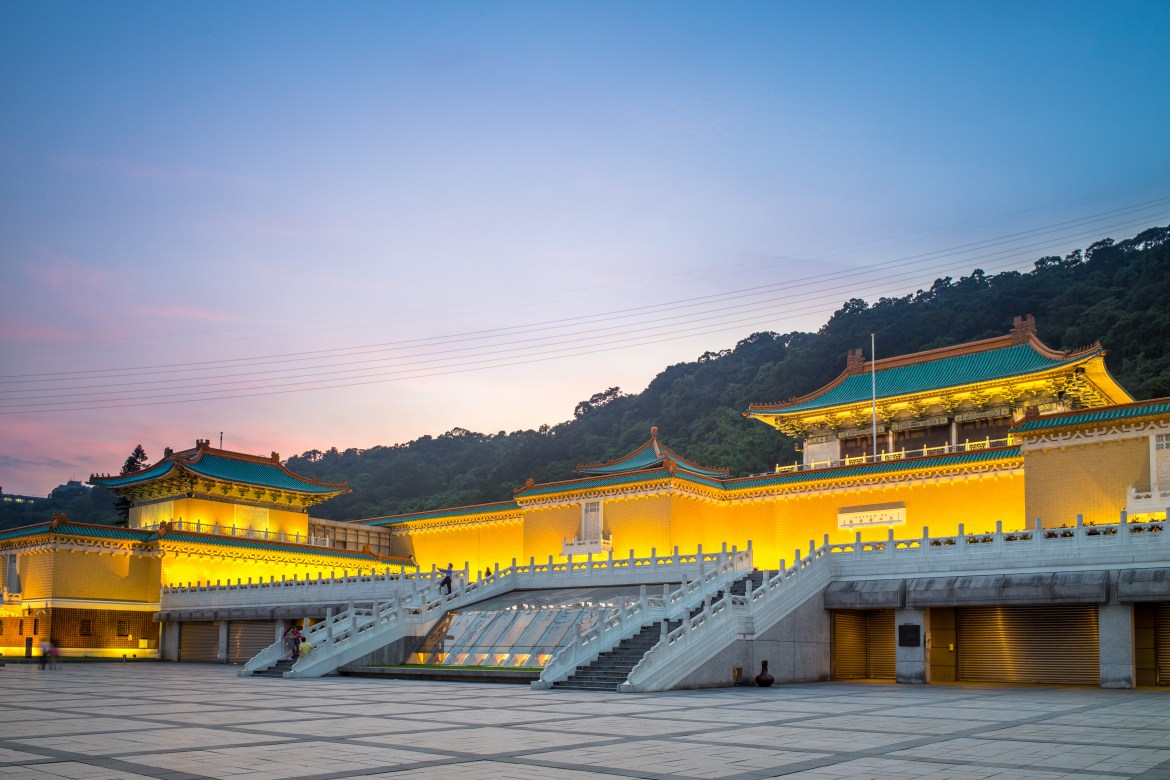 Though built in the 20th century, these buildings share two common features: All are distinctly Chinese in style, and none would be considered particularly "modern".
Things began changing in the 1990s. The political winds had shifted considerably. Martial Law had been lifted the previous decades, and even remaining diehards in the Nationalist party had conceded that their stay in Taiwan might not be as temporary as they'd hoped. Taiwan had become richer and more sophisticated, and its people wanted their cities to have more architectural beauty than just Qing-dynasty temples and Japanese Colonial-era buildings. (Join MyTaiwanTour's Ultimate Taipei Day Tour to explore the architecture in Taipei)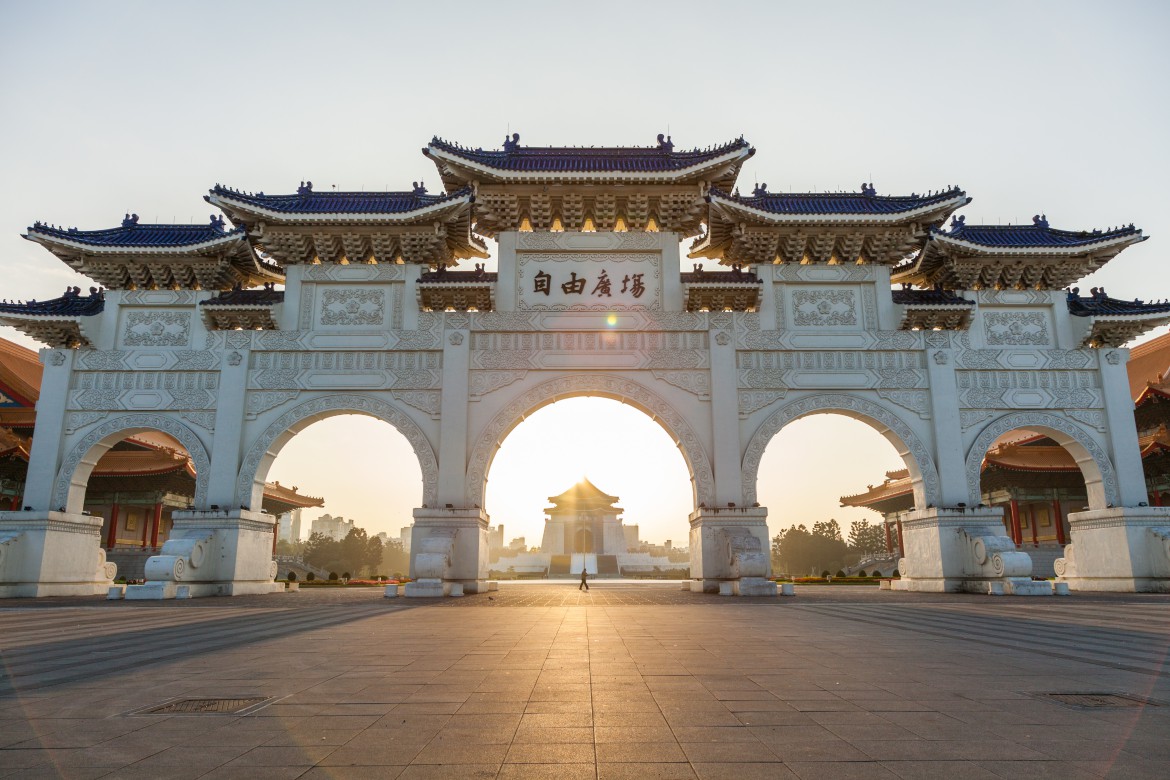 Turn of the Century: Modern Architecture Rises in Taiwan 
Architecturally speaking, Taiwan was looking towards the future. And as is often the case in Taiwan, once things started changing, they changed quickly.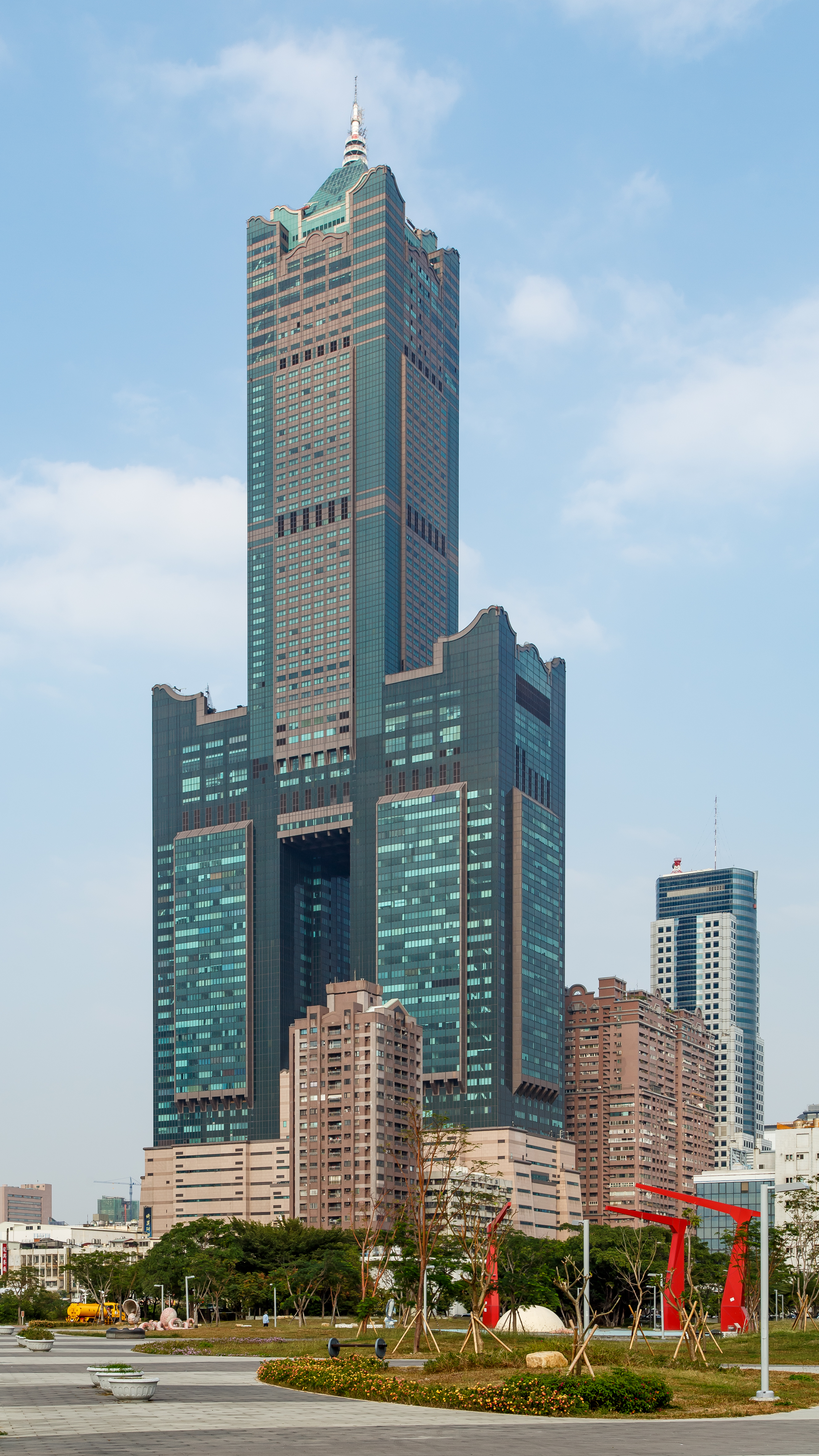 Completed in 1997, Kaohsiung's 85 Sky Tower would hold the title of Taiwan's tallest building (until Taipei 101 knocked it handily from the top tower slot). The mixed-use tower is a skyscraper in every sense, being tall, sleek and beautiful. It's also an icon of the city of Kaohsiung, it's structure resembling the character高 (the first character in the name Kaohsiung). (Read more: 5 things to do in Kaohsiung)
Though the early 00's are best remembered for being the decade that gave Taiwan it's most famous tower, Taipei 101, this Taiwan icon was preceded by the opening just a few blocks away of one of Asia's most unique buildings. Completed in 2001, Architect Jon Jerde's Core Pacific Living Mall is actually a complex of two buildings, an L-shaped sarcophagus partially enveloping an eleven-story high granite sphere. Though overshadowed by Taipei 101, few people will argue that the Living Mall is the more architecturally surreal of the two. 
Taiwan's landmark: Taipei 101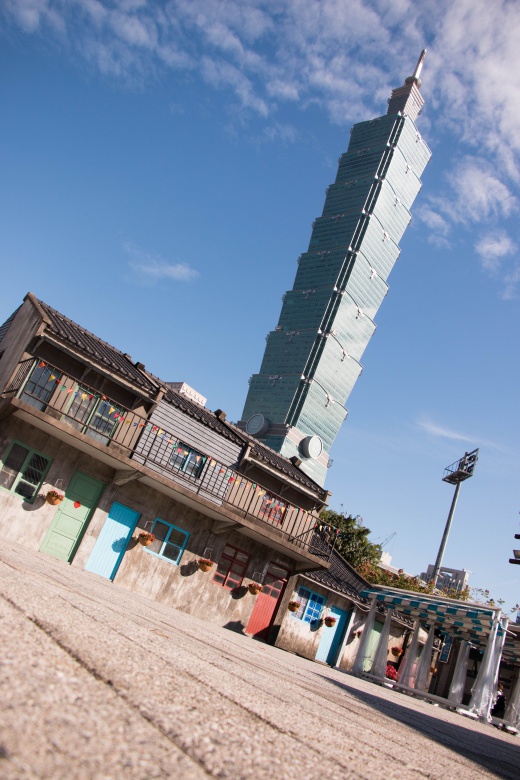 Of course, 2004 saw the completion of Taiwan's most iconic skyscraper, Architect C.Y. Lee's Taipei 101 (which would hold the title of world's tallest tower until losing it to Dubai's Burj Khalifa in 2010). Graceful and elegant as the bamboo stalk it was built to resemble, Taipei 101 is praised for both its seamless blending of modern and classical style and the sheer engineering chutzpah of its creators for building a 101 story tower in a region known for typhoons and earthquakes. Taipei 101's revolutionary 660-Tonne steel pendulum, which hangs inside the building from the 92nd to 87th floors and offsets the building's movement, is nearly as iconic as the tower itself. (Be guided around Taipei 101 by a private, VIP host on this luxurious tour of Taiwan's tallest structure by signing up MyTaiwanTour's Taipei 101 Private Sunset Luxury Tour)
Sustainable Architecture: Beitou branch of the Taipei Public Library
If Taipei 101's completion represented a renewal of Taiwan architecture's urban soul, then the Beitou branch of the Taipei Public Library might be said to represent its more pastoral-academic side. Opened in 2006 just a quick skip away from the Beitou public hot spring, this two-story building is notable for being designed to minimize both water and electricity consumption. The large windows offer exceptional views from both inside and out, the roof generates both electricity (thanks to photovoltaic cells) and captures rainwater. (Read more: The Hot Springs of Beitou – A Place of Warmth, History, and Mist-ery)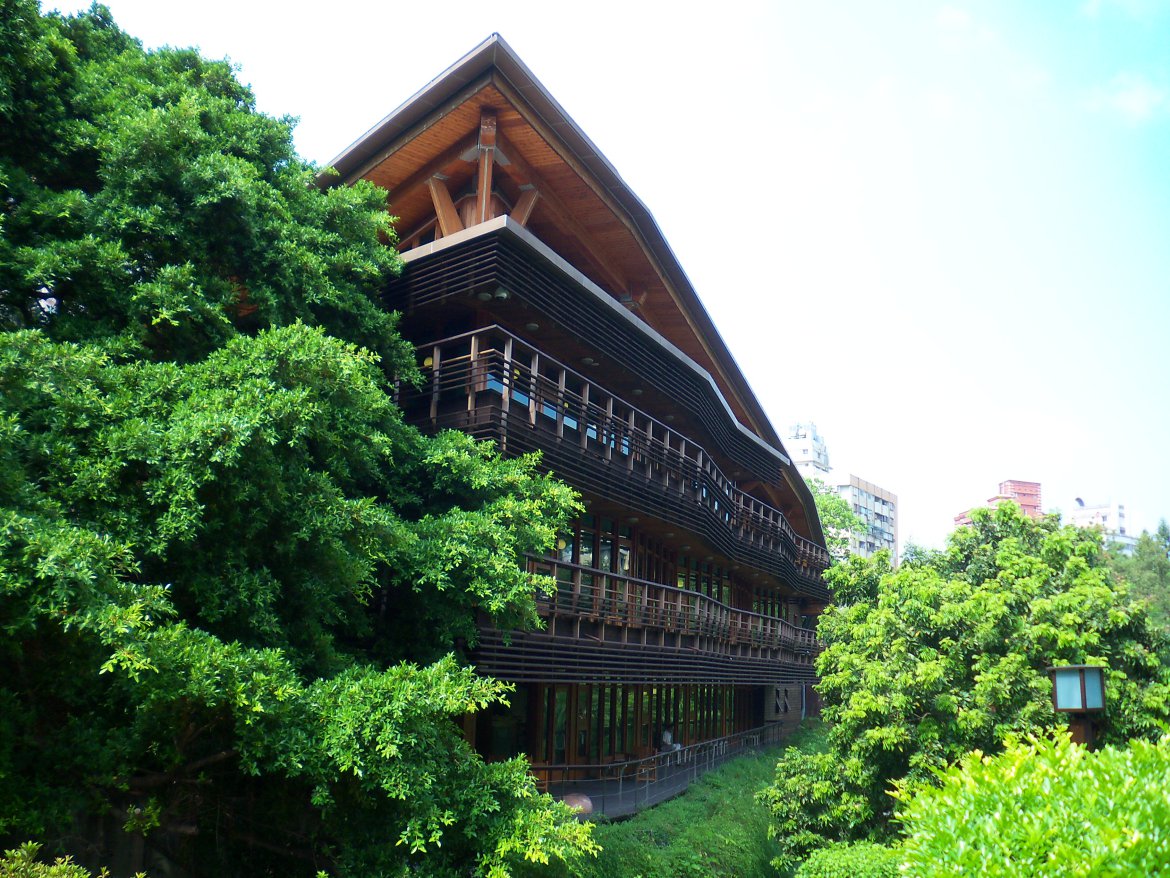 Designed by architect Kuo Ying-chao, the library blends exceptionally well into the surrounding environment and holds numerous honors. Eco-friendly and lovely, the library has been named one of the world's 25 most beautiful public libraries by U.S.-based cultural news website Flavorwire. (Explore the history, culture and healing waters of Taipei's geothermic Beitou neighborhood by joining Bath of the Gods)
The Twenty-Teens: Taiwanese Architecture Gets Experimental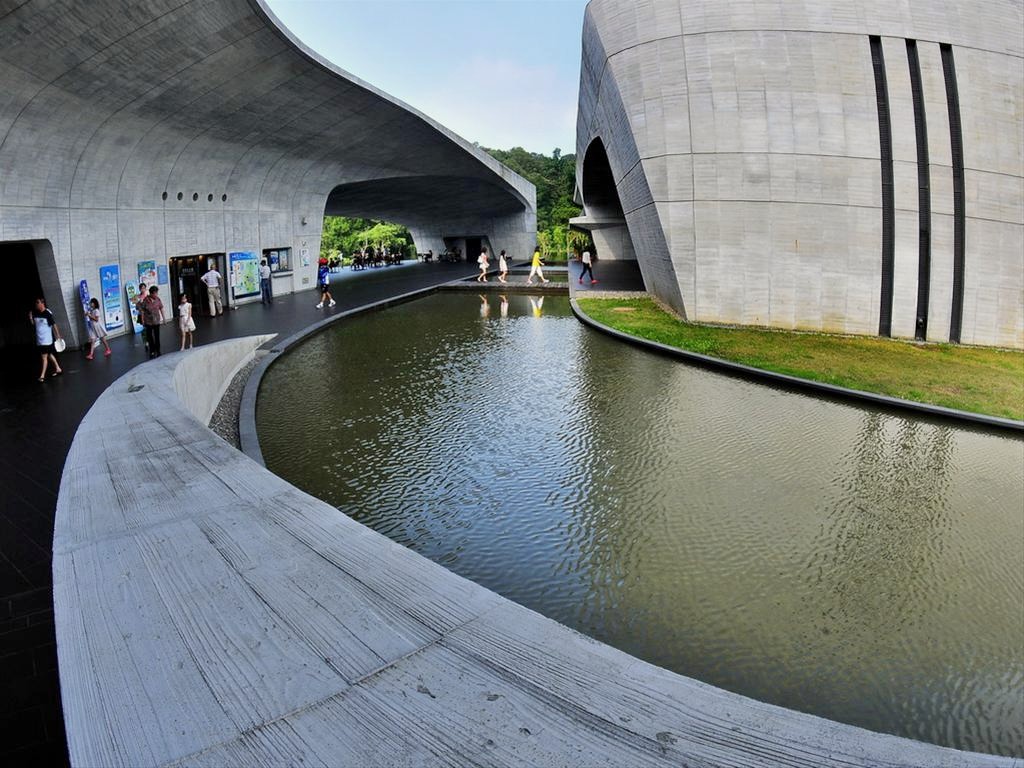 As the second decade of the new century dawned, Taiwan witnessed the birth of another architectural milestone, this one distinctly removed from Taiwan's urban roots. In 2010, the Xiangshan Visitor Center was completed on the shores of Sun Moon Lake, joining the nearby Wen Wu Temple, another notable structure built in the 20th century harkening back to ancient China. (Be enchanted, inspired and awed by the beauty of Sun Moon Lake by joining MyTaiwanTour's Sun Moon Lake One Day Leisure Tour)
Designed by architect Dan Norihiko, the structure consists of two curved wings with central canopies and integrates seamlessly with the natural beauty of the surrounding landscape; a good thing, as Sun Moon Lake is known as one of the most beautiful spots in Asia. (Read more: The Sun Moon Lake National Scenic Area – An Experience Wholly Different Every Few Hours)
Completed at 2012, Kaohsiung's China Steel Headquarters (designed by Taiwanese architect Kris Yao) cemented Taiwan's southern city as an architectural hub. Comprised of four individual towers bound together by a central core, the multi-faceted skyscraper is geometrically unique, resembling an origami sculpture of steel and glass. In addition to housing the China Steel Corporation, the building also houses the Kaohsiung branch of the American Institute in Taiwan. (Read more: Something's Up — Down in Kaohsiung and Tainan: A Cultural-Creative Bloom)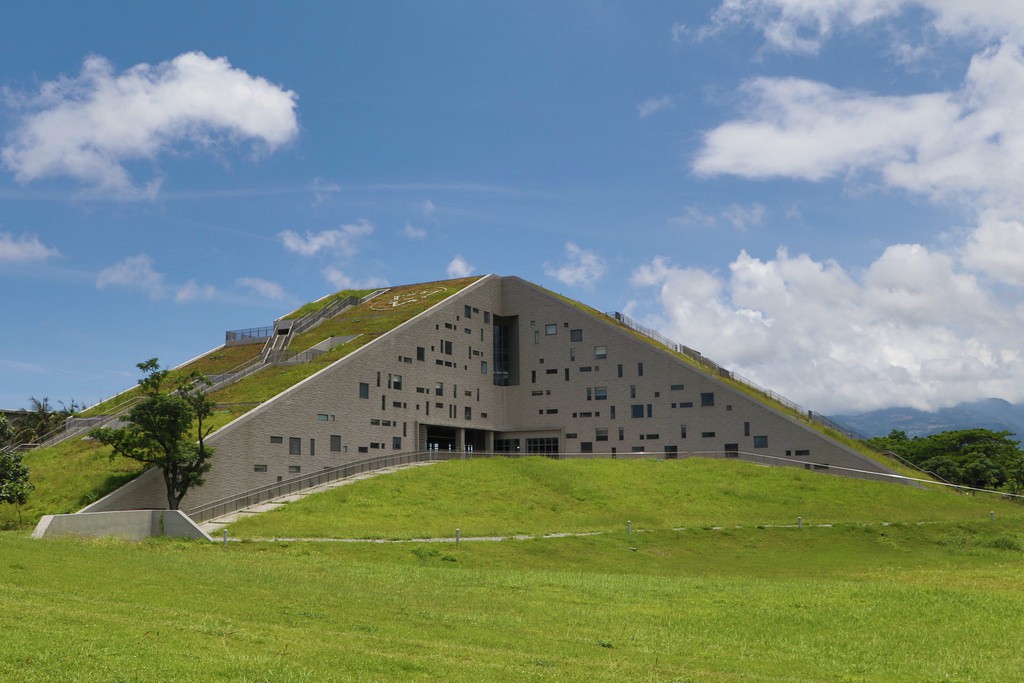 While Taiwan's East Coast is known more for its bucolic splendor than architectural achievements, in 2014 Taitung City landed on Taiwan's architectural map with the completion of the National Taitung University Library and Information Center. Recognized as one of the world's most unique libraries, this 13,000 square meter structure, like the Xiangshan Visitor Center, seeks to blend into the surrounding area while also providing a way for visitors a vantage point for appreciating the scenery of Taitung. (Explore the chilled out town of Taitung by joining MyTaiwanTour's Eastern Beauty 5 Day Tour)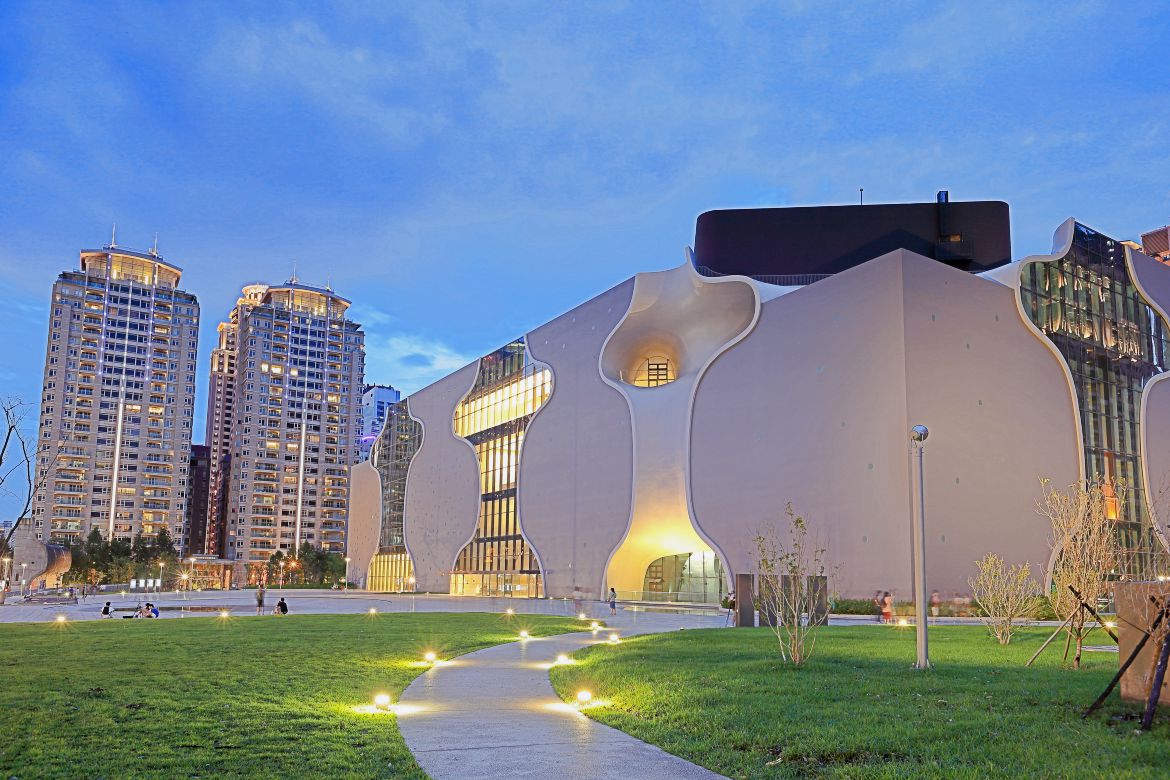 In 2016, The National Taichung Theater made the architectural world sit up and take notice of what Taiwan's central city had to offer. Designed by Japanese architect Toyo Ito in collaboration with British-Sri Lankan artist Cecil Balmond, the curvaceous building features swooping concrete walls and a delicately rounded interior that makes you feel like you're inside of a gigantic pristine egg. (Visit the ultra-modern National Taiwan Theater by joining Taichung in a day Tour)
The Future of Taiwanese Architecture
So what does the future hold for Taiwan's Architecture Scene?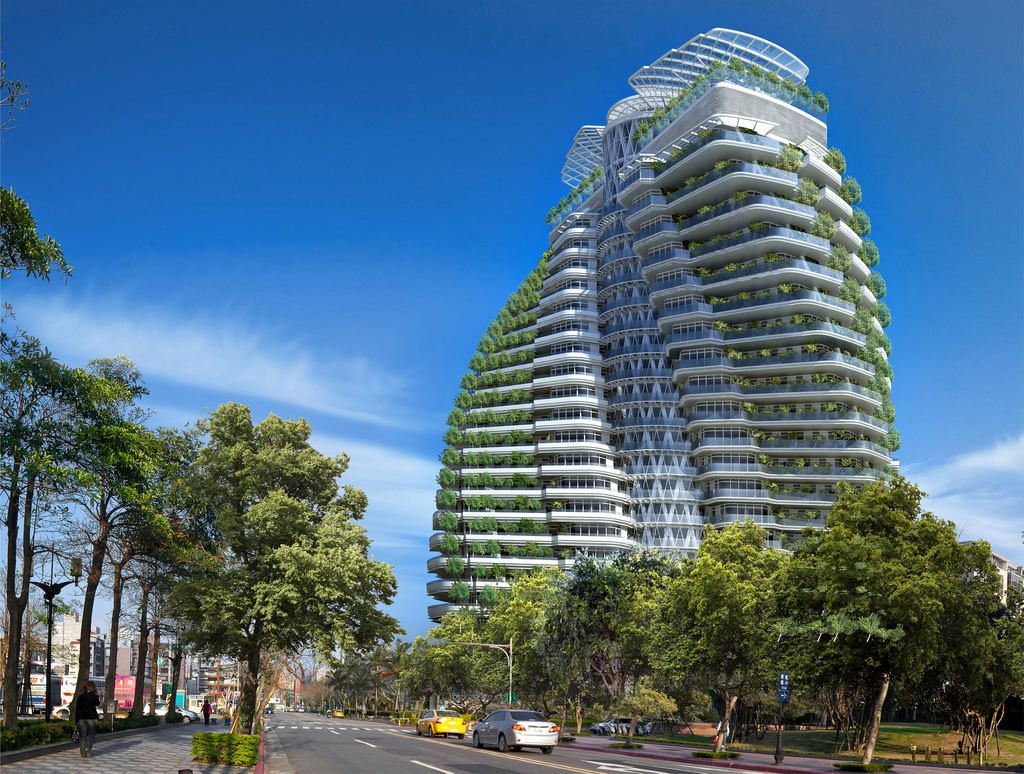 Currently rising skyward in Taipei's Xinyi District (not too far from Taipei 101) is The Tao Zhu Yin Yuan Tower (Agora Garden Tower) by Vincent Callebaut Architectures in Taipei, Taiwan. Resembling a double-helix DNA strand, the twisting tower promises to not merely be beautiful, but also to reduce the city's carbon footprint. Once completed, the skyscraper's facade, roof, and balconies will contain over 23,000 trees and shrubs, projected to absorb about 130 tons of carbon dioxide per year. The tower will also have glass floors, interior gardens, and very likely some of Taipei's priciest condo units.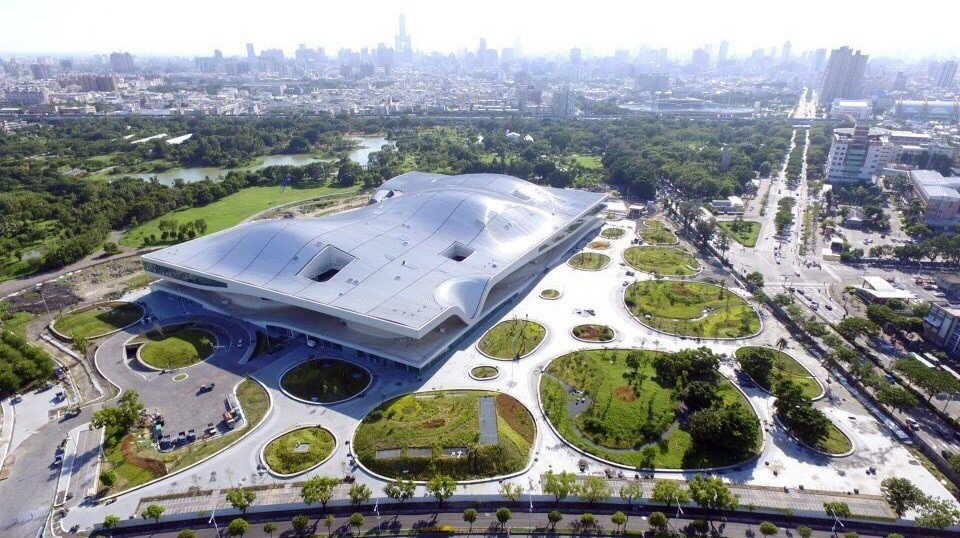 Also nearing completion is Kaohsiung's Mecanoo-designed National Kaohsiung Center for the Arts; incorporating five state-of-the-art performance spaces under a single roof which, the 35 acres (141,000 square meters) building will be the world's largest performing arts center under a single roof. The National Kaohsiung Center for the Arts is set to be open in October 2018.
More eco-friendly buildings, more public art spaces, and more integration of form and function over mere practicality.  Whatever the future holds for Taiwan's architectural scene, one thing's for sure: The days of being Asia's ugly duckling are long gone.