Words By Rick Charette
For Taiwan travelers, the word "Alishan" stimulates a whirlwind of pleasant imagery. The Alishan National Scenic Area in Chiayi is a central mountains region that is one of Taiwan's most popular vacation getaway destinations. It's also one of the top attractions with international tourists.
The images? Soaring cypress and cedar forests, and massive "sacred trees" over 1000 years old. A narrow-gauge alpine tourist railway built by the Japanese over a century ago to bring timber down to Chiayi City. "Seas of clouds" rolling into deep valleys like tsunamis, savored from perches high above. (Read more: Alishan: Where the Sun Starts Its Day – A Journey into High-Mountain Alishan National Scenic Area)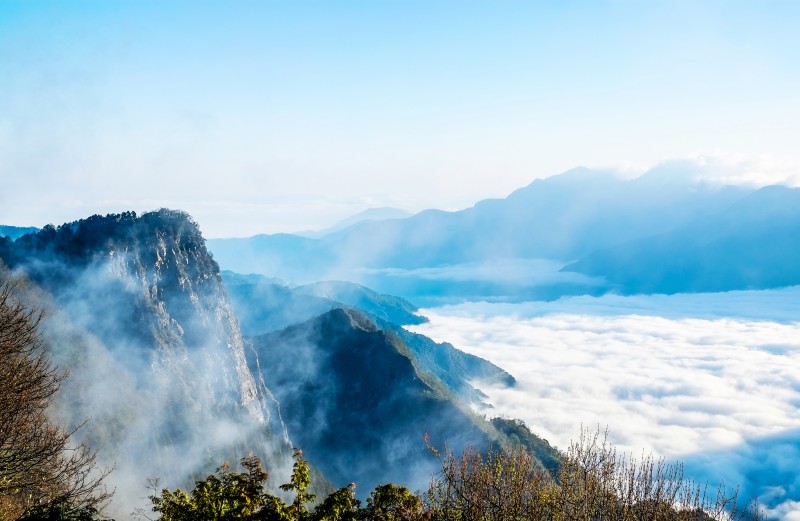 And mountain slopes aesthetically sculpted with neat-row tea plantations, from about 1200m to 1500m up. Cultivation of Taiwan's celebrated High Mountain Oolong Tea began around the spread-out village of Shizhuo (1300m~1500m), on Provincial Highway 18, Alishan's main access road. Fill your getaway with tea picking, tea-factory DIY tours, marked-trail hikes through plantations, and teahouse/café sessions.
Sheng Li Farm
This tourist-friendly operation, an award-winning tea producer, is at roadside at the Highway 18 55.6km mark, at 1250m. In the same building as its tea-processing factory is an airy retail area and a rustic wood-décor restaurant/teahouse/café with a grand mountain panorama facing east. The neat Sheng Li tea fields are directly below and beside.
Two tea-experience activities are offered. Both are for a maximum of 30 people, and you can join up with just two individuals (advance notice required). With the first, your guide takes you out for tea-picking, dressed in colorful traditional tea-picker garb if desired. After this comes a factory tour and DIY tries at sorting, roasting, etc. Then comes a taste experience, comparing six of Sheng Li's specialty teas. You also get to take home your own hand-made tea, and receive a gift of Sheng Li oolong green and black. The second experience offering features the factory tour and taste experience. (Read more: The Taiwan Scene Guide to Taiwanese Tea)
– Visit Sheng Li Farm
ZENGIN
Just before Shizhuo is reached, right beside the Shizhuo area's only gas station is ZENGIN. This is a spanking-new café/teahouse, opened in May last year. Its chic urban-minimalist, industrial-style décor – concrete, floor-to-ceiling windows, exposed steel girders and piping – has quickly made it a must-stop-in spot with younger Alishan visitors. The first-rate Alishan leaf and bean used are grown by the proprietor's parents. A student of Western cuisine, he also offers a range of visual and gustatorial sweet-treat delights. Specially recommended are the tea-theme Alishan Oolong Mousse Cake, Honey Scented Black Tea Saint Honoré, and Matcha Planet. ZENGIN also has homestay facilities.
– Visit ZENGIN
Shizhuo – Mist Trail and Tea Trail
A network of photogenic, well-marked (with English), and well-maintained trails called the Shizhuo Trails (石棹步道群) is located on the sometimes steep slopes of the village directly above Highway 18. The lower-slope 800m Mist Trail connects with the upper-slope 1,030m Tea Trail, reaching the peak above the village. The Mist Trail trailhead is reached a few hundred meters up a narrow road at the 63.6km mark on Highway 18.
The lower section brings you through terraced tea fields dotted with homesteads, a cluster of which are homestays. The view is to the east over what is called the Rainbow Valley, perfect for sunrise viewing. As you rise the scenery changes to dense, interchanging bamboo and coniferous forest, with interspersed forest-bracketed tea fields of very steep gradient.

YuYuPas
Alishan is home to a tribal group called the Northern Tsou. YuYuPas is a young cultural park, opened in 2010, located on the slopes right below Shizhuo. Dedicated to preservation of Tsou Tribe culture, almost all its workers are young tribal members. Amidst the park's expanse of tea and coffee bushes and floral gardens is a song-and-dance theater, traditional-style cultural exhibition hall, "thatch hut" glass-walled café and teahouses, and dining hall.
The upscale dining hall serves traditional indigenous delicacies and tea-cuisine creations. Most popular among the latter are the tea-oil chicken, an Alishan deep-fry specialty, and pork smoked over Alishan black tea. The teahouses offer taste testings of four YuYuPas Oolong teas (available for take-home purchase) for just NT$50. Tea and coffee tours are also available for groups with advance notice, including field tours and factory experience tours.
– Visit YuYuPas
Ajang Home
Ajang Home, immediately below YuYuPas, is a wonderfully whimsical mini-village. It has the feel of Gaudi's architectural art in Barcelona's Park Güell, or of a Lords of the Rings movie set. What, in fact, is it then? A mind's eye mock-up of the Tsou Tribe village that owner Ajang grew up in. He built all the stone and wood buildings, and myriad artworks, himself.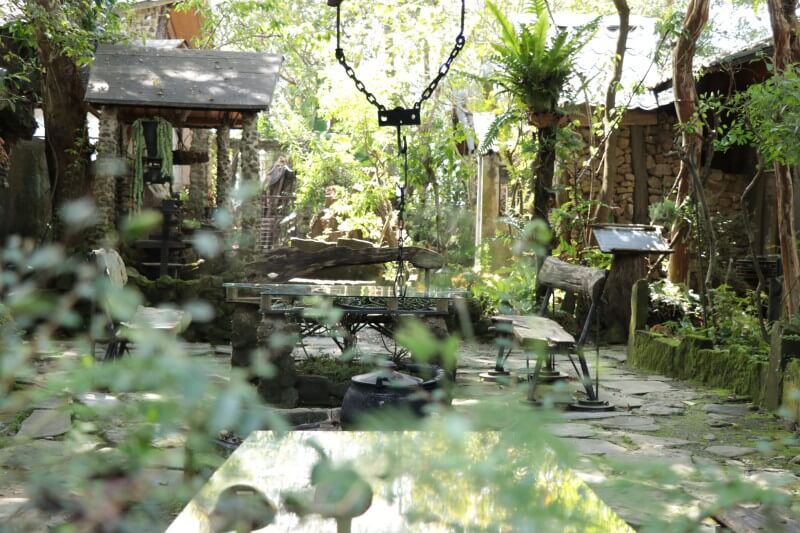 Order your premium Alishan teas or coffees and seat yourself down in any of the village's nooks or crannies. Specially recommended is the "village edge" viewing deck, which hangs out over Rainbow Valley. Delectable homemade breads are also available, made with local ingredients in a large Ajang-crafted French-style outdoor oven. Sign up (advance notice) for one of the DIY mochi or glutinous-rice muffin sessions. Ajang Home also has homestay facilities.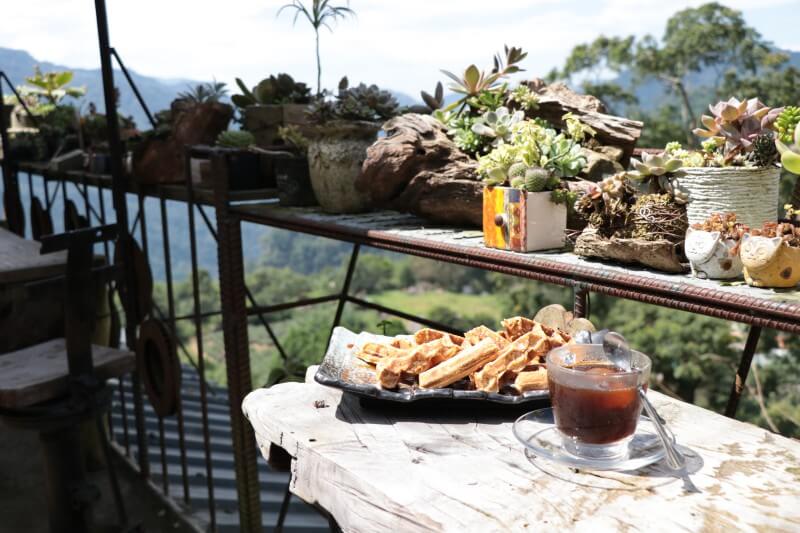 – Visit Ajang Home
Ready for a tea-ruly tea-rrific getaway up among the Taiwan clouds? You might enjoy a Premium 5 days Sun Moon Lake & Alishan Tour. If you're looking for a fully custom tea tour, click here.