WORDS BY Zhang Kaihong
TRANSLATION BY Joe Henley
PHOTOS BY Kris Kang, Jay Lin
On May 17, 2019, the International Day Against Homophobia, Transphobia and Biphobia, Taiwan became the first Asian country to legalize same-sex marriage. The legalization of same-sex marriage will reach its one-year anniversary in May of this year, marking an important milestone for human rights not only in Taiwan, but also in the world.
This important day this spring serves as a reminder that love is love, regardless of gender. For gay couple Jay (林志杰) and Jona, this means that they can also enjoy their responsibilities and rights as parents. Let's have a look at their story and experience their happy life of building a family of four in Taipei. (Read more: Ultimate Taipei LGBT Map)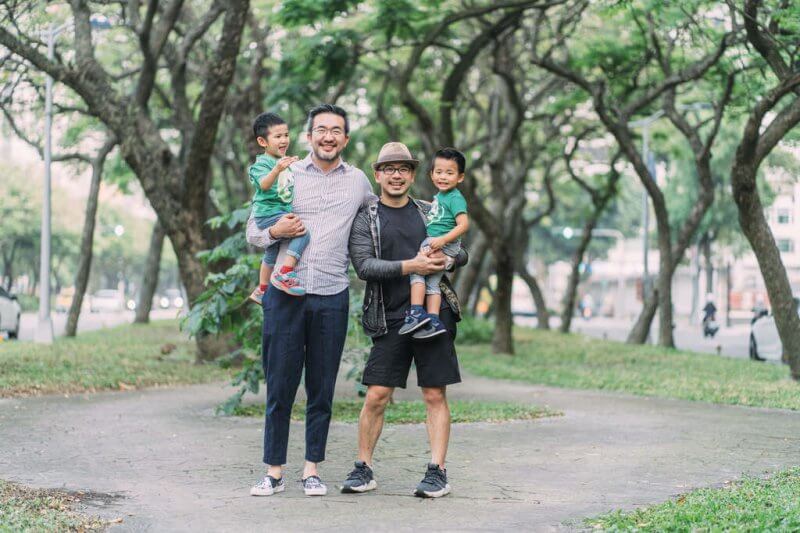 A HARD-EARNED ORDINARY DAY
For many parents, their child's first day of kindergarten is by turns nerve-racking and highly anticipated. It's no different for Jay and his partner Jona. After work that day, they strolled along tree-lined Dunhua South Road (敦化南路), ready to pick up their twin boys from their first day of school. The journey toward this day, which seems so ordinary for most, has been anything but easy for the couple.
Jay and Jona put a lot of effort into preparing the boys for this important day. Apart from explaining what "going to school" means to their sons and reminding them to be good boys at school, they also offered a precaution: "After you start school, you will often not be at home for the whole day, and daddy won't always be by your side."
In addition to preparing their children mentally, they also had to courageously face their identities as parents. It is perhaps Taipei's friendliness toward the gay community that allows Jay and his partner to walk their children to school, hand in hand, without any cause for concern. Even the teacher embraced the twins with graciousness. The brothers did not cry or cause any trouble; they just nodded, took the teacher's hand, and entered the classroom without a fuss. (You might also like:
Taipei Celebrates Our Pride)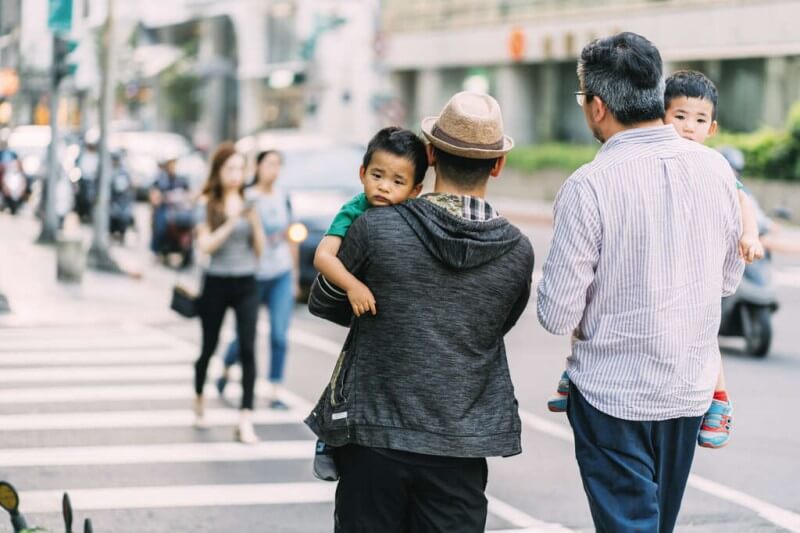 REALIZING THE DREAM FOR A DIVERSE FAMILY IN THE SECOND HALF OF LIFE
Four years ago, through a surrogate mother in the United States who gave birth to his twin boys, Jay and Jona, Jay's partner, 13 years his junior, became fathers. Before that, Jay, aged 40, was an entrepreneur in a stable relationship with his boyfriend and elderly parents who accepted his gay identity. He was considered to have the full package in the gay community — quite a catch. It was not until the crossroads to the second half of his life began to loom that he started to think about the possibility of having a family and raising children. "Perhaps it was a mid-life crisis," Jay says jokingly.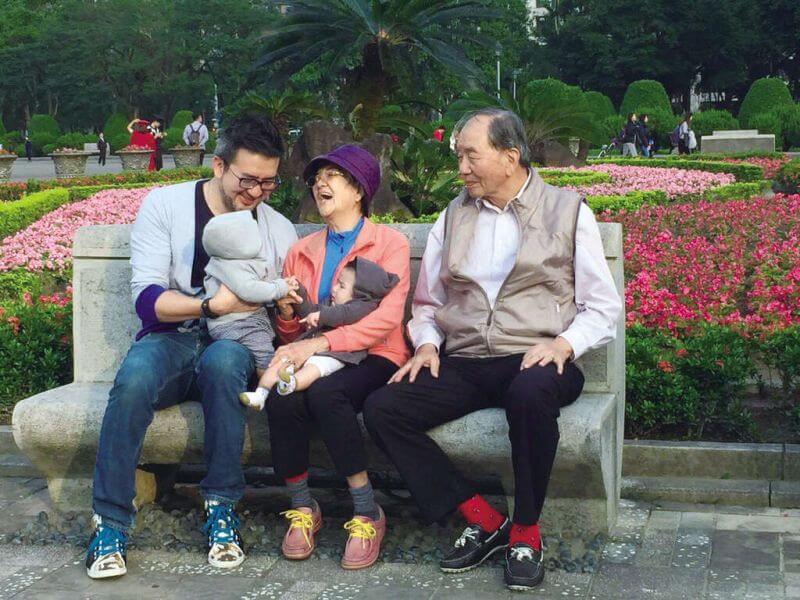 As the saying goes, "It takes a village to raise a child." Jay says that there is no better description than this for a gay family. He explains that for a gay couple to raise a child, the "mother" role doesn't exist. However, assistance from women is necessary in the process. Take the twin boys for example, a lesbian friend in Taiwan had provided the egg, and the womb was offered by a surrogate mother in Southern California, which is the perfect depiction of a miracle realized through the "global village." (Read more: A happy accident: a first experience of Taiwan Pride)
A GAY FAMILY'S LIFE IN TAIPEI
Taipei's diversity and tolerance allow Jay to never have to think about how his decisions along the way were different from others. Instead, the recognition from his friends, family members, and even kindergarten teachers has convinced Jay and Jona that what their children have given them is the "sweetest burden" in life.
Gay families may seem different from the typical heterosexual families. However, for Jay's family, apart from one being called "Baba" and another being called "Daddy," they are no different from any other parents in the world. They go to amusement parks and family-friendly restaurants during weekends, their mobile phone albums are full of videos and photos of their sons, and they always put their children first.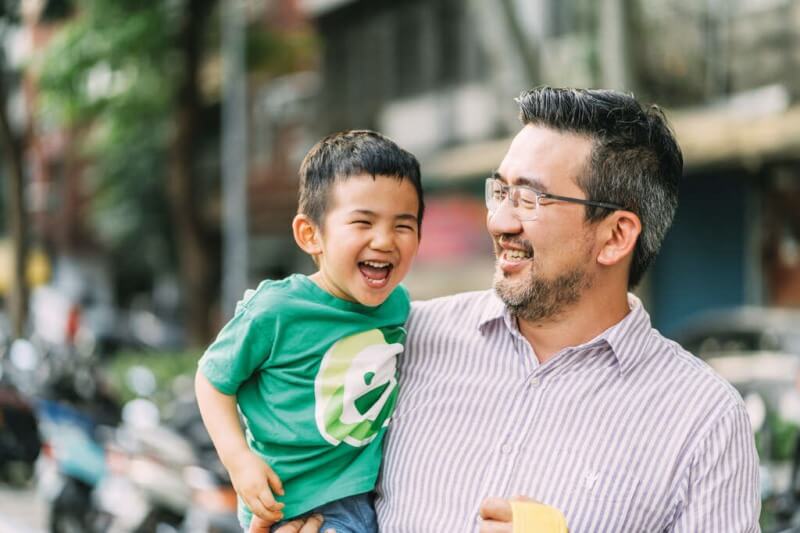 There are actually many gay families in Taipei, though most keep a low profile. The Go Go Kids Parent-Child Space (Go Go Kids 親子空間) on Xinsheng North Road (新生北路) is a laboratory established for children by a lesbian couple. This is a place where families can play games, make cakes, and conduct experiments. If one hopes to meet other gay families or friendly parents, this is just the place to go.
Every weekend, Jay's family of four take trips to the countryside of the Greater Taipei area, setting foot in places like the Taipei Children's Amusement Park (台北市兒童新樂園), Xiangshan (象山, Elephant Mountain), Treasure Hill (寶藏巖), etc. "Taipei is a highly children-friendly city. The density and diversity of family-friendly spaces are better than any city I have ever visited," Jay says. Most importantly, the convenience of the city's public transportation network allows people to go anywhere without any obstructions. Jay, having returned to Taiwan from California, says with a smile that he has not driven in Taipei for 15 years. (You might also like: PRIDE, Healing and Taiwan's LGBTQ Community: A Conversation with Olivia Wu)
CHILDREN ARE, AFTER ALL, LIFE'S GREATEST CONCERN
Some say that raising children is just like starting a business, to which Jay's response is "Yes and no." They are similar in that it requires you to go all in, giving full devotion economically, in terms of your time, and also spiritually. However, the difference is that "You can fail in entrepreneurship; just start over and write a new business plan. You can't do that in raising kids."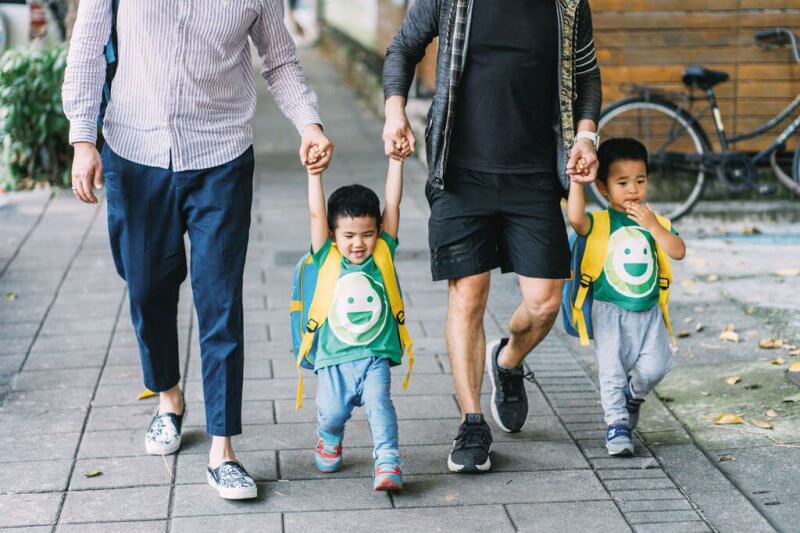 After kindergarten, Jay and Jona stroll along Dunhua South Road, heading home, each holding one of their sons. Jay says that at that precise moment, flashes of the children going from primary school, junior high school, senior high school, to university suddenly pop into his mind. Could it be that the children will grow up and leave home so quickly, as though it's just a blink of an eye? "When that time comes, even if you keep chasing, they won't let you hold them anymore," Jay says. "My mother often said that we shouldn't hold our children all the time. Instead, we should teach them about independence from a young age. I never understood that. Independence will happen sooner or later. Until then, I should hold them for as long as I can." Truly, whether you are a father or a mother, love is indeed always the same.
Go Go Kids
🏩 12, Ln. 15, Sec. 2, Xinsheng N. Rd., Zhongshan Dist.
🕑 11:00am – 5:00pm
This article is reproduced under the permission of TAIPEI. Original content can be found at the website of Taipei Travel Net (www.travel.taipei/en).