Surrounded by oceans, Taiwan is known as an island country that has the stunning coastal views and fun water activities. You can enjoy surfing in Yilan or Taitung, scuba diving off Xiaoluqiu or Orchid Island, or simply enjoy sunning yourself at the beach in Kenting or Penghu. But these are just some of the more common activities people do by the sea. If you want to experience authentic ocean-side life in Taiwan, here are some things you should definitely try.
Digging Clams in Xiangshan Wetland
One of the most important habitats for migratory birds in East Asia, Xiangshan Wetland (香山溼地) in Hsinchu is also home to hundreds of kinds of crabs and clams. A free activity, digging clams at Xiangshan Wetlands is a perfect day out for families. The best time to visit is during the low tide in summer, the breeding season for clams. You might want to bring your own shovels and buckets, while, of course, as always in Taiwan, flip flops, shorts and sunscreen are also recommended. (You might also like: 8 Things To Do When Traveling With Kids in Kaohsiung)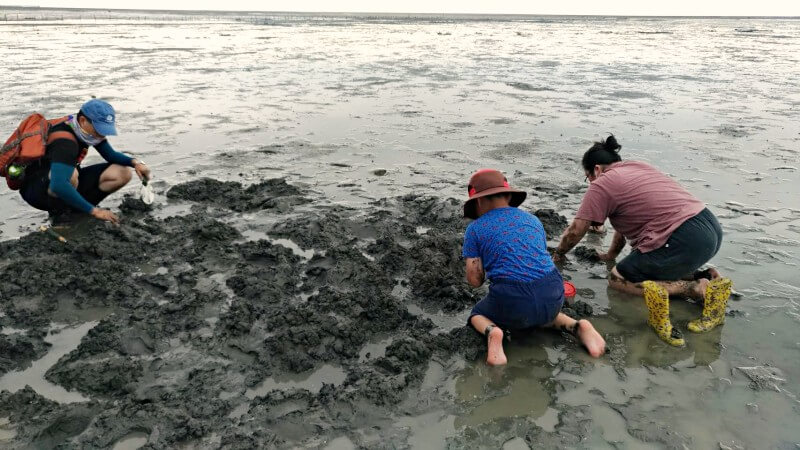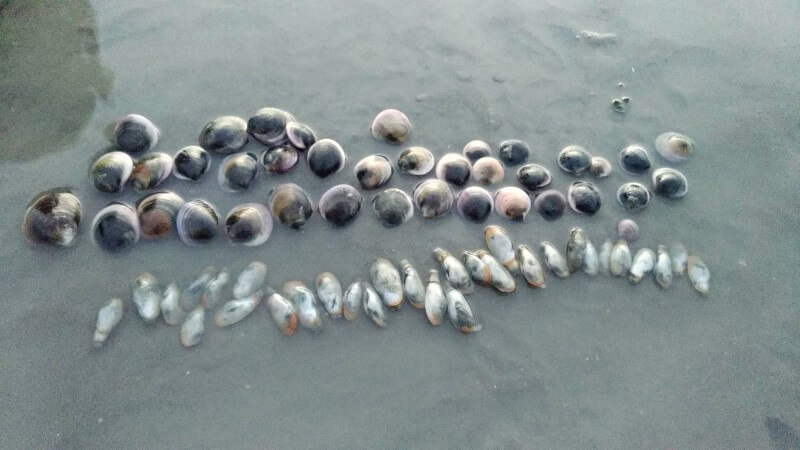 Oyster Collecting on an Ox Cart
Wangkong (王功) in Changhua County is a fishing village that is known for the freshest oysters. The oyster farming history there can be traced back 300 years, when the farmers had to use ox carts to carry their bumper harvest. Today, visitors can hop on ox carts and collect oysters with oyster farmers and taste the best Kedie (蚵嗲, fried oyster with leek) at Wangkong's local markets. Thanks to modern farming technology, these days, fresh oysters can be harvested all year round but you can try to visit Wangkong in July or August, when Wangkong Fishing and Firework Festival (王功漁火節) is held to celebrate the tasty seafood. (Read more: 10 foods you need to try in Taipei)
Rafting to the "Missing Land"
"Floating" ten kilometers off the coast of Dongshi Fishing Harbor (東石漁港) in Chiayi, Waisanding Sandbar (外傘頂洲) is a shrinking sand island that is also known as the "drifting land" or the "missing land." The area used to be the biggest oyster farm in Taiwan and provided rich marine resources to thousands of people living a self-sufficient life. However, the villagers gradually started moving back to land due to rising sea levels. Nowadays, visitors can raft to Waisanding Sandbar during the low tide when the sandbar surfaces and enjoy a one-hour environmental tour of the island. A seafood feast is also included on the raft on the way back to Dongshi.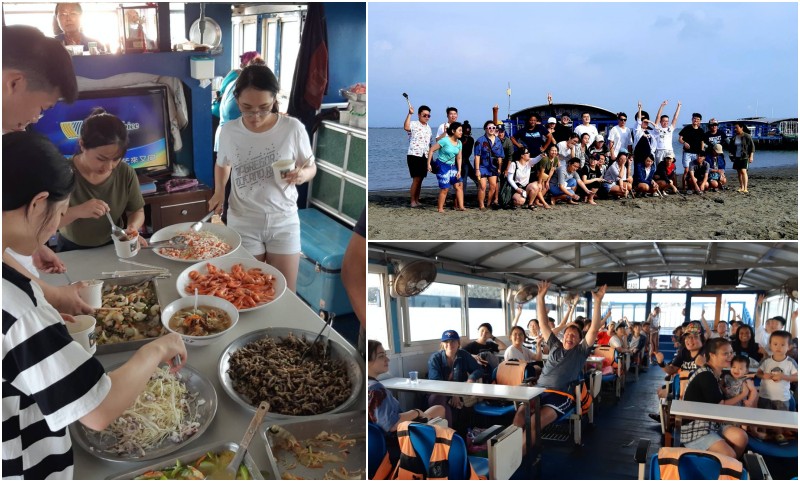 Night Fishing for Squids in Keelung
For those who are looking to party, why not take the party to the sea? Keelung, the harbor city located at the northernmost point of the country, offers night fishing trips at Badouzi Fishing Port (八斗子漁港) or Bisha Fishing Port (碧砂漁港). Visitors can choose to depart at 5pm or 6pm and enjoy the sunset, dinner and night fishing on the boat. If you don't mind spending a night at sea, try the tour departing at 00:30am and return to the harbor after enjoying the sunrise at 5am. May to October is a great time to take this trip as it's less windy out at sea. Squids, Largehead Hairtails and Horse Mackerels are all common catches. If you're lucky enough, you might hook a moray eel too! (Read also: 7 Street Snacks to Try in Keelung)
Swim across Sun Moon Lake
Okay, Sun Moon Lake might not be an ocean, but that's just details. Located in Nantou, the only county in Taiwan that is not by the sea, Sun Moon Lake is the biggest lake in Taiwan. Every year in September, Sun Moon Lake International Swimming Carnival is held for challengers to swim from Shueishe Wharf (水社碼頭) to Ita Thao Pier (伊達邵碼頭), which is about 3 kilometers in total. Over 20,000 people join the event every year as it has become one of the must-do activities on every Taiwanese's bucket list. In 2020, the event will go ahead as planned on September 27 despite the COVID-19 pandemic. (Read more: Eight Taiwan Sporting Events Serious Athletes Need to Know About)
Embrace the "Water Taiwan"