Across the globe, the allure of organic recreational farms has taken hold in one country after another. The trend reached Taiwan's shores over a decade ago, and many organic-themed tourist farms in Taipei are now offering DIY organic farming experiences, with a wide range of options. Leading the movement is the Baishihu (白石湖) tourist-farm area in the city's Neihu District.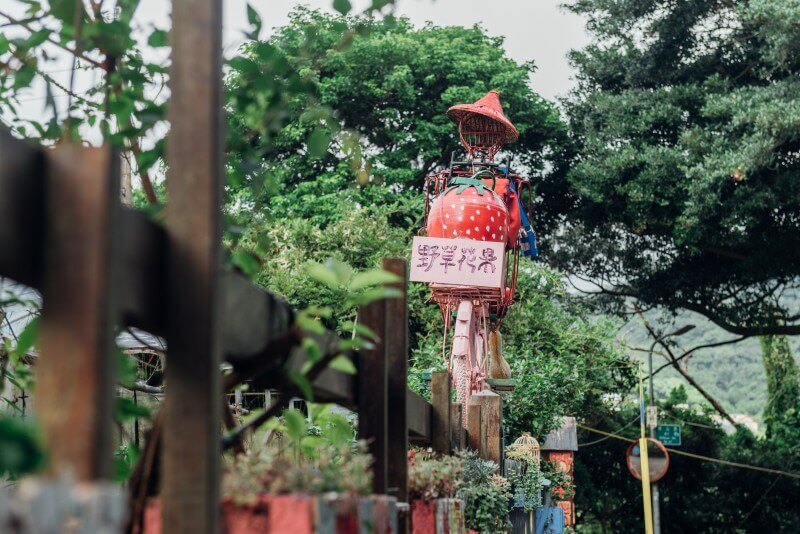 Teeming Taipei exists in a basin surrounded by mountains. This flatland is ripe to bursting with many-story buildings, the city's architecture reaching ever higher in the search for space. Yet in the 2020s you can still say you're heading for "farm country" within this city. Taipei is home to a number of tourist- farm clusters, with three of these especially popular with both locals and international tourists. Zhuzihu (竹子湖, Bamboo Lake), on the north side of the city inside Yangmingshan National Park (陽明山國家公園), is renowned for commercial flower production, notably calla lilies and hydrangeas. Maokong, in the low mountains on the city's southeast side, is known for production of Tieguanyin and Wenshan Baozhong tea (文山包種茶).
In the city's northeast is Neihu District, half basin flatland, half mountain area. The farms here are spread out along two roads, Dahu Street (大湖街) and Bishan Road (碧山路). In this article we're spending our time exploring the latter, where the cluster is located in a low-mountain basin in an area called Baishihu. "Baishi" means "white stone," in reference. (Read also: Fruit Tourism is Taiwan's Ripe New Trend!)
to the area's white-tinted mudstone and sandstone, which you'll see used in the numerous heritage structures erected by pioneering families. "Hu" means "lake" — however, as with the "hu" character in Zhuzihu, it is a reference to the basin.
THE MAIN THING TO DO IN BAISHIHU — ORGANIC TOURIST FARM EXPERIENCES
Over the past two decades, Baishihu has developed a reputation for sustainable organic farming practices. There are scores of farms, and more and more have come on board. The exemplar is Martin Farm (野草花果有機農場), the first operation encountered on the climb up Bishan Road from the flatlands, which in fact kicked off the movement.
The owner's English name is, yes, Martin; Martin Lin (林清立). A former international trading-firm entrepreneur, a health scare caused him to return to his Baishihu roots in the early 2000s, taking up farming on ancestral land that had been left uncultivated for decades. In the beginning he used traditional non-organic practices, but had qualms that grew ever deeper. "In light of my own health issues, I had reservations about the produce I was consuming, how I was hurting my own land, and how I might be injuring my own customers."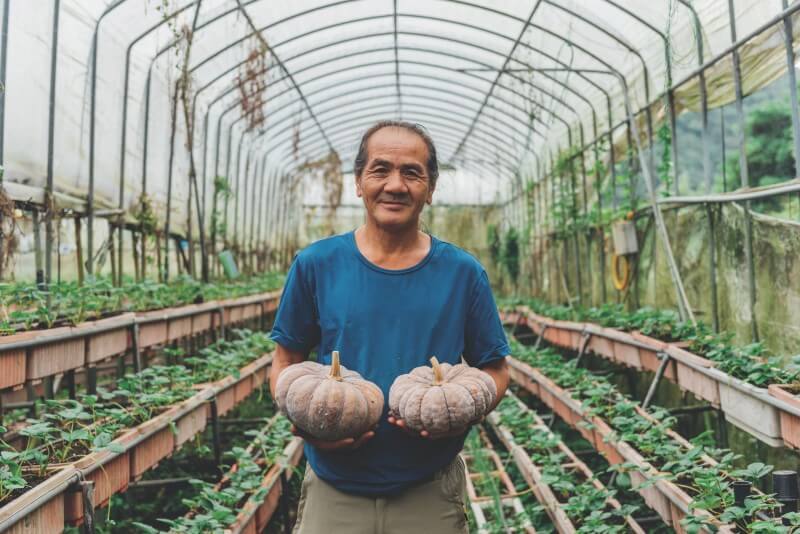 After five years he made the move to organic, and also decided to involve customers more deeply in the cultivation experience by offering educational DIY programs. In his international business and personal travels, he had seen how the concept of organic farms using sustainable agricultural practices, along with DIY farm experiences, had caught the public fancy in Western countries and also Japan. "Only if you dig your fingers into the soil do you develop intimacy with the earth — and a protective love that will last the rest of your life." In the first number of post-pesticide years, yields were less than stellar, but after much trial and error, learning the character of the land and different crops, the farm bloomed wonderfully. (You might also like: Pick Your Own Pineapple at a Taitung Pineapple Farm)
When he started, says Martin, the local farms were known mostly for strawberries, and those open to tourists offered simple berry-picking experiences. Other operators, seeing how customers responded to his organic theme, how Martin Farm had started growing a far wider range of fruits and vegetables to offer tourists different options through the year, and how Martin's operation was offering more intensive and wider-ranging visitor experiences, followed suit, making organic farm experiences a big feature in Baishihu today.
WHAT'S IN THE HARVEST?
The harvest-season basics, according to Martin, are strawberries from December to May, Chinese radishes from January to April, potatoes from April to June, and sweet potatoes from October to December. Many other delectables are also grown on a smaller scale, including such juicy fruits perhaps more unfamiliar to overseas palates as honey peach, dragon fruit, longan, and pomelo.
RANGE OF CAMP EXPERIENCES
Today, says Martin, local operators offer everything from straightforward berry-picking experiences to DIY cultivation experiences for crops, such as radish and sweet potato, spread out over a long period. A quick rundown of a few of Martin Farm's specialty experiences showcases the appealing range on offer. (Read also: Four Fantastic Family Restaurants in Taipei)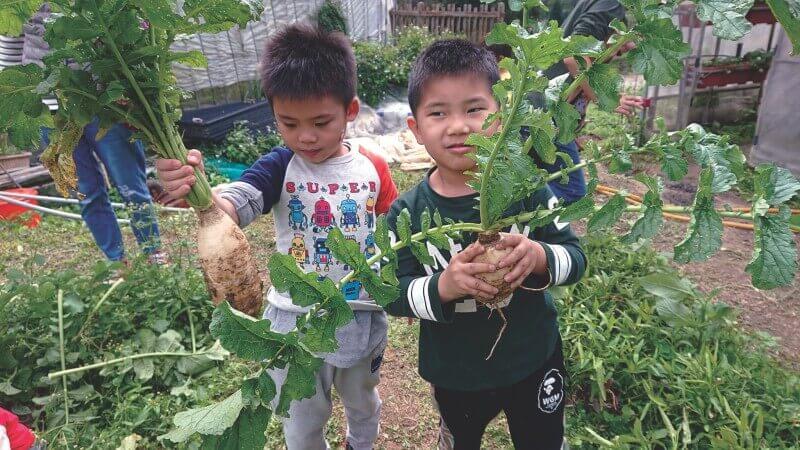 The one-day experiences include a guided farm tour and an introduction to organic agriculture, and also involve such get-dirt-under-your-fingernails DIY joy as strawberry picking, Chinese radish digging, and corn picking and shucking. These generally last from mid-morning to mid-afternoon.
Camp experiences are available, spread over eight to nine weeks — a full cultivation season — with participants coming in one day each weekend and handling all related work as a group, and sharing the harvest together. This spans everything from earth preparation to planting/seeding to weeding to harvest. (Read also: Savor Fresh Farm-to-Table Produce on This Aboriginal Cooking Tour)
There are also five-day camps that run from Monday to Friday. These have proven especially popular with schools. Groups have the option of overnighting at the small Martin Farm campground.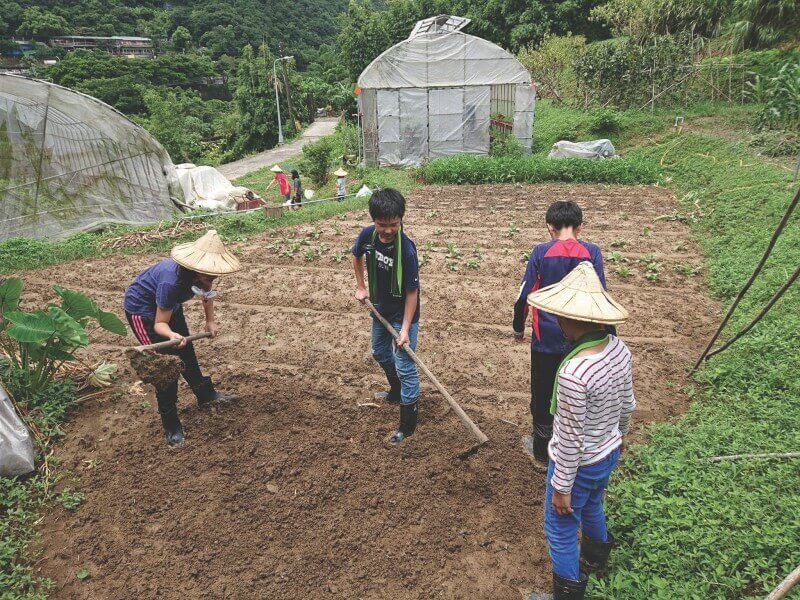 The experiences also include many other guided activities, such as painting (nature themes), rope climbing, fishing, fire-starting (using sticks only), nature walks (day and night), kiln roasts, frog and firefly spotting, and snail hunting.
Registration online is requisite. As can be seen, the experiences are youth-inclusive. Most often, adults participate in parent/child units, and "unattached" adults take part in the one-day experiences.
OTHER FUN THINGS TO DO IN BAISHIHU
The area is interlaced with a network of easy trails, paved with flagstones to improve the tourist experience, that bring you to the local farms and other draws. According to Martin, one that runs alongside Martin Farm, leading to the nearby Baishihu Suspension Bridge (白石湖吊橋), is part of the historic Danlan Trail (淡蘭古道), used by pioneers in the 19th century for trade and travel between the north coast port of Tamsui (淡水) and Yilan (宜蘭) on the northeast coast. (Read more: Experience the Flavors of Yilan)
The visually dynamic 116-meter-long Baishihu Suspension Bridge flies high across a narrow, shallow stream valley lined with neatly-tended farm plots along the waterway. Keep your eye out for Taiwan Blue Magpies and other colorful endemic species here. This attraction is another one of Martin's dream- come-true projects, in his quest to stimulate more local tourism and make walkabouts easier. The long bridge has a distinctive "dragon bone" look, emulating an auspicious dragon swooping across the landscape.
From the bridge, the archway entrance to Bishan Temple (碧山巖開漳聖王廟) can be seen, though initially the temple cannot. The large, mountainside- hugging multi-floor complex — the temple itself sits partly on the "roof" — in fact looks into Taipei Basin, not Baishihu. Despite the temple's splendid ornate beauty, it is the awe-inspiring sweeping basin view that brings the majority, the metropolis laid out before you like a giant model set.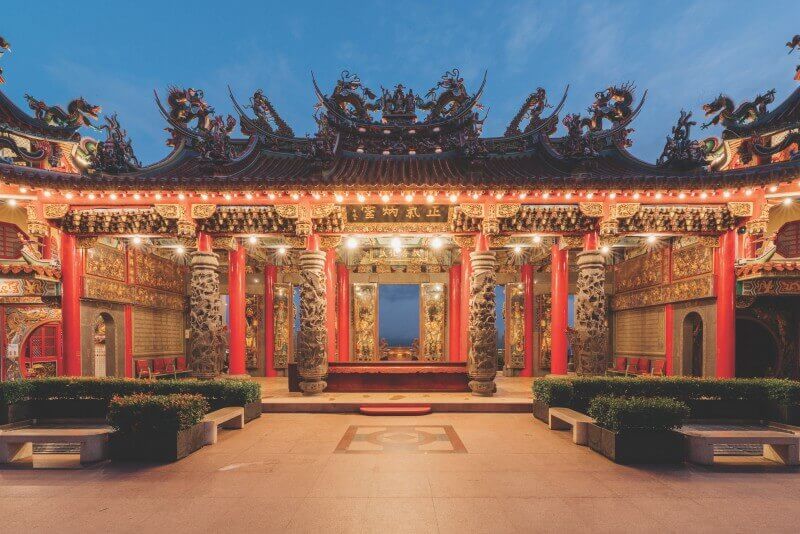 This grand place of worship began as the humblest of cave shrines in the early 1700s, set up in gratitude by the Baishihu pioneers for their safe passage from China (Martin's ancestors among them). This sacred spot still exists, open for viewing in the temple's rear. You'll see three stones within; it's said these were once one, split into three in the mid-1700s by lightning as a divine warning, making the pioneers take notice of a force of attackers gathering in the Taipei Basin below.
For those with more jump in their sneakers looking for a longer walk, Martin suggests a one-hour trail hike (if no stops) down from his farm to popular Dahu Park (大湖公園) in the flatlands of Neihu. He did this countless times — down and up — while growing up. The trek, moderately strenuous, is largely through forest shade. On the way you pass by the stone mansion-like Yuanjue Temple (圓覺寺; built 1924), Yuanjue Waterfall (圓覺瀑布), and Dagouxi Ecology and Water-Control Park (大溝溪生態治水園區). Dahu Park is also home to a renowned scenic lake with a Chinese classical-style arch bridge. (Read more: Take a hike: the best hiking trails in Taiwan)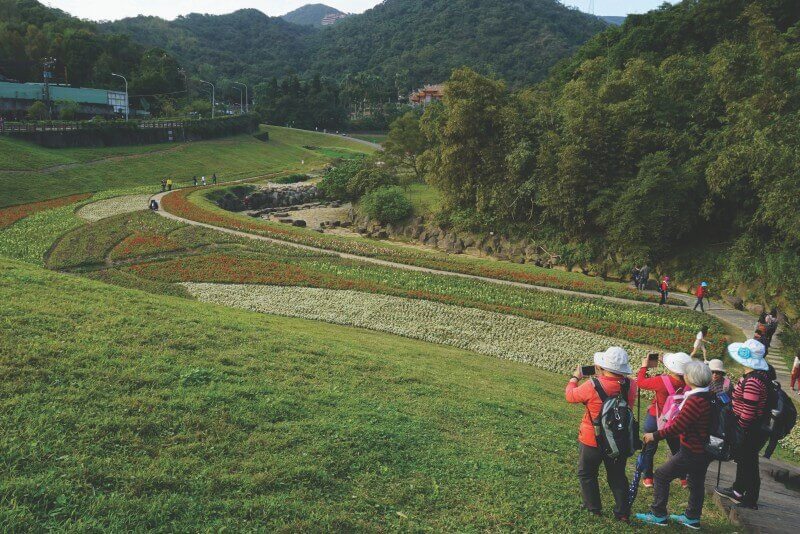 WHEN THE MUNCHIES HIT
A flagstone trail that runs up through Martin Farm passes by the romantic, landscaped One Heart Pool (同心池) — "one heart" meaning the two hearts of sweetheart couples bonded as one — which features pastel-color flowers in the shape of a heart, making it a popular photo backdrop. Directly above the pool is the old Lin family homestead, a sanheyuan (三合院, three-sided courtyard residence) built long ago using the local light-tint stone.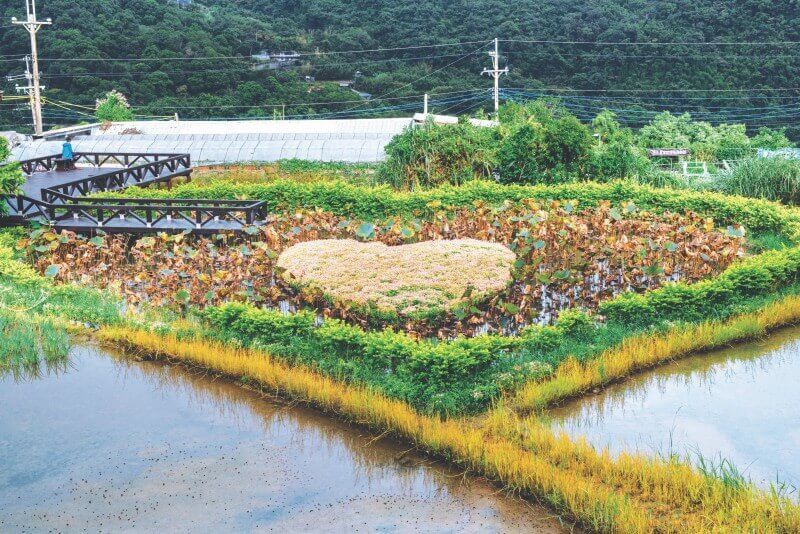 Taking the left fork in the path brings immediate arrival to the airy Farmhouse Cafe TRATTORIA (穠舍田園咖啡餐廳). It has the look of a Mediterranean eatery incongruously dropped down in the Neihu hills, looking down to the Taipei Basin instead of the Mediterranean Sea. The stone-laid patio area before the eatery, run by Martin's younger brother James, was originally the Lin clan's harvest-drying space. On the menu are tasty pasta, risotto, waffles, and other selections. Be sure to try the delectable strawberry muffins and strawberry au lait, made with organic berries cultivated by James in his next-door greenhouse. (You might also like: HsinPu Persimmons, Golden Pearls of Wisdom)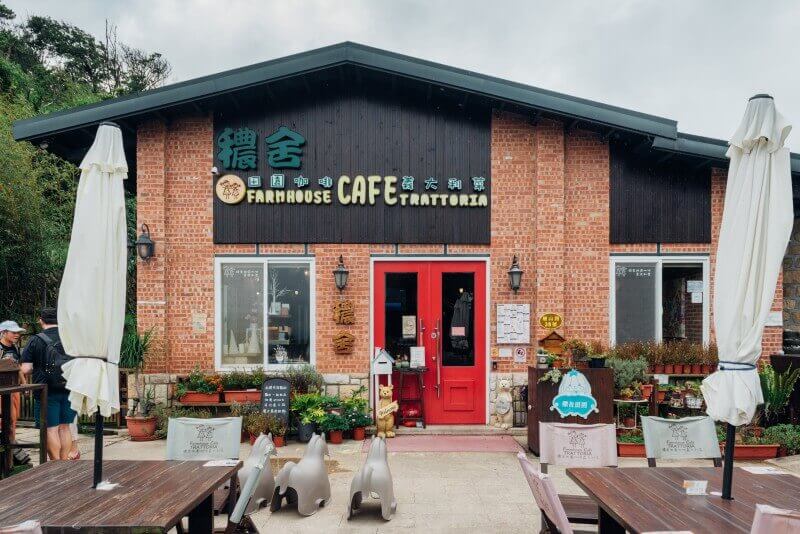 Organic Farm Experiences in Martin Farm
38, Bishan Rd., Neihu Dist.
0975-638-765
zh-tw.facebook.com/martinfarmers/
*site is in Chinese, but Martin and his wife speak English
Reservation by phone or via Facebook
Farmhouse Cafe TRATTORIA
38, Bishan Rd., Neihu Dist. (Behind Martin Farm)
www.facebook.com/FarmhouseCafeTaipei/
11:00am – 8:00pm (Mondays to Fridays)
11:00am – 9:00pm (Saturdays & Sundays)
HOW TO GET TO BAISHIHU
Take the shuttle bus (route S2) from the stop near MRT Neihu Station (捷運內湖站) and get off at Bishan Temple. A taxi ride from the station will take about 15 minutes. If driving, two moderate-sized parking lots are available, beside the Baishihu Suspension Bridge (Bishan Temple end) and at the temple itself.
(Words by: Rick Charette; Photos by: Xu Yirong, Samil Kuo, Martin Farm)
This article is reproduced under the permission of TAIPEI. Original content can be found at the website of Taipei Travel Net (www.travel.taipei/en).
If You'd like to Explore Outdoor Activities…