If there's a silver lining we can steal from the way the world is turning right now, it's the growing trend of ethical shopping habits. Globally, awareness of the harm caused by industries like fast fashion is on the rise, as shoppers circumvent the sales racks to seek out products that are cruelty-free, environmentally friendly, and fair to those who make them.
In Taipei, one of the best ways to ensure you're being a conscious consumer is to look out for the Fairtrade logo. If you're not doing so already, this might be the best time to start.
WHY FAIRTRADE MATTERS
While Taiwan might have squeezed through the worst of the pandemic unscathed, it's hardly been a good year for the global economy. Worldwide, entire industries are in deep recession. This is especially bad for the Global South, where poor working conditions and limited healthcare add to the woes of farmers and factory workers already stricken by the slump in sales and exports.
Under these circumstances, it's more important than ever that local producers are guaranteed safe working conditions and fair wages — two objectives that Fairtrade is trying to achieve. Internationally, it's already drastically improved the living conditions of countless local producers by enforcing measures, such as a living wage and encouraging investment in local communities. Furthermore, it recently put together a multi-million euro fund to address the immediate needs of local producers during the pandemic. Eager to support this awesome initiative? Check out these three Fairtrade stores in Taipei.
1. CAFÉ MÜLLER 穆勒咖啡館
One MRT stop from Songshan Airport (松山機場), Café Müller is an effortlessly hip hangout in the leafy northern neighborhood of Dazhi. Its raw concrete walls, upcycled furniture, and art house paraphernalia give off a gratifyingly grungy vibe. But it's not just the alternative aesthetics that have been well thought out. Owner Aarti Pren selects his coffee beans based not only on quality, but also on the stimulating returns they offer to local growing communities. (You might also like: Not Another Hipster Café : Taipei's Old-School Coffee Shops)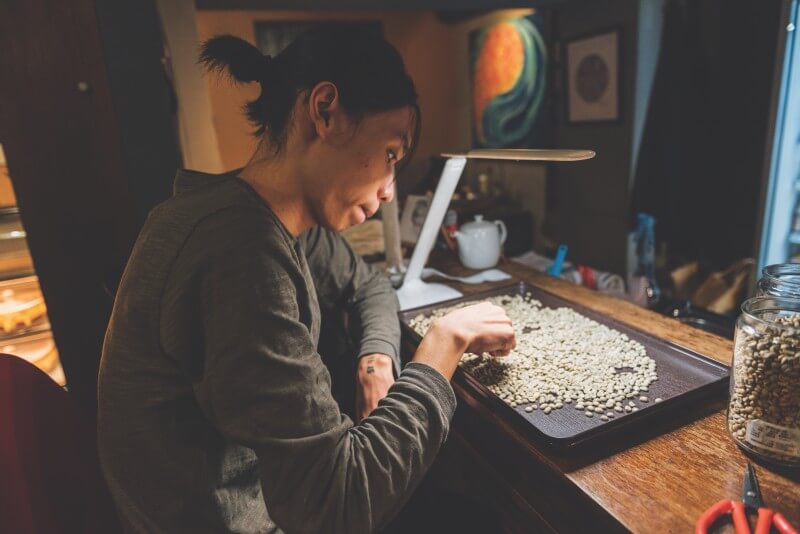 "When I started the café, I wanted to find a way for my business to help coffee growers enjoy a better quality of life," Pren says, explaining his reason for only buying beans that have been certified by the Fairtrade Labeling Organization (FLO). A regulatory brand of Fairtrade, the FLO helps coffee farmers negotiate fair prices for their crops, thereby protecting them from fluctuations in market price, which is of particular importance during the pandemic. It is through this and other means that the FLO is also working to eliminate child labor and protect the rights of female workers.
Currently, Café Müller sources bean varieties from Indonesia, Ethiopia, and across Latin America, the nuances of which are explained in detail on its artfully graphic menu. There's a lot to choose from here, so if you need to get your bearings, order the Barista Special, and one of Pren's certified coffee wizards will whip up a custom cuppa based on your specifications.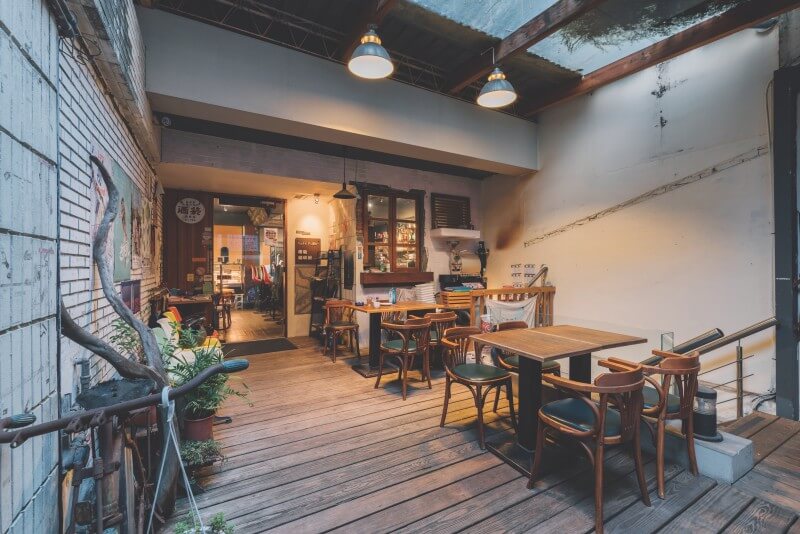 2. EARTHTREE 地球樹
Sitting behind a handsome gold-gated garden near Dongmen's (東門) Yongkang Street, this thoughtful lifestyle brand is a treasure trove of eclectic handicrafts and free-flowing women's wear. Owner Lydia Wang says the idea for her budding boutique took root 14 years ago while she was backpacking. "I wanted to share my suppliers' stories, and connect Taiwanese consumers with different cultures around the world," she says. (While in Yongkang street: Frozen in Time: Three Historic Neighborhoods to Visit in Taipei)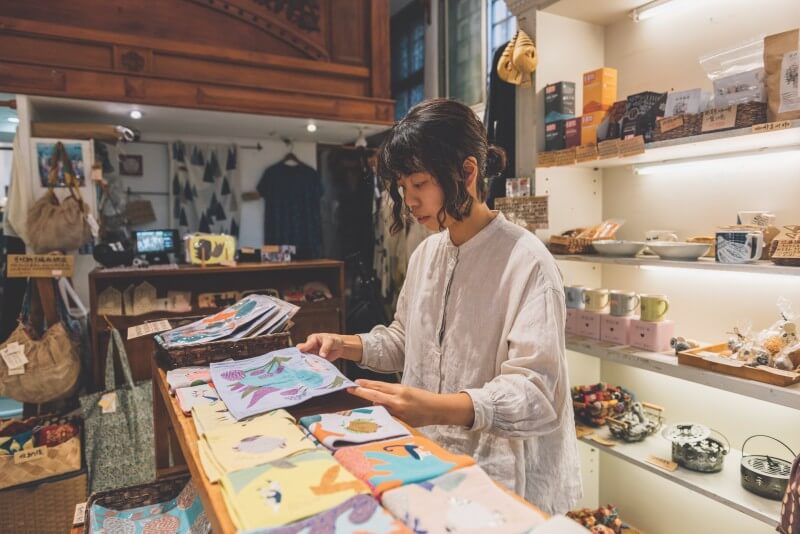 Earth Tree sells ethically sourced coffee, chocolate, and interest pieces, but the most attractive pieces of all are wearable. Wang set up shop before Fairtrade Taiwan opened in 2010, and collaborated with Fairtrade organizations in Japan to acquire designs and connect with sustainable producers in countries like Bangladesh and India. This was ideal for her business model. "Japanese fashion is extremely popular in Taiwan," she explains, "but at the time, not so many people were interested in Fairtrade."
With Fairtrade, textile workers enjoy a guaranteed minimum wage as well as safe working conditions. Crucially, Earth Tree also only sells clothes that have been colored using all-natural dyes, since artificial fabric dye has one of the industry's worst environmental footprints. Many of the pieces are made out of recycled fabric, or produced by using 100% organic cotton. "We try to make sure all our clothes have the lowest environmental impact possible," says Wang.
3. TWINE 繭裹子
TWINE's feel-good success story illustrates exactly the kind of business we need to see more of on our streets. Founded in 2009, they've worked exclusively with Fairtrade certified producers using ethically sourced materials. This caring company operates out of nine stores across Taiwan, reinvesting a whopping 50% of the revenue from their produce sales into the communities that supply them. Equally ethical is TWINE's membership of the international environmental organization 1% For The Planet, through which it contributes a fraction of its earnings to various environmental causes.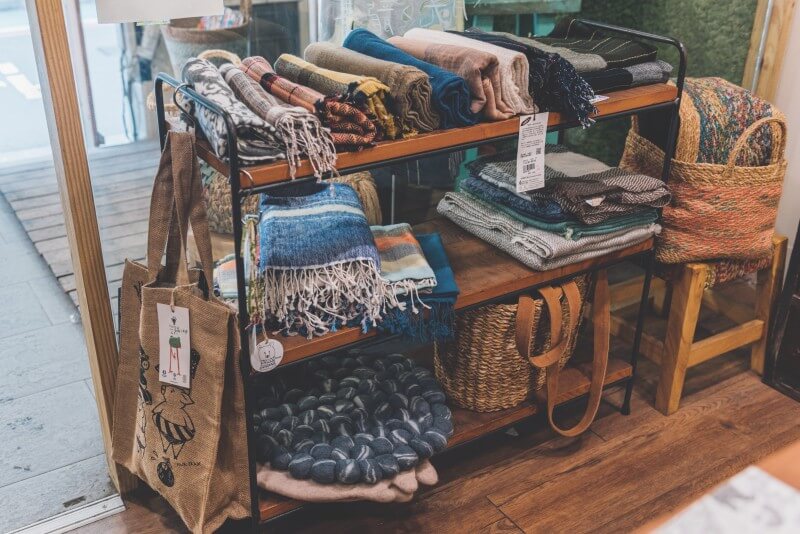 Inside TWINE's five Taipei stores, you'll find an emporium of interesting pieces and recycled fabrics, as well as wearable house designs. Brand owners Liz and Vinka's careful consideration of style, origin, and sustainability is boldly stated in a line of harem pants sewn together out of vibrant recycled sari fabric. TWINE produces many of its own designs, with an emphasis on the traditional creative crafts and cultures of their local partners.
There's plenty of mantel-adorning miscellanea for the intrepid gift hunter too: Chilean rainsticks, decorative bowls twisted out of copper wire, and musical instruments husked out of halved coconut shells. With all TWINE's ornamental charm, window shoppers will find it hard to leave the shop empty- handed. But if anything, this Fairtrade front-liner is the best place to put your willpower to the test.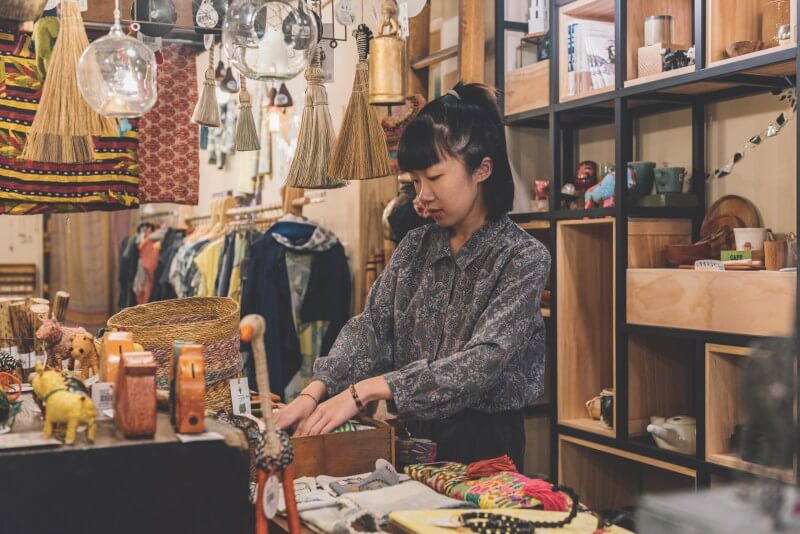 TWINE Fair Living YongKang Shop 永康店
🏠 1F, 3, Ln. 2, Yongkang St., Daan Dist.
🕑 12:30pm – 9:30pm
TWINE Fair Living DaCheng Shop 家夥稻埕店
🏠 1F, 195, Sec. 1, Dihua St., Datong Dist.
🕑 10:00am – 7:30pm
TWINE Fashion DaCheng Shop 輕衫稻埕店
🏠 1F, 213, Sec. 1, Dihua St., Datong Dist.
🕑 10:00am – 7:30pm
TWINE Nancy Shop 南西店
🏠 4F, 14, Nanjing W. Rd., Zhongshan Dist.,
🕑 11:00am – 10:00pm (Sundays to Thursdays)
11:00am – 10:30pm (Fridays & Saturdays)
TWINE HuaShan Shop 華山期間限定店
🏠 1F, 1, Sec. 1, Bade Rd., Zhongzheng Dist.
🕑 11:00am – 9:00pm
Words by: Seb Morgan /Cover Photo by Wahyu Setiawan; Other Photos by: Samil Kuo
This article is reproduced under the permission of TAIPEI. Original content can be found at the website of Taipei Travel Net (www.travel.taipei/en).
If You Care about Sustainable Travel…