Many first impressions of Taipei are dominated by boxy concrete structures, or the taller buildings and shopping malls of Xinyi District. However, as the former capital of the Japanese colonial government in Taiwan, Taipei enjoys a rich cultural inheritance of historic sites which hearken back to this era.
Although colonialism is never justified, the Japanese government did embark on ambitious development plans and built many sites which still stand today as reminders of Taiwan's complex history and heritage. Among these are many wooden buildings — often dormitories or residences for officials, but also private buildings and other structures. Many of these were either used by the incoming Republic of China government after World War II, or left to the elements as that government attempted to erase the cultural memory of the Japanese era in Taiwan. Fortunately, in recent years, preservation efforts have brought many of these traditional architectural gems back to life for the public to enjoy. (You might also like: Celebrating Taipei City's History & Evolution in Architecture)
These buildings, often constructed using traditional methods and designs, provide calming spaces to enjoy autumn in Taipei, and offer delights such as books, music, calligraphy, tea, food and art. Follow in our footsteps as we take you on a tour of three of the most popular Japanese-era sites in the city: Taiwan Literature Base (台灣文學基地), Kishu An Forest of Literature (紀州庵文學森林) and Leputing (樂埔町).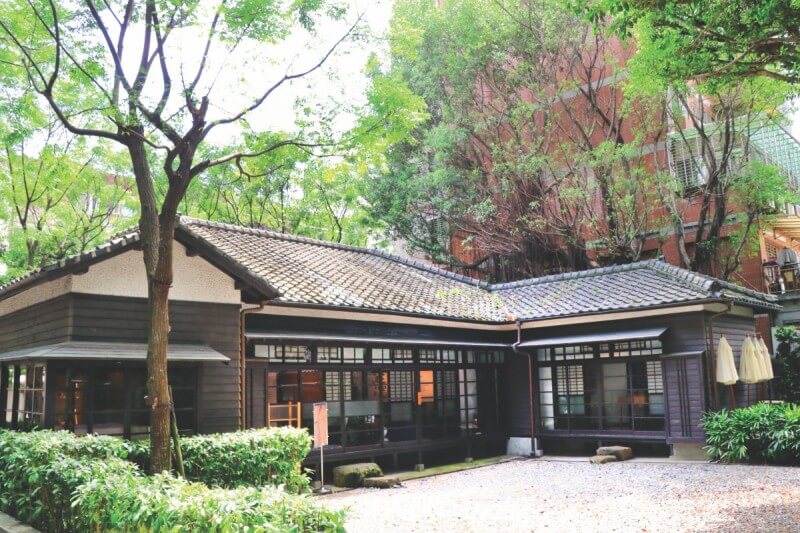 Taiwan Literature Base
Near MRT Zhongxiao Xinsheng Station (捷運忠孝新生站) and across the street from Huashan 1914 Creative Park (華山1914文化創意產業園區), Qidong Street (齊東街) curves through a checkerboard of lanes and alleys developed during the Japanese era. Built between the 1920s and 1940s, the historic wooden houses were originally used as dormitories for Japanese officials, the remnants of which formed today's dormitory complex and became the first of the Japanese-style dormitories to be protected and renovated under the Cultural Heritage Preservation Act (文化資產保存法).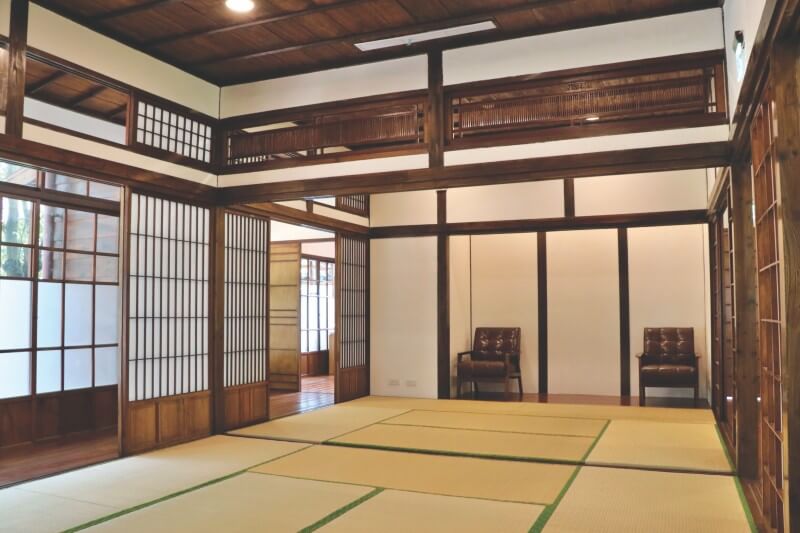 Qidong Street itself is much older, however. Since the Qing Dynasty (清朝, 1636 A.D. – 1912 A.D.), this road was considered important as it connected the historic riverside neighborhoods of Taipei to the nearby port of Keelung (基隆), and was used extensively for the transport of export goods such as rice and coal. Just a few decades later, the Japanese gridded urban development allowed older routes such as Qidong Street to remain, creating the layered urban geography we see today. Now, it's a leafy backstreet area perfect for exploring in pleasant autumn weather. (Read more: The City of Taipei: A Museum without Walls)
As you enter the complex, walkways wind around a central courtyard to the buildings, which have been restored with gleaming wood floors, fresh tatami and a mix of modern and Art Deco furniture. One comfortable space provides literature in Taiwanese and Hakka, which can be perused in air-conditioned comfort. Some rooms offer small showcases of older elements of the buildings or exhibits relating to Taiwanese literature. An interactive exhibit invites you to turn to a random page in a book, choose a sentence that resonates with you and share it. Another operates as a Japanese teahouse, where Japanese Matcha and delicate cakes can be found. Outside, long wooden benches and grassy areas are ringed with tropical plants and original banyan trees, where one can relax in the shade on a warm day.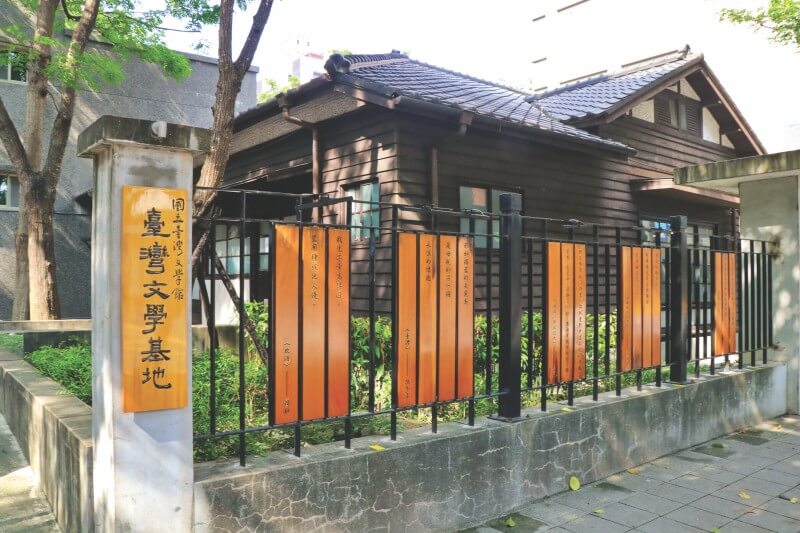 TAIWAN LITERATURE BASE
ADD 27, Sec. 2, Jinan Rd., Zhongzheng Dist.
HOURS 10:00am – 6:00pm (Closed on Mondays)
Kishu An Forest of Literature (Kishu An)
It's hard to imagine today, but in the Japanese era, the Xindian River (新店溪) near Guting (古亭) once thrived with riverside restaurants and banquet halls. Among the most famous of these was Kishu An, built in 1917 by the Hiramatsu family and named after the family's hometown of Kishu in the Kansai region of Japan.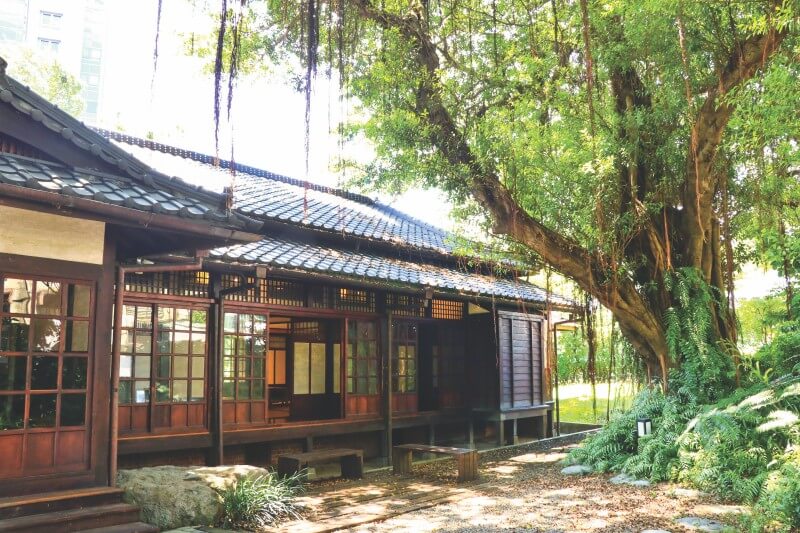 The original thatch-roof restaurant was expanded and renovated in the 1920s, with bridges connecting it to the embankment, a third-floor banquet hall and proper roof tiles. This top floor was said to offer some of the finest views of the river. The family also expanded the restaurant with annexes and courtyards, allowing for gardens, outdoor banqueting and guesthouses. In the post-war era, Kishu An housed civil servants, much like the Qidong Street dormitories. Surprisingly, this is how the famed restaurant gained a connection to Taiwanese literature: novelist Wang Wen-hsing (王文興) once resided here, and many scenes in his poignant novel Family Catastrophe (家變) are set in the building.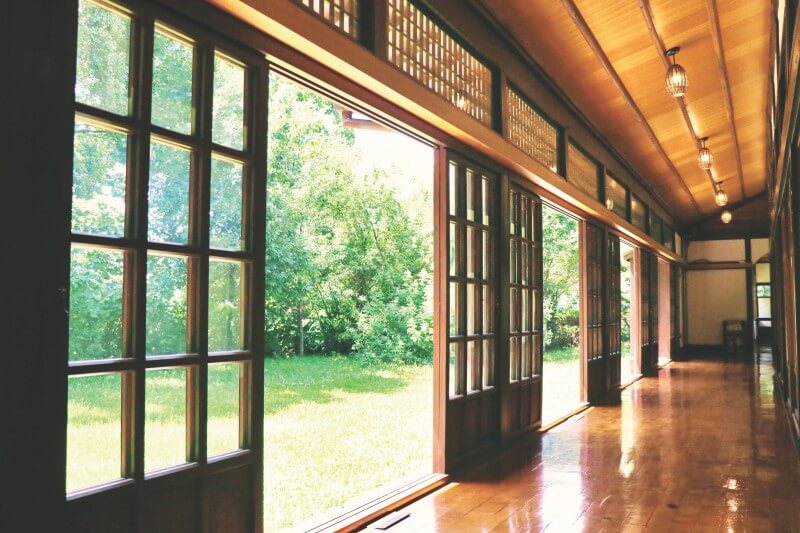 Unfortunately, a 1996 fire destroyed the three-story restaurant. Despite being at the intersection of Tongan Street (同安街) and busy Shuiyuan Road (水源路), the remaining annex is quiet and calming, with warm wooden and tatami interiors and wax-apple shaped fabric pendant lamps. Long corridors with glass windows look out onto a park lined with massive banyan trees, a popular picnic spot on pleasant autumn days. This building as well as the newer annex next door offer plenty to do, including a bookshop, restaurant and café with outdoor seating that hosts a variety of talks and exhibits.
KISHU AN FOREST OF LITERATURE
ADD 107, Tongan St., Zhongzheng Dist.
HOURS
10:00am – 6:00pm (Tuesday to Thursday, Sundays)
10:00am – 9:00pm (Fridays & Saturdays) (Closed on Mondays)
Leputing
In the shadow of Chiang Kai-shek Memorial Hall, a large Japanese-era dormitory for government officials was once left to rot. Built in the 1920s, this site was also near the historic government center, similar to the dormitories on Qidong Street. The area itself had once been mostly rice paddies and fields during the Qing Dynasty. Now called Guting, the Japanese named it Nishikicho (錦町) and targeted it for urban development.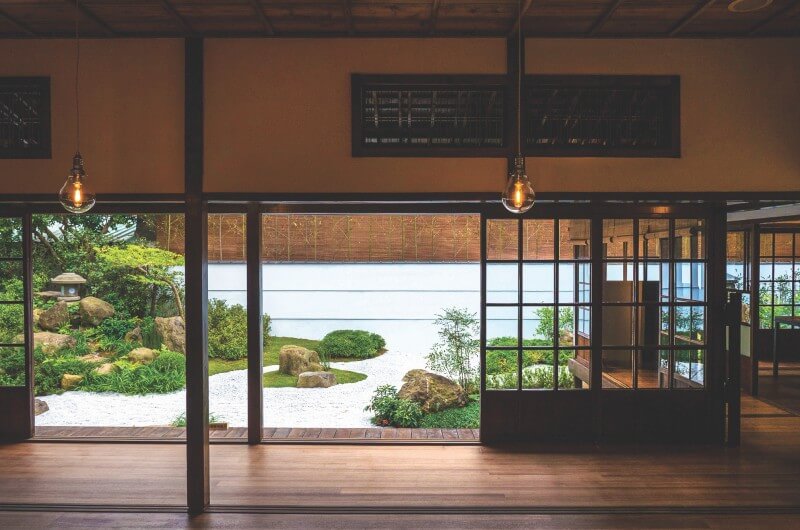 By the 21st century, what is now a gorgeous restaurant and event space was a mess of ruins, with only an L-shaped foundation raked with weeds, some moldering green-painted wood and a few stone lanterns to speak to its former beauty.
In 2013, Lead Jade Life & Culture (立楷生活文化) was entrusted to renovate the site. The organization used traditional building methods as much as possible to recreate the dormitory as it once was, including materials such as straw, clay and bamboo.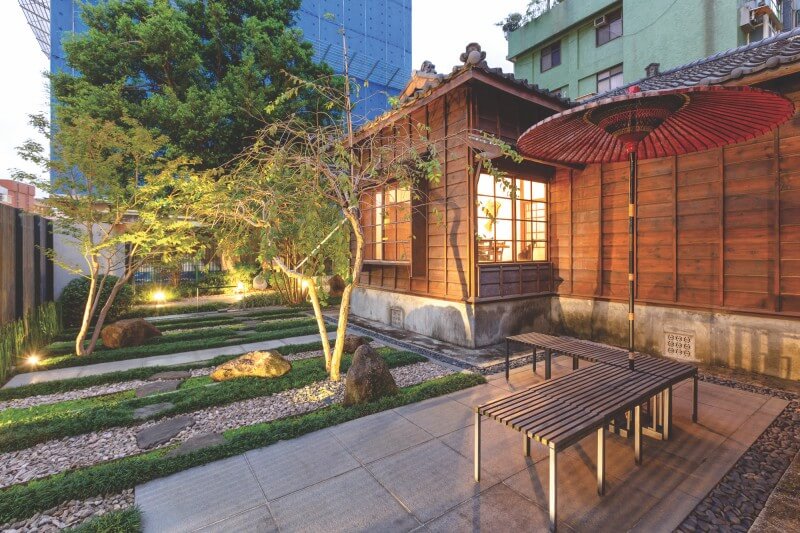 The result is remarkable. A minimalist, modern gate opens into a calming courtyard that beckons visitors inside. The peaceful garden relaxes the mind while the food entices the palate, and the masterfully-restored corridors induce quiet memories of Taipei's past. In addition to a Japanese-French fusion restaurant (reservations recommended), Leputing also exhibits art by Taiwanese artists, some of which may be purchased. They are especially known for their scarves, made using plant-based dyes. A perfect gift of treats for yourself this autumn! (Read also: Japanese Restaurants in Taipei: 5 of the Best Izakayas You Should Know)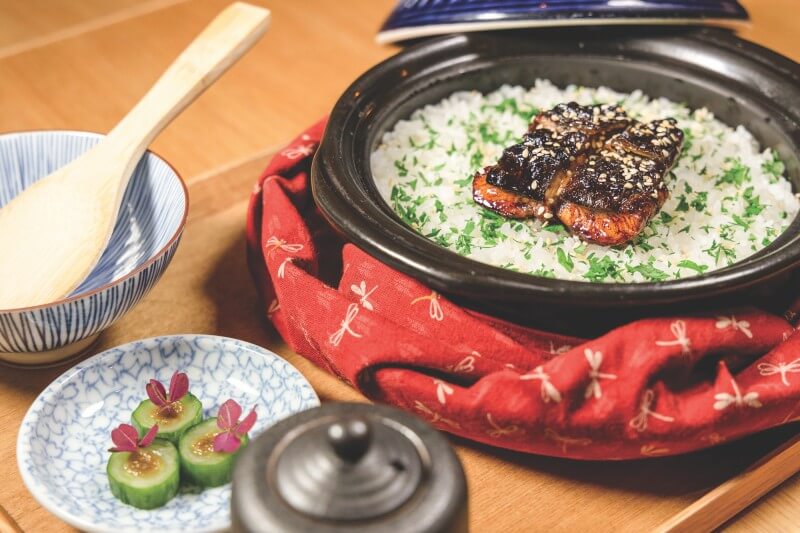 LEPUTING
ADD 67, Sec. 2, Hangzhou S. Rd., Daan Dist.
HOURS 11:30am – 10:00pm (Closed on Tuesdays)
COVID-19 ALERT
Opening hours may vary during the pandemic. Please double check before visiting, and follow the epidemic prevention regulations on site.
Author Jenna Lynn Cody
Photographer Taiwan Scene, Leputing
This article is reproduced under the permission of TAIPEI. Original content can be found on the website of Taipei Travel Net (www.travel.taipei/en).
More Historic Neighborhoods in Taiwan