Christmas in Taipei can feel like a bit of a downer. Especially, if you're used to heading back home for the holidays. Needless to say, December 25 is just another day on the calendar for most of the city. So if you've been feeling less than festive this month, you should know there are still plenty of great places in Taipei for getting into the seasonal spirit — and we're not just talking about Christmas shopping.
One place to get started is the free (yes, free!) ice skating rink that just opened up near Nangang Exhibition Center. The adorable confection-themed space is located just inside the Chinatrust Commercial Bank Headquarters and will be open daily through to March 6 (except for Chinese New Year's Eve).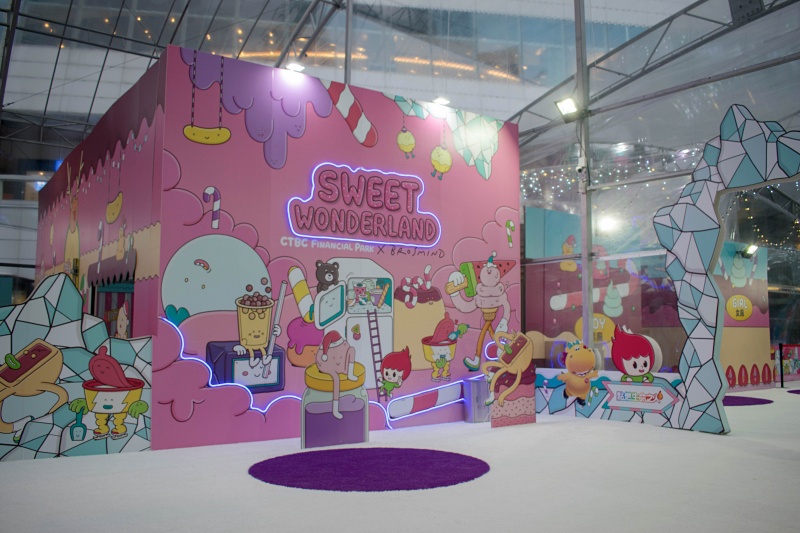 As those who frequent the financial center may be aware, this is the third year that CTBC has set up a themed ice rink there. This year the theme is "SweetWonderland" (also the name of the rink) with the entire space covered in whimsical dessert-inspired illustrations by Spain-based illustrator Brosmind. We don't know about you, but we're got strong Adventure Time vibes.
This year, the rink opens for 1.5-hour slots from 13.00 (on weekends), 15:30, 17:30, and 19:30. There's a max capacity of 150 people, so you might want to get there early and pick up a wait number for the queue to guarantee your spot. You can do this up to an hour before each session. Kids under 6 need to be accompanied by an adult. But when was the last time you let your preschooler go to the financial district on their own?
As for gear, everything you need can be borrowed for free on-site. And when we say everything, we mean helmets, skates, knee pads, elbow pads, and wrist guards — everything short of a suit of armor. You're expected to have everything on while you're on the ice, so good luck getting injured. Just remember to bring a valid photo ID that you can leave in exchange. There are also storage lockers onsite if you need somewhere to put your things.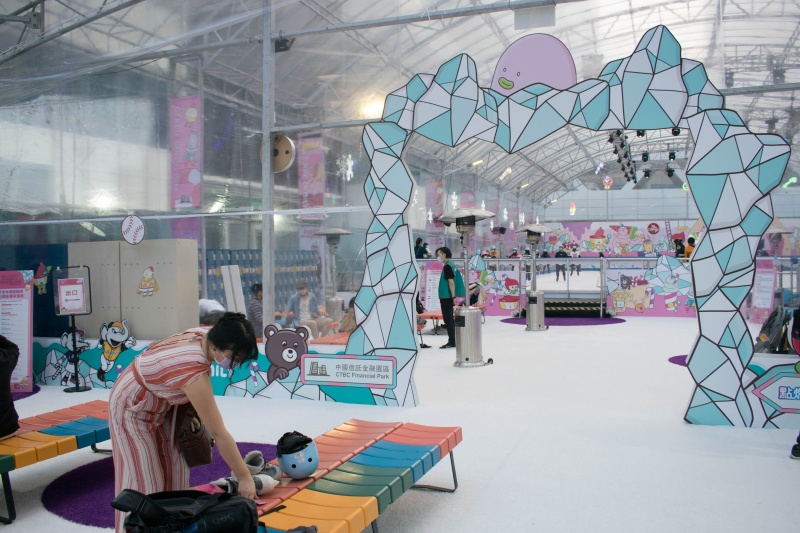 Once you're completely kitted out in the manner of a mortal kombat fighter, you're ready for the rink. As with most facets of life, size matters and SweetWonderland will suit the needs of casual skaters. Especially if you're able to make it down on a weekday when you'll invariably have more ice to yourself. The whole set-up seems to be with complete beginners in mind and very family-friendly. There are also a handful of orange-coated minders ready to glide to the rescue if you have any trouble with your skates.
Where Else to Skate in Taipei
If you don't think you'll make it to SweetWonderland this winter Taipei has a couple of other skating rinks that are open year-round:
Ice Land, Taipei Arena
Ice Land is Taiwan's only ice rink that meets international standards, with a much larger capacity of 400 skaters and 800 spectators. A mere NT$200 on weekdays or NT$220 on weekends and holidays gets you two hours on the ice, after which it's NT$45 for every half hour over. It's worth noting that if they need to resurface the rink during your session, that won't count toward your time.
Skate rentals are NT$80 a pair, and it's an extra NT$50 for helmets, elbow and knee pads, and wrist guards. If you didn't bring gloves, you can buy them there. Ice Land is open daily, from 10:00 to 21:00 Monday to Friday, and 9:00 to 21:00 on weekends and holidays.
Frozone, Tucheng Sports Center
Frozone is located near Haishan MRT, a 40-minute train ride down from Ximen. Slightly smaller with a max capacity of 200 skaters, the rink is open from 10:00 to 20:00. NT$180 will get you an amazing 4-hours of ice time — longer than anyone's hamstrings can endure. Plus there's a NT$60 discount for students. Again, you can rent everything you need on-site, including helmets, guards, and pads (NT$50), skates (NT$50), and gloves (NT$30). The ice at Frozone is resurfaced daily from 13:00 to 13:30 and 16:30 to 17:30.
More about Winter in Taiwan: