Since the inauguration of the first line in 1996, the Taipei Metro has served as the keystone of Taipei's transportation network. It carries travelers and Taipei residents alike around the city quickly and safely, making both work and leisure a breeze.
Today, the Taipei Metro boasts a veritable rainbow of color-coded lines. The Red Line (Tamsui-Xinyi Line, 淡水信義線) runs from the north coast to Xiangshan (象山, Elephant Mountain), the Blue Line (Bannan Line, 板南線) and Green Line (Songshan-Xindian Line, 松山新店線) traverse the heart of the city from east to west, while the Brown Line (Wenhu Line, 文湖線) and Orange Line (Zhonghe-Xinlu Line, 中和新蘆線) cut from north to south. The Yellow Line (Circular Line, 環狀線) and Purple Line (Taoyuan Airport MRT, 桃園機場捷運) mostly serve Greater Taipei, connecting the city with its suburbs.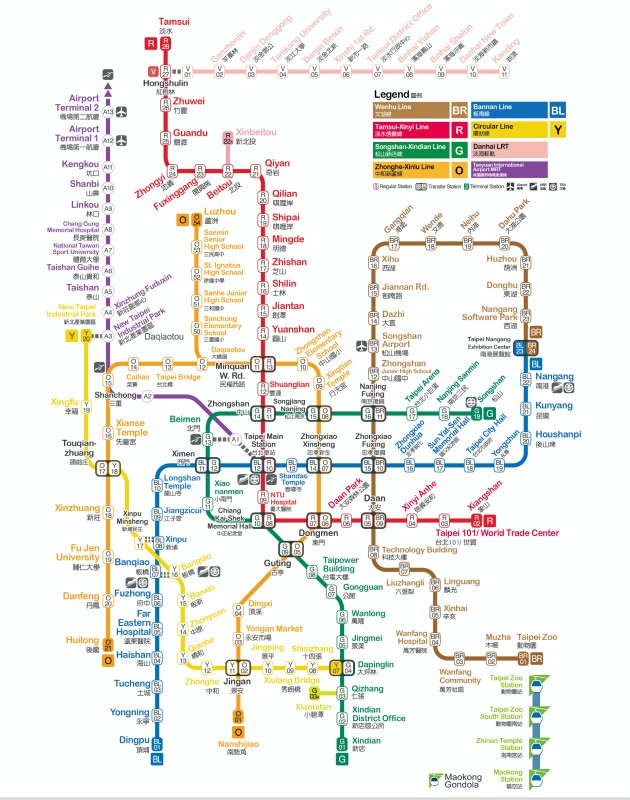 Each line offers a bevy of day trip opportunities, from the traditional to the modern, or the urban to the outdoorsy. There are as many options as there are colors: all you need to do is decide which shade of the rainbow you want to explore that day.
Exploring the City with the Orange Line
Taipei is as much a cultural and historic capital as it is a business hub. A day trip on the Orange Line connects passengers to some of the cultural sites that help give Taipei its vitality and elegance.

1. DAYTIME: Zhongxiao Xinsheng Station
– Huashan 1914 Creative Park 華山 1914 文化創意產業園區
A short walk from MRT Zhongxiao Xinsheng Station, there's a spot where bustling traffic gives way to open space, with gnarled trees and vintage factory buildings covered in greenery. Built in 1914 as a sake and ginseng wine factory, the site was renovated and converted into a cultural park in the early 2000s. Thanks to the efforts of many people from the fields of art and culture, it's now home to numerous shops selling products made by local designers, eateries, indoor and outdoor exhibitions, venue spaces and a theater. Creative markets, concerts and various events also take place here every now and then. A daytime visit might include an exhibition, shopping, having a meal or simply enjoying the outdoor park areas.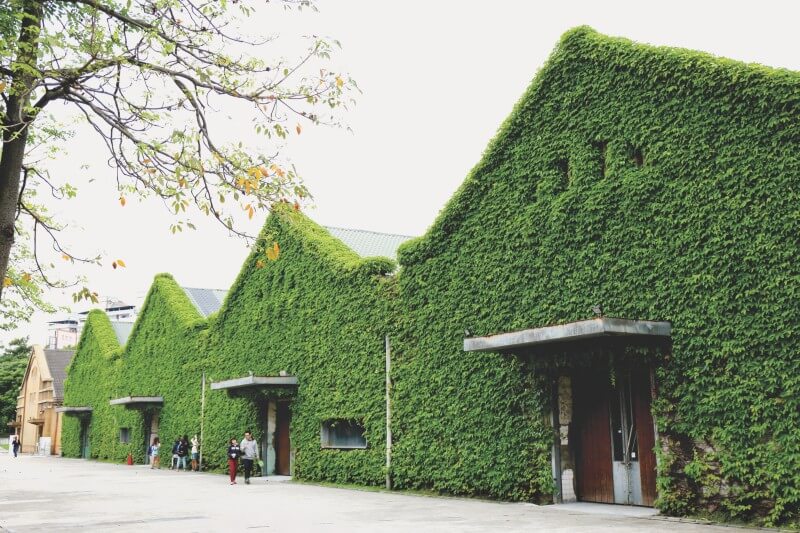 2. AFTERNOON: Xingtian Temple Station
– Xingtian Temple and Fortune Telling Street 行天宮 & 命理大街
Dedicated to Holy Emperor Guan (關聖帝君), also known as Lord Guan (關公), a deified Han Dynasty (漢代, around 200 A.D.) general and patron god of businesspeople, military and police officers, Xingtian Temple is said to bring good luck to visitors and is one of the busiest places of worship in Taipei. The design is minimalist by Taiwanese temple standards, allowing the snake-like dragons at each end to stand out. The censer in front boasts still more dragons ornamenting the handles and sides. (Read also: 13 Tips for having a deeper Taiwan Temple experience)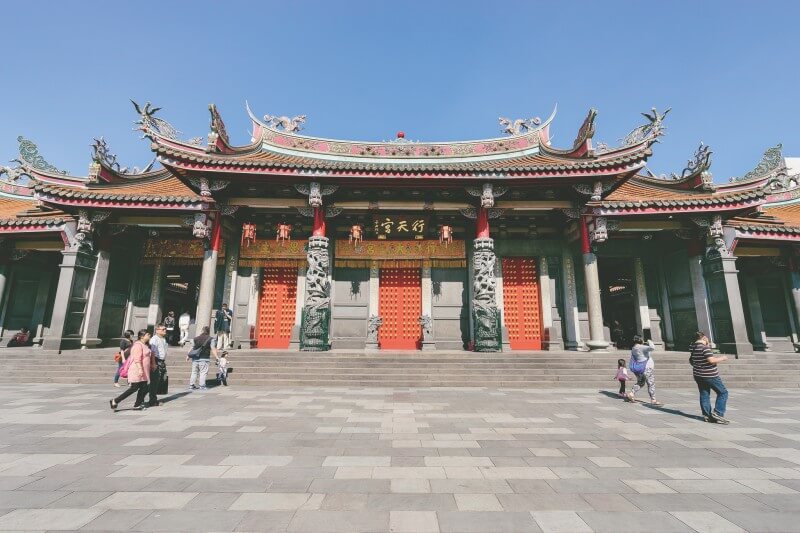 Immediately outside Xingtian Temple, there is an underpass for pedestrians beneath Minquan East Road (民權東路) and Songjiang Road (松江路), which is locally known as Fortune Telling Street. Although most fortune tellers ply their trade in Mandarin, some do speak foreign languages such as Japanese and Korean. All are welcome here to have their futures predicted!
3. EVENING: Daqiaotou Station
– Yansan Night Market 延三夜市
In the evening, hop back on the Orange Line to Yansan Night Market. This is one of the more local night markets in Taipei. Food offerings include everything from the comfort of lamb hot pot to beef noodle soup, guabao (刈包) or stinky tofu. And don't miss out on the street foods that have made the Taipei Bib Gourmand list, such as the savory rice cake (米糕), savory meat-stuffed tangyuan (湯圓), cabbage rice and pork rib soup. End your day with these simple yet delicious snacks, creating an unforgettable experience for your taste buds.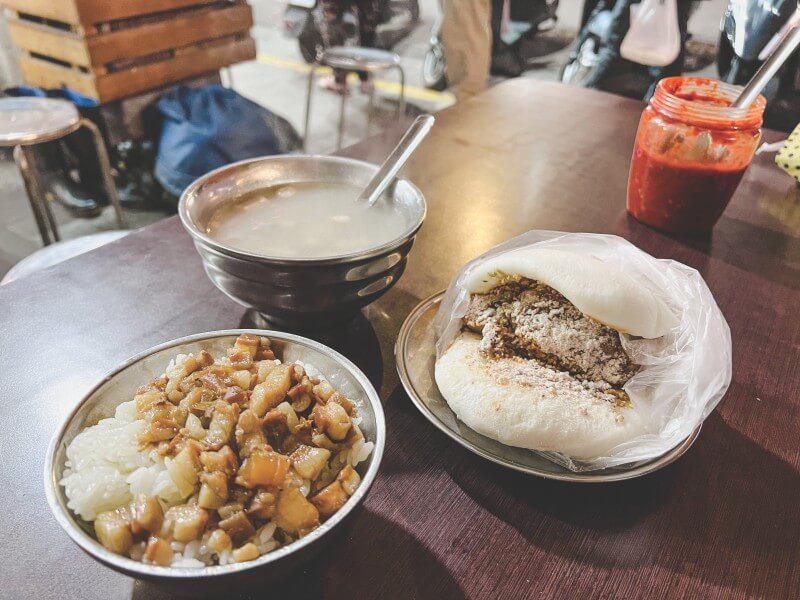 Chill Out on the Red Line
Whether you live in Taipei and want to wind down from the stress of daily life or you are a visitor who just wants a relaxing day, the Red Line offers plenty of opportunities to slow down and enjoy spring in this colorful city.
1. DAYTIME: Yuanshan Station
– Taipei Expo Park and Taipei Fine Arts Museum 花博公園 & 台北市立美術館
The sprawling parks around MRT Yuanshan Station provide lots of options for chilling out. On weekends, head to the Taipei Expo Farmer's Market (花博農民市集) next to MAJI Square (集食行樂), where you can get fresh products directly from farmers from all over Taiwan. We recommend visiting in the morning before it gets too crowded, enjoying a picnic on the open grass field in the park. There's no shortage of play areas for kids and Instagrammable spots around the Expo Dome (花博爭豔館) for adults. On weekends especially, the park reveals the vitality of Taipei, with couples, families and groups of friends spending time together.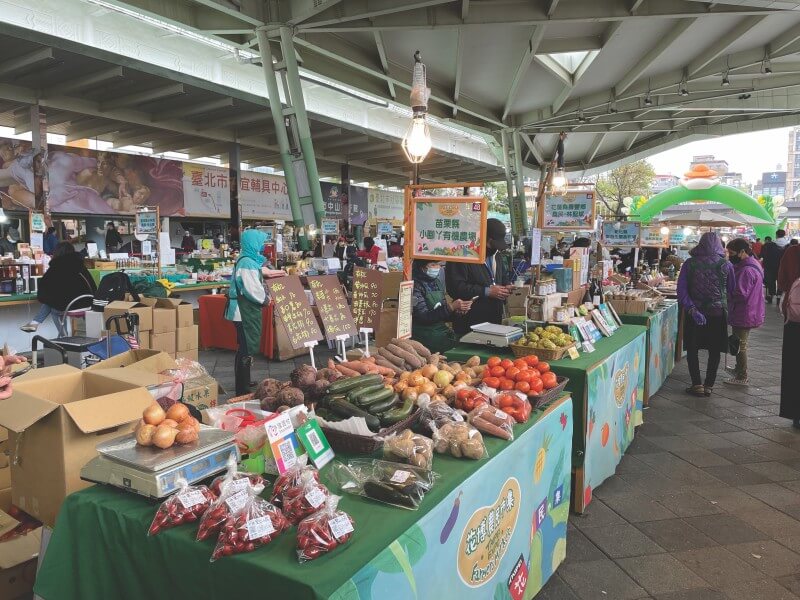 At the north end of Taipei Expo Park, you'll find the Taipei Fine Arts Museum. The museum opened in 1983, and its architecture is inspired by the Japanese post-war "Metabolist" style. Having recently undergone renovations, the museum is one of the best destinations for locals and visitors alike to take in an art exhibit, especially in springtime. The museum mixes fine art with the occasional modern installation, with a strong focus on works by Taiwanese artists. These range from vintage classics to modern pieces, showcasing Taiwan's thriving art scene. (You might also like: A Guide to Modern and Contemporary Art Spaces in Taipei)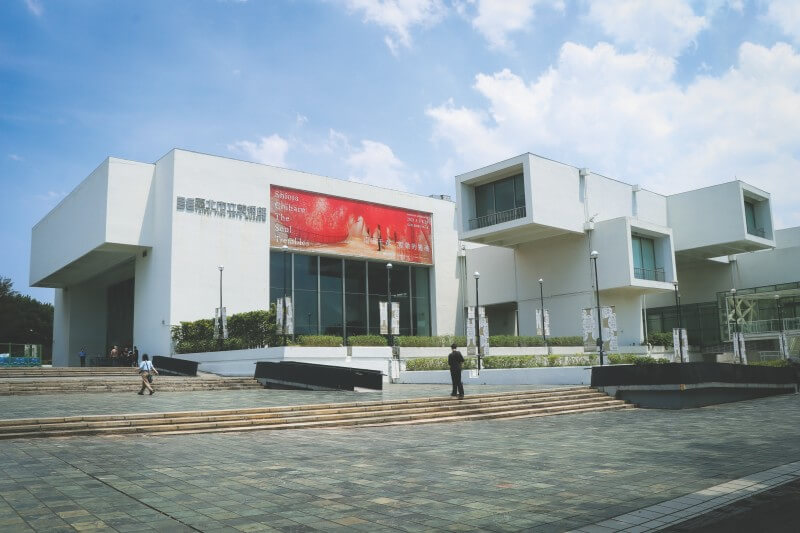 2: EVENING/NIGHT: Xinyi Anhe Station
– Linjiang Street Night Market 臨江街夜市
Situated in the heart of east Taipei, Linjiang Street Night Market is popular for its balance of food and shopping. The vendors come and go, so you might even find something unusual: someone hawking fresh tiramisu or handmade rings made from seashells, for instance. There is no end to the eating options, from Uyghur-style lamb skewers to teppanyaki, Taiwanese oyster omelets and fresh Vietnamese banh mi.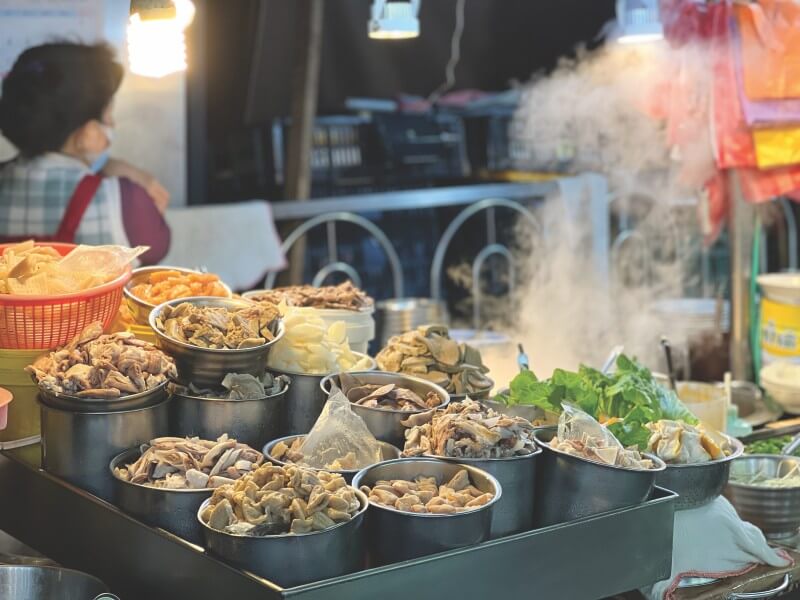 3. EVENING/NIGHT Taipei 101/World Trade Center
– Xinyi Commercial District 信義商圈
Aside from visiting the night market to grab some food and shop, you can also end your chilled-out day with a drink at one of the many bars, lounges and gastropubs in Xinyi District. The pedestrian areas between the department stores are a popular hangout spot as well. You can see many stalls displaying handmade creative products, while street performers provide live entertainment. The area also offers an array of nightlife options, from nightclubs to loud bars to chill hangouts. Most nightlife is found inside larger complexes, such as department stores and hotels. Choose before you go — some of these offer outstanding views of Taipei 101 lit up at night.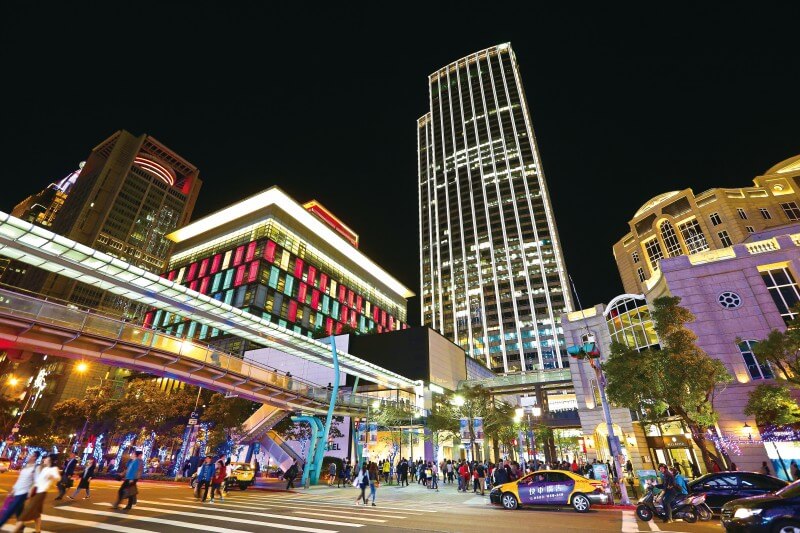 Discover Innovations in Old Taipei on the Blue Line
The key to Taipei's vitality is that it's always reinventing itself, while staying true to its roots. A day trip on the Blue Line offers cultural activities in renovated heritage buildings, making the old new again.

1. DAYTIME: Longshan Temple Station
– Longshan Temple and U-mkt 艋舺龍山寺 & 新富町文化市場
Longshan Temple has long been considered one of the most vibrant places of worship in Taipei. It's well worth a visit to appreciate its age, artwork and lively throngs of visitors. It may not be apparent at first, but Longshan Temple has reinvented itself over the centuries, having been built in 1738, then destroyed and rebuilt several times due to both natural and man-made disasters. However, the intricately carved dragon-shaped copper columns still stand along with Guanyin (觀音/觀音佛祖), the main goddess worshiped here, who continues to protect and bless people in Taipei.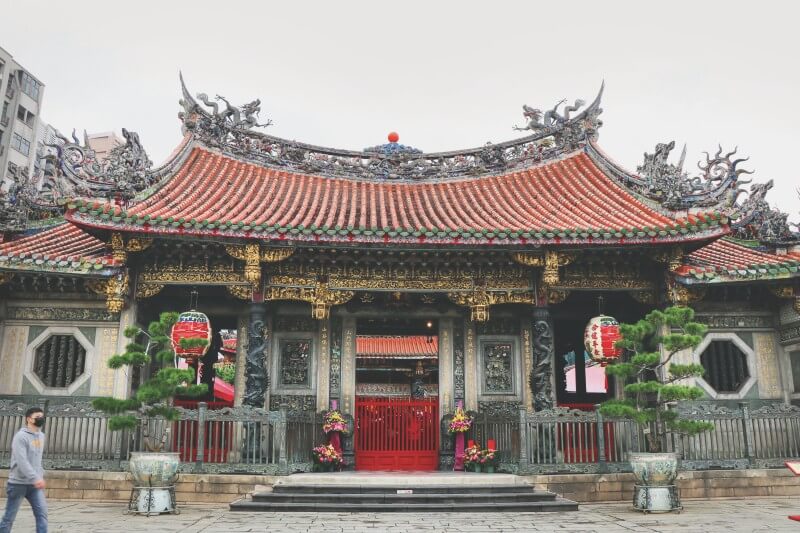 The Longshan Temple area is the heart of Wanhua (萬華), also known as Bangka (艋舺), Taipei's oldest district. Many heritage buildings and neighborhoods in this area have been revitalized, but one place in particular truly stands out. The U-mkt, or Xinfu Market, is the only building of its kind in Taiwan. The original structure was completed in 1935 in an unusual U-shape, with a narrow, curved inner courtyard. Although it was a bustling spot for decades, the area declined in the 1990s and commercial operations ceased in the building. (Read more: 8 Things to Do Around Longshan Temple)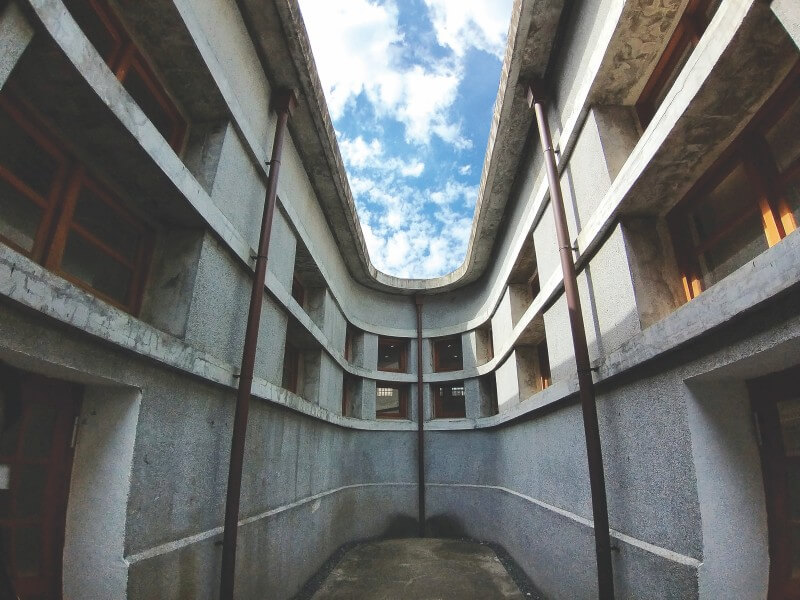 Now, U-mkt hosts a permanent exhibition on the building's history, as well as lecture and kitchen spaces. Unique cafés can also be found here. There is one café operating at the back of the market, in the curve of the original U, and another running in the old market office, which combines cycling culture and workshops. The atrium of the building enables natural light to flow in and has become a popular spot for photography.
2. AFTERNOON: Sun Yat-Sen Memorial Hall Station
– Songshan Cultural and Creative Park 松山文創園區
This site was originally built in 1937 as a tobacco factory, shutting down only in 1998. In 2001, it was designated by the city government as a heritage site, and in 2010 it was restored and renamed Songshan Cultural and Creative Park. Now redeveloped with the mission of nurturing creative talent in Taipei, it's a fantastic place to visit on a warm spring day.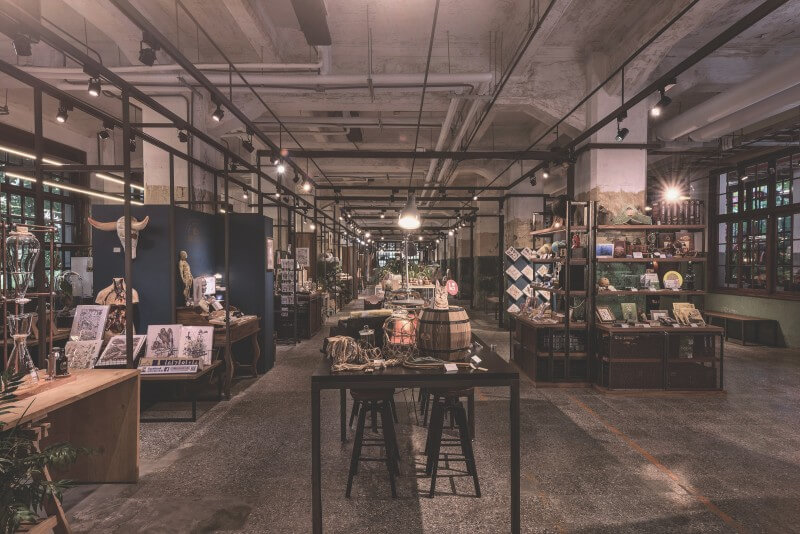 The park occupies 6.6 hectares of indoor and outdoor space, including walkways, paved squares and an ecological pond. Lush with subtropical greenery, the park is popular with residents and visitors, drawing bustling crowds on the weekends. Indoors, the park boasts the Taiwan Design Museum (台灣設計館) and other exhibition spaces, cafés, shops and a design library in the old bathhouse. All of these show that the park has been transformed into one of Taipei's foremost creative hubs.
3. AFTERNOON: Nangang Station
– POPOP Taipei 瓶蓋工廠台北製造所
Compared to Huashan 1914 and Songshan Cultural and Creative Parks, POPOP is a fairly recent addition to Taipei's cultural landscape. Built in 1943 as a bottle cap factory, the site was scheduled for demolition in 2013, until the city government decided instead to redevelop it into a creative hub. POPOP opened officially in 2020 and is gaining momentum as a space catering to makers and innovators.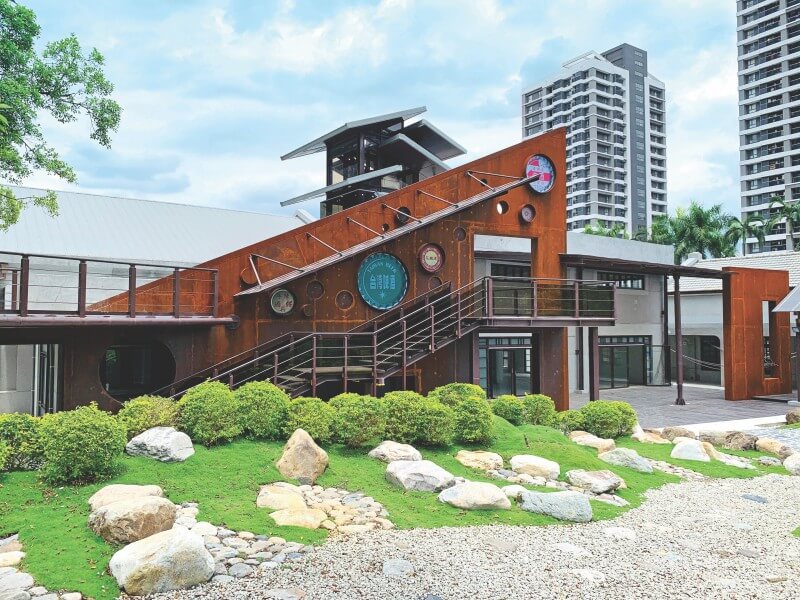 POPOP features a large multifunctional maker and co-working spaces. Bottle cap designs dot some exteriors, adding visual appeal. Visitors can enjoy the outdoor spaces, a café with indoor and outdoor seating, a sake bar and a small selection of shops, including an antique store with vintage goods from Taipei's past.
An Energetic Day on the Green Line
One of Taipei's greatest features is an abundance of choices for people seeking for high-energy activities. From short hiking trails within city limits to the bright clamor of pedestrian shopping districts, Taipei Metro's Green Line affords endless opportunities for day trippers to get moving.

1. DAYTIME: Jingmei Station
– Xianjiyan Hiking Trail 仙跡岩步道
Behind Jingmei Night Market (景美夜市), a narrow set of stairs climbs up from Jingxing Road (景興路). The trail is steep at first, mostly stairs passing by older buildings. Ascending further, however, the buildings give way to nature. This is Xianjiyan, a name referencing a dented boulder near the summit. The legend goes that these dents are the footprints left by the immortal Lu Dongbin (呂洞賓) while vanquishing a demon that was terrorizing the villagers. (If you're into hiking: 6 Last-Minute Taipei Hikes You Can Do in a Day)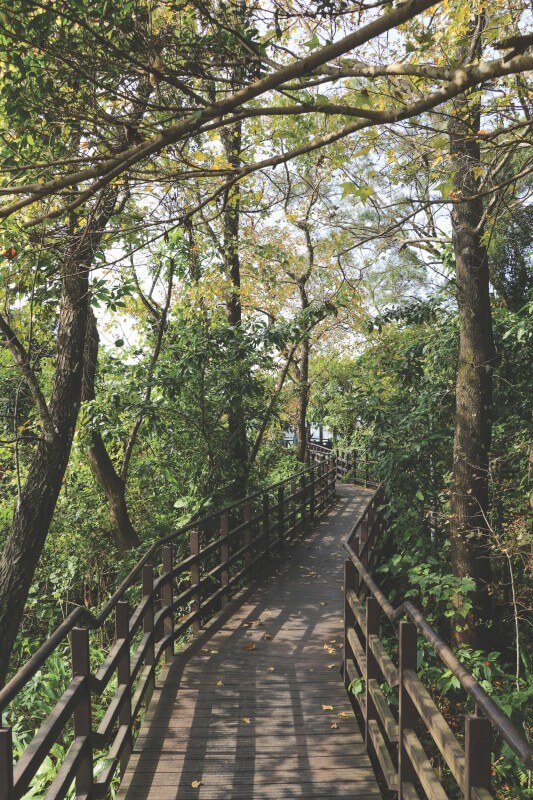 Xianjiyan offers scenic viewpoints over Taipei City, a face carved in an odd stone — see if you can find it — and a temple, which is dedicated to Lu Dongbin, before ascending over the top of the Xinhai Tunnel (辛亥隧道). This short hike is an excellent place to enjoy the freshness of springtime in a sea of greenery without leaving the city. Acacia confusa, an evergreen tree species, is one of the most common trees found along the trail, providing cool shade for hikers, shining with yellow blossoms in May. The trail has several exits and is manageable for most ages and fitness levels — a great choice for a day hike.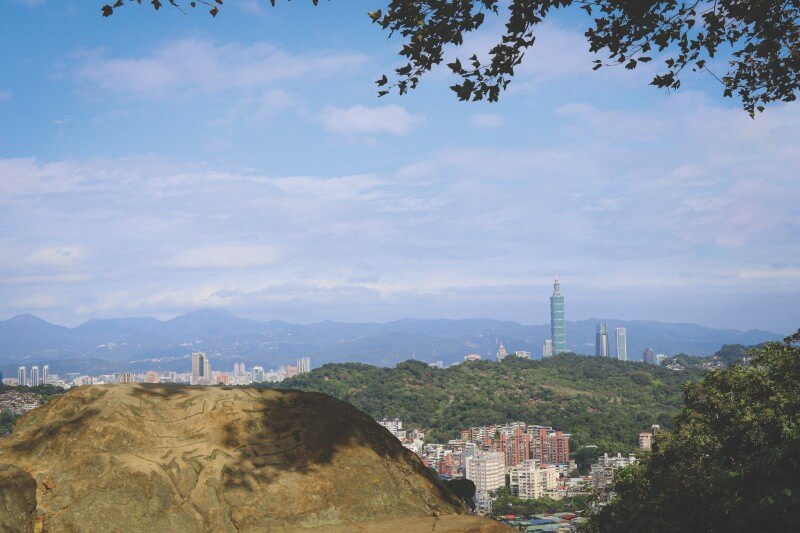 2. DAYTIME: Gongguan Station
– Taipei Water Park 台北自來水園區
After your brisk morning hike, take the MRT to Gongguan (公館), where a thriving food scene offers up endless choices for lunch. From here, get your Instagram on at Taipei Water Park. In the spring, visitors can enjoy the Museum of Drinking Water (自來水博物館) and restored pumping station, built in 1908 and re-opened in 2000 with exhibits showcasing the original equipment. When summer arrives, families come here for the wading pools, waterslides and sprinklers.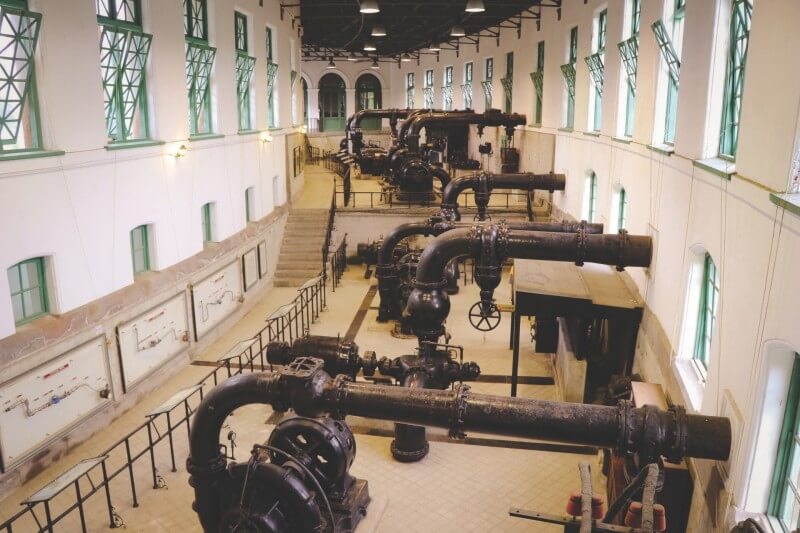 The Water Park is a popular spot not just for families, but also wedding photos, especially around the vintage buildings. While the children burn off energy running around, adults can take photos, relax and people-watch.
3. EVENING: Ximen Station
– Ximending 西門町
The Ximending pedestrian shopping district is where you can see Taipei at its most lively. It is the oldest pedestrian shopping area in Taiwan, with a distinctively different flavor from the one across town in Xinyi District. A small square near Exit 6 of MRT Ximen Station leads into a tangle of footpaths lined with shops and restaurants. It's a popular spot for shows, street performers, cosplayers and even the occasional political rally. This is also where you'll find Taipei's iconic rainbow crosswalk, showcasing Ximending's history as a center of the city's LGBTQ culture. Across the street, you can visit The Red House (西門紅樓), where you can learn about the history of the octagonal building and enjoy an exhibit or the craft market on site.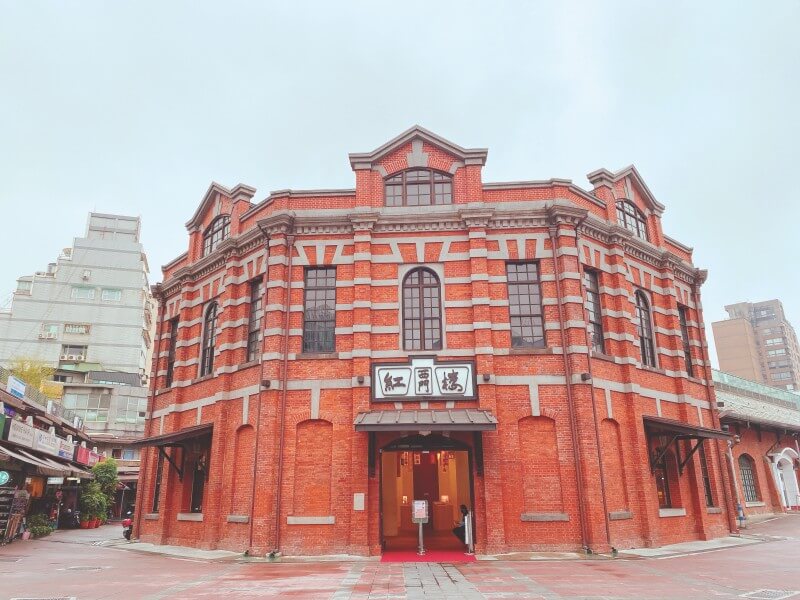 Diving into the shopping district, there's almost nothing you can't find. You can catch a movie at one of the area's many cinemas, shop for clothes or accessories for your body or electronic devices, or get a tattoo on the famed tattoo street. (More things to do in Ximen: A Day in Historic Ximen)
Relax Outdoors on the Brown Line
Unlike many cities of similar size, Taipei boasts a number of possibilities for outdoor activities within the city limits. In addition to hiking Xianjiyan or one of the other nature trails in Taipei City, there are plenty of places where one can simply enjoy being outside, and the Brown Line can get you there.

1. MORNING: Taipei Zoo Station
– Taipei Zoo 台北市立動物園
Stand outside the entrance to Taipei Zoo on any pleasant day when there's no school, and you'll get a taste for how much clamor Taiwanese children can make! School days are quieter, but Taipei Zoo remains one of the most popular outdoor destinations in the city. Taipei Zoo is both one of the largest city zoos in Asia and one of the most acclaimed. Many of the habitats are outside, including the Formosan animal area, featuring animals native to Taiwan, the Children's Zoo, and quarters for Australian and African animals. There are indoor options as well, including the popular Koala and Penguin Houses. A tram and guided tours help visitors get around and enjoy the zoo.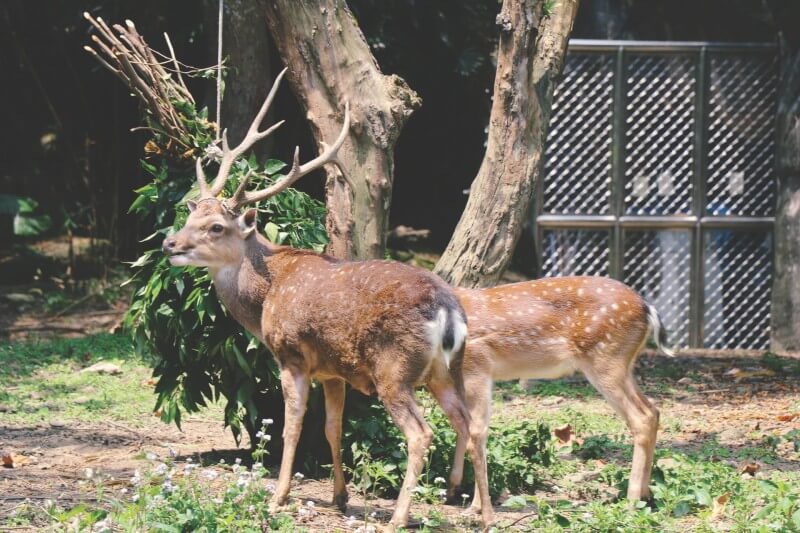 While the Taipei Zoo's pandas are popular, a lesser- known treat is visiting the pangolins. Despite being difficult to breed in captivity, Taipei Zoo has boasted a rare pangolin habitat for some years now.
2. AFTERNOON: Taipei Zoo Station
– Maokong Gondola 貓空纜車
Taipei Zoo is situated at the base of Maokong, a mountain with slight folds said to resemble cat scratches. One popular story behind the mountain's name is that it means "cat scratch" in Taiwanese.
After a morning at the zoo, continue your outdoor adventure by taking the Maokong Gondola. On the gondola, you'll float over the mountain's undulating folds and ridges, getting a bird's-eye view of the city as verdant tea farms appear as you ascend. (Read more: Maokong – A Location for Tea-for-Two)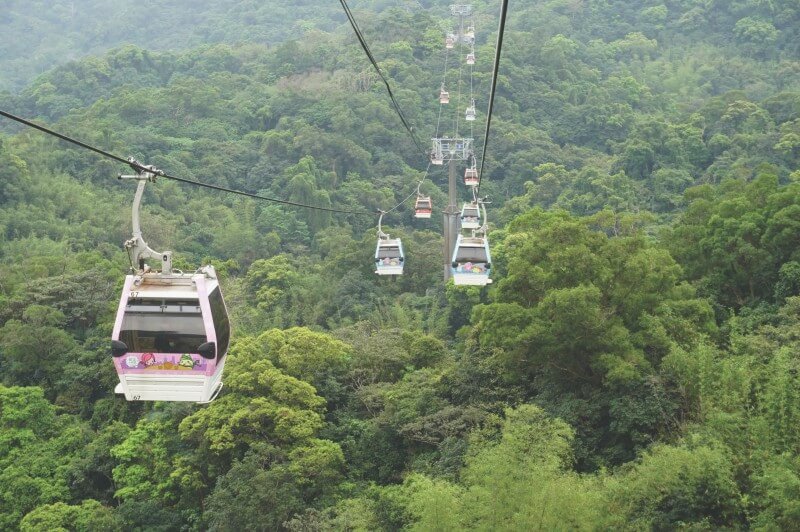 Those who want to enjoy the outdoors without a workout can walk to any of the numerous teahouses that dot Maokong's main road. Most offer outdoor seating, some on pavilions and some under umbrellas. Many offer food or light meals as well.
3. AFTERNOON/EVENING: Dahu Park Station
– Dahu Park 大湖公園
Near the other end of the Brown Line, Dahu Park is big enough to warrant its own MRT station. Despite being far from the city center, it's a popular spot to enjoy a relaxed day outside as winter turns to spring. The park is famous for its large lake, covering an area of about 13 hectares! Visitors can take it easy and enjoy the views from Jindai Bridge (錦帶橋) or the pavilion, which are both constructed in the Chinese traditional style. Capturing the crescent-shaped Jindai Bridge with a full moon at the center is a popular choice for photographers. Although the lake takes center stage, Dahu Park is also at the base of Bailusishan (白鷺鷥山, White Egret Mountain), where those seeking a more energetic day outdoors can take a short hike.
Author Jenna Lynn Cody
Photographer Ian Lu, Metro Taipei, Taiwan Scene, Huashan 1914 Creative Park, Songshan Cultural and Creative Park, Yengping, The Red House, POPOP Taipei, Taipei Expo Foundation, Wei-Te Wong, Vũ Nguyễn Xuân, Department of Information and Tourism, Taipei City Government
This article is reproduced under the permission of TAIPEI. Original content can be found on the website of Taipei Travel Net (www.travel.taipei/en).
Tips for Exploring Taipei by Yourselves