Author Jenna Lynn Cody
Photographer Taiwan Scene, Department of Information and Tourism, Taipei City Government
Over the past two decades, Taiwan has stressed the importance of reducing the consumption of single-use plastics. These include phased-in bans on plastic bags and single-use straws at retail locations across the country, and NT$5 or more discounts for beverage shop customers who bring their own cups. In July 2023, plastic packaging will no longer be allowed to contain PVC, and packaging materials must comply with the ratio of recycled paper (more than 90%) or recycled materials (more than or equal to 25%) regulated by the government.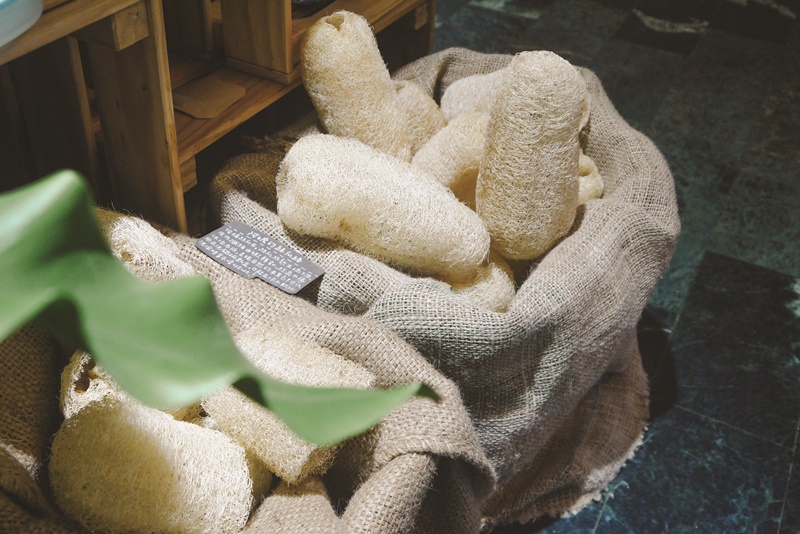 These moves put Taiwan at the forefront of the international call to reduce plastic waste, and indeed having one's own drink bottle, reusable meal box and cutlery, and multi-use shopping bags has become fashionable nationwide.
Leading the Transformation
Taipei City has led this move toward greater sustainability as the first city in Taiwan to ban single- use plastic cups. This policy will take effect in December 2022, and is estimated to reduce annual plastic cup waste by over 900 metric tons, or about 76 million cups.
Taipei residents are heading up this charge, with beverage shops approving the change and looking into alternatives such as providing reusable cup services on their own. Some residents are taking the plastic-free revolution even further by promoting a total or near- total waste-free lifestyle, turning Taipei into not just a city for change, but a city spearheading it. This lifestyle change may include bringing one's own reusable items, recycling packaging such as glass jars and bottles, or buying packaging-free items. In fact, there are already a few "unpackaged" stores in Taipei and across Taiwan.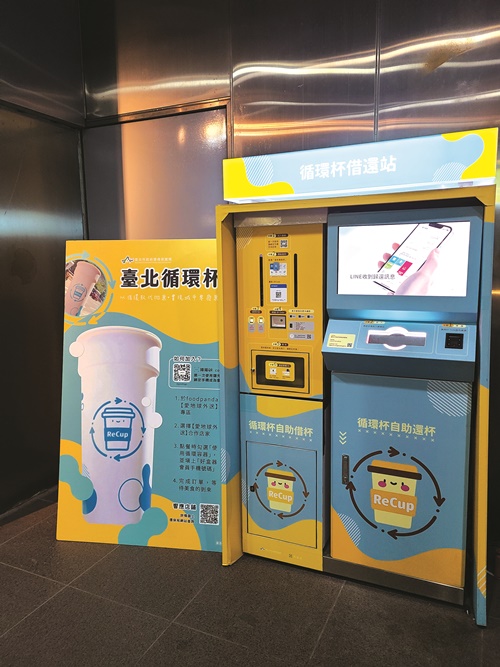 To better understand this trend, we sat down with Wu Si-ru (吳思儒) and Kuo Zi-jia (郭子嘉), the founder and the assistant of San Shi Living Lab (三時生活實驗室), a packaging-free cafe and shop located on Jinzhou Street (錦州街) near MRT Zhongshan Elementary School Station (捷運中山國小站).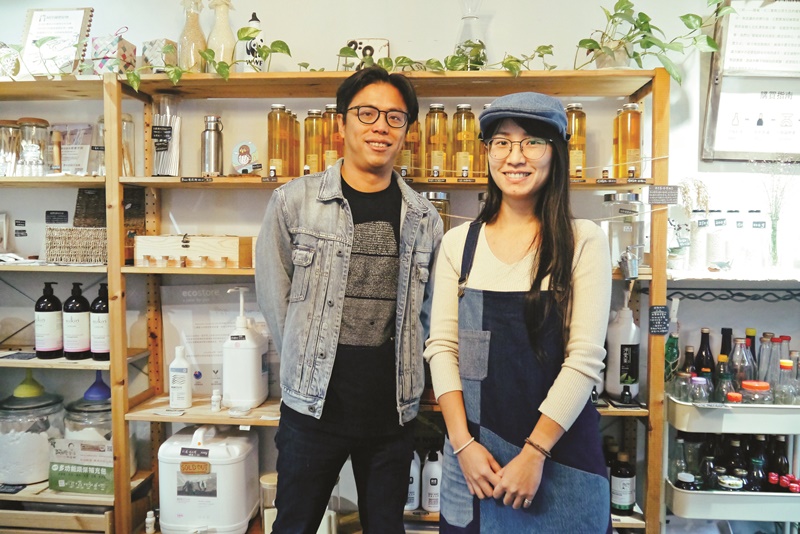 Rising Choices in Eco-Friendly Living
The concept for San Shi Living Lab began in 2015, when a group of eight friends sat down to discuss how to meaningfully tackle the issue of plastic waste. "All of Taiwan was interested in this issue, so we contacted some experts and designers whom we thought could help and worked together to create the concept. At the end we came up with the idea of a 'living lab,'" Wu says.
At first, Living Lab came up with the concept of a cafe within a former warehouse space on Jinzhou Street. The cafe used no paper cups, and they worked with small farmers who didn't use synthetic fertilizer or pesticide, and might otherwise have trouble entering the commercial market due to the higher costs involved. Later, they focused more on cooperating with farmers selling local produce by connecting those farmers with customers so that perishable items could be delivered more efficiently.
"San Shi Living Lab is the oldest of the packaging-free stores," Wu says. "We've been in business for five years now, and the response has been more and more positive. Our customers really like the concept, and it's been more successful in Taipei than other cities because there's a bigger population, even though there's more convenience in Taipei and it's easier to shop at packaging-heavy convenience stores and supermarkets than it is in smaller towns."
San Shi Living Lab has also become a locus of communication regarding environmental protection and sustainability, creating discussions centered on the importance of eco-friendliness and raising awareness about the environment. Wu and Kuo agree that although Taipei residents are becoming more aware of these issues and are open to alternatives, it comes down to personal choices.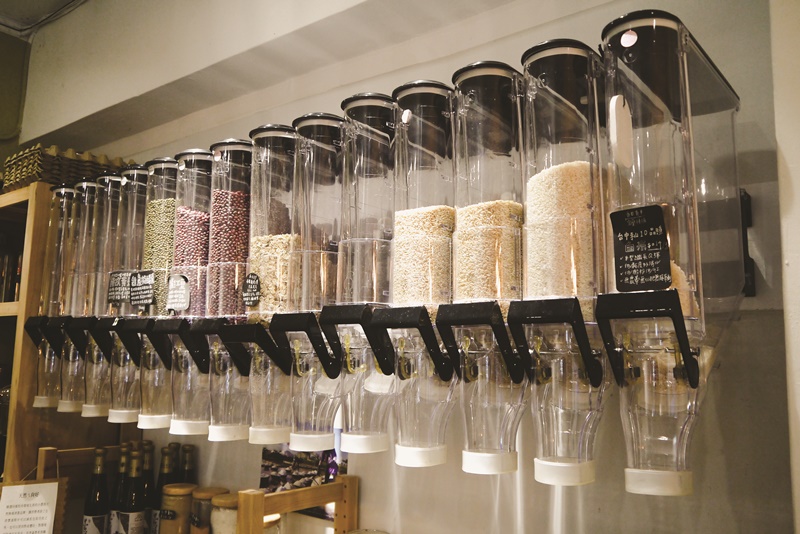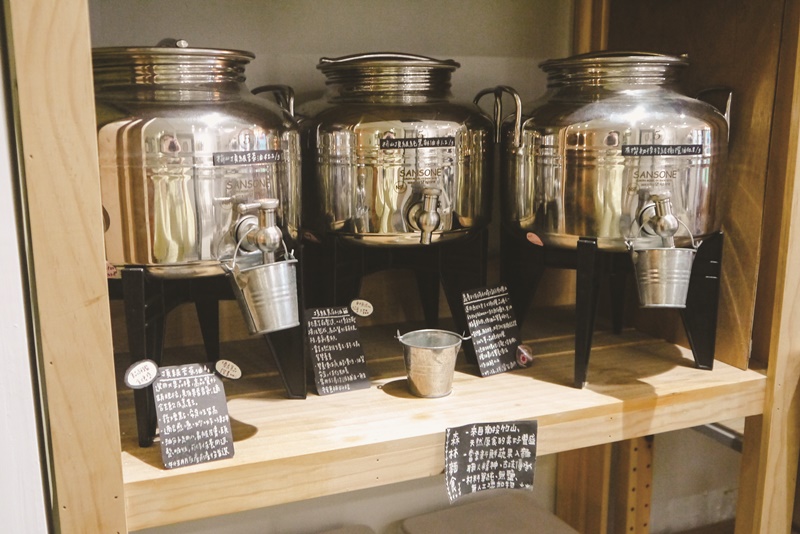 "Losing convenience to engage in more sustainable practices is a way of life, not a question. You have a choice: you can go to the convenience store, or you can go to an 'unpackaged' store. It's been difficult for the government and businesses to put these ideas together, because you do lose convenience. It's also more expensive, and the only upside is that it's eco- friendly…but everyone has a choice. You can spend more money if you think it's important," Wu says.
Steps Toward Eco-friendliness
To promote the idea of choosing sustainability, San Shi Living Lab creates marketing events to raise awareness. They also host book and clothing exchanges, talks and small workshops. Some are simply discussions about relevant issues and what can be done. Others show participants different ways they can reduce their plastic and other packaging use.
One of these workshops involves making beeswax fabric storage wrap. Beeswax-coated fabric has been a popular reusable alternative to single-use plastic wrap for some time, and participants in this workshop not only make their own, but also learn how to add more wax as the wrapping ages.
"Instead of just buying it, if you make it yourself, then you will know how it's done. As a result, you will know how to add more wax when your fabric's wax coating wears out. You can maintain your own beeswax wrap," Kuo points out.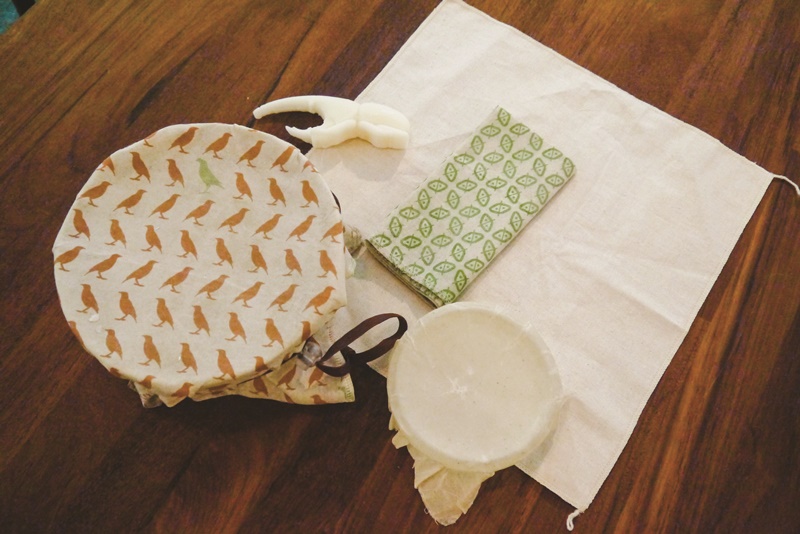 Beyond talks, workshops and cooperative relationships with small farms, San Shi Living Lab's day-to-day business is based on the ethos of waste reduction, especially when it comes to plastics. Non-liquid products are displayed in bulk: there are dispensers for grains, a large glass container of baking soda with a scoop, a jar of plastic-free bamboo toothbrushes, and shampoo and other body care products in larger packages, as liquids cannot legally be sold unpackaged. At the door, customers unable to bring their own bags and jars can find second hand glass containers.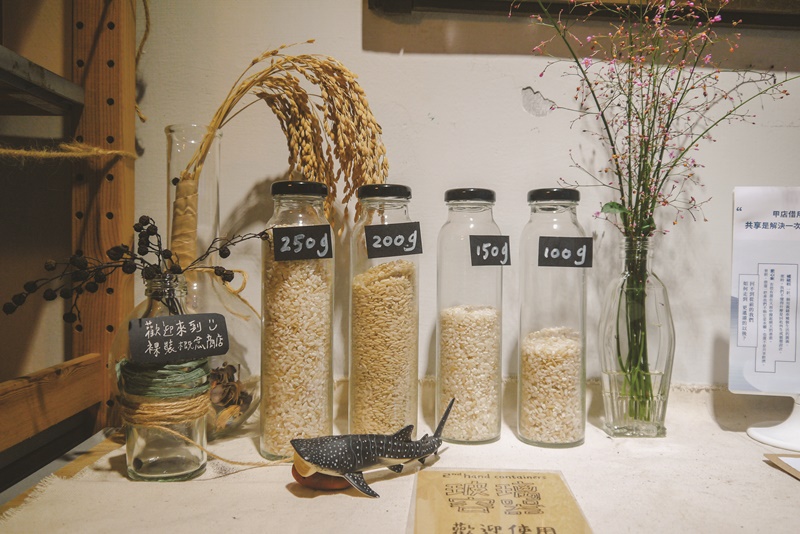 Wu and Kuo say their most popular product is shampoo, made by Ping Fang Home (平方家) in Hualien (花蓮). Sodium percarbonate is also popular, as it's found in just about every cleaning product and can be used to clean most home items without having to buy environmentally unfriendly chemicals in plastic bottles.
While customers can come to the Jinzhou Street shop, they also fulfill many orders online and ship within Taipei City, using second hand containers.
Reduced Plastic Living Revolution
Wu and Kuo are clear that running such a business comes with many challenges, and not all of them have been solved, but COVID brought an increase in sales as people had to stay home more and were looking for lower-waste solutions for their everyday lifestyle needs. Wu adds that, despite studying environmental science engineering and education, it's not always possible to meet one's ideal targets. Still, it's important to persist even though it's not always easy work.
"It's a process," Wu reiterates. "If we want to live in an eco-friendlier way, we have to change our actions and the culture. That process requires trying a lot of different things, and sometimes you have to spend more. Some people say they just don't understand it. However, our customers are becoming more aware and accepting."
Wu and Kuo agree that the best way to promote environmentally friendly practices is through policy. Policy, they say, helps educate people, and they tend to change their actions after it's implemented. One example of this is reusable cups: in the past, drink shops might not serve you in your own bottle or cup, but now most will. This causes attitudes to change, which leads to acceptance.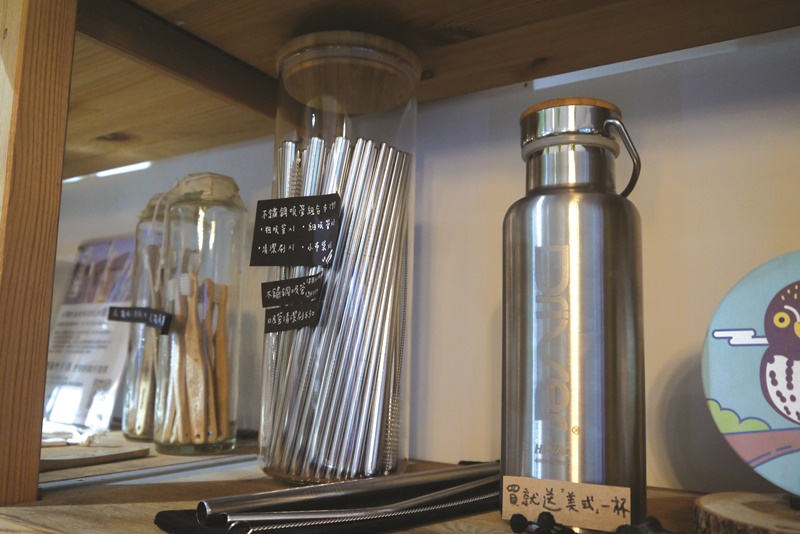 Taipei City has expanded its reusable cup program by launching the free ReCup rental services recently, with some kiosks for this service set up throughout the city. Whether beverage shop customers bring their own containers or choose to use a reusable cup from the kiosks before ordering, they can all enjoy NT$5 or more discounts. It is hoped that through implementation, single-use plastic cups will be greatly reduced.
Wu says the biggest question people have when it comes to 'unpackaged' stores is what to do if they don't or can't bring their own containers. Essentially, what's the Plan B if you want to buy something but didn't plan ahead? "The idea is to have reusable containers available, and after use, send it to a pickup point or another store to exchange it or save it for future use. In some other countries, you can get the cup you need, then pay a small fee to send it to another store. So, if we all work together to do this, we can make it successful," he adds.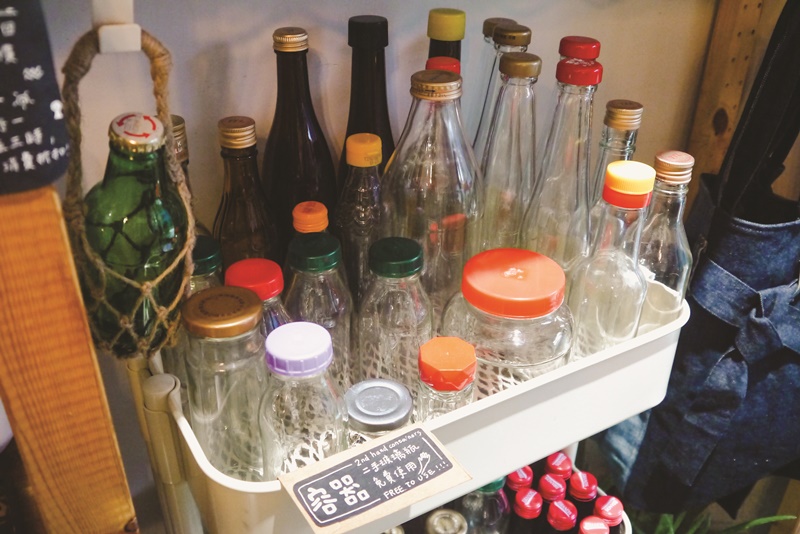 Of course, people do criticize the packaging-free movement. Some say they don't earn enough money and can't spend more to buy what they need in a more sustainable way. Wu and Kuo hope for opportunities to discuss a variety of solutions, as no one solution will work for everyone. For instance, beeswax wrap can be naturally maintained, and dried loofahs are a natural product that can be used as scrubbers for an extended period. The best method, of course, is to reuse or exchange items rather than recycling them.
"There are different methods of communication to help people understand the external costs. For example, 'This is cheap because the real cost is that it hurts the environment; that is expensive because it protects the environment,'" Wu adds.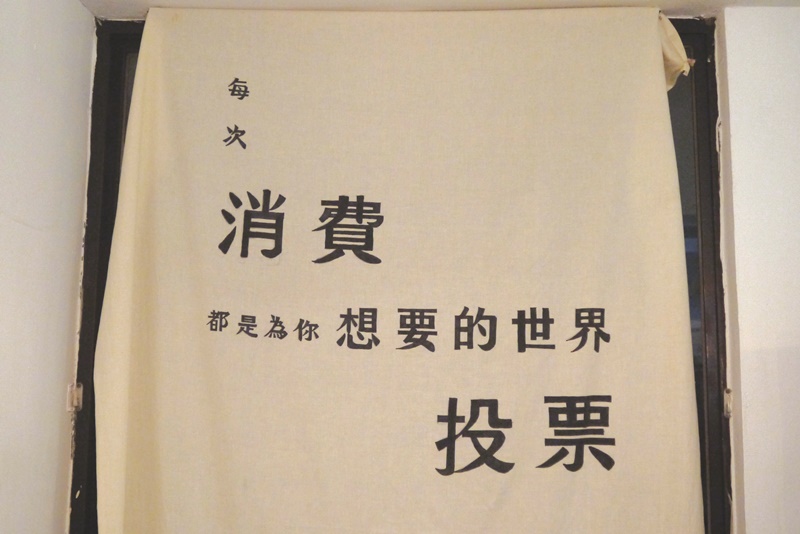 At San Shi Living Lab, the bottom line is that eco-friendliness is a choice: one can commit to more sustainable actions or choose the easiest or least expensive solutions. As Taipei leads the nation toward a plastic-free future, it seems likely that more people will see the benefits of choosing to defend the natural environment.
This article is reproduced under the permission of TAIPEI. Original content can be found on the website of Taipei Travel Net (www.travel.taipei/en).
More Eco-friendly Issues in Taiwan: