Author Wendy Ng
Photo Wendy Ng, Johnson Wang, MiNe Flickr, Taiwan Scene, Wiki
有一種餓叫做嘉義人怕你餓 – This colloquial phrase in Chiayi is loosely translated to mean: There is one kind of hunger called "Chiayi people are afraid you are hungry!" This expression sums up Chiayi's reputation as a food paradise and the locals' warm hospitality and their passion for food. The fact that the Netflix series Street Food episode of Taiwan focuses on Chiayi is testimony to its excellent culinary scene. Get ready to eat non-stop with this ultimate foodie's guide to the best things to eat in Chiayi.
1. Turkey Rice 雞肉飯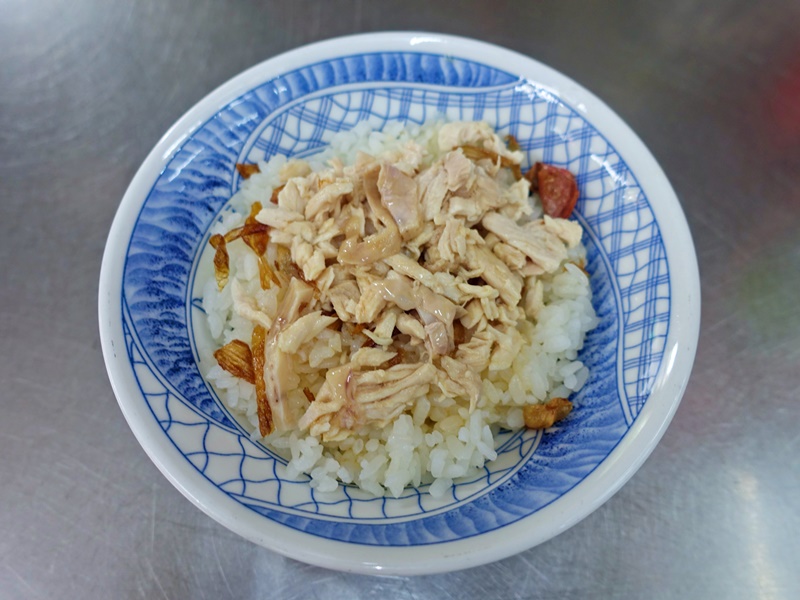 Turkey rice is the representative dish of Chiayi. While you can find this Taiwanese delicacy all around the island, Chiayi is the only place to taste the best (don't ever argue with a local about this). It's widely known that people from Chiayi will not eat turkey rice outside their hometown. This legendary bowl of rice is crowned with succulent chicken slices and drizzled with chicken stock and fried scallions. Every local has a favorite chicken rice stall and enjoys the dish at any time of the day. Popular turkey rice stalls include Magistrate Liu's Turkey Rice 劉里長雞肉飯, Dai Shi Turkey Rice 呆獅火雞肉飯, and Ah Hong Shi Turkey Rice 阿宏師火雞肉飯.
2. Fish Head Stew 沙鍋魚頭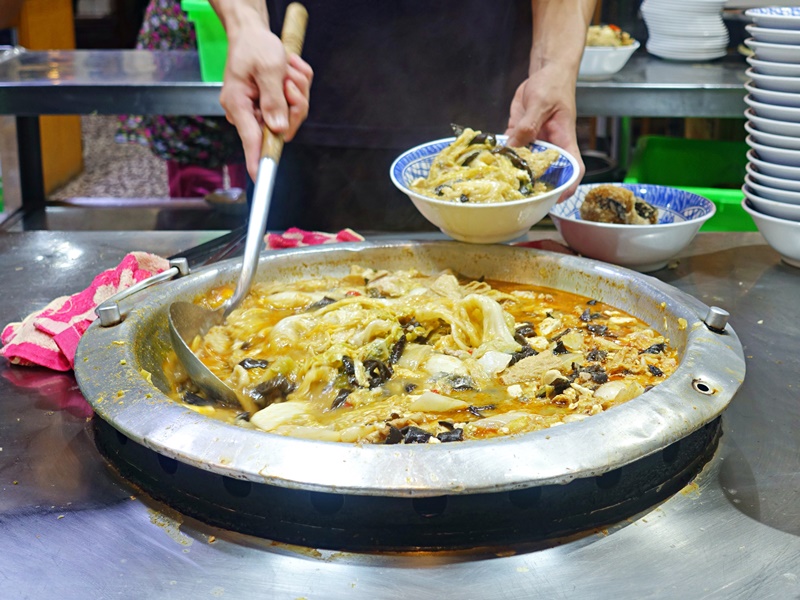 The soul food of Chiayi is a hearty bowl of fish head stew. The most popular restaurant serving this unique dish since 1953 is Smart Fish 林聰明沙鍋魚頭. After it was featured in Netflix's Street Food: Asia, the restaurant propelled to international fame and has been busy with expanding their outlets and creating new products like pre-packaged fish head stew for home cooking and their special Smart Fish shacha sauce. Dining at Smart Fish is an unforgettable culinary experience as their stew is densely flavorful and packed with fresh fish meat and vegetables.
3. Cold Noodles 涼麵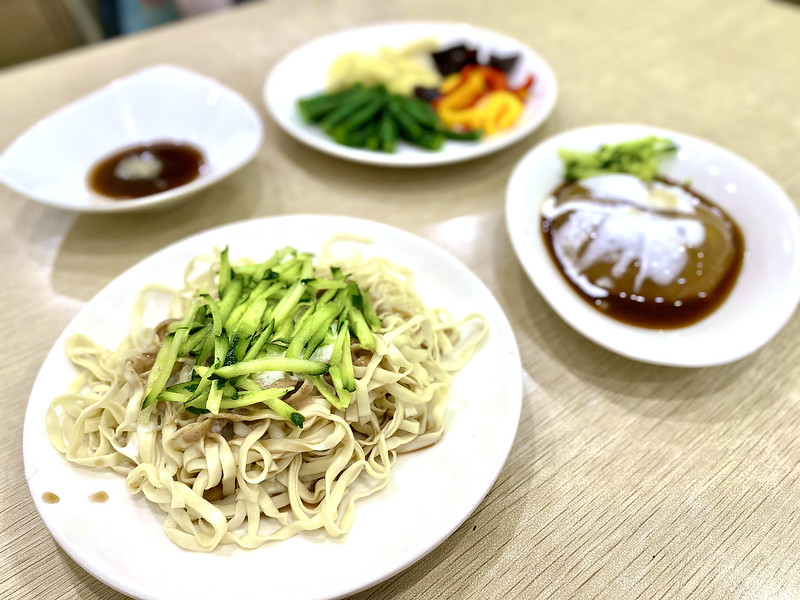 While cold noodles can be found easily in Taiwan, Chiayi-style cold noodles are in a special "noodle class of their own" as the noodles are served in special Chiayi style with white vinegar mayonnaise and sesame paste. The noodles usually come with vegetables like cucumbers, bean sprouts, and even garlic toppings. Best places to try cold noodles: Gong Yuan Old Shop Cold Noodles 公園老店涼麵, Huang's Cold Noodles 嘉義黃記涼麵涼圓, Si Wei Guo Tang Cold Noodles 涼麵四味果汁.
4. Bean Curd 豆花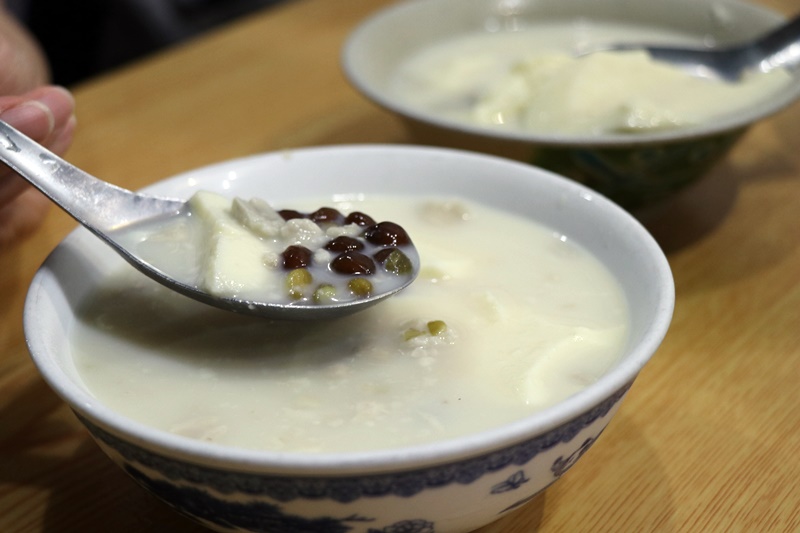 A widely available snack in Taiwan, bean curd is enjoyed as a warm or cold dessert. Unlike bean curd from other parts of Taiwan, Chiayi's bean curd is paired with soy milk instead of sweet syrup. The smooth texture of the bean curd is enhanced by the richness of the soy milk. Level up your bowl of bean curd with toppings like red bean, mung bean, peanuts, sweet potato, and even barley. Enjoy the best bean curd of your life at famous stalls like Ah E (Grandma E) Bean Curd 阿娥豆花 and Ping An Bean Curd 品安豆花.
5. Wenhua Night Market 文化路夜市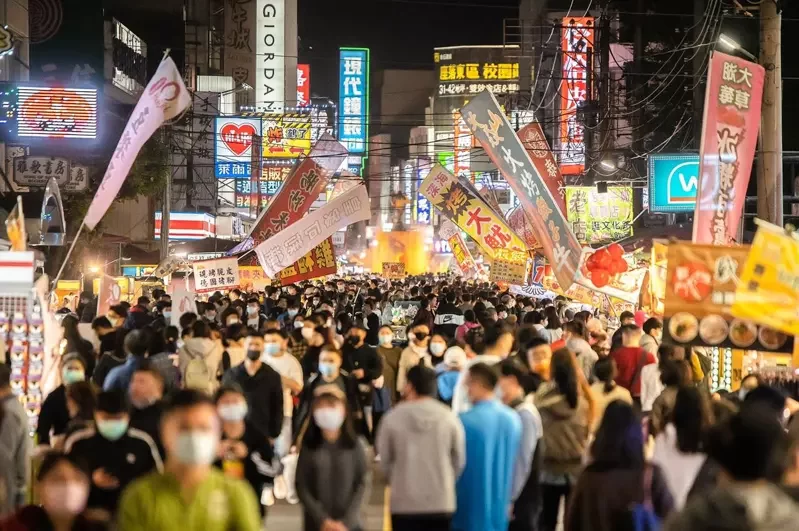 The buzzling night market on Wenhua Road is a culinary pitstop with lines of stores serving classic Chiayi delicacies. Be prepared for a night of non-stop eating as you can try a variety of Taiwanese street food staples like oyster omelette and end your night with the refreshing grapefruit green tea from Yuxiangwu 御香屋.
6. Chiayi East Market 東市場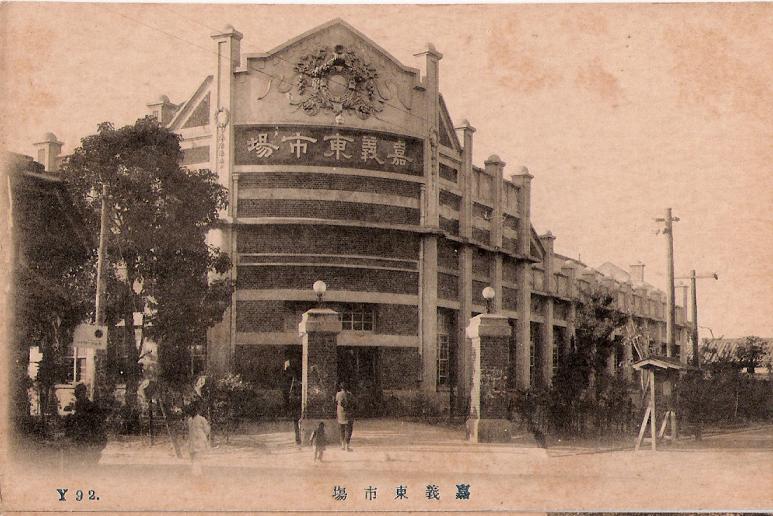 Considered one of the oldest traditional markets in Chiayi, this place has been the locals' favorite food hub since the Japanese period. The market is like Chiayi's communal kitchen where there are many local stores that have been selling traditional dishes like meat rolls and dumplings for generations. Some must-try food include Wang's beef offal soup 王家牛雜湯 and Yuan's tubed rice cake 袁家筒仔米糕.
7. Goat Stew 松山土窯羊肉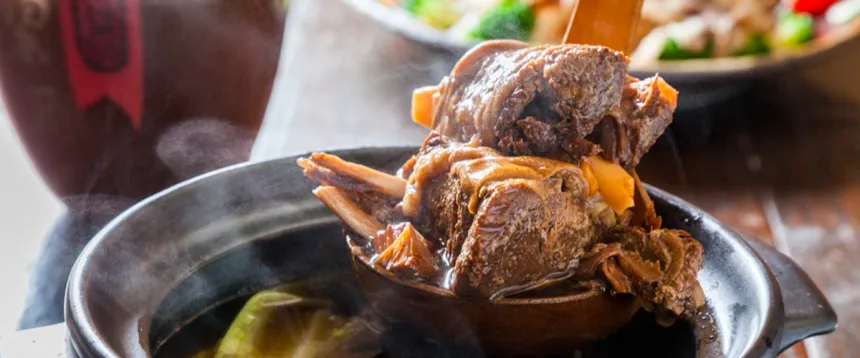 Make a food pilgrimage Songshan Tu Yao Yang Ruo 松山土窯羊肉 to try their famous goat stew. Mr Chou, the well-known Uncle Goat or Uncle Sleep, has been making this goat stew, goat soup, or also called goat hot pot, in a specially designed cave for years. The secret to his family recipe is medicinal herbs, rice wine, and cooking the goat stew in the cave for three days and three nights. (Read also: Goats and Gas Masks at Taiwan's Hell Kitchen)
8. Thefreen Burger 樂檸漢堡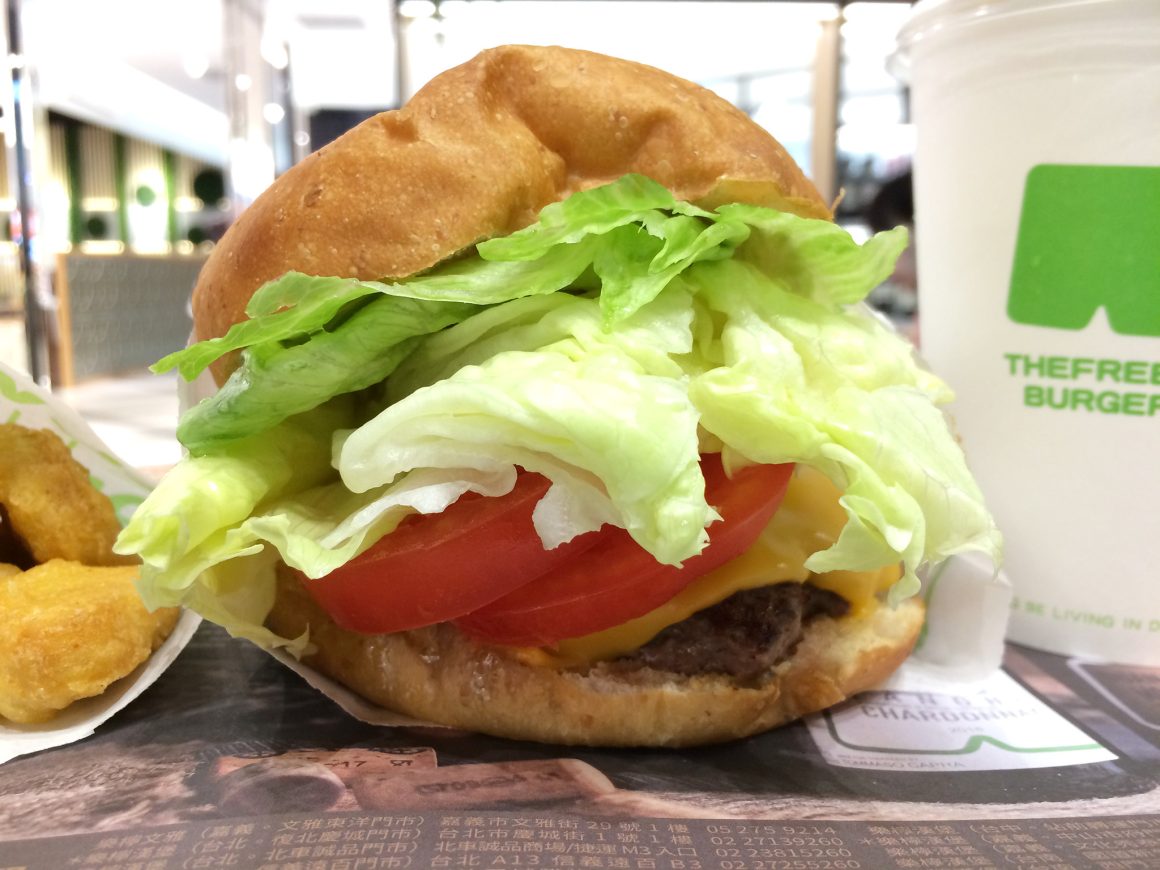 Try a Thefreen burger in its birthplace, Chiayi. This is the only American-style hamburger fast food chain founded by a nutritionist. The name "Thefreen" is a combination of the three elements that are important to the dining experience: freestyle, real, and green. The burger joint is a place for you to "freestyle" and relax, indulge in "real" food made using fresh products, and enjoy the green environment designed to reflect nature.
9. Handmade Egg Rolls手工蛋捲
There is one thing that people always buy before leaving Chiayi–handmade egg rolls from Fu Yi Shan 福義軒. This well-loved brand has been making biscuits and snacks since 1951. They use traditional methods to make their famed egg rolls, which are so fluffy, flavorful, and too addictive. Their best sellers include the homemade egg rolls and pepper crackers. Their products are so popular that there's a buying limit.
10. Square Cookies 方塊酥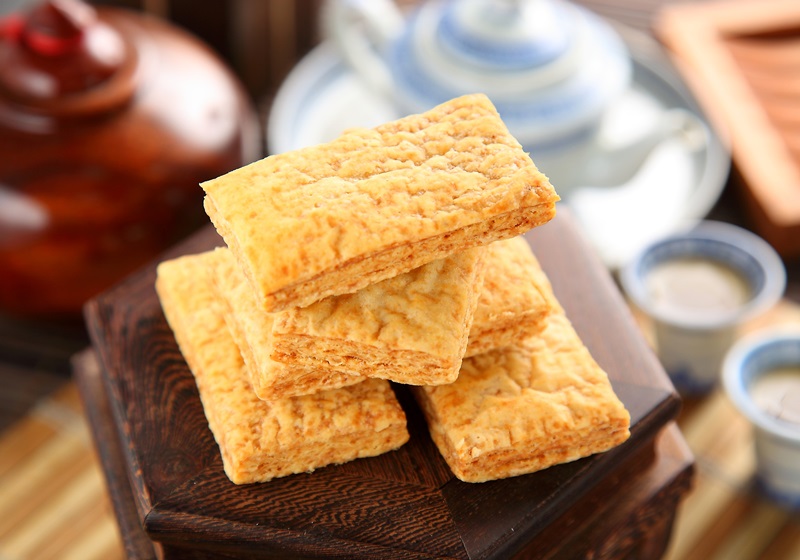 Square cookies are a Chiayi's delicacy and the best place to taste these irresistible crispy biscuits is En Dian square cookies 恩典方塊酥. Since 1945, this local institution has been using special techniques to create their exquisite square cookies that boost 243 layers of crispy deliciousness. The famed cookies come in different flavors like original, honey, chocolate, and even seaweed. The square cookies are perfect as souvenirs as they are packaged elegantly.
Are you feeling hungry? Read more about Netflix's spotlight on Chiayi here: Netflix's Love: The Best of Chiayi City's Iconic Street Foods.
Plan your food exploration of Chiayi with MyTaiwanTour as they specialize in customized local tours.
Other than eating, there's much to do and enjoy in Chiayi. Read more: Discover the secrets of Chiayi: Top 10 Things to do in Chiayi City.
Wendy Ng
Wendy is a content creator who writes about her travel experiences at whywendywrites to escape from her city life in Singapore. Her writing journey started when she had the once-in-lifetime opportunity to live and teach in Okinawa and circumvent the world with the Peace Boat. A compulsive-obsessive traveler and culture enthusiast, she believes that when we know more, we travel better.
This article is extracted from whywendywrites – https://www.whywendywrites.com/blog/chiayi
Chiayi, the underrated part of Taiwan: