Author & Photographer Rick Charette
The heritage-rich town of Jiufen (九份) has a unique "double beauty" gift that few if any other places of any size on Taiwan's main island offer tourists. And what is that? The town is a beauty when viewed from afar, and the views of "afar" from the town itself are also filled with beauty.

This is an old mining town on Taiwan's northeast coast, just east of Keelung City, located high up on a steep slope just below the crest of a mountain ridge. It is in full, magnificent view – beautiful to look "at" — as you approach from the northwest along the coastal highway, Provincial Highway No. 2 (台2線). Then, when in the town, you'll find its exceedingly narrow streets are laid out in tiers along the slope, and from countless vantage points – beautiful to look "from" — you are presented with vistas filled up with town sections in the foreground and mountain, coastline, and mighty Pacific beyond.
Unearthing the Origin of the "Jiufen" Name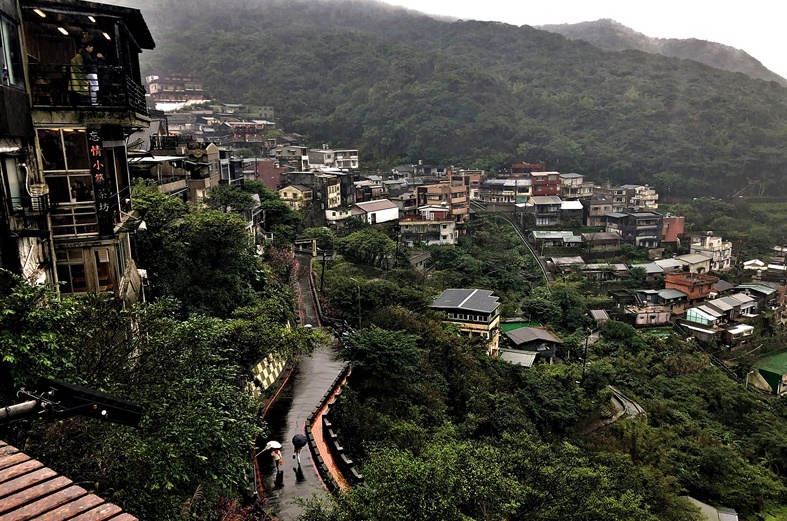 "Jiufen" literally means "nine parts/portions." Such names are common in Taiwan, usually referring to the number of land parcels given to Han Chinese immigrants way back when. Jiufen locals have a different take on their name origin. In imperial times, they say, supplies for the small original community came by supply boat. There were nine original families, and thus when delivered their supplies were divided up into "jiufen/nine portions."
There's Gold in Them Thar Hills!
Gold was discovered here in 1890, during Chinese imperial days, setting off a bonanza. Before this time the settlement's populace had engaged in camphor and tea production. Jiufen, along with the nearby mining town of Jinguashi (金瓜石), located just minutes away in a valley on the other side of the aforementioned mountain ridge, became the gold capital of Asia, the glory days lasting through the first five decades of the 20th century. Jiufen was nicknamed "Little Shanghai" (小上海), its narrow streets jammed with teahouses, winehouses, inns, brothels, and Taiwan's first movie theater, its glittering lights clearly visible from far out at sea.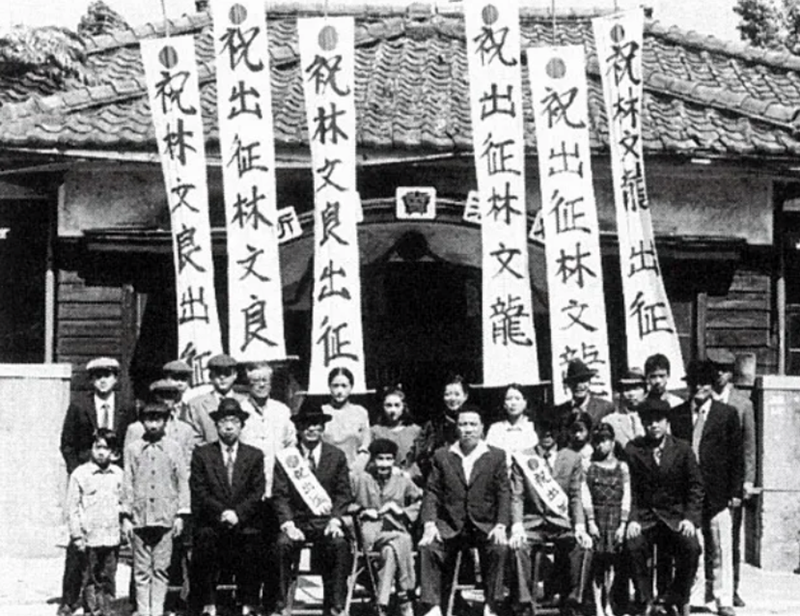 Hard times followed as the below-ground riches ran dry over the following decades, but good times began to roll once more after the release of the internationally acclaimed Taiwan film A City of Sadness (悲情城市) in 1989, for which Jiufen had been used as a filming location. The town's dry period had left it with a treasure lode of old buildings, mining equipment, and other heydays relics. Artists had already begun to move into the ramshackle, character-bountiful town in the years before this. In the years following the film's release Jiufen also served as setting for two iconic TV commercials for Mr. Brown Coffee (伯朗咖啡), a popular canned-coffee brand.
Today the town brims to bursting with tourists on weekends and holidays, who come for the heritage sites, hundreds of densely-packed tourist-targeting snack sellers, eateries, merchandise shops, and teahouses, superb panoramic scenery, and perhaps an overnight stay at one of the many guesthouse operations (a couple of larger inn-style operations have now been added).
Jishan Street – Snacking and Shopping Cornucopia
Exceedingly narrow and, on weekends/holidays, cheek-by-jowl busy Jishan Street (基山街), or Jiufen Old Street (九份老街), is far the town's biggest draw. Its tourist section runs in a mildly zigzagging line for about 500 meters horizontally across the mountain slope just below the crest. This section ends at the Jishan Street Viewing Platform (基山街觀景臺), which has riveting views over the town and out along the coast. The quieter section beyond has hillside houses and a number of guesthouses, a temple, and a large teahouse.
This "roadway," more a pathway with barely enough room for four people to walk abreast, has only the occasional slow-moving scooter. Along much of its length the sky is blocked from view by the awnings of the densely packed eateries, snack shops, gift shops, jewelry shops, and artist galleries along both sides. Most buildings in Jiufen are of red brick and/or dark wood (unvarnished), and along Jishan Street the majority of the establishments today have open-front first levels. Many businesses on the street have been in place 30-plus years, many of these today run by the family's second generation.
Two of the town's signature must-try delicacies are sweetened taro-flavored dumplings (芋圓), made with powdered taro, and meat dumplings featuring chewy gelatinous rice-made casings filled with tender pork marinated in red yeast/vinasse (紅糟肉圓), both made fresh daily.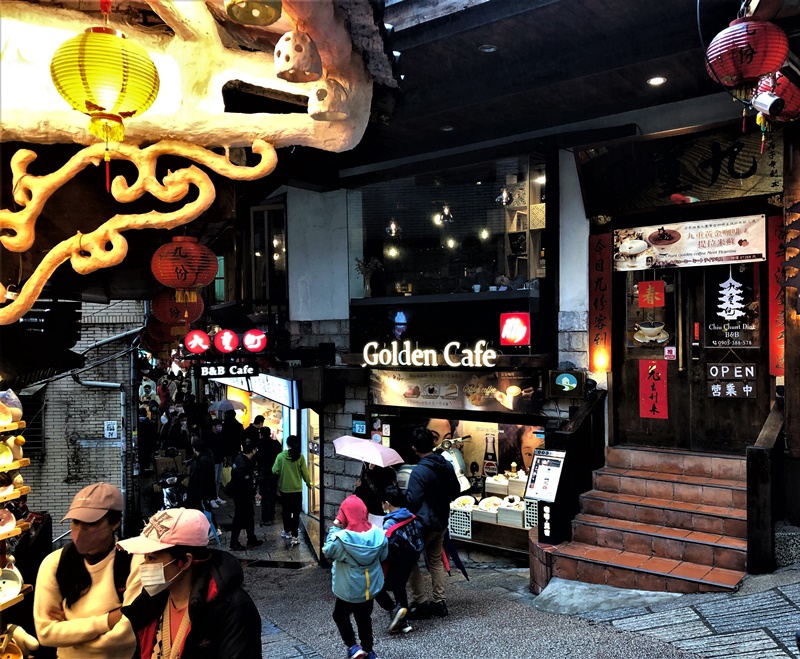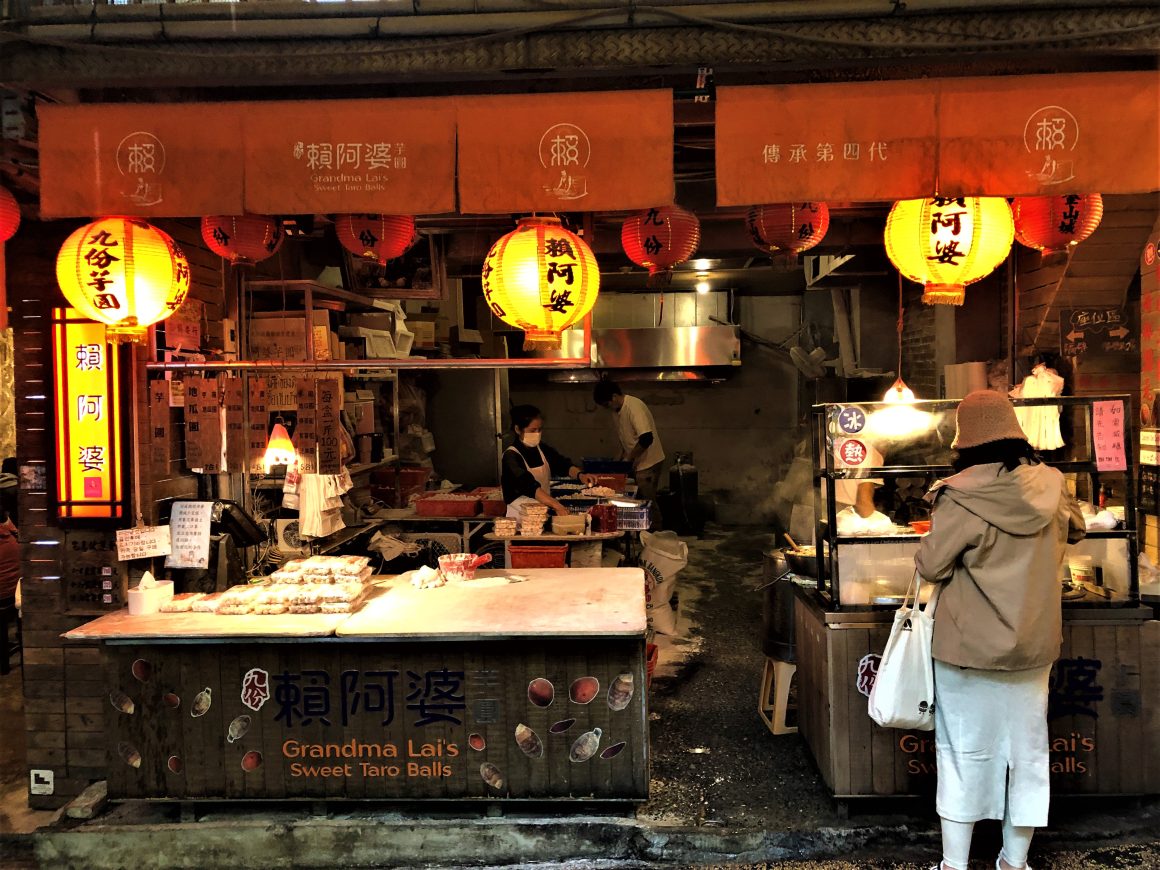 Shuqi Road – Big Rustic Teahouses and Big Mountain/Ocean Views
Toward the west end of Jishan Street you come across its intersection with Shuqi Road (豎崎路), the town's second-biggest draw. This is another "roadway" not a roadway, a steep and narrow stone-stepped pathway that runs roughly north-south through the town vertically along the mountain slope. It's about 200 meters long, has over 350 steps, and reaches up just short of the town's top and down just short of its bottom. The buildings here are larger, many three stories high, and are based on cut/uncut stone foundations. The stairway is lined with teahouses, restaurants, and galleries, the teahouses/restaurants offering more refined dining and decor than the Jishan Street establishments, many also serving up prime coastline panoramas.
The most brightly shining gem in this collection is the A-Mei Teahouse (阿妹茶樓; a-meiteahouse.com; Chinese), on the lower section, in a sprawling building originally home to Jiufen's sole blacksmith shop. Like Jiufen's other teahouses, it stays open late so patrons can enjoy the stellar night views, to 1am Fridays and Saturdays, midnight other days. The building itself is gorgeous and much photographed, beautifully preserved and maintained.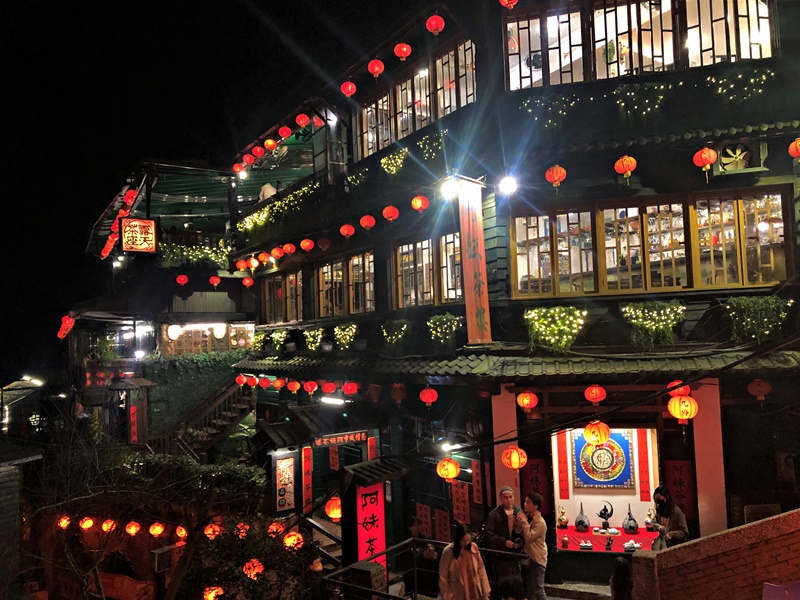 Service is available in English. If here for the tea sets, you'll be served a Taiwan high-mountain tea along with your choice of accompaniments: sweetened plums, sesame crackers, green bean cakes, and brown-sugar mochi. Your waiter teaches you the traditional kung fu method to prepare your tea. If here for a meal, the list of hearty traditional Taiwanese fare includes such hot dishes as beef noodles, stewed pork ribs/chicken/beef with rice, soy-braised pork with preserved vegetable, and fried rice selections.
Shengping Theater – Portal Into Olden-Times Entertainment
The Shengping Theater (昇平戲院) is located right by the intersection of Shuqi Road and Qingbian Road (輕便路), immediately below the A-Mei Teahouse. The theater, a protected heritage site, was opened in 1934. Taiwan's first movie theater, it was also used for Taiwanese opera, and had its own resident troupe. Inside (free entry), you'll find old-style bench seating, vintage projection equipment, old-days movie posters, and b/w period photos, one showing how young boys were paid to run through the town with placards announcing what films were playing. There's also a splendid mock-up of the yesteryear concession booth loaded up with the must-have yummies of bygone days. Old Taiwanese movies are regularly screened, and Taiwanese opera is sometimes presented.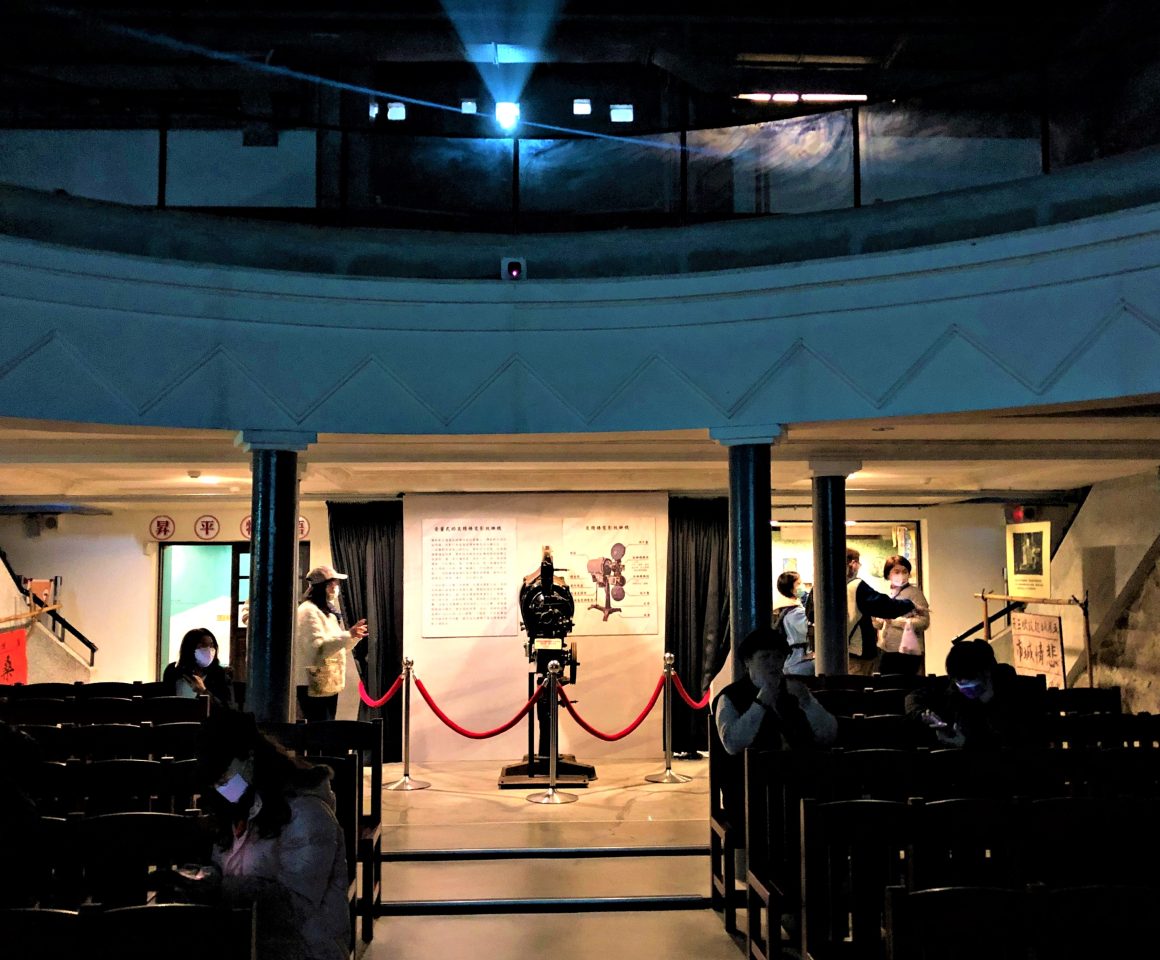 Jiufen Goldore Museum – Digging into the Mining Past, Panning for Info Nuggets
The small Jiufen Goldore Museum (九份金礦博物館; entry fee; Chinese) is further west along Qingbian Road past the Shengping Theater, opened by an ex-miner whose father and grandfather were miners. Tours are given, English service available. Inside on the first level is a recreation of a mineshaft section complete with trolley and tracks, where your guide will demonstrate the traditional techniques used for mining gold. On the second level a demonstration is given on how the town's women would crush the ore (foot-powered crushing device used!) and how the gold was laboriously separated out using water washing and life-shortening chemicals. The facility is also filled with samples gathered over the decades by the family, and you're taught how to inspect ore samples and distinguish the sand, quartz, pyrite (fool's gold), gold, and silver (Jiufen's gold typically comes mixed with silver).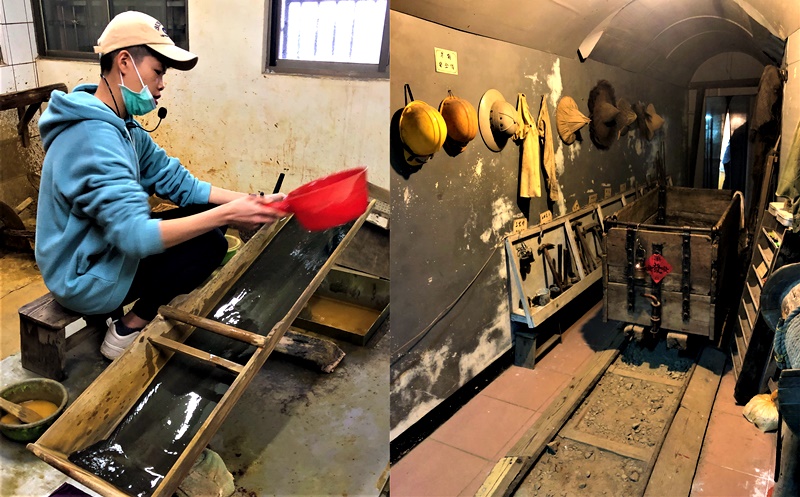 Mount Jilong Hiking Trail – Seeing How Eagles See Jiufen
Try to leave time for a healthy hike up to the summit of mighty Mount Jilong (elevation 587m), which stands between Jiufen and the sea on the town's north. The Jiufen mountain ridge connects to the mountain's midriff. You'll find the trailhead of the Mount Jilong Hiking Trail (基隆山登山步道) on County Highway No. 102 a few hundred meters uphill from the highway's intersection with Jiufen Old Street, the spot most tourists enter the street. The highway is the main thoroughfare through the town, moving along its base and then up its north side.
The trail is a steep, stone-stepped pathway with little shade along the way save for a few rest pavilions. The more than worthwhile reward after your uphill slog of 40 minutes or so are incredible panoramas in all directions.
Happy treasure hunting! For more info on Jiufen and the surrounding area, check out the other articles on this website and visit the New Taipei City Travel website at newtaipei.travel.
To Explore Northern Taiwan: