Author Josephine Shuili Lin
Photographer Josephine Shuili Lin, Leo Hsieh
On that particular day, we embarked on a high-speed rail journey from Taipei to Taichung before hopping onto a tourist bus bound for Nantou County in central Taiwan, heading towards Sun Moon Lake(日月潭). This is the largest natural inland lake in Taiwan, situated at an altitude of 760 meters and surrounded by majestic mountains. The lake's surface sparkles under the sunlight, resembling a misty fairyland when it rains. The sunrise and sunset scenes are particularly enchanting, earning the lake recognition as one of the eight scenic spots in Taiwan.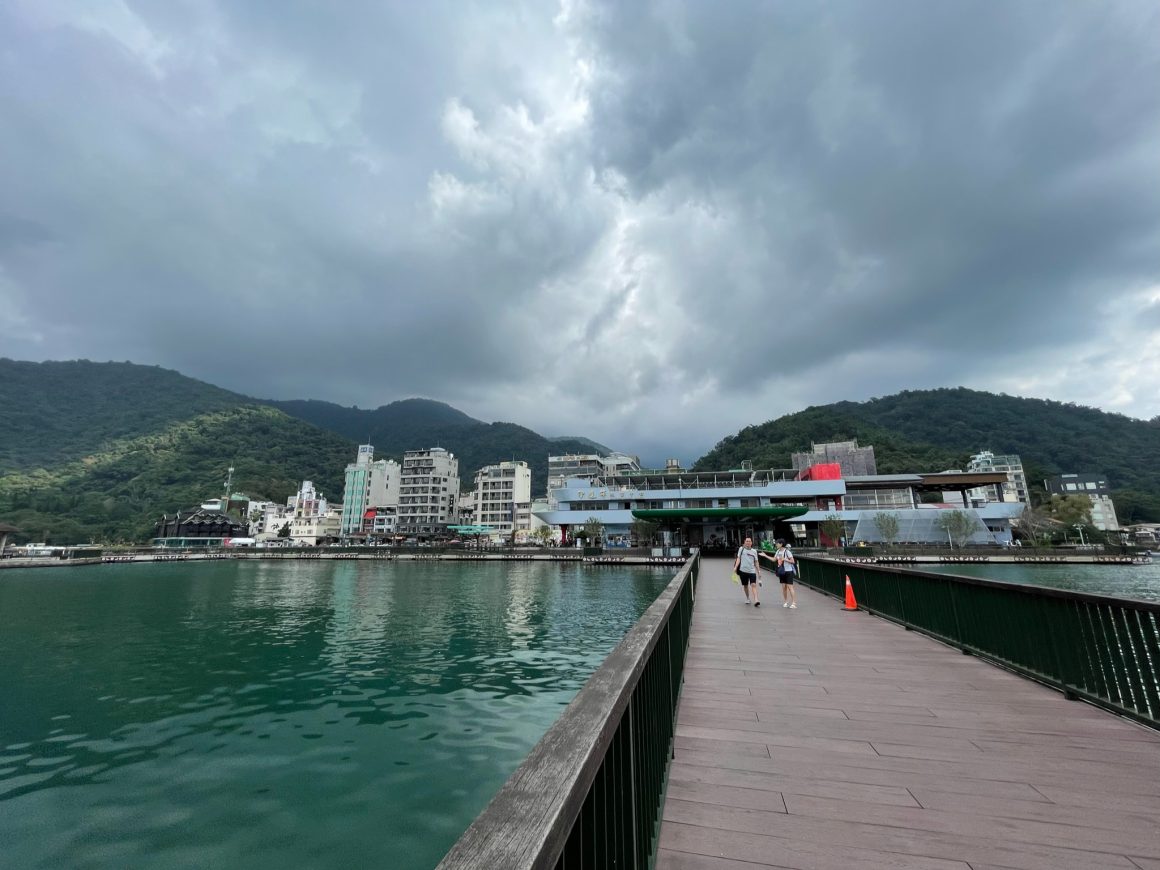 Originally two separate lakes, Sun Moon Lake underwent a transformation due to the necessity for power generation. A dam was constructed downstream, connecting the two lakes and resulting in the rise of the water level. Lalu Island(拉魯島), a small island in the lake, holds significance in the language of the Thao people(邵族), the indigenous tribe of the region. Legend has it that this island is the residence of the highest ancestral spirit of the Thao people, and the lake earned its name "Sun Moon Lake" from the color of its water. Some believe that the island's east and north sides are round like the sun, while the southwest side is narrow and slightly curved like the moon, giving credence to its name.
Sustainable Serenity: An Electric Boat Tour and Stand-Up Paddleboarding Expedition
Our tour guide, Leo Hsieh, shared captivating stories of the Thao people as we glided across the lake in a serene electric boat—a crucial and trendy component of Sun Moon Lake's sustainable tourism. Traditional fuel-powered yachts not only emit greenhouse gases but also pollute water sources. Engrossed in indigenous legends, a Thao person joined us on the boat, demonstrating tribal artistry by weaving a small food basket with the plant Hicriopteris, abundant around the lake. Later, we utilized the handmade basket to make eco-friendly purchases from street vendors, contributing to sustainable tourism by avoiding plastic bags and containers.
The day's highlight was learning stand-up paddleboarding(SUP) on the lake—an eco-friendly activity. As we paddled to spots with minimal trash, we not only enjoyed the excitement of mastering paddling techniques but also engaged in cleaning efforts. Collecting dead branches and garbage shifted our focus to a quiet and contemplative state, akin to a zen moment. In that tranquil setting, we became part of the lake's beautiful scene, experiencing a rare "we are one" moment, fostering harmony between humanity and nature.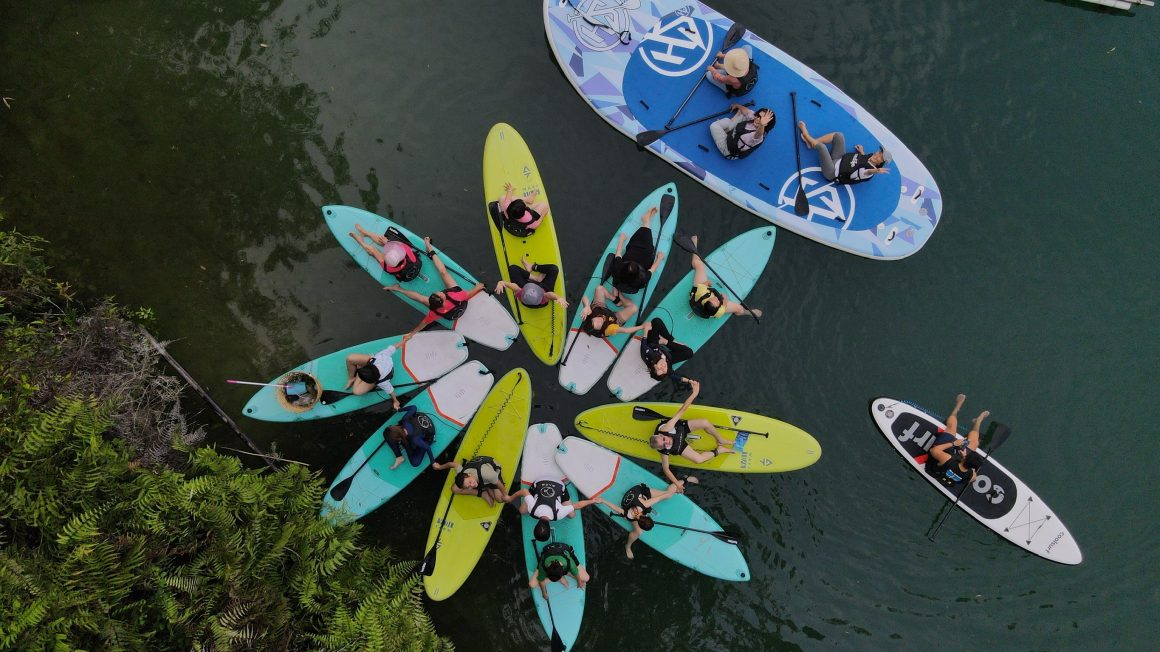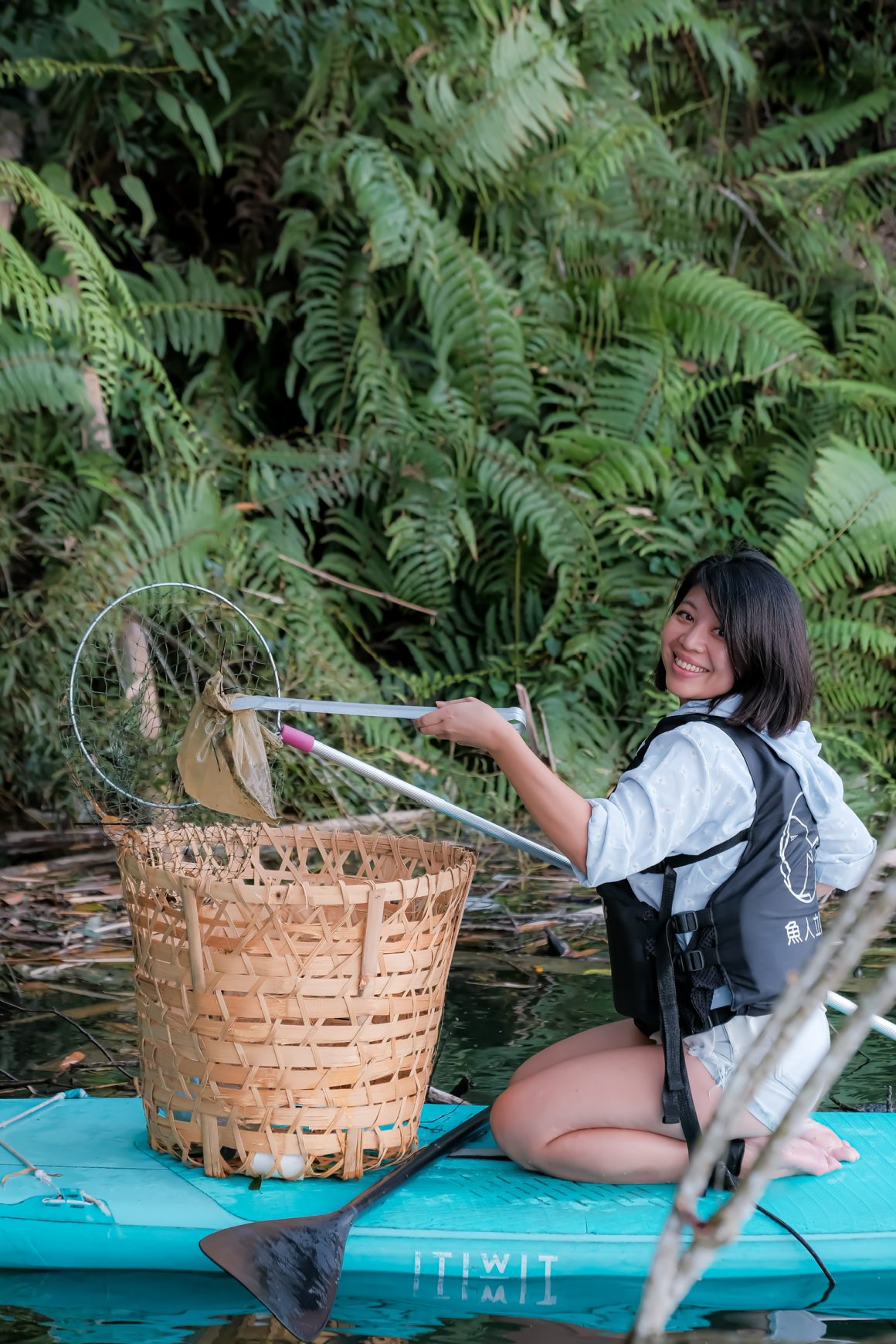 Leo, our tour guide and SUP trainer, hails from Nantou. Returning to his hometown six years ago from Taichung, where he worked as a fitness trainer, Leo initiated small projects like Lake Run and Jinlong Mountain Sunrise Picnic to gain popularity. Simultaneously, he transformed his old home next to the market into a backpacker's inn, serving as a gathering space for events and travelers. Recognizing the sports trend of SUP, Leo expanded water sports in Sun Moon Lake, making OneLife SUP (魚人立槳)a prominent name in the region. While paddling and collecting garbage, Leo captured high-quality photos with his single-lens and drone cameras, ensuring our phones remained safe. We also savored healthy bread from Leo's third venture: OneLife Eats(魚光窯烤), a renowned bakery in Nantou. Leo's wife bakes egg-free, dairy-free, oil-free, low-sugar, and salt bread in a kiln, often selling out quickly. Through these operations (OneLife Hostel, SUP, and Eats), Leo encourages an environmentally friendly perspective in food, housing, and travel, contributing to elevating local tourism to sustainability.
Embracing the concept of a zero-waste packed lunch further reduces garbage in Sun Moon Lake. At Mafei restaurant(碼啡館), affiliated with Shui Sha Lian Hotel (水沙連大飯店)near the pier, we enjoyed a special Thao hunter flavor lunch presented on a large bamboo basket. Dishes were elegantly placed on wooden plates carved in the shape of leaves and owls, with soup held in specially crafted bamboo tubes. This aboriginal feast provided insight into how ancient Thao people celebrated festivals when hunters returned with substantial catches. Tourists today relish these luxurious meals using reusable natural dishes while taking in the lake view.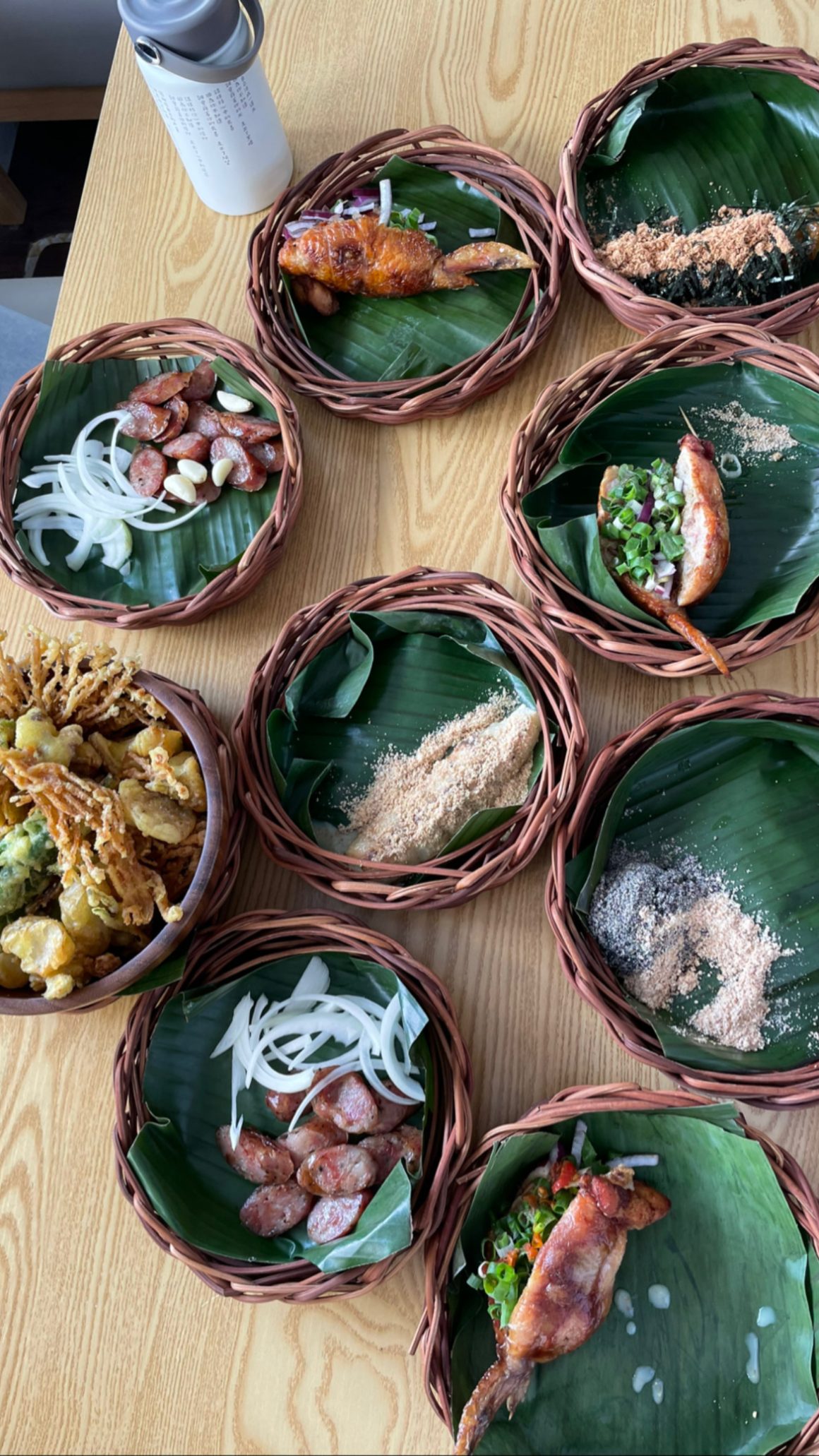 Leading the Sustainable Way
Fleur de Chine Hotel Sun Moon Lake(雲品溫泉酒店), the first five-star hotel in Taiwan to obtain the CU-GSTC "Global Sustainable Tourism Certification," underscores the significance of environmental protection and sustainable development. As it promotes sustainable eco-tourism, the hotel integrates energy-saving and carbon-reducing measures with local culture and the environment. They offer professional activity planning and tourism services to enhance visitors' vacation experience and deepen their understanding of Sun Moon Lake's history. The hotel's eco-friendly initiatives include refraining from providing disposable supplies and bottled water. Instead, they install Italian Blupura sparkling water machines and offer reusable glass bottles for guests' use. Additionally, a tableware rental service allows guests to borrow eco-friendly tableware free of charge, minimizing disposable container waste. The hotel recycles wastewater for irrigation and landscape maintenance, and leftover food undergoes processing through a food waste machine to produce organic fertilizer.
As a responsible tourist, choosing to vacation with businesses prioritizing environmental protection and sustainable development allows you to be a greener traveler.