Article: Chiang Hsinying
Photos: Yang Jiaying
Dining at the same table with others is an intimate thing. If you have Taiwanese friends or if you have ever visited a Taiwanese family, you will have heard the expression "Come eat with us!" in Taiwanese. Dining together indicates being acceptance and close association between people, over one of the most important aspects of life: food. And all such human encounters begin right at the moment the cook chooses ingredients at market. In the restaurant where Tatsuya Ono (小野竜哉) cooks, Taiwanippon (赤綠), it's a cinch that there'll be customers there from at least two countries: Taiwan and Japan, and, indeed, the cuisine here has helped build a friendship that transcends national boundaries.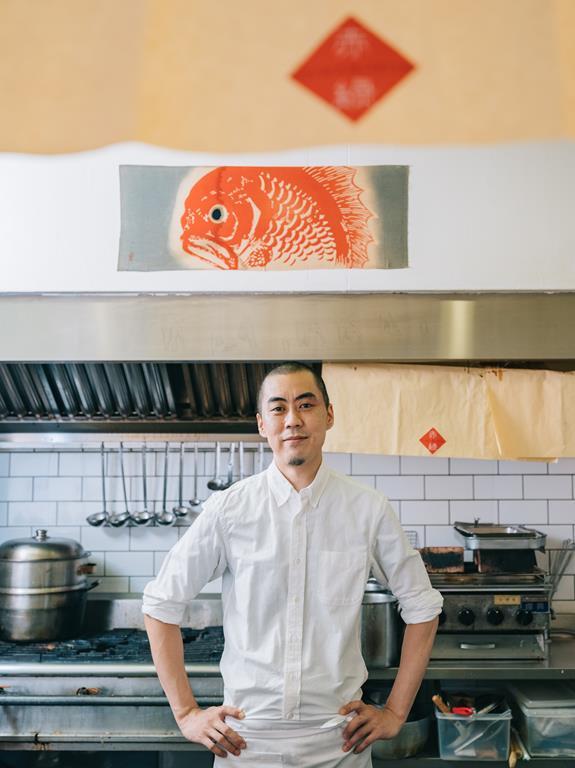 At six o'clock in the morning, the streets are coming to life with but few people moving around. But at Binjiang Market, it's been busy for a few hours already. Tatsuya Ono is very familiar with the complex concoction of aromas here. He was born in Hokkaido, Japan, and started learning to cook in senior high school. At 22, he graduated from college and went to work at a restaurant in the Nakameguro area of Tokyo, officially entering the world of Japanese cuisine. His excellent culinary skills were all learned doing real work in a real kitchen. "My dream back then was to open my own restaurant by age 30. I knew that if I opened one in Japan, I would have a rough picture of how it would turn out. But about opening a restaurant in another country – I had no idea. But I'm a curious person and was eager to give it a try." So at 26, he packed his bags and left for Italy and France, where he took a closer look at the cuisine, culture and markets of continental Europe. And, on this journey, Tatsuya met four Taiwanese, who turned his life around.
Market Early Bird in Searching of Taiwanese Taste
 "I didn't have much money back then, and these new Taiwanese friends invited me to stay with them in southern France; I ended up staying there for over a week. It was the first time I'd ever met any Taiwanese, and I found them very hospitable." A year after this trip, he came to Taiwan, stayed a month and decided to open a restaurant here. As a music lover, he sought work and found it at a jazz club in Taipei. Before long, he was also running a small fried chicken wing stand at Raohe Street Tourist Night Market (饒河街觀光夜市) where he got to know Taiwan better, an essential step in preparing to open his own establishment. So, in 2013, he finally opened Taiwanippon and his dream was realized. (Read also: Seven Taiwan Night Markets Everyone Needs to Visit)
In the early days of his business, his day began at six a.m. with him grabbing his notebook and heading for Binjiang Market. He didn't go there to shop for the new restaurant, but merely to "check out seasonal ingredients." Such "checking out" visits continued for three years. "It's important for a good chef to visit the market every day for a whole year," he says. Since each ingredients has its own harvest season, it will taste better at certain times of the year. This applies even to some vegetables that grow all year round. He recalls, "If I encountered an ingredient that I'd never seen before, I'd buy some and take it home, where I'd experiment, using it in different methods of cooking, such grilling, frying, boiling or steaming. I'd memorize the flavor that resulted from each test. I don't look for ingredients just to meet my needs; I want to know each ingredient's strength. It's like communication between people – they need time to get to know each other."
Comparing traditional markets in Taiwan with those in Japans, Ono notes that the wholesale places in Tsukiji, Japan are very similar to what he finds in Taiwan. The main difference is that, at the former, the buyers are mainly shopping for restaurants. The average Japanese consumer still shops for groceries at a supermarket, or along commercial streets. According to Chef Ono's observation, "The cultural meaning inherent in a Taiwanese traditional market is that it's all about human relationships. When I see those moms at local markets, it's apparent that they've come to visit and chat, as well as shop. They always look happy." These markets are a professional chef's catalogue of ingredients; they allow a cook to have a better idea where his culinary components are coming from, and help him or her in choosing the ideal ingredients. On weekends and holidays, Ono often visits the Taipei Expo Farmers Market at the exit of MRT Yuanshan Station. This emporium sells some of the freshest produce in Taiwan, and it stages different vegetable/fruit-themed activities weekly. The goods here are delivered from place of origin to consumer directly. This reduces food waste and keeps cost-to-farmer down. It also allows consumers to interact with these farmers one-on-one.
Invisible Forces Behind a Perfect Dish
Taiwanippon's meat and vegetables are mostly produced in Taiwan. There are organic veggies from Tainan, black pork and chicken from Pingtung, and Cherry Valley ducks from Hualien. The seafood comes from Taiwan and Japan, both, but the whole fish are mostly from Japan, and prepared using the Ike Jime technique, a method of killing which preserves the quality of the flesh. Ono believes that: "The production, sale, cooking and consumption of the product should all be considered as one. In other words, one aspect cannot be thought of without also thinking of the others too." When people on the production and sales end of the business pay attention to the quality and freshness of the food they are selling, it makes it easier for chefs to create dishes with the highest possible value. In the end, the consumer, who gets to enjoy this delicious food will appreciate the farmers and their land.  This cycle of positive reinforcement is something Chef Ono is keen to promote.
 "Taiwanese and Japanese cooks pursue different objectives in striving for perfection," Ono says. In Taiwanese cuisine, a good variety of ingredients and a sense of abundance are stressed, whereas Japanese cuisine tries to be light and elegant, focusing on the original flavor of each ingredient. Ono gives an example of this: "Take grilled fish. It seems like an easy enough dish, but first the chef has to study the species, figure out the best way and exactly how long to grill it, select the right kinds of charcoal and salt, etc. These are the invisible forces behind a perfect dish." Chef Ono's philosophy of life is surely imbued with the same spirit.
When it comes to future plans, Ono will only say, "I have many ideas in my head, but I don't like to rush into anything until I'm ready to go at it full bore. Now, I just try to focus on the everyday basics, such as building up my abilities, making good dishes and respecting every customer." Ono has lived in Taiwan for nine years, but he still has the same feelings about cuisine as when he started. Taiwanippon's signage is not flashy, and its interior design is quite simple. But its chef still puts all his heart into cooking, and consistently delivers gourmet food with sincerity. It's taken ten years for him to realize the dream he first had in his twenties. And now, we look forward to seeing what the next ten years will bring!
Taiwanippon
Address: B1, 15, Aly. 5, Ln. 107, Sec. 1, Fuxing S. Rd., Daan Dist.
Tel: 02-8773-7609
Website: https://www.facebook.com/taiwanippon/
A Favorite Recipe
Dragon fruit and green bamboo shoots are two tropical ingredients grown in Taiwan. Chef Ono's recipe is unusual in that it employs the little-used dragon fruit flower, which has a unique aroma and a smooth texture. These attributes mean that it goes beautifully with the crunchy, fresh bamboo shoots and pale yellow blanched chives. The combo is a nice cold dish you can easily make at home. (Read also: Exotic Food in Taipei: Spring in the Plates)
Green Bamboo Shoot, Dragon Fruit Flower, Pale Yellow Blanched Chive, Umeboshi and Mustard Salad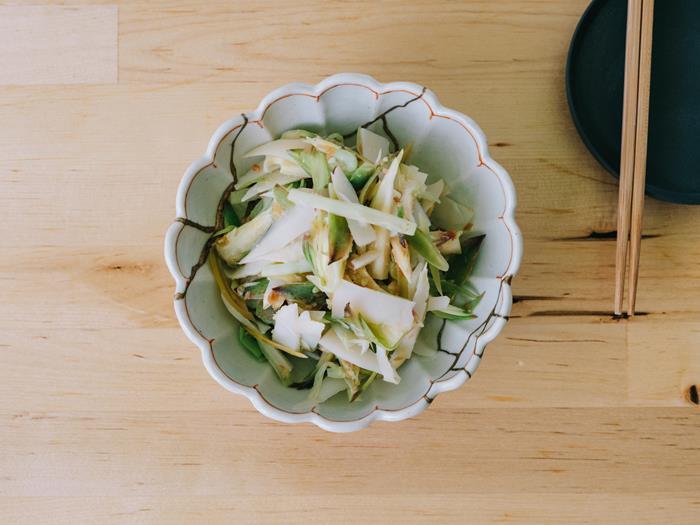 Ingredients:
4 dragon fruit flower bulbs
3 green bamboo shoots
1 small bunch of pale yellow blanched chives
some kelp and dried bonito dashi
some Umeboshi (Japanese salty plums)
some salt
some mustard
Tip for getting rid of the astringency of bamboo shoot
100 grams of rice bran
3 dried chilies
some ginger
Preparation of bamboo shoots and stock:
1. Cut the ends off the bamboo shoots without removing the husks. Score each bamboo once, and put them into a pot of cold water with some rice bran, seedless dried chili and ginger slices. Bring the water to a boil, then let it simmer for 1.5 hours.
2. Place a few pieces of kelp in a pot of water and bring it to a temperature of 60 degrees. Maintain this temperature for 2 hours, then remove the kelp and bring the broth to a boil. Turn off the heat and stir some dried bonito flakes into the water. Let this sit for 3 minutes and then filter out the dried bonito flakes. The result is kelp and dried bonito dashi.
3. Peel the bamboo shoots, cut in half, soak them in the dashi, and store overnight in the fridge.
Preparation:
1. Cut off the four dragon fruit flowers' receptacles and cut the flowers in half vertically. Then, chop the chives into small segments.
2. Bring a pot of water to a boil. Add the flowers in first, then, after 1 minute, add the chives. Once they've cooked thoroughly, scoop them out and soak them in ice water.
3. Remove the pits from the Umeboshi and chop finely until a paste is created. Take dragon fruit flowers and blanched chives out of the ice water, and use paper kitchen towels to dry them as much as possible.
4. Chop the flavored bamboo shoots and dragon fruit flowers into fine pieces and mix them with the chives, Umeboshi paste, salt and mustard. The result is a delicious appetizer full of flavor and aroma.
You might also be interested in: Taïrroir, New Michelin star of Taiwan blends Chinese cuisine with western aesthetics