Planning to take a visit to Taiwan's "Second City" of art, leisure & quirky venues? Located right in the middle of Taiwan's western coast, Taichung is a quick train ride from either end of the island and offers a serious art and culture scene and some great options for activities and snacking. Here are Taiwan Scene's suggestions for a Dozen Things to Do in Taichung. (Read more: Something's Up — Down in Kaohsiung and Tainan: A Cultural-Creative Bloom)
1. Visit the village that art saved
Octogenarian Huang Yung-fu woke one day to find a letter from the government letting him know that his house in the veteran's village on the outskirts of Taichung City was slated for demolition. Since Huang was the village's lone resident, he wasn't surprised. But Huang didn't want to leave, and instead he began painting, starting with the interior of his own two-bedroom bungalow, then spreading outward to cover the walls and floors of neighboring houses in ever-expanding spirals of bright colors, embellishing here, there, and everywhere with birds, cats, dogs, people, celebrities. Then something strange happened. People began visiting.
A trickle of curious observers soon became tour buses, all coming to visit Taichung's Rainbow Village, to shake hands with its creator, who'd by this time been dubbed Rainbow Grandpa. The city rescinded its demolition notice and declared the village a preserved cultural area. And Rainbow Grandpa, now a nonagenarian who divides his days between painting and greeting visitors, like his village, is considered a national treasure.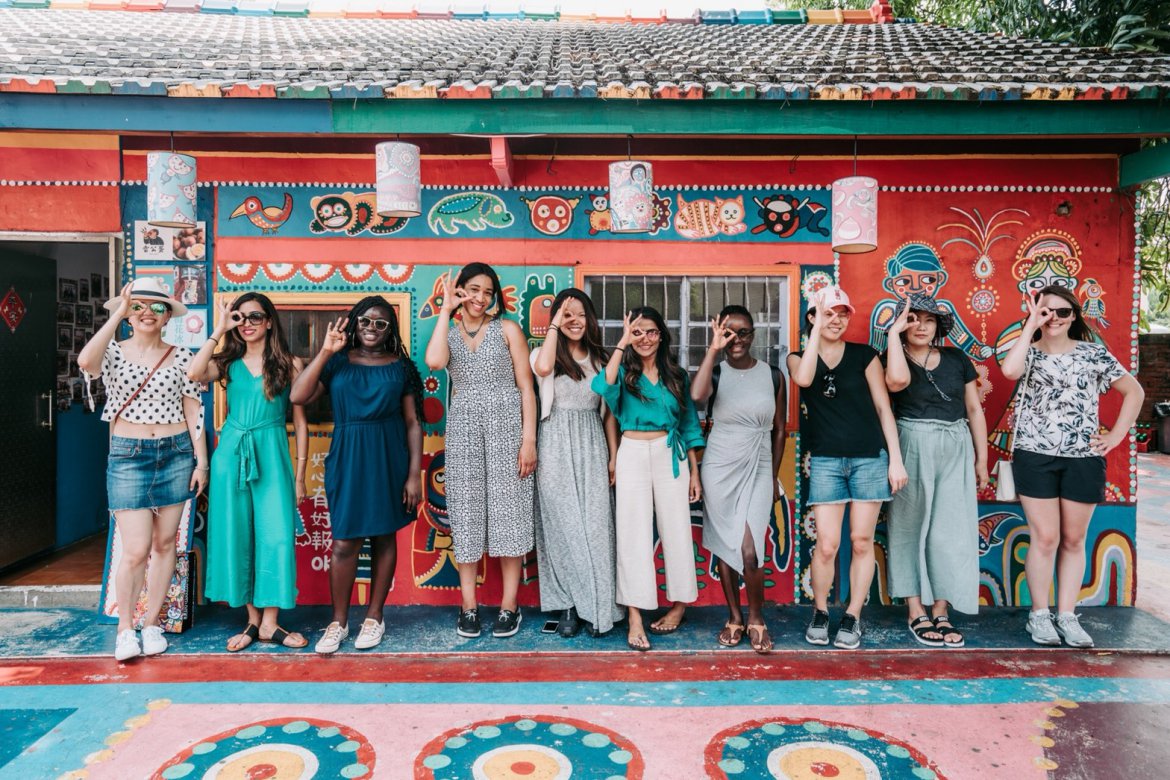 (Check out this recent story from BBC.COM  about Taichung's beloved Rainbow Grandpa: The 96-year-old painter who saved a village)
2. See a really big Buddha at PaoChueh Temple
Buddhas come in all shapes and sizes, but the North District's PaoChueh Temple offers visitors the chance to visit Taiwan's only five-story high smiling Buddha. Though once-upon-a-time visitors were allowed to climb the stairs inside of the Buddha itself (and gaze out from various circular windows set at various points in the Buddha's body), these days the inner workings of this particular Buddha are reserved for maintenance crew (and presumably monks). Still, it's a great spot for photos, and the grounds surrounding the Big Buddha are worth exploring as well, containing a Shinto Shrine, a meditation hall, and an old traditional wooden temple dating back to the Japanese colonial era set inside of a newer concrete temple built in the 1980s.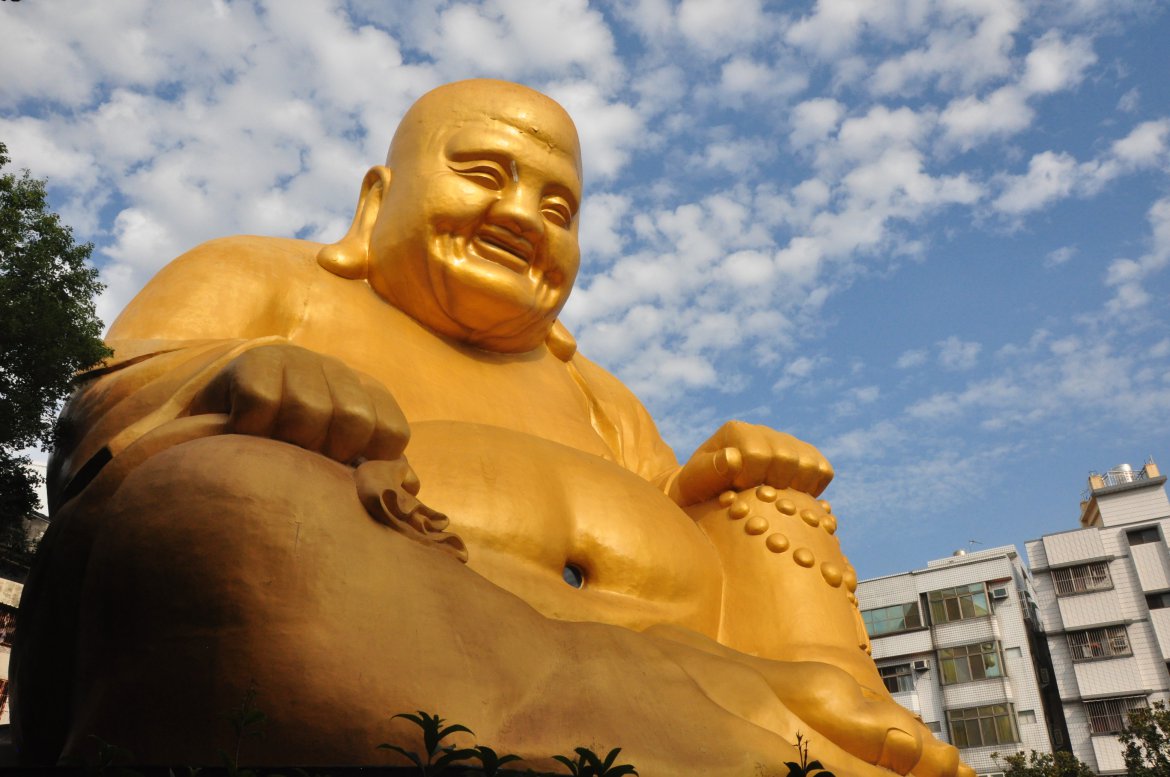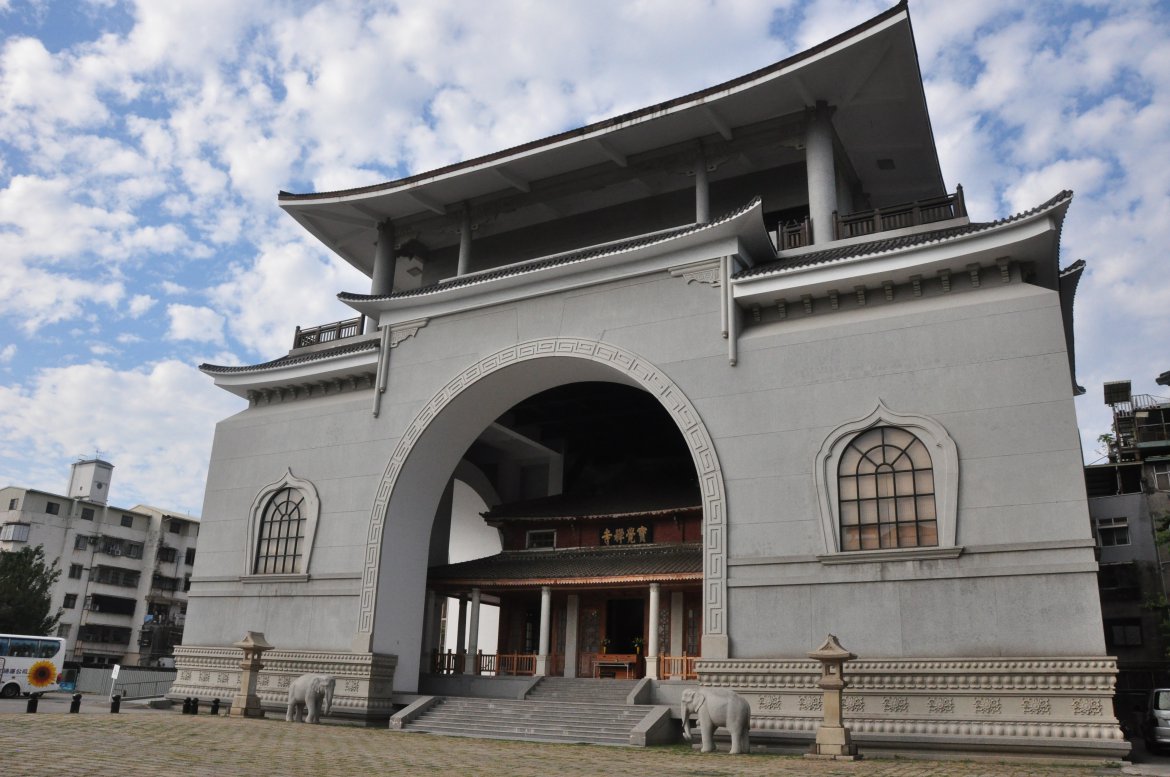 3. Explore Taichung National Theater
Designed by Japanese architect Toyo Ito in collaboration with British-Sri Lankan artist Cecil Balmond, the curvaceous building features swooping concrete walls and a delicately rounded interior that makes you feel like you're inside of a gigantic pristine egg. Architectural oddity aside, there are plenty of reasons to spend an hour or two exploring Taichung's National Theater. The upper floors contain unique performance spaces with rotating art exhibitions, bookstores, and two very good restaurants, while the Theater's roof is an open-air park complete with hilly manicured lawns and one of the best views in the city.   
Read more about Taiwan's Architectural History: Taiwan's Architecture Comes of Age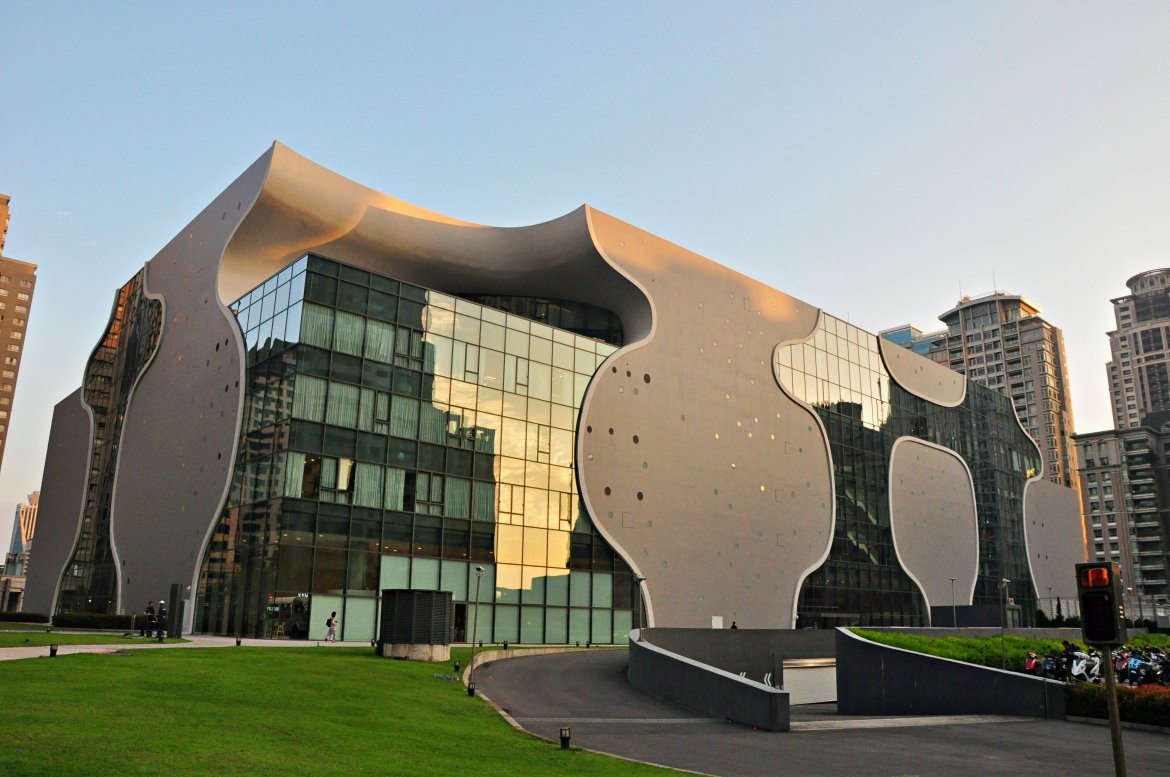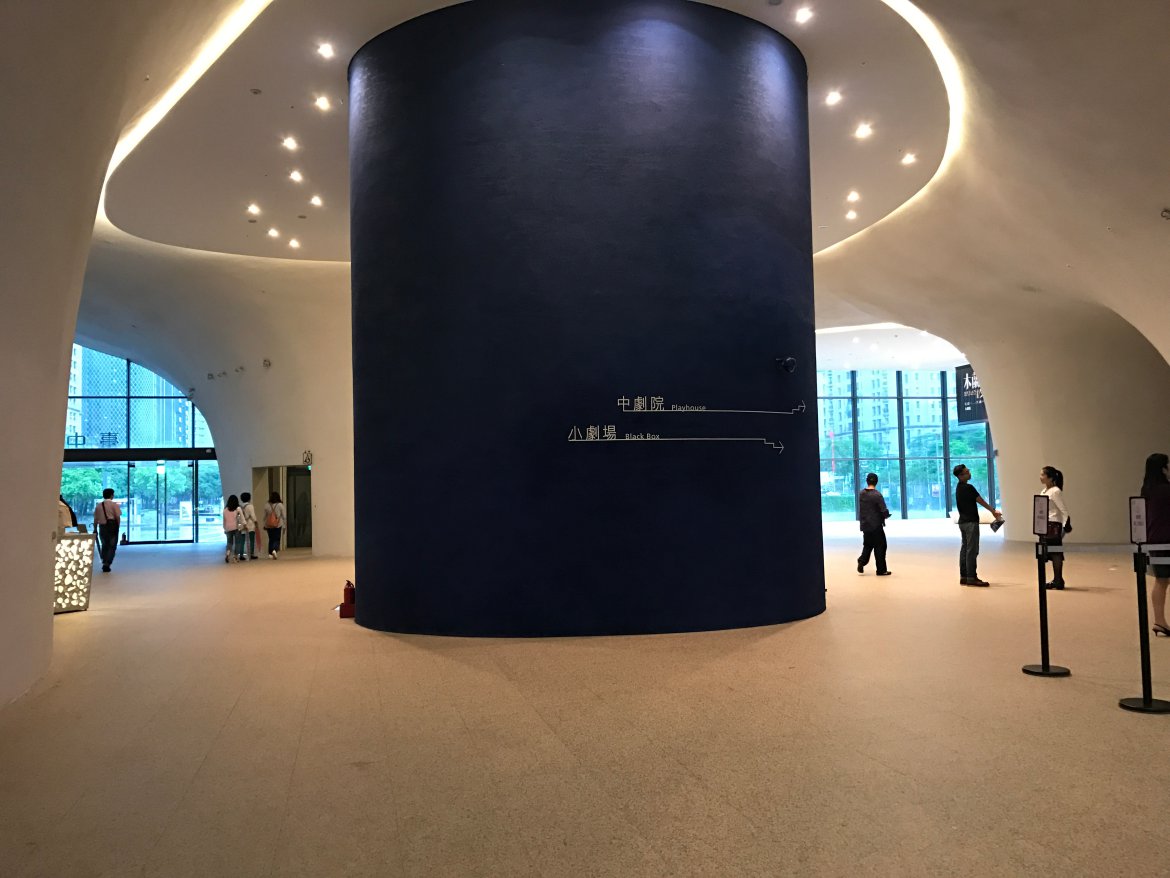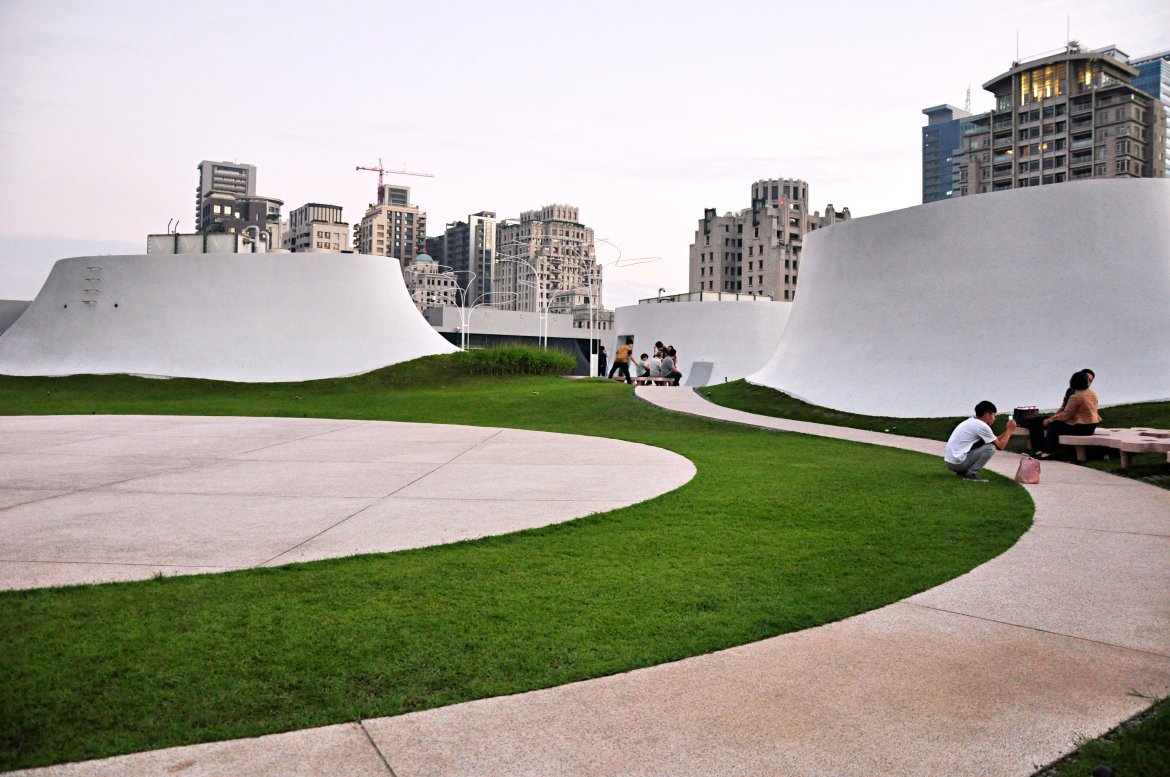 4. Drink bubble tea at Chun Shui Tang (originator of the famous beverage)
Many are the spots to get Bubble Milk Tea in Taiwan (don't believe us? Check out this CNN article, Bubble tea: How did it start?). But only Taichung's Chun Shui Tang can rightly call itself The originator of Bubble Tea in Taiwan.  This restaurant in Taichung came up with the now-ubiquitous in Taiwan (and increasingly found around the globe) Bubble milk tea, and while there are plenty of other spots to get the drink, true bubble tea aficionados should make a pilgrimage to Chun Shui Tang, which justly earns the title O.G. of Bubble Tea.
5.
Chill in the shade of a Banyan tree at the Taichung Literature Museum
The Taichung Literature Museum is made up of six buildings set back in a peaceful back alley about ten minutes walk from Chun Shui Tang. Though built originally to serve as police HQ during the Japanese colonial era, these days the buildings have a more serene purpose, with each being used to house permanent exhibitions related to local writers and other contributors to Taichung's literary scene. Though the building themselves are well worth visiting (they've got beautiful wooden floors and a most pleasing fragrance), the real star here is the massive century-old Banyan tree in the center of the plaza, which is perfect for sitting beneath in contemplation of matters literary, spiritual, or anything else. Guided tours are available but must be scheduled two weeks in advance.
6. Continue snacking at Miyahara
It's an ice cream store. It's a high-end confectionary store. It's a Japanese colonial era eye hospital. It's all three, and worth a visit if you happen to be in the neighborhood. The Miyahara is a two-story red-brick Japanese colonial-era building that once served as an eye hospital. Like many buildings from the era, it fell into disrepair, and though it wasn't damaged by the 1999 earthquake, it was slated for demolition shortly afterward. But fate and consumerism intervened, and as the Taichung city government began looking into the revitalization of the Central District into a trendy shopping district, the Miyahara, one of the neighborhood's more beautiful buildings, was declared a historical building of note, reconditioned, and turned into an upscale snack shop. The entire place is done up in gorgeous and very expensive-looking antique wood, much of which is restored from the hospital itself. The main area offers a variety of high-end snack items, while the ever-present line outside should clue you into where the ice cream is served.
7. Take a few selfies on Animation Lane
Though seemingly tailored made for selfies, animation lane began as a way to spruce up a neglected area of town. Instead of a dark and dreary alleyway, this one has been turned into a unique tourist attraction that morphs over time as artists continually add new paintings. Large murals fill Animation Lane with themes ranging from Sailor Moon to Totoro to Spiderman. Paintings take inspiration from both Eastern and Western tv shows, movies and comic books. Depending on the time of day you visit, you just might see artists adding their own contributes to the lane.
8. Get serious about horticulture at the Taichung Flora Expo*
*For a limited time only
From November 2018 until April 2019, the normally quiet Taichung outskirts of Houli will play host to the massive, sprawling Taichung Flora Expo. The entire expo site (which takes about half a day to walk around) encompasses several parks and the Houli Horse Ranch and the Forest Park, with each space designated for display of various aspects of flora, found not just in Taiwan, but around the globe. Think of it like Disneyland for plants and trees and you've got the right idea.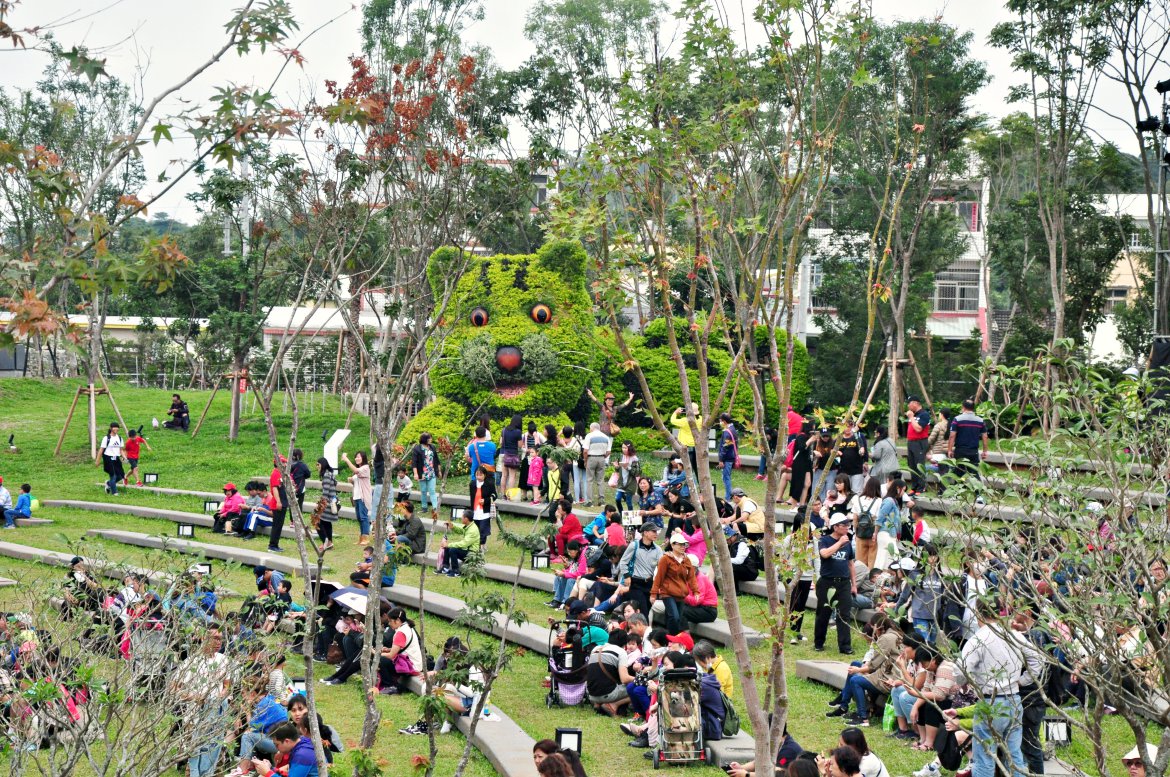 9. Hang out with hipsters at Shen Ji New Village 
Shen Ji New Village (審計新村) is one of those increasingly popular spots where older factory buildings and homes have received new life as high-end restaurants and coffee shops, artsy stores selling soaps, cakes, souvenirs and other interesting knick-knacks, pet-themed ice cream parlors and other spots to hang out and spend your money amidst an atmosphere of quirky cheer. In between the shops are flea-market type tables run by local artists selling craft wares. And on the subject of "craft wares", Shen Ji New Village is a good spot to grab a craft beer or three. A number of stores specializing craft beers are located within this warren of folksy commerce and humor.
Also known as the Zhenlan temple, this Qing-era temple was built to honor Mazu, the Goddess of the sea. Though begun as a small temple in 1730 to honor the deified form of a holy woman from Fujian province by the name of Lin Moniang, the temple has since grown and evolved to become one of central Taiwan's busiest and liveliest Mazu temples. Though it's a bit out of the city center (in Taichung's Dajia District), it's worth the trip for anyone seriously into goddess worship.
11. Watch the Sunset at the Gaomei Wetland
The 1500 acre plot of land where the Dajia river meets the Taiwan Strait is known as the Gaomei Wetland, and offers some of the best birdwatching in central Taiwan, especially during the autumn and winter months when the area serves as resting spot for large flocks of migratory birds. It's also a lovely spot to watch the sunset over the water.
12. Eat the Night Away at Feng Jia Night Market
No matter what Taiwanese city night finds you in, visiting a night market is always a pretty good way to end the day. Taichung's Feng Jia Night Market is among the biggest in Taichung, and easily among the most popular (and food-wise, maybe the most diverse). Nearly a kilometer wide, the market had tons of amazing food stalls serving everything from standard night market fare to more hard-to-find items like fresh scallops grilled in their shells, cubed duck meat on a stick, super-long french fries and at least a thousand other delicacies. Feng Jia also has a good mix of street food stalls and sit-down restaurants. Like most of Taiwan's other night markets, Feng Jia can get pretty crowded on the weekends, so if you're not a fan of climbing the people mountain and swimming the people sea, you might want to stick to the restaurants and stalls on the market's periphery.