There's never been a better time for GLBTQ travelers to come to Taiwan. Arguably Asia's most progressive country (Taiwan's military struck down sexuality-based discrimination way back in 2002), just this year our highest court ruled in favor of same-sex marriage, clearing the way for full marriage equality. And if there's never been a better time to visit Taiwan, there's no better time of year than late October. For starters, the weather is great, with the hot summer behind and wet winter yet to come. More importantly, October is when Taipei's Pride festival, the largest Gay event in Taiwan and a major global pride event occurs.
Though you can expect Taipei to be even more festive than its usual baseline hyper-festive throughout October, the parade itself is definitely the peak event. This year's parade will kick off at 1:30 PM on October 28th with a massive gathering on Ketagalan Boulevard (by the Presidential palace).
At 2:30, the parade will start moving as floats filled with dancers, musicians, artists and amazing people wind their way through Taipei before returning to the Palace for a full night of music, dance & performances by celebrities (local and otherwise) who come out to show their support for gay pride & culture (both in Taiwan and internationally).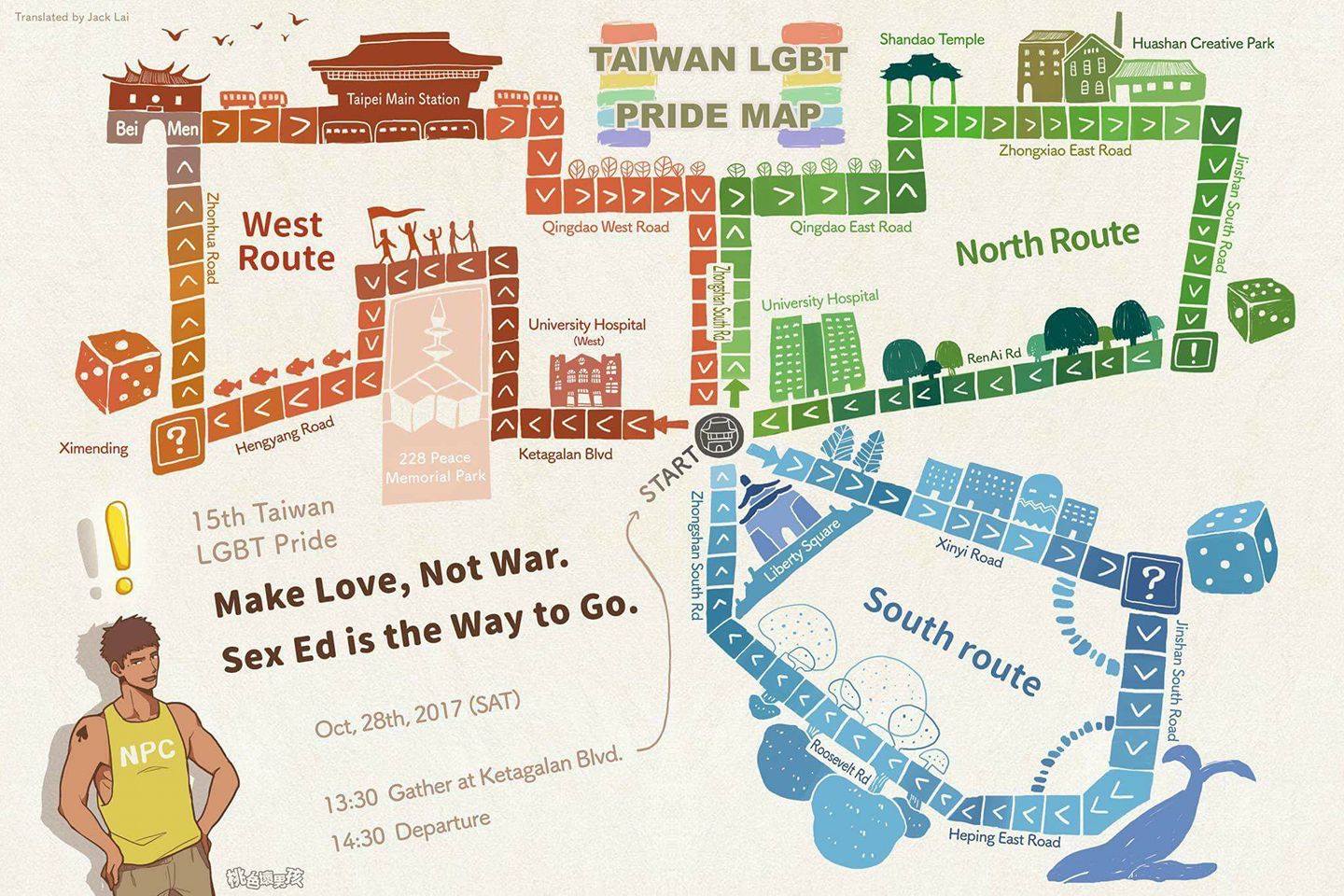 Because of the expected turnout, after leaving the Presidential Palace the parade splits off into three separate routes. Expect to see tons of cool stuff (besides the parade itself, of course) along the way no matter which route you take. Our favorite this year is the western route, which passes through 228 Peace park and the Ximending neighborhood before going through the restored Northern Gate of the old city wall before heading back to the palace. But there's also something to be said for the southern route, which passes by Liberty Square (AKA Chiang Kai Shek Memorial park) and under the MyTaiwanTour office.
We'd invite you all in for drinks, but our office is a bit small.
If you're not feeling up for the walk, no sweat. Tons of folks will be setting up for the performances in front of the Presidential Palace on Ketagalan Boulevard. Just hang out there and eventually the parade will come back to you. (And on the subject of sweating, bring water and stay hydrated!
Other GLBTQ Events
In the days and weeks surrounding the festival, there's plenty of other cool stuff going on in Taipei.
If you're in town on 10/15, check out the Mr Gay Taiwan event at the Huashan 1914 Cultural Park. The event starts at noon and runs until sundown, and features music, dancing and hot guys.
On October 27, 28, 29, Formosa Pride will hold three nights of music, dancing and general Bacchanalian excess. You'll want to get tickets quickly, though.  Click here for all the details.
General GLBTQ Resources
Taiwan's capital, Taipei, epitomizes the country's commitment to openness and social tolerance. A vibrant city for residents and visitors of all stripes, Taipei's reputation as a top city in Asia for gay nightlife is well deserved. Gay & lesbian friendly bars, bookshops & coffee shops are scattered throughout the city.
Taiwanese culture is pretty inclusive and open, making a detailed listing of restaurants that are specifically GLBTQ friendly a bit superfluous.
An openly gay or otherwise gender fluid individual popping into your run of the mill Taipei Teppanyaki joint generally shouldn't expect to be treated differently than any other customer, so in general, GLBTQ travelers in Taiwan don't need to worry about being made to feel unwelcome on the basis of their sexual orientation.
That said, if you're looking for specific lists of specifically GLBTQ friendly hotels, restaurants, saunas, meeting spots and more,  GayTaipei4U is a good place to start.
If you're just looking to meet people, take the MRT to Ximending station and head to The Red House past sundown on any given night. Open despite being currently under renovation, this 100+ year old theater made of red brick houses all sorts of craft booths on the inside, while surrounding the building itself are several of Taipei's most popular gay clubs and bars.
Though these days most cruising is done online, 2-28 Memorial Park (Taipei MRT Station) is still popular among those who prefer to cruise old-school. Dedicated to the 2-28 Incident (in which Taiwanese protesters were massacred by the post-WWII Chinese government set in place by Chiang Kai-shek) this park now stands as a living monument to peace and reconciliation, and is filled with old trees, pavilions, pathways, bandstands, shrines and historical relics. Cruising or not, put it on your must-visit list.
Finally, if you're not into the whole club scene Love Boat is a combination bookstore / cafe / healing space close to the Taipower Building MRT station. Open from 2pm-10pm every day except Monday, Love Boat is an awesome place to chill out and get grounded.
Planning a trip to Taipei for the Pride festival and wondering what to do after it's over?  Let MyTaiwanTour show you around Taiwan.
More on LGBTQ in Taiwan:
Taiwan votes against LGBT equality, but all is not lost
PRIDE, Healing and Taiwan's LGBTQ Community: A Conversation with Olivia Wu