WORDS BY Hsu Kaisen
TRANSLATION BY Joe Henley
PHOTOS BY Lin Weikei
Dongtai Cloth Shoes Shop (東台布鞋莊) is hidden within an alley of the Chengzhong Open-Air Market (城中市場) off Wuchang Street (武昌街). (Other Ximen attractions: A Day in Historic Ximen) Surrounded by beef noodle stalls and fruit vendors, the shop can only be recognized by a yellow signboard with red characters about the size of an air conditioner. The storefront is just big enough for one person to go through at a time. On a traditional green steel frame hang pairs of cloth shoes adorned with colorful embroidery of different kinds. There is a family portrait sitting on the display frame, which shows Mrs. Xia-Zhu Suqin (夏朱素琴), the shop's creator, her son, her daughter in law, and her six grandchildren. The decoration of the store seems frozen in 1949, the year when it was first established.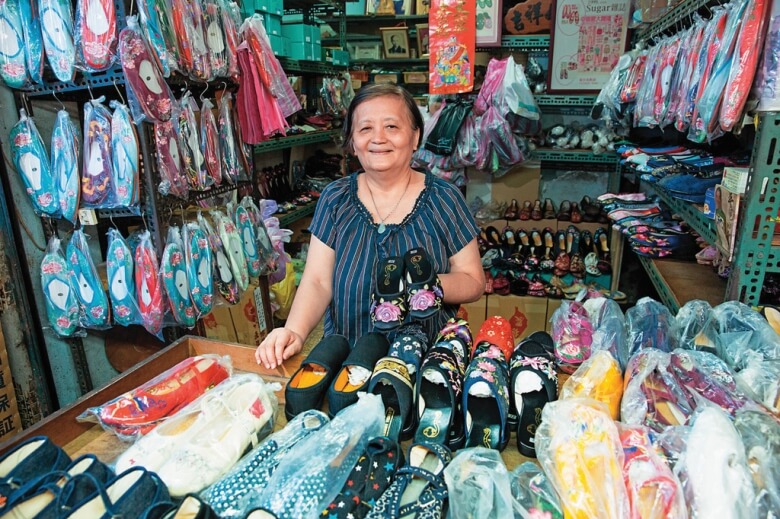 Custom-made Comfort Brings in Swarms of Orders
Dongtai Cloth Shoes Shop has already seen seven decades go by since its establishment. The shop is now run by its creator's daughter-in-law, Mrs. Xia, who told us that her mother-in-law, Mrs. Xia-Zhu Suqin, was born to a wealthy family in Dongtai County (東台縣) in China's Jiangsu Province (江蘇省). She was extremely good at making cloth shoes for kids. After fleeing to Taiwan to avoid the civil war, she used her craftsmanship to trade for rice or peanuts with neighbors at first. Later, she made the acquaintance of some shoemakers who possessed the skills for shoemaking but had no place to use them, and decided to sell the cloth shoes they made. The shop's reputation spread by word of mouth, and eventually settled down in the Chengzhong Open- Air Market to operate in earnest.
Cloth shoes are comfortable to wear and customers can pick the fabrics and patterns they want. Above all, they are cost-effective. Regular customers who patronize Dongtai Cloth Shoes Shop include former first lady Soong May-ling (aka Madame Chiang Kai-shek, 蔣宋美齡), Lien Fang Yu (former second lady, 連方瑀), Golden Horse Award-winning actor Ge Xiangting (葛香亭), Peking Opera actress Guo Xiaozhuang (郭小莊), and artist Terry Hu (胡茵夢). When the shoe industry started embracing mechanized production and challenged the survival of the handmade shoe sector, Dongtai remained unaffected. "Cloth shoe lovers will come to me anyway. I have never worried about not receiving enough orders; I only worry that I don't have enough shoemakers to take them on," says Mrs. Xia.
In its heyday, Dongtai Cloth Shoes Shop had ten shoemakers, each specializing in a particular type of shoe. However, it is hard to find someone willing to learn the skills nowadays. With experienced shoemakers retiring, the remaining ones are engulfed in orders. In the past, it took about two weeks to finish one pair of custom-made cloth shoes. However, with only one bespoke shoemaker who is already seventy years old remaining, customers have to wait for up to a month to get their shoes.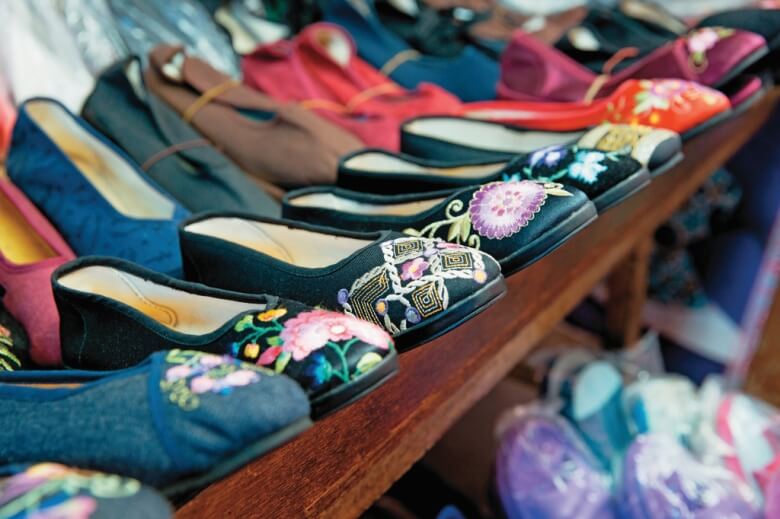 During weekdays at noon, the Chengzhong Open- Air Market is always bursting at the seams, and Dongtai Cloth Shoes Shop is visited by regular customers from time to time. Mrs. Chang, who is buying shoes for her husband, says that her family members all love wearing cloth shoes, and she had already bought 30 pairs this year. "Do you see that pair of shoes over there? I have them in red, blue, and black," Chang says, pointing at a pair of cloth shoes embroidered with beaded flowers resting on the display frame. "My daughter and I have many pairs of the same cloth shoes in different sizes." Fearing that she might not be able to buy cloth shoes from the shop anymore, she seizes every chance she can to urge Mrs. Xia to ask the shoemaker to postpone retirement for a couple more years.
Countless Shoe Types Mesmerize Tourists
All in all, there are about a hundred cloth shoes on display in the shop window. Shoes with a line in the middle are called "double connectors" (雙連鞋); the ones whose seams crawl onto the upper portion and form a cross are called "bevels" (斜口鞋); the ones with elastic bands on both sides of the upper part are called "loafers" (樂福鞋); those with elastic bands on both heels are called "Kong Fu shoes" (功夫鞋); the ones with a strip crossing the instep are called "Mary Jeans" (娃娃鞋). All shoes can be made of flannel, denim, waterproof fabric, batik fabric, printed fabric, lace, and the list goes on. The pattern designs include plain embroidery, 3D beaded flowers, and hand-painted designs.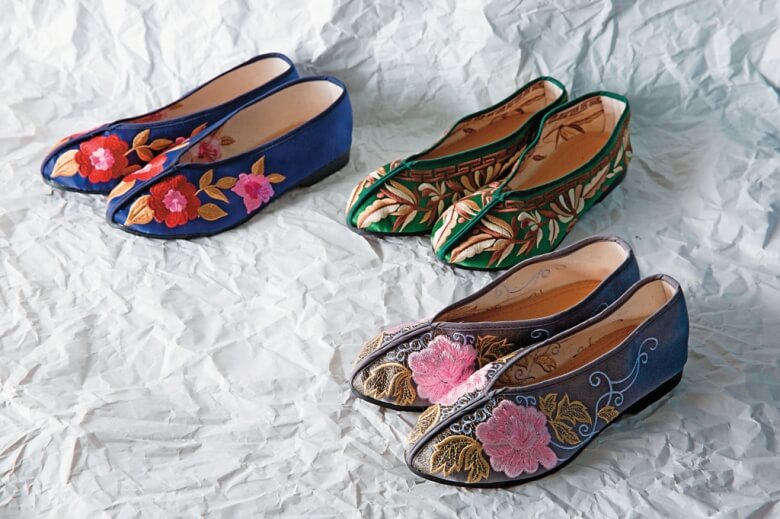 Customers can snatch up the shoes that fit right away, or they can bring fabrics printed with their favorite patterns to make their own. You can use any fabric to make shoes as long as it is not hollow. "Back in the day, wives of officials often brought scraps of the fabric they used to make cheongsam and commissioned us to make shoes that matched their looks." says Mrs. Xia.
Apart from the locals, tourists from the U.S. and Japan simply cannot resist the charm of Dongtai's cloth shoes. The reason Japanese tourists are crazy for cloth shoes is that they can wear flat cloth shoes and still walk on tatami mats at home.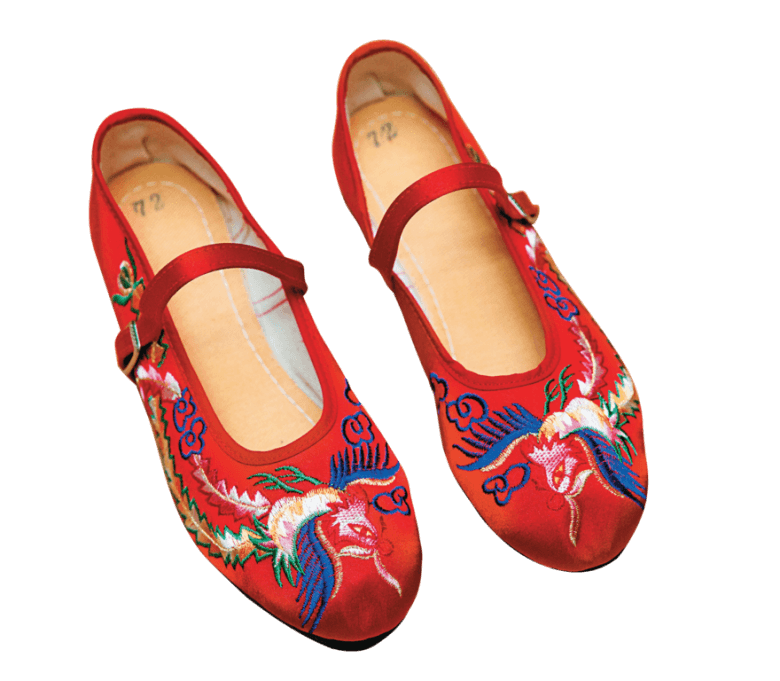 Mrs. Xia has a final trick up her sleeve: Cotton shoes. Cotton shoes are unisex with different sizes for customers to choose from. They are thick and warm and similar to snow boots that have become popular in Taiwan in recent years. Mrs. Xia says that Guo Xiaozhuang is particularly into their cotton shoes and buys seven or eight pairs in one go every time she visits the shop. The shoemaker in Mrs. Xia's employ wanted to use up his remaining fabric and made the last batch of cotton shoes before retiring. Mrs. Xia, upon hearing the news, bought all his cotton shoes in advance. The cotton shoes you see in her shop are the last editions. Once sold out, the shelves will never be replenished again.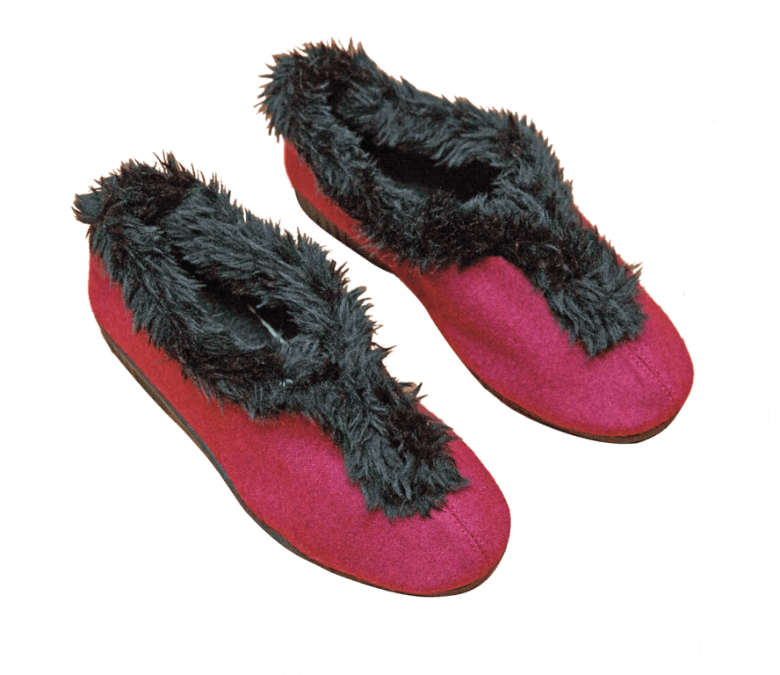 Embroidering New Ideas on Shoe Uppers
In the past, the shop was run on the precept of selling what you've got on the shelves. At times, they would convey customers' opinions to the shoemakers to make some improvements. Ever since the youngest daughter from the third generation came to the shop to help, she set her mind to add diversity to the humdrum cloth shoes. She would visit Dihua Street (迪化街) to purchase fabrics herself and buy imported materials and some uniquely printed fabrics every once in a while. (More on Taiwan's unique fabric: Taiwan Culture Blooms at InBlooom, Taipei's hippest fabric art shop)
As Mrs. Xia puts it, her daughter has some novel ideas for cloth shoes. For example, in the old days, shoes had to have symmetrical patterns to be considered beautiful. However, her daughter would pointedly demand shoemakers not to cut symmetrical patterns. The results might be Snow White on one foot and Grumpy on the other, or different Van Gogh portraits on either foot. The common patterns of peony and phoenix were replaced by animated Little Red Riding Hood and the Big Bad Wolf. The shop is now a mix of traditional cloth shoes and modern designs. It even has its own Facebook page where new fabrics and shoe styles are posted for people to see, creating more possibilities for this traditional industry.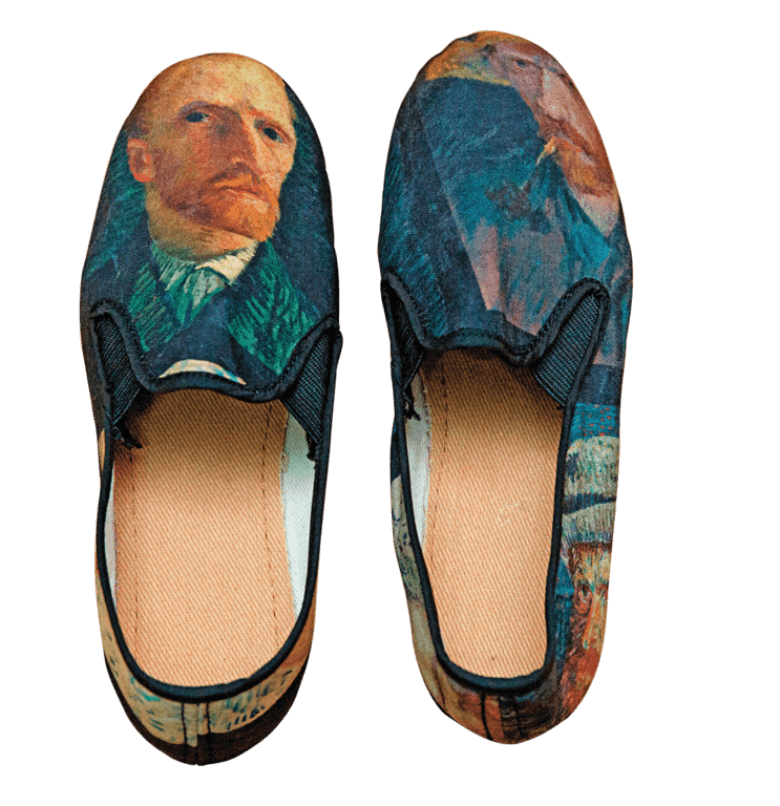 Though Mrs. Xia has some complaints about the fall of the handmade shoe industry, she chooses to grin and bear it. She says she will keep on selling these shoes till the very last pair.
Spare some time to visit Dongtai Cloth Shoes Shop and let the beautiful footprints of these one-of-a-kind creations find their way to your heart.
Read more:
From Fingertips to Paper: Papercraft Artist Johan Cheng Cuts a Slice of Life's Most Beautiful Moments
Shaping the Memories of a Century: Master Guo Gengfu's Life of Mortar Shaping