The port city of Keelung in northeast Taiwan is famous for its mountainous surroundings and sheltered harbor. One thing you mustn't miss out on during a visit to the city is a trip to the waterfront and Miaokou Night Market, and the chance to snack on seafood and tasty local favorites. However, don't limit yourself to just the night market: you'll be able to find delicious street eats all across the city. Here's a rundown of seven snacks (小吃; xiaochi) to look out for the next time you're in Keelung. Bon appétit! (Read more: Keelung: seaport city of great character)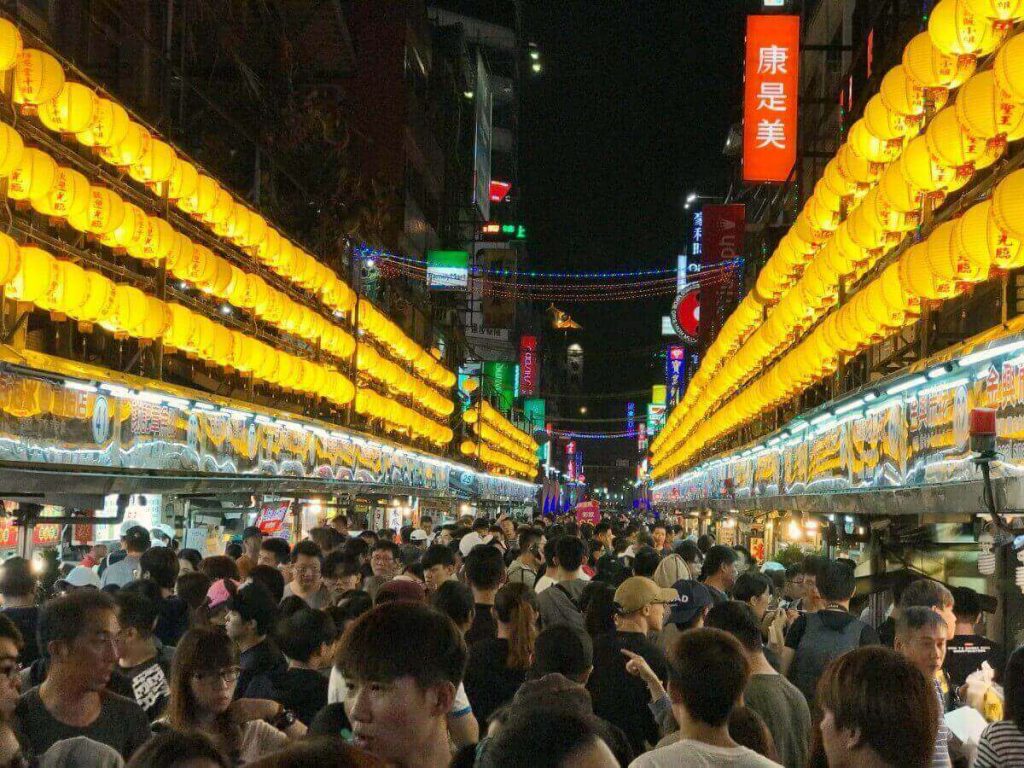 "Nutritious" Sandwich (營養三明治)
While the name may sound a bit odd in English, you'll forget all about the semantics once you take a bite. A deep-fried donut base is filled with mayonnaise, sliced hot dog, egg, cucumber and tomatoes, with the end product providing a pleasing variety of flavors and textures, which you'll either love or be repulsed by.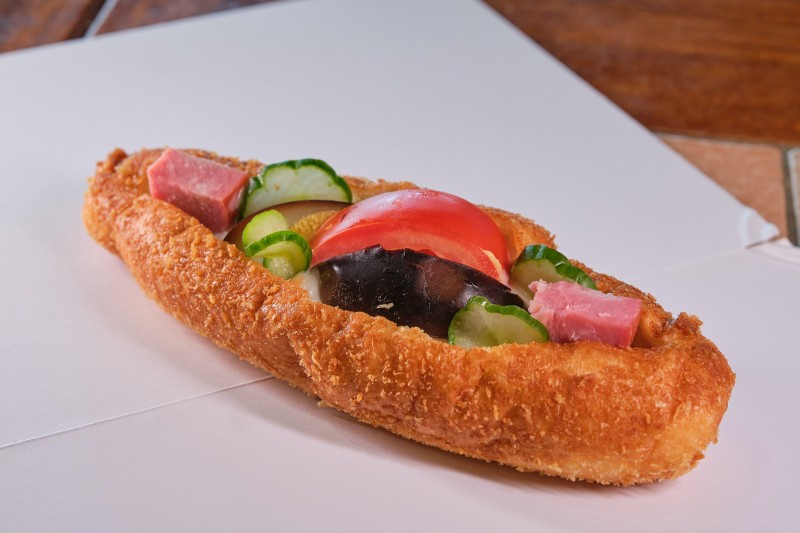 Chikuwa (吉古拉)
Introduced during the Japanese era, Chikuwa is a jelly-like food made primarily of fish surimi. During the Japanese rule, Keelung's chikuwa factory produced more than 1.5 million Chikuwa per year. Still to this day, it is an incredibly popular dish with locals and you definitely should try it while at Zhengbin Fishing Port in Keelung.
Braised Pork Rice (滷肉飯)
A Taiwanese staple, braised pork rice (luroufan) is cheap, tasty and very filling. Braised, spiced, slow-cooked pork belly cooked in soy sauce is served over rice, offering a combination of flavors that are both sweet and salty, with the meat adding a slightly chewy texture due to being both fine and fatty. You'll be able to find this almost anywhere in both Keelung and Taiwan as a whole, with many restaurants able to whip you up a bowl despite it not actually being on the menu. (You might also like: In Appreciation of Taiwan's 'National Dish'—Braised Pork Rice)
Scallion pancake (蔥油餅)
Another treat widely available across Taiwan, scallion pancakes (congyoubing) is a chewy, flaky pancake packed with scallion flavor. The Keelung version is pan fried before baking to make it extra crispy and we're not complaining. Many vendors like to add their own little twist to the dish, whether it be adding egg, ham, or cheese, but we recommend trying the classic version if you're in Keelung.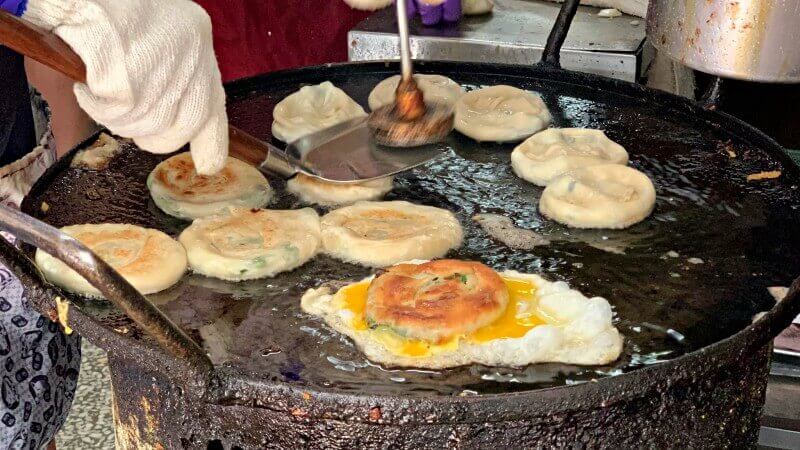 Tempura
You're by the sea, so you've got to expect some quality seafood. Despite the local area being strongly influenced by the Japanese colonial era, Keelung's tempura is nothing like the Japanese version. Featuring large amounts of fish surimi (fish paste), the tempura in Keelung also likely contains cucumber and lashings of sweet hot sauce, giving it a memorable flavor and giving you an authentic Keelung experience.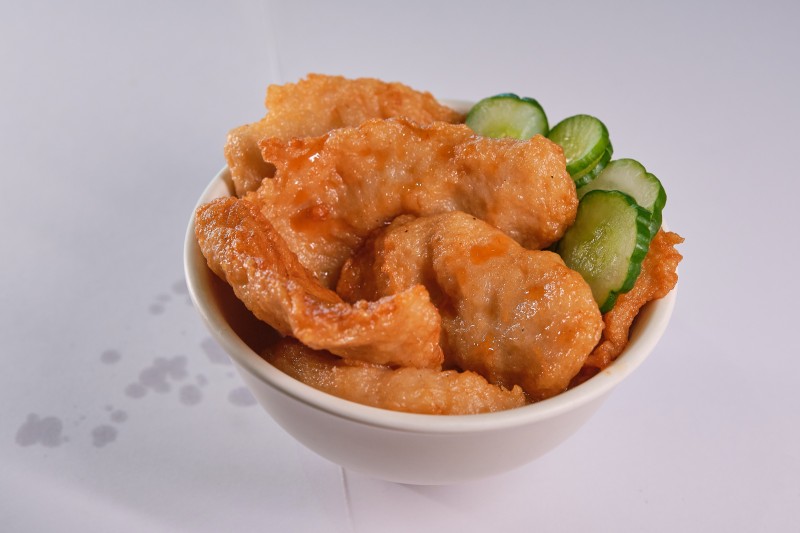 Pao-Pao Ice (泡泡冰)
Slightly different to traditional shaved ice, such as the mango version you'll find widely in Taipei at stores like Ice Monster, pao-pao ice is a Keelung favorite. Frozen water is finely shaved before being blended with the desired ingredients to give a much fuller flavor. Keelung locals will highly recommend the peanut flavor and who are we to disagree with them? (Read more: 4 Classic Ice Cream Shops in Taipei)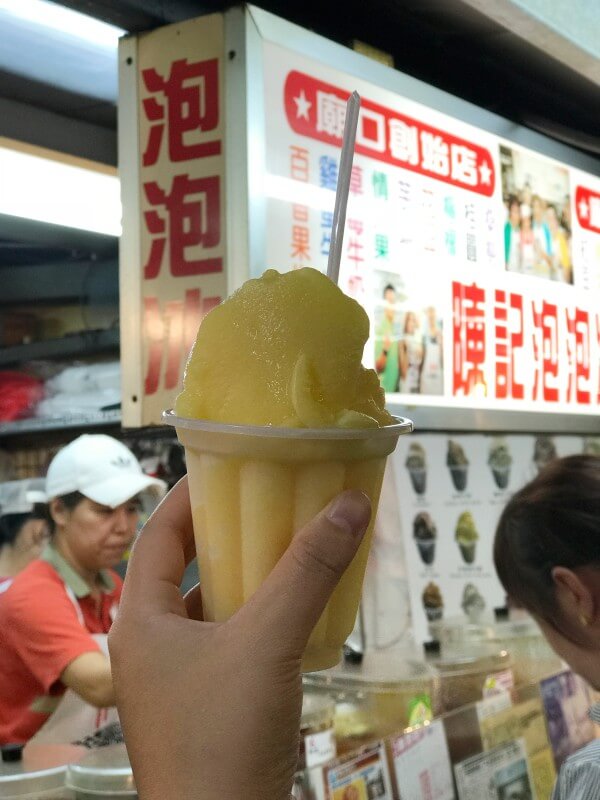 Anything with Shacha Sauce (沙茶醬)
Introduced to Keelung by immigrants from Teochew, shacha sauce is a slightly spicy savory sauce made of dried shrimp, oybean oil, garlic, shallots, chili and brill fish. One particularly popular shacha sauce dish in Keelung is curry and shacha sauce fried noodles, which you'll be able to find easily in the Liulangtou area of town. If you like the flavor, take advantage of it while you're in Keelung as, unless you're in the Fujian area of China, there are not many other places you'll be able to get it.
To know more about the city of Keelung, download the the free online brochure or check out the website here!
If You're into Taiwanese Food…