Though it might be known for its excellent public transport and astonishingly affordable high-speed rail, Taiwan was built for being explored on the back of a bike. With well-maintained roads trickling down from north to south, a cross-country scooter road trip offers riders the chance to get closer to the real Formosa than they ever would from the window seat of a train.
In this guide, we'll show you how you can hit all the highlights in less than a single week, from historic landmarks to jaw-dropping landscapes.
First: Scooter Road Trip Essentials
In the past, all you needed to make a scooter trip around Taiwan was some cash in your pocket and some form of photo ID. Thankfully (for pedestrians everywhere), this Wild West attitude has since been abandoned and you'll need a scooter license that is valid for use in Taiwan if you don't want to get yourself in serious trouble. (Read more: Everything You Need to Know About Getting A Scooter License in Taiwan)
Finding a place to rent a bike, meanwhile, is fairly straightforward, as there is an abundance of services in every major town and city — almost always clustered around the largest local station. In Taipei, Bikefarm offers no-fuss English-speaking service with affordable short-term and long-term rentals. But don't rev off immediately — before leaving you should make sure you have the following:
A smartphone holder. Trust us, you don't want to pull over every third kilometer to check where you are on the map. Smartphone holders can be bought from most larger mechanics or helmet stores, making them about as easy to acquire as bubble milk tea.
A portable charger. Nothing drains your cell phone battery like GPS. Bringing a portable charger could be the difference between a leisurely ride up the East Coast and two hours spent waiting at a Hualien 7-Eleven while your phone recharges.
Waterproof clothing. It rains quite a bit in Taiwan — make sure your backpack has adequate waterproofing too.
Once you're all kitted out, you're ready for this six-day Taiwan scooter road trip.
Day 1: Taipei to Lukang
– Distance: 180 kilometers
– Attractions on the way: Tsai Peanut Candy, Daxi, Fengchia Night Market, Lugang…and more
To make the most of your scooter road trip, you'll want to circle Taiwan in an anticlockwise direction. As driving is on the right here, you'll have a better view of the sea — particularly as you cruise up the remarkably scenic east coast (but let's not get ahead of ourselves).
Taking Highway 3 southwest out of Taipei, you begin your journey on a winding country road that snakes its way past Taoist shrines and groves of betel nut trees toward Taoyuan city. About an hour out of the city, pull over to stretch your legs and check out historic Daxi (大溪) whose elaborate Baroque shopfronts hark back to the town's heyday as a tea and camphor trading hub.
Stock up on glutinous Hakka-style treats at Tsai Peanut Candy (蔡記花生糖) before moving on. Ahead of you, Highway 3 winds past reservoirs and crumpled hills as it descends through the heartlands of Tainan's Hakka ethnic group. As you pass Taichung, consider detouring to check out Fengchia Night Market (逢甲夜市), Taiwan's largest, for some serious street eats. When you're done, it's an easy hour's ride southwest to your destination, the historic trading port of Lukang (鹿港). (While you're in central Taiwan: 72 Hours in Taichung, Part 1 (Why?))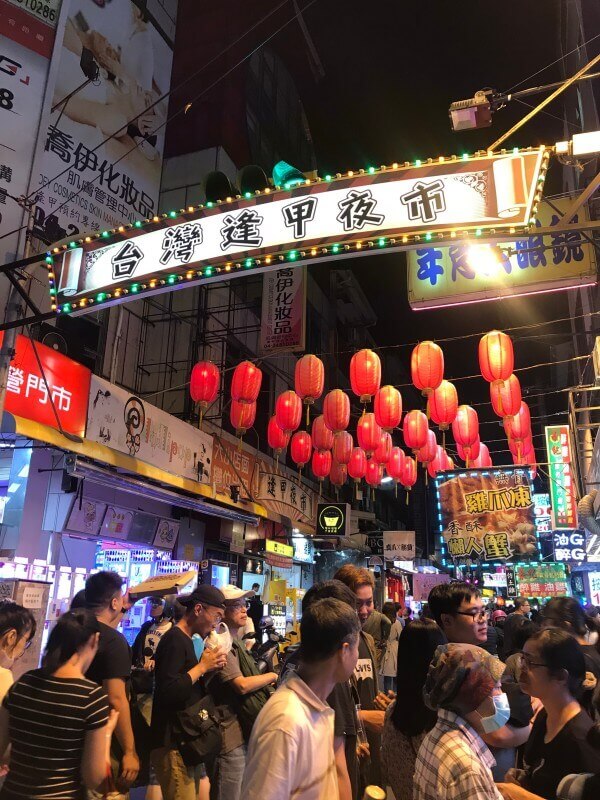 Day 2: Lukang to Tainan
– Distance: 145 kilometers
– Attractions on the way: Lugang, Xiluo Bridge, Beigang, Chaotian Temple, Tainan Confucius Temple…and more
After allowing yourself a few hours to wander Lukang's romantic red brick old quarter, you're back on your bike for a couple of hours cruising south through Changhua County against a patchwork of rice paddies. Xiluo Bridge (西螺大橋), a crisscrossed tunnel of crimson steel girders takes you into Yunlin County. Further south, make a stop in Beigang (北港), an otherwise sleepy town that fans out from Chaotian Temple (北港朝天宮), an opulent 18th-century shrine to the sea goddess Mazu. Allow yourself a minute or two to hunt for traditional snacks along the busy market street that leads up to the temple's main gate before you continue on your journey.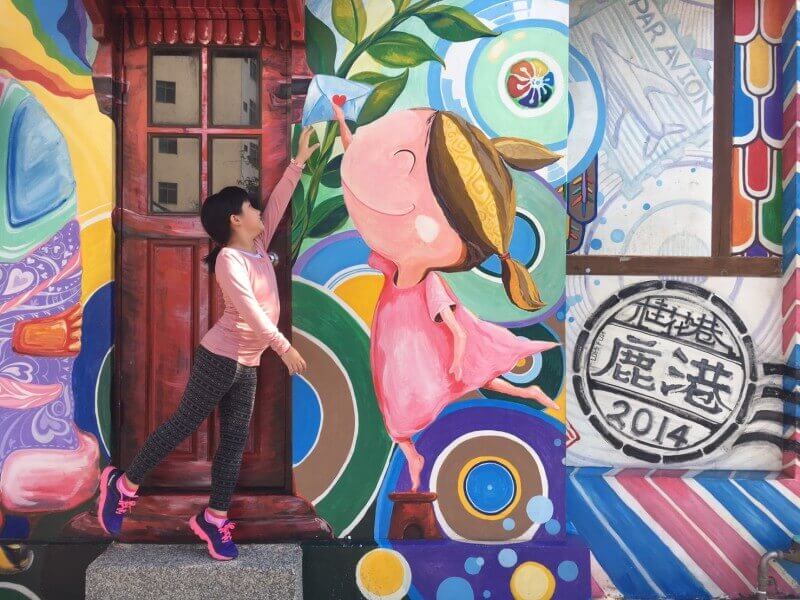 Tainan, an hour and a half to the south of Beigang, is a treat for food fanatics and history buffs alike. Tainan Confucius Temple (台南孔廟) — Taiwan's most prestigious place of learning at the time of its construction in 1688 — is a great place to get your bearings before you lose them all over again, wandering the warren of traditional streets squeezed into West Central District. Shennong Street (神農街), with its too-hip-to-be-large cafes and dessert shops, is more than worth your while. After dark, suave speakeasies like Long Light Bar beckon with the promise of a crafty nightcap (or three). (You might also like: 5 ways to experience Tainan, Taiwan's Ancient Capital)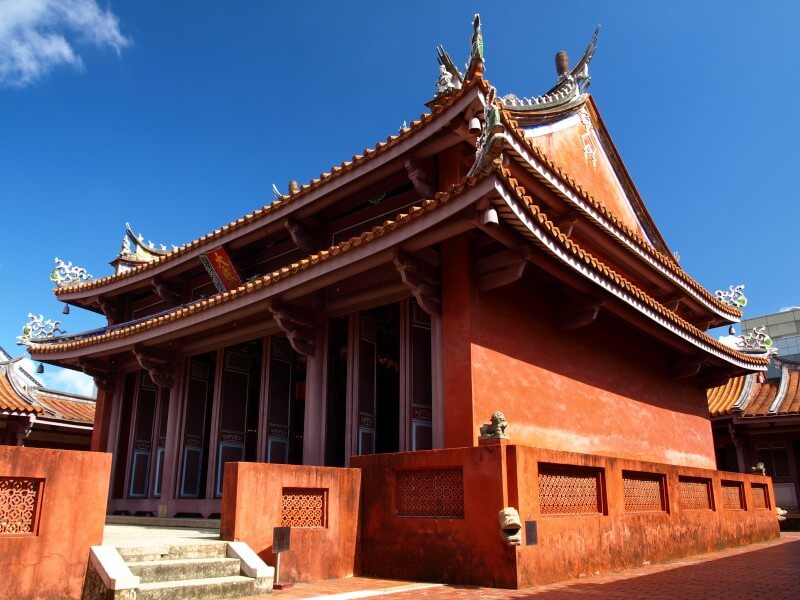 Day 3: Tainan to Jialeshui
– Distance: 152 kilometers
– Attractions on the way: Chimei Museum, Kaohsiung, Donggang, Hengchun, Kenting National Park..and more
The third day of your itinerary offers diverse experiences as you cruise through urban landscapes and across the southern plains toward Kenting National Park. Leaving Tainan on Highway 1, you'll pass right in front of Chimei Museum (奇美博物館), an exquisite neoclassical museum housing an impressive collection of western art, antiquities, and natural artifacts. The highway then presses south, cutting a swathe through central Kaohsiung. If you want to extend your trip by a couple of days, you can detour here to the port of Donggang (東港), your gateway to Xiaoliuqiu Island, and some of Taiwan's best snorkeling spots.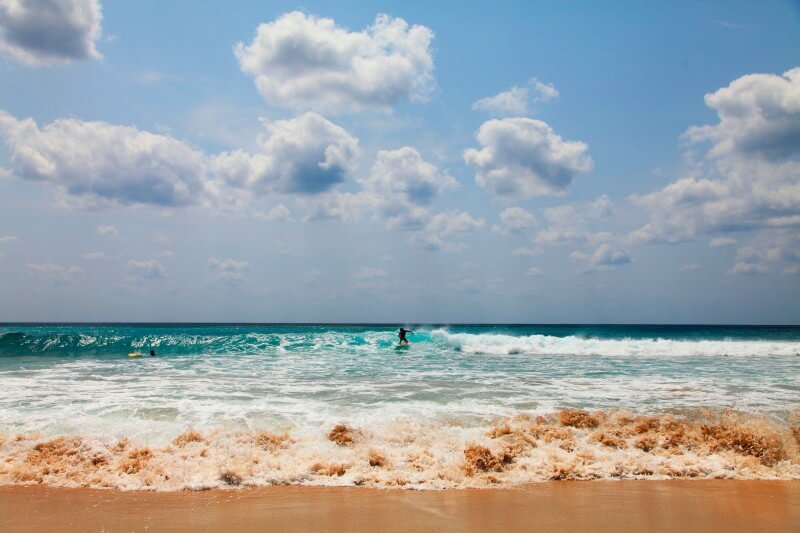 Continuing south from Kaohsiung, you'll find yourself on Highway 26, which hugs the Pingtung Coast all the way to Kenting. Hengchun (恆春), with its well-preserved Qing Dynasty walls and lively drinking and dining scene, is worth checking out before you continue on through the park. About 20 minutes further south, make a rest stop at Eluanbi (鵝鑾鼻) to check out Taiwan's Southernmost Point. Why most travelers turn back here is a mystery, because press on and the landscape suddenly morph's into tropical tundra — orange-red cliffs which tumble dramatically into the Bashi Strait. Follow the coastline fifteen minutes further north and the highway kisses Jialeshui (佳樂水), one of Kenting's most beautiful stretches of sand and a fantastic spot for some late afternoon surfing. (Read also: A First Timer's Guide to Kenting National Park)
Day 4: Jialeshui to Donghe
– Distance: 180 kilometers
– Attractions on the way: Jinlun, Taitung city, Jinzun..and more
From Jialeshui, you'll need to circle back in order to join Highway 9, which takes you across the mountainous Hengchun Peninsula before running up the southeast coast. Stop to refuel before joining the road as there are few opportunities to do so before you reach Taitung County. A series of hairpin turns and switchbacks takes you up through the foothills of the Central Mountain Range, passing indigenous villages and a couple of spectacular lookout points.
The road gets really special once you reach the town of Daren and the Pacific Ocean. From here, the highway whips up toward Taimali, an endless reel of surf-pounded beaches on one side and steep vegetation-covered rises on the other. Jinlun (金崙), a village known for its indigenous Paiwan culture and abundant hot springs, is well worth a rest stop. Otherwise press on the north, switching to Highway 11 at Taitung City as you continue to follow the Pacific Coast past coconut groves and sugar apple farms toward Donghe (東河). (Read also: The Taitung/Zhiben Region is a Rich Bounty of Scenic & Healthy Exercise Adventures)
Another great place for catching waves, Donghe attracts surfers from across Taiwan who flock to the village during October when it hosts the Taiwan Open of Surfing. Boards are available to rent at hostels and homestays like Jinzun Surf House, a harborfront property set across several beautifully refurbished traditional bungalows. The beach itself, arguably one of the prettiest in Taitung, is also a great spot to throw down a towel and catch a few rays, perhaps after scoffing down a couple of pork baozi from Old Street Donghe Buns — one of the village's top street eats.
Day 5: Donghe to Taroko
– Distance: 160 kilometers
– Attractions on the way: Chenggong, Hualien City, Dongdamen Night Market..and more
Though you might be tempted to linger in Donghe, you'll want to leave yourself enough time to enjoy this next leg of your itinerary at your leisure. For the first few hours, Highway 11 traces the edge of the Coastal Mountain range, offering some glorious backcountry scenery. Be sure to stop in Chenggong for some of the freshest seafood in Taiwan, Sung Ma Ma Seafood Restaurant being one particularly satisfying vendor.
Further north, you'll eventually peel away from the coast as you approach Hualien City. The East Coast's largest urban area is a great potential base for your excursion to Taroko, as accommodation within the park itself is often fully booked. Regardless, stop for dinner at sprawling Dongdamen Night Market for live music, prize games, and indigenous street eats you'll be hard pressed to find anywhere else in Taiwan.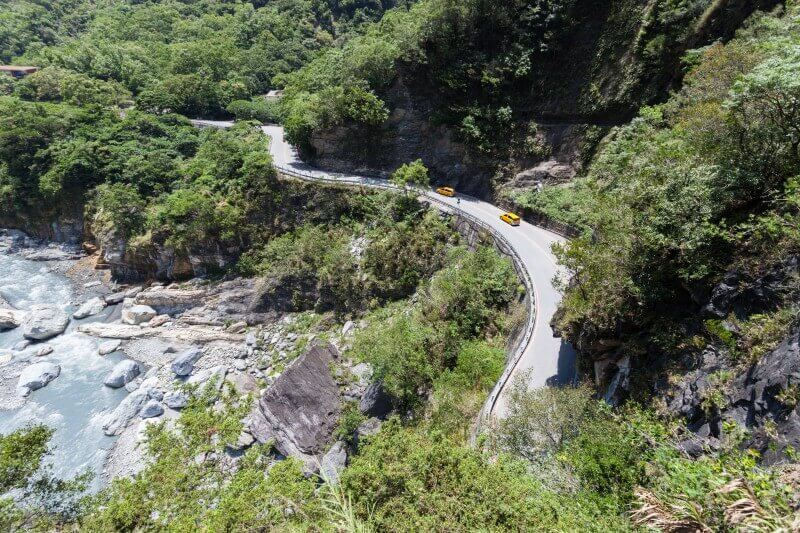 From Hualien, it's just over another 20 kilometers up Highway 9 to reach Taroko. If you're pressed for time, a quick loop of the park's main highway, lacing in and out of marble cliff faces, will allow you to see several highlights, including Swallow's Grotto, a twisted ravine that plunges tightly into the silvery Liwu River. The Shakadang Trail, meanwhile, is an immensely satisfying wander up one of the river's tributaries — ideal if you haven't the time for one of the park's spectacular longer hikes. (Read more: Gorge Soaring – The Views of Eagles along Taroko Gorge's Trails)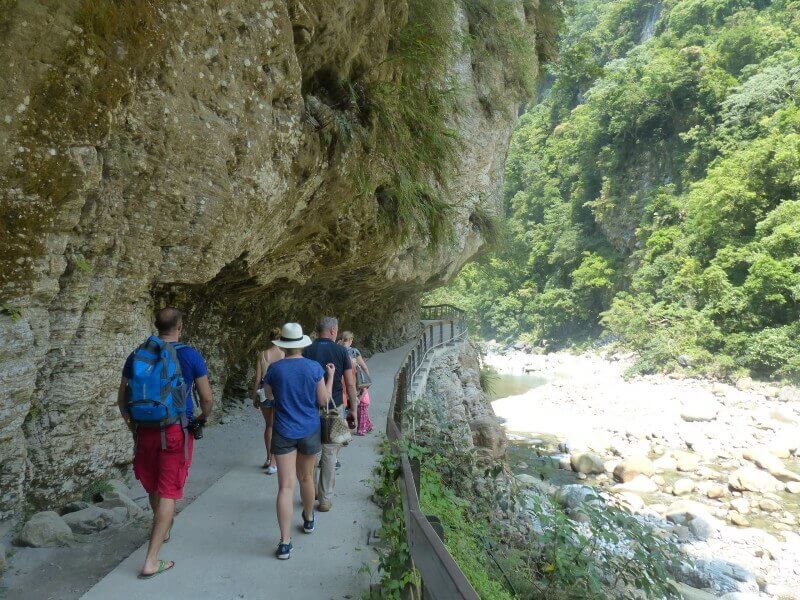 Day 6: Taroko to Taipei
– Distance: 196 kilometers
– Attractions on the way: Taroko National Park, Qingshui Cliffs, Dong'ao Bay, Yilan..and more
Start early for this final stage of your scooter road trip. Again you're on Highway 9 which soon after Taroko begins to wrap itself around the Qingshui Cliffs, almost vertical rises of marble that sink into the incredible blue of the Pacific Ocean. Though this is arguably the most beautiful drive in Taiwan, find a rest stop to park your bike before you take any photos. Accidents aren't uncommon on this narrow stretch of road, which is often shared by tour buses and cargo trucks.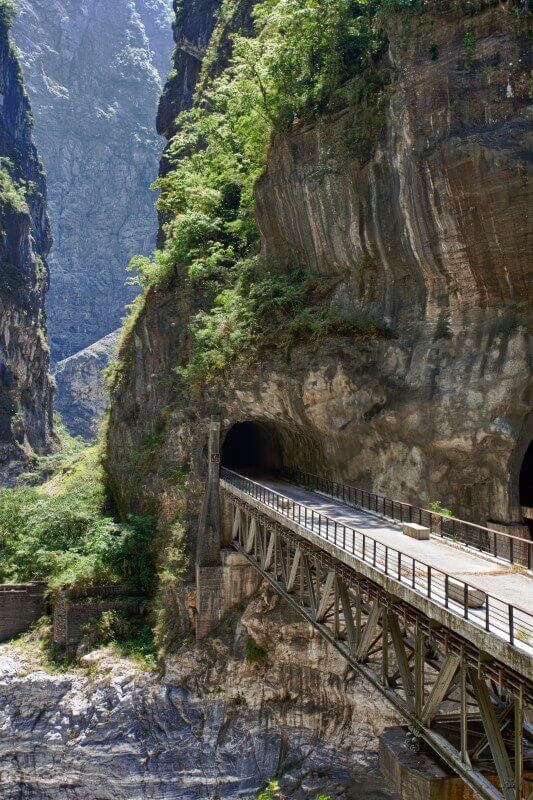 While most day-trippers will turn back after Qingshui, you'll continue on the highway as it climbs higher and higher toward Yilan County. About an hour beyond the cliffs, the road cuts a wide and dramatic arc around Dong'ao Bay, an area that stands out for the incredible duck-egg blue of its water. Descending into the Yilan Plain, you can either continue on Highway 9, which wiggles its way over mountains to Taipei, or switch to the longer Highway 2, affording an extra couple of hours of scenic driving along the northeastern coast.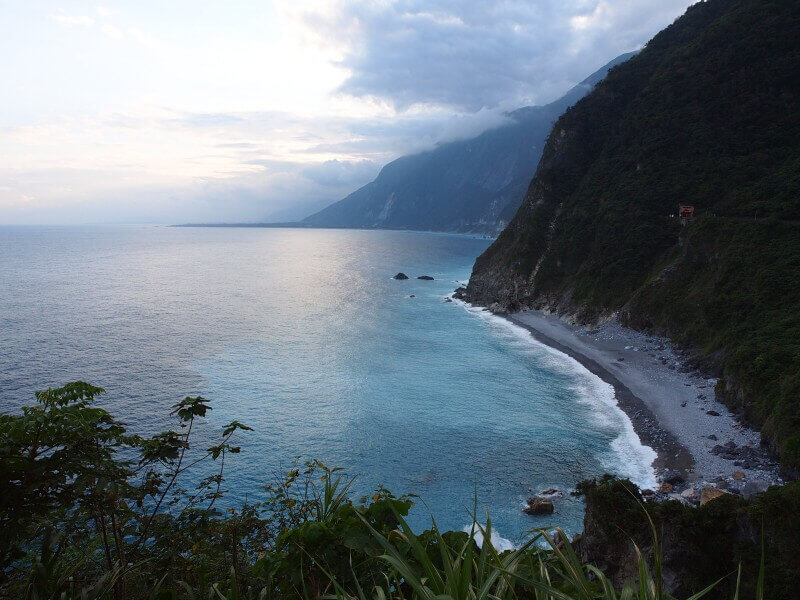 (Words by Seb Morgan; Cover Photo by Mark 高維隆)
Preparing a Road Trip in Taiwan?