A bustling port city in southern Taiwan, Kaohsiung is the ideal spot for a weekend break. A mix of urban, coastal, and rural, there is much to see in the economic and political center of Taiwan's south. From the Love River to the Pier-2 Art Center to Fo Guang Shan Buddha Museum, Kaohsiung and the surrounding area has plenty to offer visitors. As well as the attractions, one of the most important parts of any trip is the accommodation. We've found Kaohsiung's five best hotels, based on Google ranking and a minimum of 1,000 reviews, so you can have the best stay possible on your trip down south. (Read also: Cruise Kaohsiung Taiwan Part 1: Fo Guang Shan and Tianliao Tour)
Han-Hsien International Hotel (寒軒國際大飯店)
Score: 4.2/5
Reviews: 6,342 (by March 5, 2021)
Across from Kaohsiung City Hall, Han-Hsien International Hotel is a five-star, 42-storey hotel ideal for travelers looking for a little luxury. A 15-minute drive from Kaohsiung International Airport and about half-an-hour from Zuoying HSR Station, rooms range from standard singles to panoramic kings (offering an incredible view of the city and harbor through large French windows), while three levels of suite are also available. A tea lounge, a patisserie and café, Sky Chinese Restaurant, and not to mention Bar The 42 up on the hotels top floor, Han-Hisen International has a range of options to make sure guests are left feeling satisfied. Recreation facilities include a pool, sauna, and a spa, while the hotel is also a short walk from the Pier-2 art area. (You might also like: Visiting Kaohsiung, Southern Taiwan's Largest City)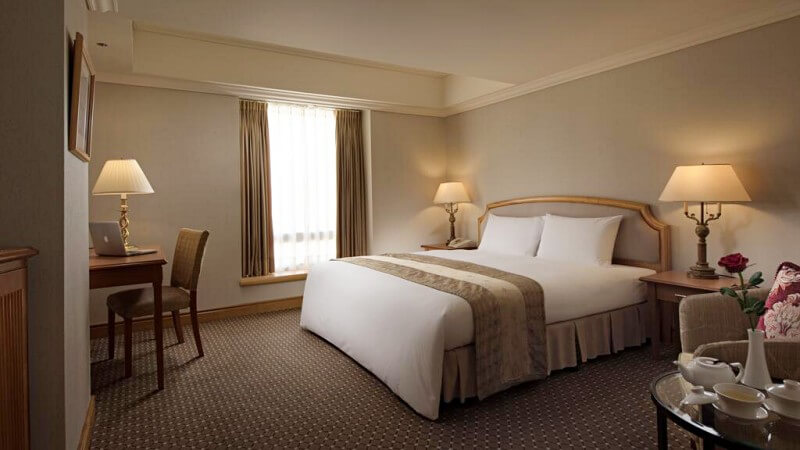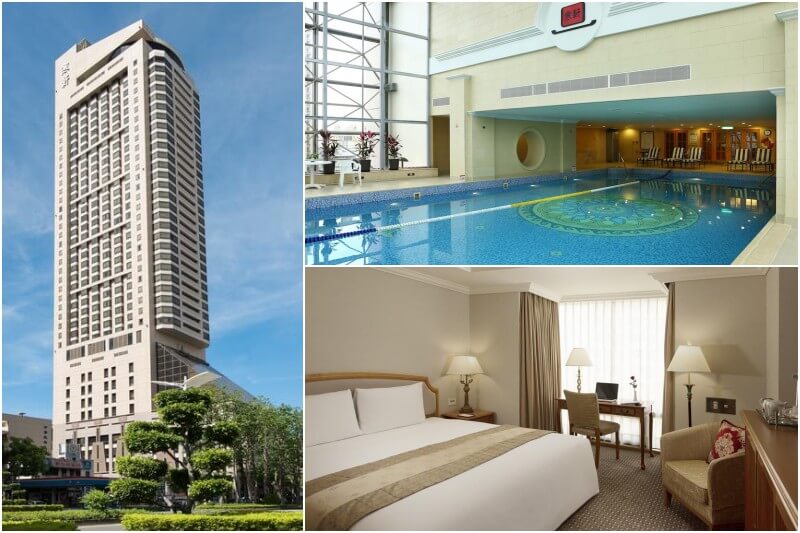 Hotel Indigo Kaohsiung Central Park
Score: 4.4/5
Reviews: 2,350 (by March 5, 2021)
In the city's Xinxing district, right in the front of Kaohsiung MRT Central Park Station, Hotel Indigo is located near attractions such as Central Park and Liuhe Night Market. With trendy and stylish interior design and rooms with "oversized" beds, your stay here will be incredibly comfortable. A buffet restaurant, CRAFT street café, and a rooftop bar, Pier No.1, serving locally-inspired cocktails such as Oolong Island Iced Tea and Love River Breeze, the hotel has everything you need when it comes to filling your stomach, while if you feel you've indulged a little too much, you can burn it all off at the hotel's onsite fitness center. (Read more: 3 More Things to Do on a Day Trip to Kaohsiung)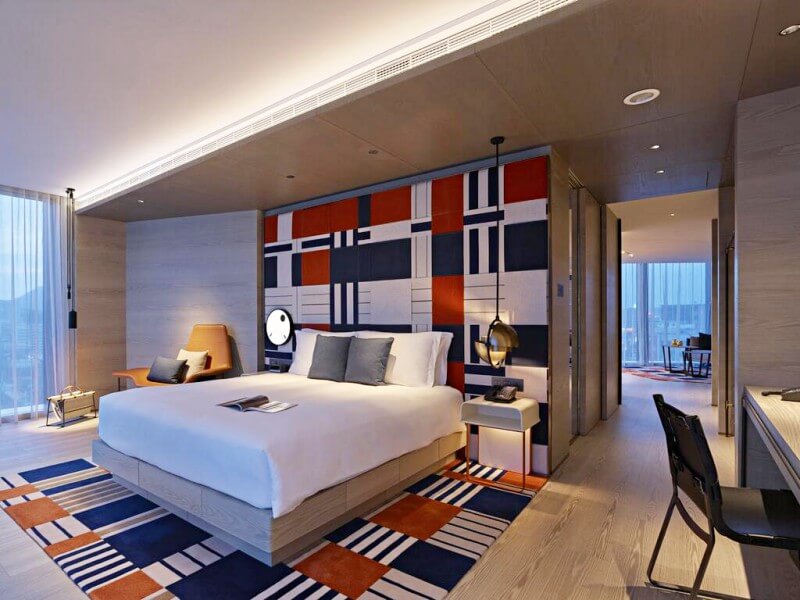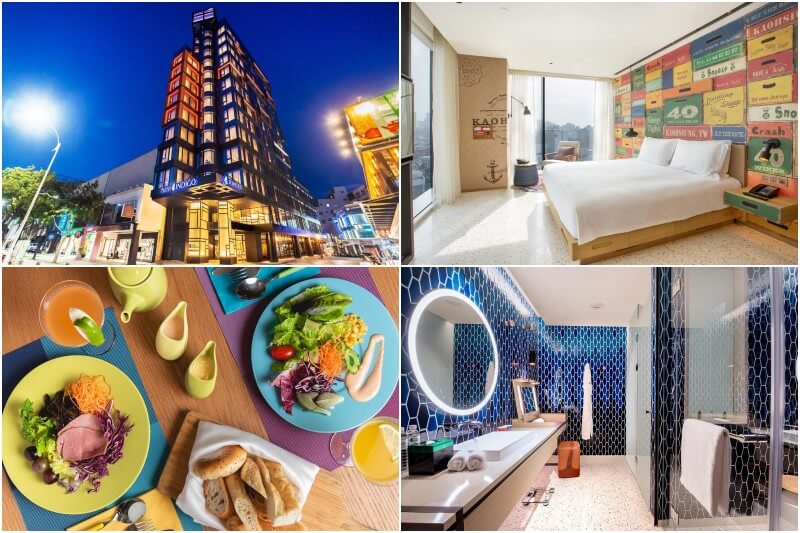 H2O HOTEL (水京棧國際酒店)
Score: 4.4/5
Reviews: 2,657 (by March 5, 2021)
In the north of the city near Kaohsiung MRT Kaohsiung Arena Station, one of the most eye-catching landmarks is the very slick- and cool-looking H20 hotel. With its top floor pool and bar area complete with a 500-inch-wide screen and its own dim sum restaurant and steakhouse, a stay here will have you feeling all kinds of fancy. The rooms are spacious and stylish and there are 157 available, capable of housing couples, single travelers and whole families. The hotel is close to the excellent Rueifong Night Market where you can snack on all types of traditional Taiwanese treats and play a variety of classic night market games, while it is also near the scenic Aozihdi Forest Park.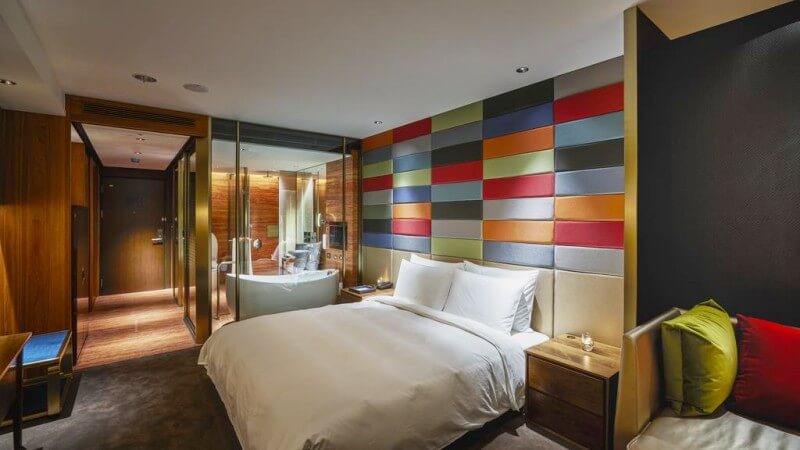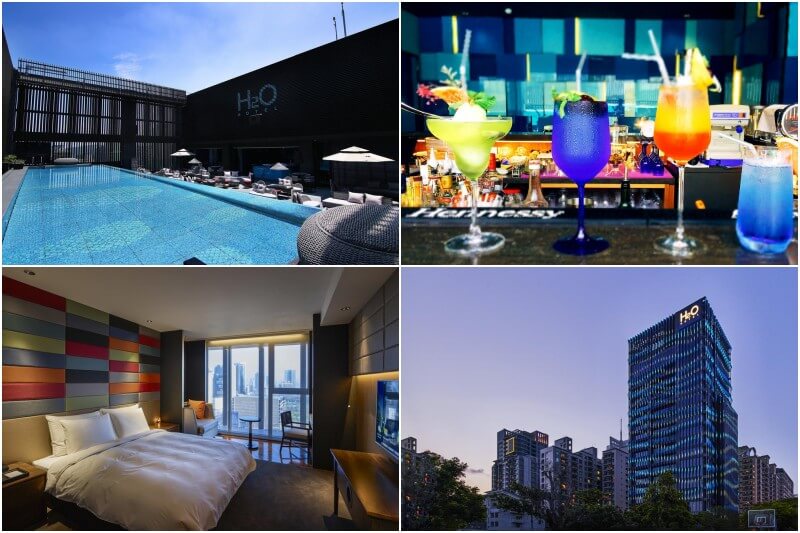 The Grand HiLai Hotel
Score: 4.4/5
Reviews: 5,760 (by March 5, 2021)
186 meters tall, the Grand HiLai Hotel is a towering yet elegant building in the middle of Kaohsiung's busy business district. Offering panoramic views of the city, the hotel has 535 guest rooms, 13 restaurants serving Chinese, Japanese and Western cuisine, an extensive art collection of more than 3,000 artworks, an executive club, and it even houses Taiwan's largest department store, the Hanshin Department Store. Recreation facilities include a pool, gym, spa and a squash court, while the hotel also offers an EZ Stay option and a dedicated EZ Lounge for working, socializing, networking and more, where Hi-Ro, an AI robot butler will greet you upon arrival.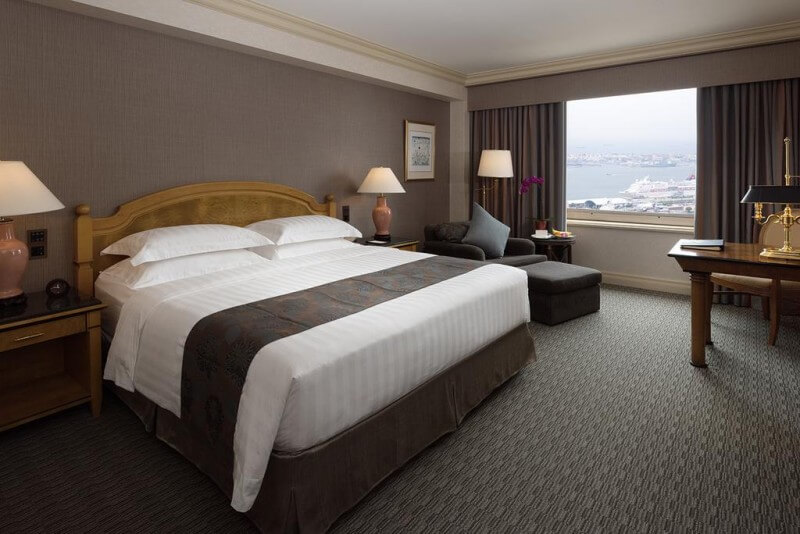 Silks Club (晶英國際行館)
Score: 4.6/5
Reviews: 1,290 (by March 5, 2021)
The best place to stay in Kaohsiung (according to Google, at least), Silks Club is a luxurious hotel within 4-minute walking distance from Kaohsiung MRT Shaduo Shopping District Station (捷運三多商圈站). Rooms range from deluxe kings all the way up to a 685-square meter Presidential Suite, with them all boasting a five-layer sound reduction system to ensure guests get as peaceful a night's sleep as possible. The hotel has two bars and two restaurants, including UKAI TEI KAOHSIUNG, the first overseas branch of the famous Japanese UKAI restaurant group, with Ukai-tei Teppanyaki, Ukai Kaiseki, and Grill Ukai Kaohsiung all at the hotel, as well as a special VIP room. Pool parties, yoga experiences and more are available onsite, with Department Stores FE21′, SOGO, Shin Kong Mizukoshi sitting 5 minutes around, making Silks Club the ideal place to stay on your next trip to Kaohsiung. (You might also like: Cruise Kaohsiung Taiwan Part 2: KW2, Pier 2 and Fongyi Tour)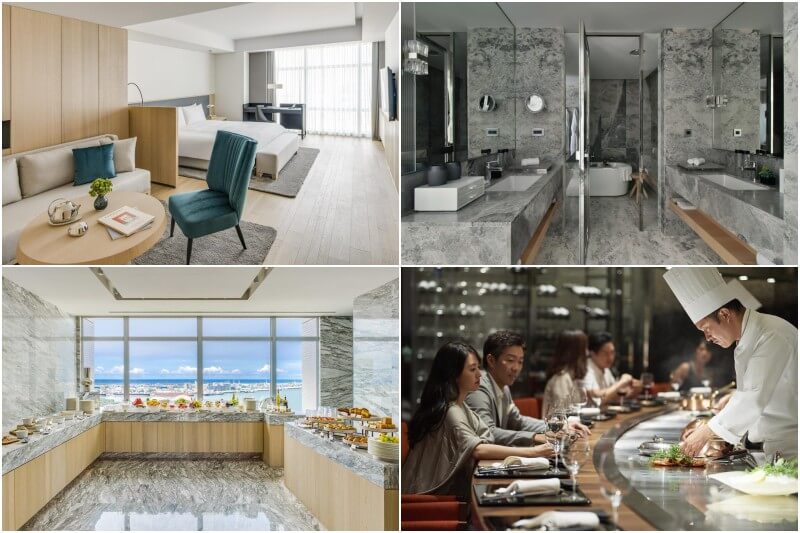 Since you're in Kaohsiung…