Nestled among the foothills of the Central Mountain Range, Nanzhuang (like much of Miaoli) is a woefully underrated countryside escape. Home to a majority Hakka population of some 60,000 people, it was once a thriving center of Taiwan's logging and mining industries. Today, the industry is gone, but you can still expect to find beautiful hiking trails, traditional architecture, and a hearty food scene that draws on the area's diverse cultural heritage. If you're heading out from Taichung or Taipei, Nanzhuang is doable in a day. But to properly appreciate all that it has to offer, it's worth staying the night. Here's what to see.
Climb Mount Jiali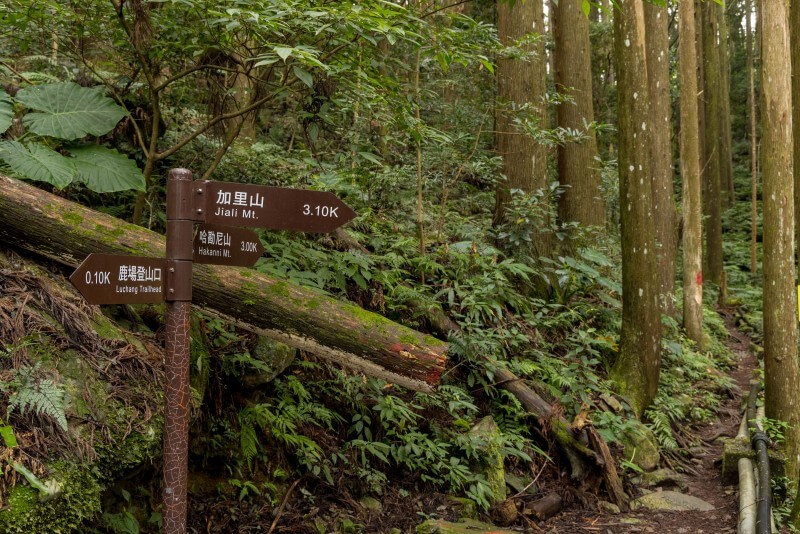 Rising to over 2,200 meters above sea level, Jiali Shan (Mount Jiali, 加里山) is a rewarding day hike and far quieter than the trails at tourist hotspots like Taroko or Yangmingshan. Seriously, don't be surprised if at times you feel like you're the only one up there. (You might also like: Hiking in Taiwan: Into the Mountain Forests of Hsinchu)
The trailhead is a short drive up the valley from the village, taking you past rocky waterfalls and a couple of great lookout points. Though it only takes 30 minutes, the hike feels utterly isolated from the first leg, disappearing into a dense forest of towering Japanese cedars. The trees might seem ancient, but this is actually new growth, planted after the 1960s when the mountainside was almost completely deforested. At times, you'll pass colossal tree stumps, some measuring up to two meters in diameter — haunting reminders of the jungle giants that once dominated the landscape.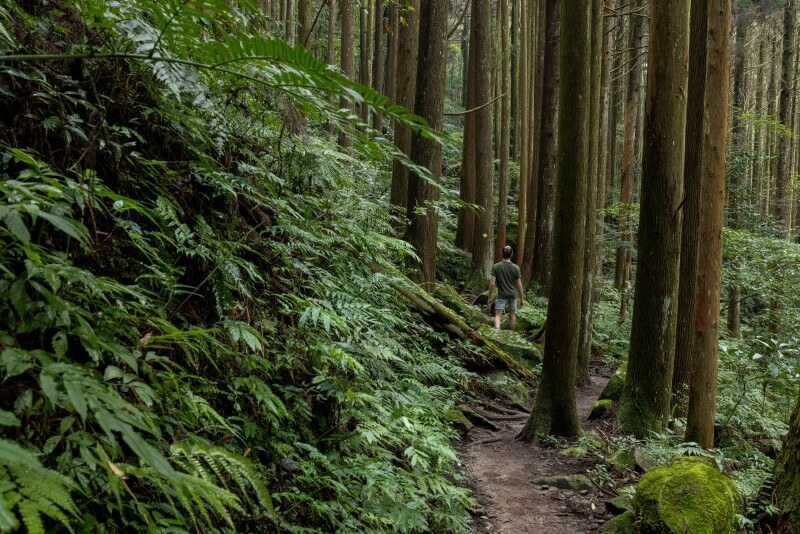 At seven kilometers from start to finish, the Mount Jiali Trails takes at least six and a half hours to complete and doesn't require a permit. You'll need a decent level of physical fitness for the hike, particularly toward the top. But if you're tight on time, the first hour or so of the climb is still enough to appreciate the wild beauty of the mountain, taking you past bus-sized boulders, rocky streams, and an abandoned Japanese-era train track that winds off into the woody wilderness.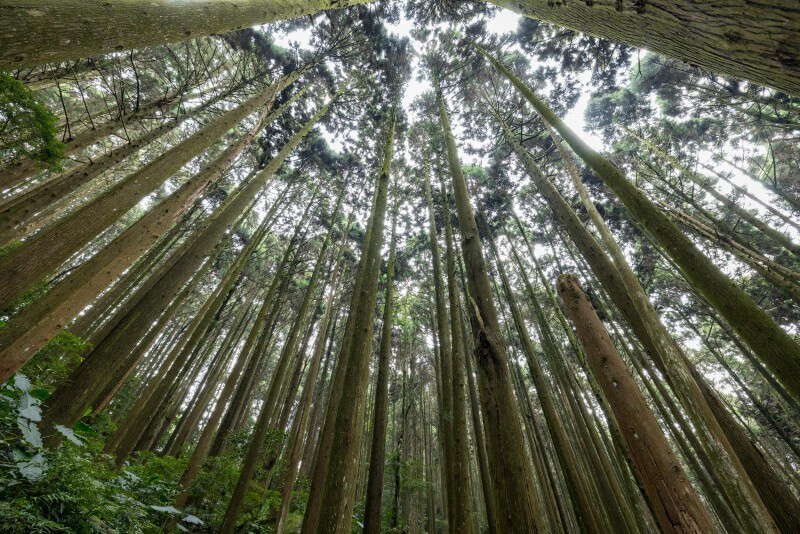 Trail along Osmanthus Alley
It won't take you five minutes on Nanzhuang's old street to figure out what the specialty is here. And you'll find the pale yellow blossoms in just about everything you can buy, from teas to syrups to sausages. Although Osmanthus wasn't traditionally grown here, the alley takes its name from a nearby tree that villagers used to give directions.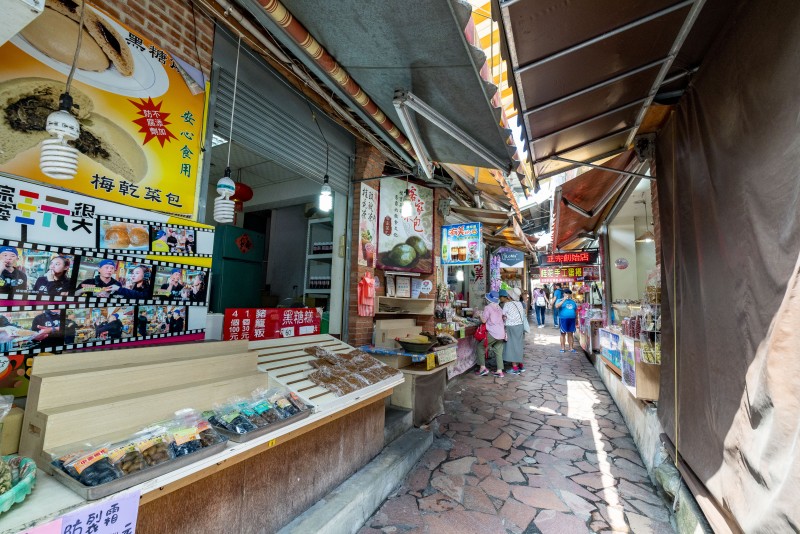 Hungry or not, make sure you stop off at Jiangji Guihua Tangyuan (江記桂花湯圓) for what is arguably Taiwan's glutinous rice balls (桂花湯圓), piled generously over a mound of shaved ice and popping with fresh watermelon and banana. Freshly baked hand-baked red bean cakes (紅豆餅) are another stand-out snack. Try them a couple of stalls over. Look left on your way out of the south end of Osmanthus Alley, and you might spot locals washing their pots and pans in Shuibiantou Xishankeng (水汴頭洗衫坑), a cold water spring at the street's south end.
Try Tasty Local Snacks at a Third-generation Restaurant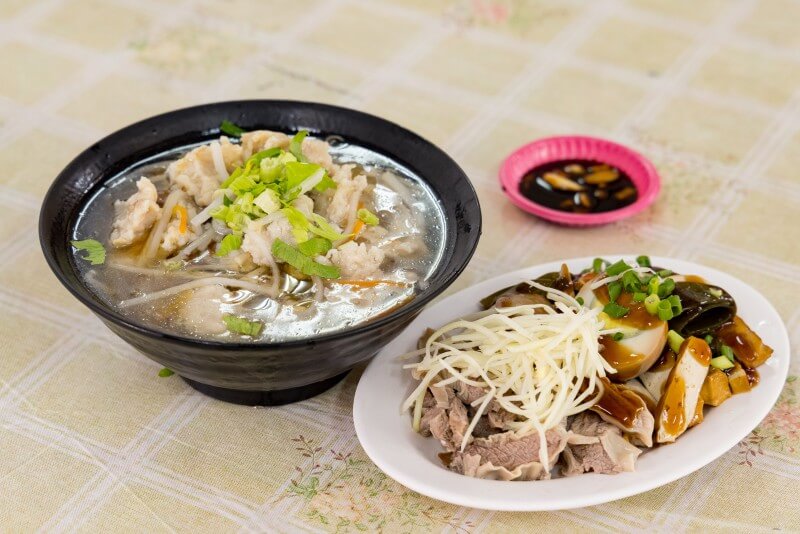 Located inside Nanzhuang's traditional covered market, Yingjie Diner (英姐小吃店) is the first port of call for both day-trippers and hawkers after they close up shop. And for good reason. The stall's signature dish is gougou mian (勾勾麵) — "gou" meaning thickened or starchy — a gloopy noodle soup with pork dumplings, shredded carrots, mu'er fungus, baby bamboo, and cilantro. If you're still a bit peckish, the stall is also an excellent spot for traditional Taiwanese braised dishes. In particular, the pork liver (豬肝) served with spicy shreds of raw ginger is a standout side.
Tuck into Hearty Hakka Cooking
The culinary style of Taiwan's second-largest ethnic group is hearty country fare, with an emphasis on salting, drying, and filling carbs like ribbony bantiao noodles (板條) and glutinous rice (糯米). Hakka food is arguably at its best in interior parts of Miaoli and Hsinchu counties, one of the few areas where the group is the majority. Nanzhuang, in particular, has a number of great spots to try Hakka cooking. (Read also: Savoring Hakka at Beipu Old Street in Hsinchu)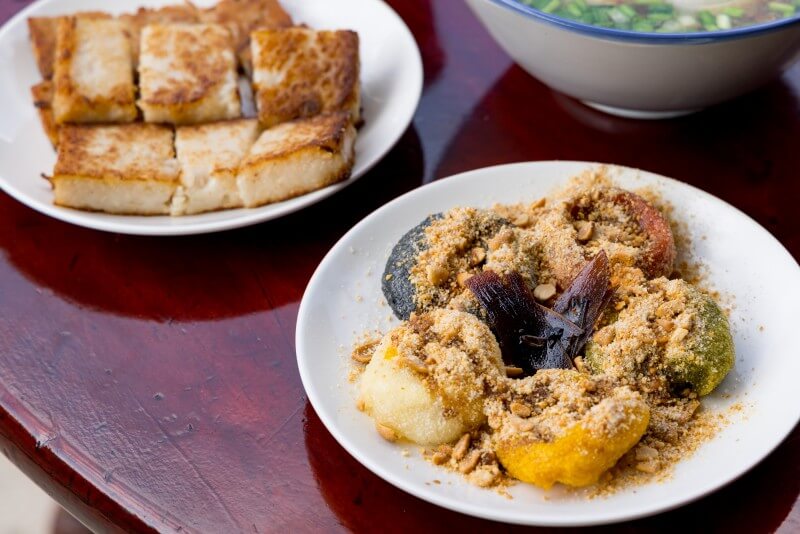 Arguably one of the best is Laojia Mi Shitang (老家米食堂), where glutinous rice is the unquestioned star of the menu. Try the Deep Fried Rice Dumplings (客家大湯圓), savory balls of carbohydrate stuffed with a peppery combo of minced pork, black pepper, and mushrooms. The radish cakes (蘿蔔糕), a nationwide Taiwanese brunchtime favorite, are delightfully crispy, as are the taro cakes (芋頭糕), which are a rarer find. The choices for dessert are equally filling, but it's worth loosening your belt to try the sweet deep-fried rice dumplings (甜糯米炸湯圓). They're served dry under a delicious dusting of crushed peanuts and candied longyan fruit flakes. 
Check out the Historic Architecture
Nanzhuang may have taken shape as a logging and mining hub — and been shaken to its core by a deadly earthquake in 1935 — but the buildings still reflect its rich cultural heritage. Some well-preserved reminders of the Japanese colonial era still stand here, such as the former post office and Jindong Movie Theater, which also doubles as a Hakka restaurant. Sanshijian Street, meanwhile, has a handful of lovely old red brick houses.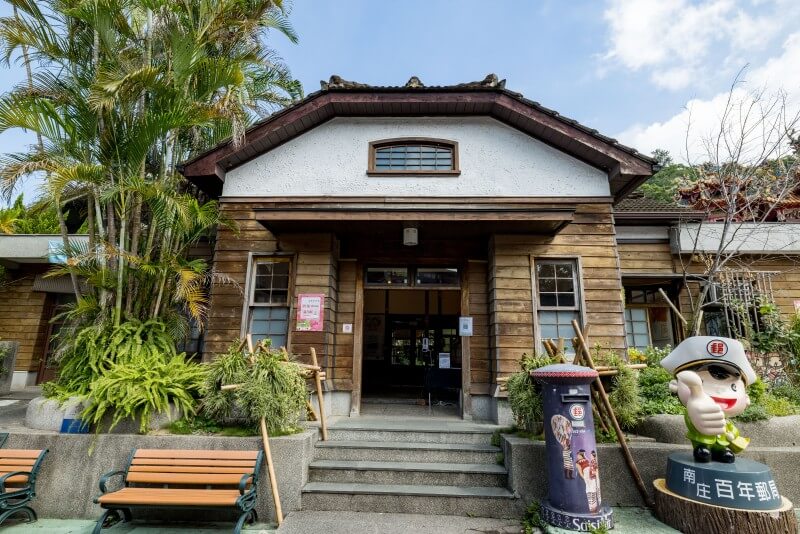 Further afield, Quanhua Temple, a lavishly decorated 19th-century Taoist structure built into the hillside, is well worth the short drive out. So too is the Museum of Saisiyat Folklore, a modernist building decorated with the local totem designs and bamboo weaving patterns of the area's indigenous people. The museum is also the site of the Saisiyat's Festival of the Short People (Pas-ta'ai 賽夏族矮靈祭) which is held every two years on 15th day of the 10th lunar month.
Drink (and Roast!) Taiwanese Coffee at an Organic Workshop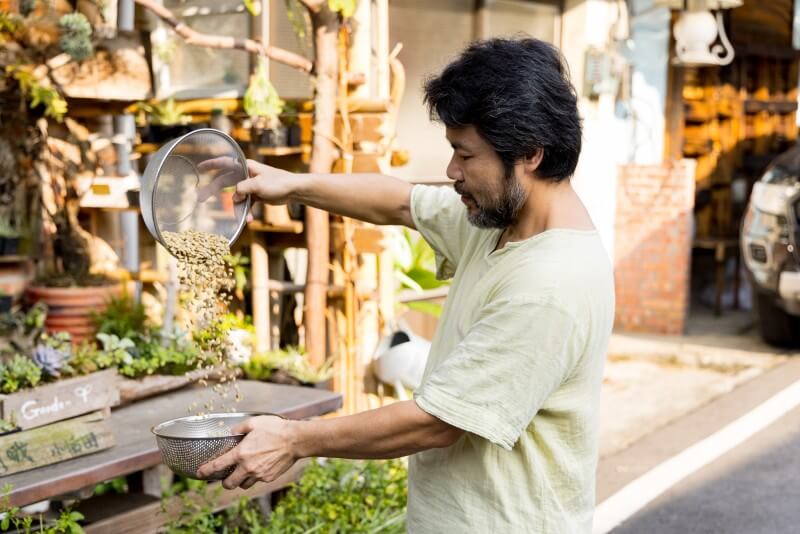 Taiwan may not be the first place that springs to mind when you think of coffee, but the island's subtropical climate and high mountain rises lend themselves to over excellent bean growing conditions. It's actually strangely difficult to find Taiwanese grown blends on most coffee menus around the country. You can wonder why while you sip hand-roasted beans at Shisanjian DIY Farmhouse (十三間手作農坊) — a charming cafe run by a Hong Kong-Taiwan couple who get their local stash from an organic coffee farm in Taitung. Expect a medium roast bearing floral notes from the peaches that are grown with the beans. Real caffeine addicts can also arrange DIY coffee roasting workshops, where you will learn how to prep your beans and roast them by hand in an iron skillet.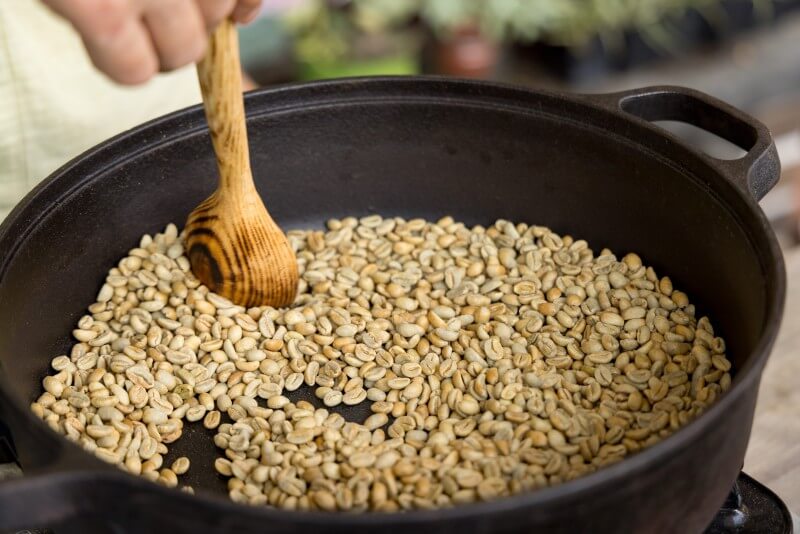 Additionally, Shisanjian DIY Farmhouse has a great selection of Hong Kong-style sweet treats, such as coffin bread, a hefty French toast-style treat soaked in honey and condensed milk. The aloe jelly dessert is equally delightful, seasoned with lime, sugar cane, and citric tasting Mexican mint (到香草) plucked from the cafe's own flower pots. (Read more: Coffee in Taiwan – How an Island of Tea-drinkers came to love the bean!)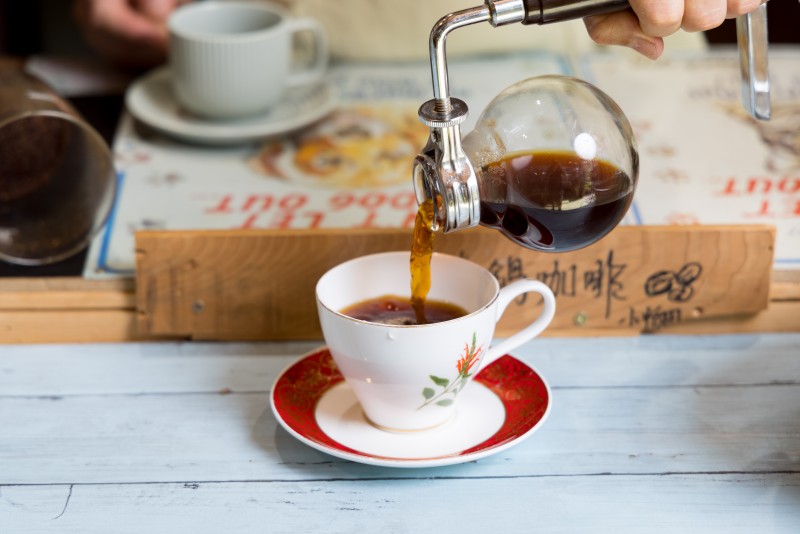 Looking for more Towns to Explore?