There are not many cities around the world that have active volcanoes on their doorstep, but Taipei is one of them. At the foot of the Datun Volcano Group (大屯火山群) is the neighborhood of Beitou (北投), an area with a history as long as the settlement of Taiwan itself, and long a go-to place for entertainment, relaxation, and above all, healing.
Just north of central Taipei, Beitou is abundant in geothermal activity. Hot spring bath houses dot the neighborhood as if they were convenience stores, while rivers running through area parks and along the streets steam and bubble.
Soaring above the neighborhood are the 1,000-meter-high peaks of Yangmingshan National Park (陽明山國家公園). Throughout those peaks are miles and miles of hiking trails with everything from pink spring blossoms to vibrant yellow sulfur pits and their steaming fumaroles. (Read more: 5 Fantastic Things to Do in Beitou)
The neighborhood is therefore synonymous with well-being and health. Locals and tourists alike flock here for medical stays and vacations among the healing waters, fresh air, and stunning natural scenery. Packages combining healthcare and staycations are also popular options. No wonder, then, that Beitou is a hot spot in more ways than one.
Beitou's Volcanic History
One of Taiwan's numerous indigenous groups, the Ketagalan (凱達格蘭族), were the first to discover Beitou as a center of healing and well-being. In fact, the name Beitou comes from the Ketagalan name — Kipatauw — which means "witch" or "wizard," hinting at the magical powers of Beitou's rocks and waters.
During the Japanese colonial era, Beitou boomed. Railways were quickly built to cater to the area's burgeoning sulfur industry. Nowadays, just across from MRT Xinbeitou Station (捷運新北投站), guests can easily grasp the importance and charm of the old railway, with carriages sitting on what remains of the track and the station building, reconstructed according to its original design and style using age-old materials. Now the station building, known as the Xinbeitou Historic Station (新北投車站), gives train enthusiasts an interesting insight to the development of locomotive transport in the area.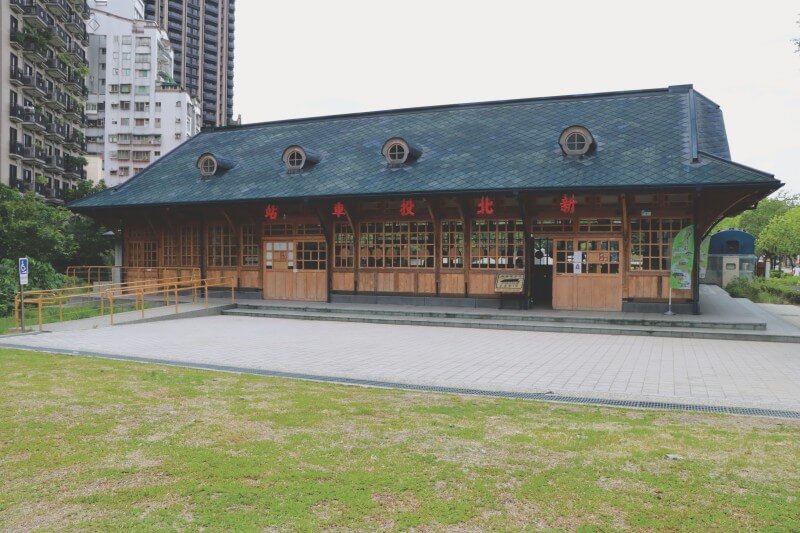 As the sulfur industry thrived under the Japanese, so too did the hot springs. The colonizers built lavish bath houses to cater to Japanese and Taiwanese looking for a soak after a hard day's work. Some of these Japanese-era houses are still in operation for bathing services, such as Long Nice Hot Spring (瀧乃湯), established in 1907.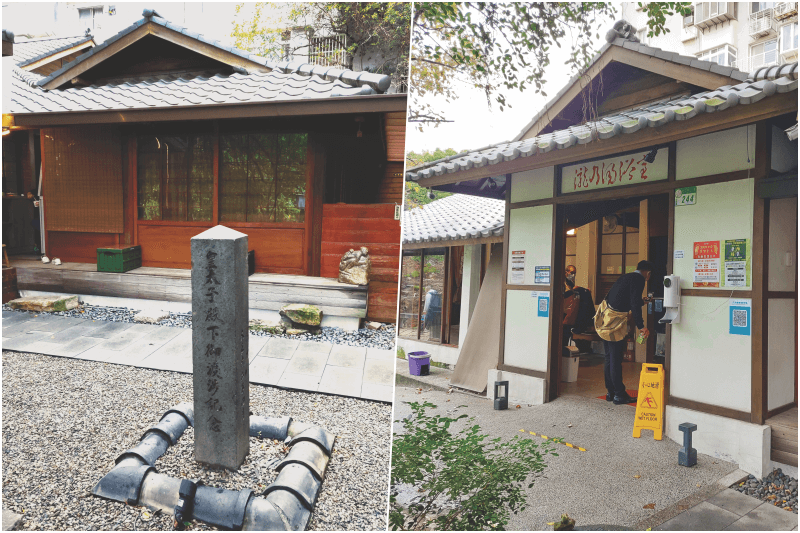 Another hundred-year-old hot spring hotel is the Kazan Hotel (佳山溫泉旅館), now known as the Beitou Museum (北投文物館). This stunning Japanese-style structure is the place to immerse yourself in the area's incredible history. Artifacts detail the development of Beitou's sulfur industry, its time in the sun as a top Japanese tourist destination, and its modern development into a place of health and well-being. There's an impressive café/restaurant with a terrace overlooking the Beitou Valley. After enjoying a meal, take time to explore the historic building and sit in a hot spring tub that both Taiwanese former President Chiang Kai-shek (蔣中正) and the emperor of Japan both soaked in (though not at the same time). (Read also: Hot Springs, Spas and Spa Hotels Around Taiwan)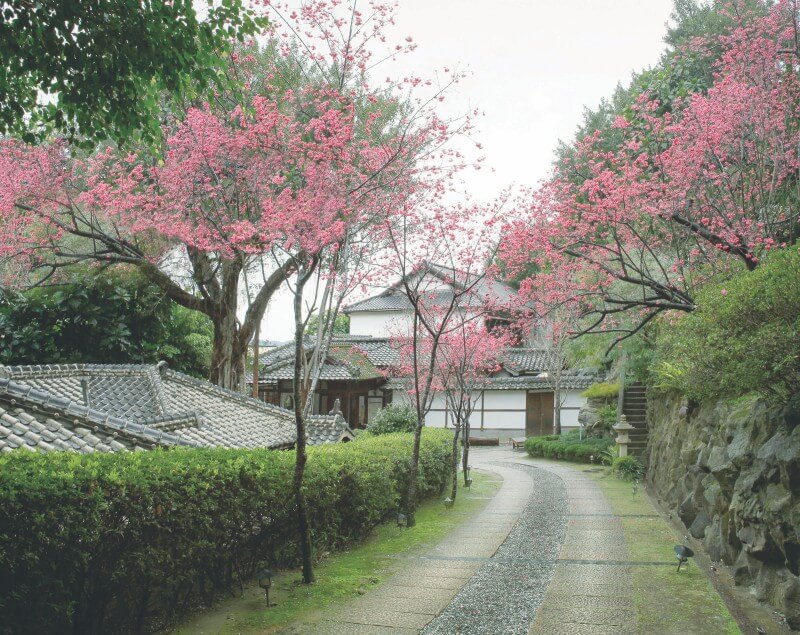 Another grand colonial structure in the heart of Beitou Park (北投公園) is the Beitou Hot Spring Museum (北投溫泉博物館). This impressive building was built in 1913, and was the largest bath house in Asia at the time. It was deserted for many years after the Japanese period ended, and in 1998 was converted into a museum. It now forms one of many enticing attractions in Beitou's famous park, sitting alongside the public hot springs and the Taipei Public Library Beitou Branch (台北市立圖書館北投分館), which is one of the most eco-friendly libraries in Asia, featuring both a green roof and a rainwater recycling system.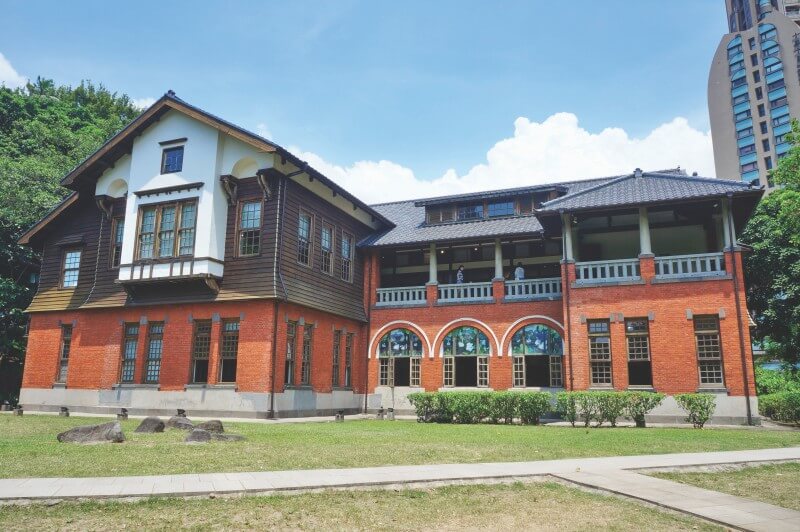 Also giving a good snapshot of the area's local history is Beitou Heart Village (北投中心新村). Originally built as a health care center for wounded soldiers during the Japanese colonial era, the place was then transformed into a residence for military retirees by the Nationalist government. Recently it has been converted into museums, galleries and art spaces that host performances, salons, and other cultural events. While enjoying the cultural and artistic atmosphere, visitors can also admire the residences built in different periods and the historical footprint of the hot springs retained in the village.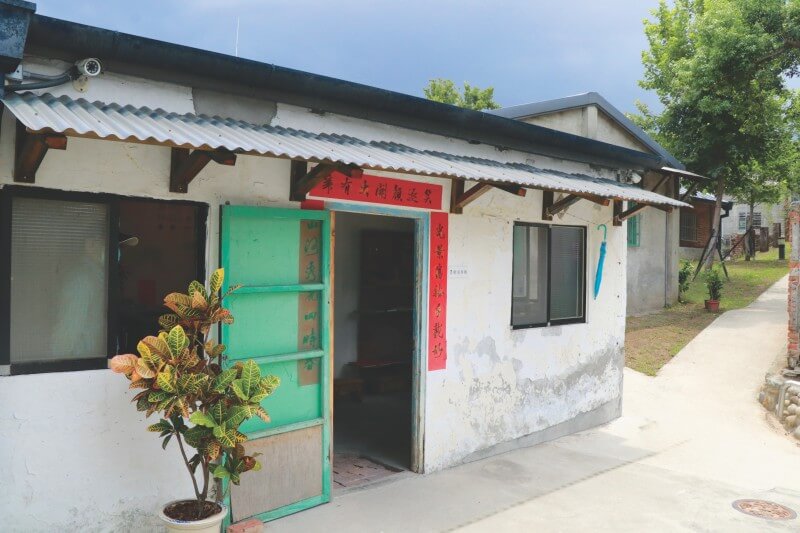 Hot Springs
As soon as you exit the metro station or jump out of your taxi in Beitou, the heady smell of sulfur hits you. From upmarket hotels with private tubs, to foot spas in public parks, hot springs are as ubiquitous in Beitou as 7-Elevens and temples in the rest of Taiwan.
For those wanting to jump right in, the public hot spring in Beitou Park is the place to, as the locals say, "pao (泡)," meaning "take a bath." These open-air hot springs in the heart of the park are the best place to immediately immerse yourself in the local way of life.
Favored by the city's aunties and uncles, the mixed- gender pools are staggered up the hill, with the hottest and purest water right at the top. They are incredibly good value. With an entrance fee of just NT$60, you can meet those that know the neighborhood best while gazing up and around at the Beitou surroundings.
If you'd rather just "dip your feet in," other parks in Beitou include foot spas. The one in Fuxing Park (復興公園) is particularly popular, and just a stone's throw from some of the town's best eateries. Here, you can take off your shoes, roll up your pants and soak your feet in the warming waters.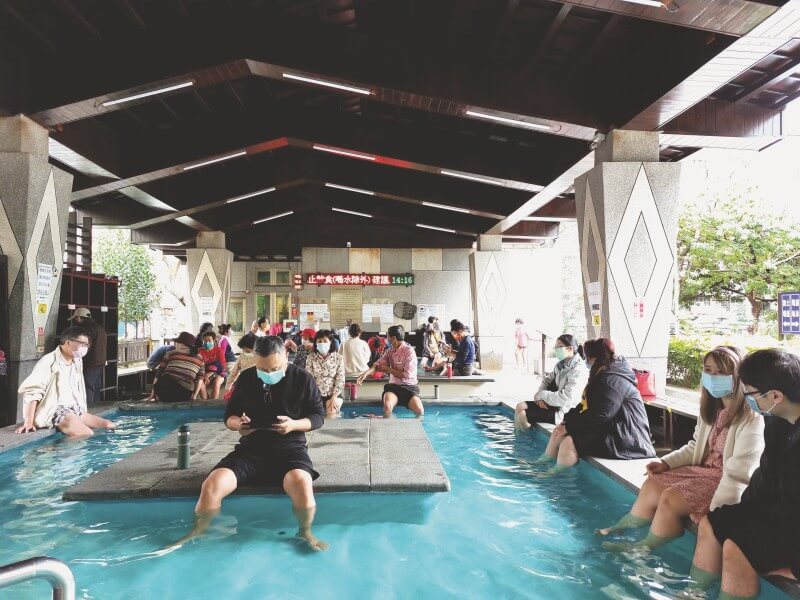 Other options abound. There are fancy bath houses like Shan-Yue Hotspring Hotel (山樂溫泉), just across from Xinbeitou Historic Station, and extravagant resorts such as Villa 32 (三二行館). At the edge of Yangmingshan National Park are some of Beitou's most renowned classic bathhouses, including Emperor Spa (皇池溫泉御膳館) and Kawayu Spa (川湯會館), where you can treat yourself to heartwarming local dishes such as crab congee after taking a bubbling bath. (You might also like: Belle of the Zhiben Hot-Spring Ball The Hotel Royal Chihpen)
Food Glorious Food
​​As a time-honored leisure destination, Beitou has developed a dining scene sure to please even the most discerning palate. Its banquet cuisine — dishes designed to accompany beer and liquor — is famous citywide. One of the restaurants cherished by locals and visitors alike is Peng Lai (蓬萊餐廳). Included in the Michelin Guide, the must-try dishes are the tofu roll and the deep-fried pork ribs. (Read also: Michelin Stars for 30 Taiwan Restaurants)
In another nod to Beitou's Japanese colonial past, the neighborhood is dotted with cozy and atmospheric izakayas — or Japanese pubs. The Niao Shao Izakaya (蔦燒日式居酒屋) is one of most popular spots, serving up barbecued skewers, fried rice and cool glasses of draft beer.
If you would rather not commit to one restaurant, then perusing the restaurants and vendors in and around Beitou Market (北投市場) is the best way to hedge your bets. One of the most popular street foods here are the oyster dishes at A-Zong (阿宗蚵仔煎), serving up crispy pan-fried oyster omelets. If you are prepared to queue, then the utterly unctuous braised pork over rice at Ai Zai Cai (矮仔財) is a very comforting meal option, particularly in the cooler months. If all that eating gets you thirsty, pick up a fresh tea from Kao's Tea (高記茶莊).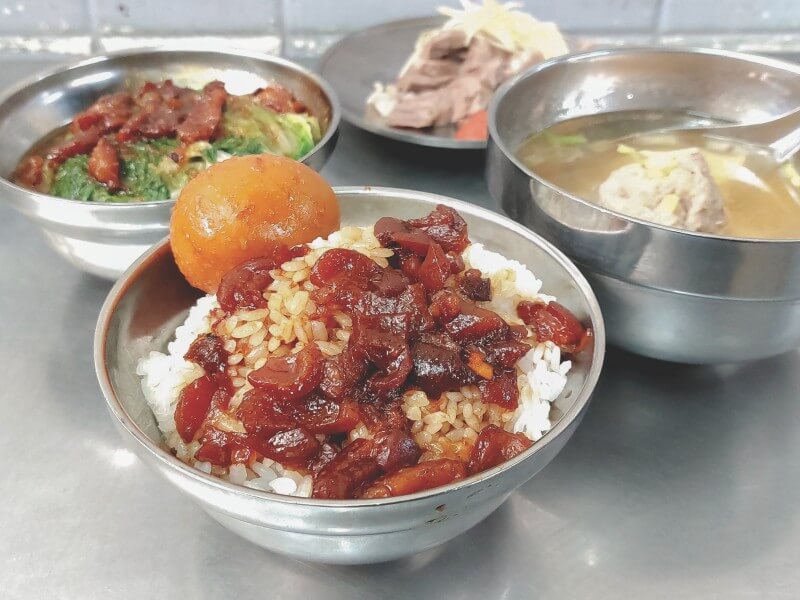 Natural Delights
In the neighborhood of Beitou itself, there are plenty of ways to enjoy nature. At the furthest end of Beitou Park is the Thermal Valley (地熱谷), a mysterious and magical spot where azure waters steam and bubble against a backdrop of leafy mountains. At the other end of town, Ki-Pataw Shan-Tseng-Chi Park (北投社三層崎公園) is famous for its fields of colorful flowers. Silver ragworts, wax begonia and other varieties bloom on the slope like ribbons until the end of March, creating fascinating views from every angle. (If you love flower: A Quest for Spring Flowers: Purple Blossoms Throughout Taipei)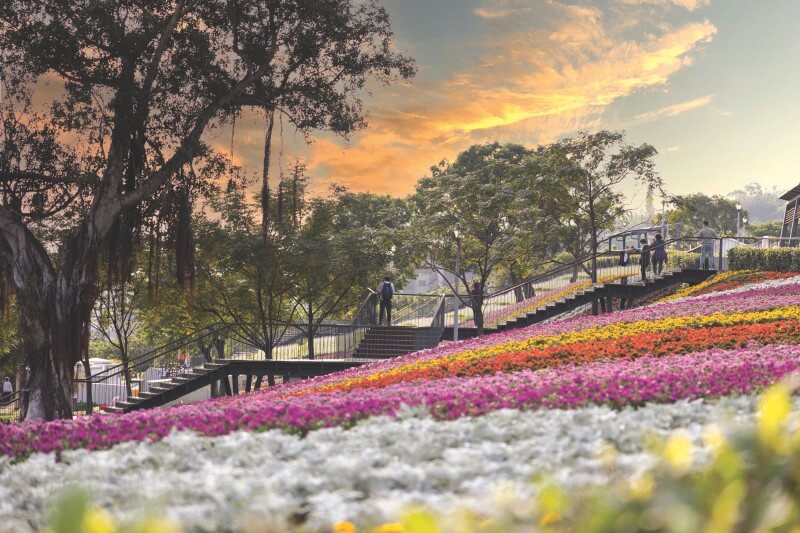 Another hot destination — quite literally — is the Sulfur Valley (硫磺谷). Here fumaroles bubble, geysers steam and spurt, and guests can wander around the remnants of Beitou's sulfur mining industry. As with much of Taipei, YouBike stations abound in Beitou, making it easy to catch all these sights in an afternoon.
Where to Stay
Hot spring hotels to suit all budgets crowd Beitou Park and the surrounding hillsides. One of the most popular options is the Hotel Royal Beitou (北投老爺酒店). This Muslim-friendly hotel is cooperating with Taipei Beitou Health Management Hospital (台北市北投健康管理醫院), combining a one-night stay in the luxury hotel with a health check at the hospital. Visitors can enjoy the comforting facilities and accouterments, including hot spring baths in the rooms and delicious yet healthy cuisine designed by the chef and expert dietitians. Working with hospitality and medical professionals, the team at Hotel Royal Beitou provides innovative service and attentive care for those who are searching for a holiday retreat in Beitou.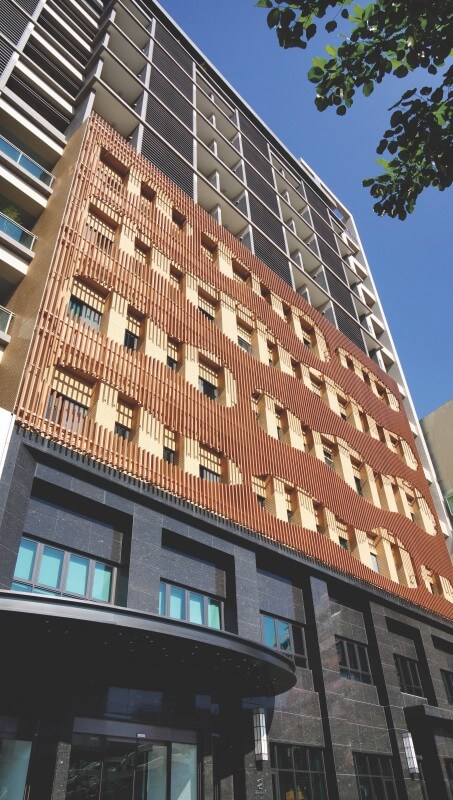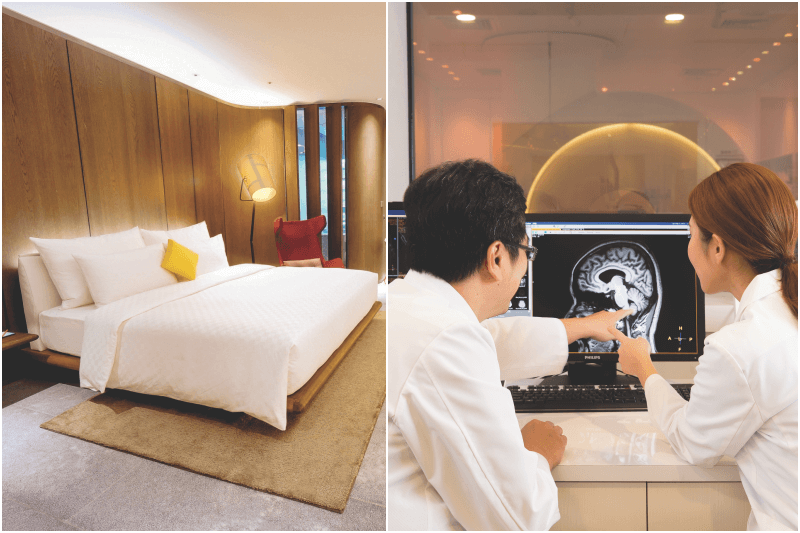 Author Richard Williams
Photographer Taiwan Scene, Yengping, Fu Lu Culture Foundation Beitou Museum, Hotel Royal Beitou, Parks and Street Lights Office, Public Works Department, Taipei City Government, Taipei Beitou Health Management Hospital
This article is reproduced under the permission of TAIPEI. Original content can be found on the website of Taipei Travel Net (www.travel.taipei/en).
Can't Get Enough of Hot Spring?