It's not difficult to get a decent cup of coffee in Taipei, as globally-renowned coffee chains can be found virtually everywhere in the city. Independent cafés with a sophisticated selection of beans and on-site roasting can also be spotted in even the narrowest of alleys, luring coffee connoisseurs with the tantalizing aroma of this storied beverage.
In recent years, Taiwan's locally-grown coffee has become a popular choice for coffee lovers. To let more people know about the charm of Taiwan's coffee, we speak with the man behind San Formosan (森高砂咖啡館), which specializes in selling Taiwan's homegrown coffee beans, promoting the rich flavors the island has to offer.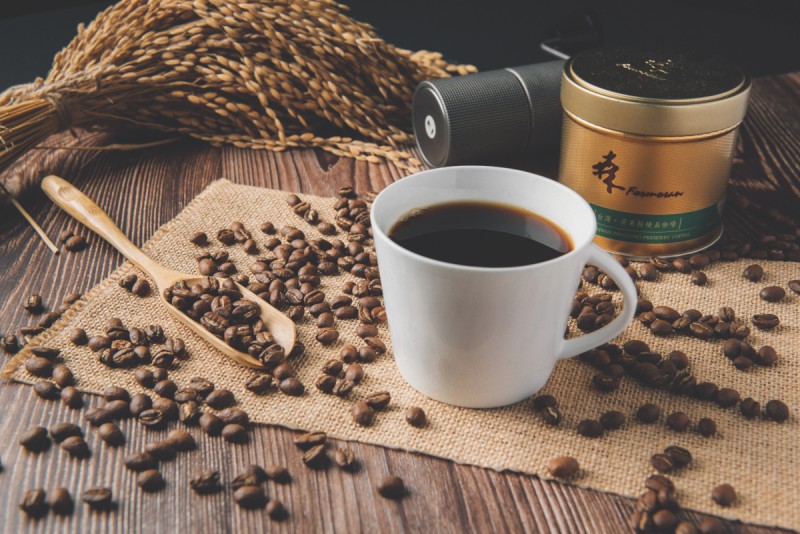 The Sweet Aftertaste of Homegrown Coffee
In the 1940s, during the Japanese Colonial Era (1895- 1945), the coffee growing industry was booming in Taiwan, with the total crop area eventually reaching up to 1,000 hectares. This made Taiwan the largest coffee producer in East Asia at the time. However, due to war and regime changes, the coffee industry gradually fell into decline. In the 2000s, many small farmers began to return to coffee farming, and now coffee beans are produced in the central, southern, and eastern mountainous regions of the country.
Unlike other coffee-producing regions, which have employed mass-production methods for ages, Taiwan's coffee beans are mainly grown by small independent farmers, who harvest, ferment, and even roast and brew their beans themselves. (Read more: How Taiwanese Coffee is Stimulating Sustainable Farming)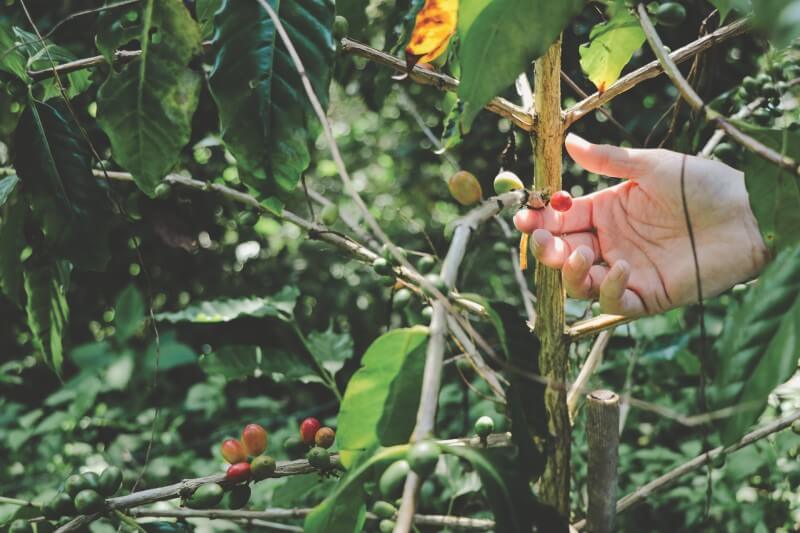 "Many people say that Taiwanese coffee has a tea-like aroma during brewing, but that is actually the smell of fresh coffee beans," says Ding He Doong (董鼎禾), founder of San Formosan. Since the coffee beans come from local farmlands, they can be roasted and ground directly after picking and processing, so the taste is completely different from that of imported beans.
By working with coffee farmers all over Taiwan, San Formosan has discovered the unique flavor of coffee grown on the island. "Taiwanese coffee has a sweet aftertaste," Doong explains. With a high sucrose content and low levels of glucose, coffee from Taiwan exhibits more sweetness and less acidity. Each production area features different characteristics as well. For example, coffee from Yunlin (雲林) has a peanut-like flavor, beans from Chiayi (嘉義) have a floral aroma, and coffee from Taitung (台東) gives off an aroma of sugarcane after roasting.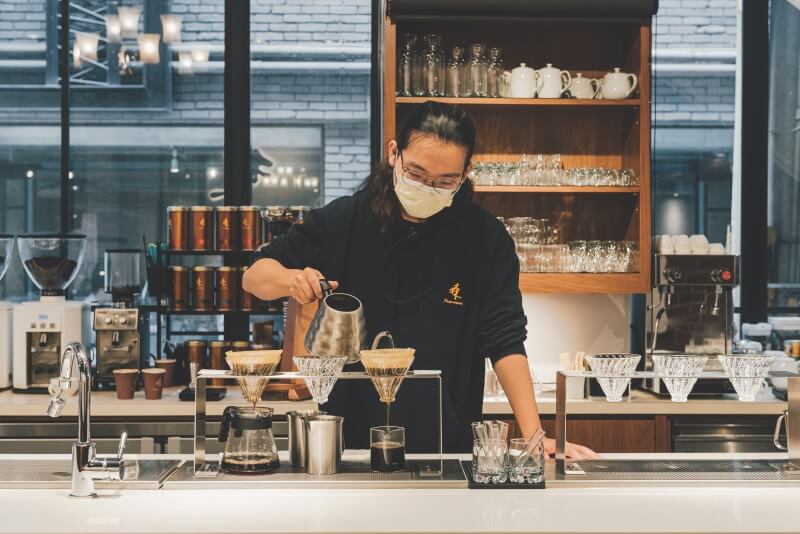 Black Beverages Drive Greener Economy
"Taiwanese coffee is definitely beyond anything you could imagine!" Doong emphasizes. San Formosan insists on selling Taiwanese coffee only, and is committed to creating local "specialty coffee" for promoting Taiwanese brews in both the domestic and international markets.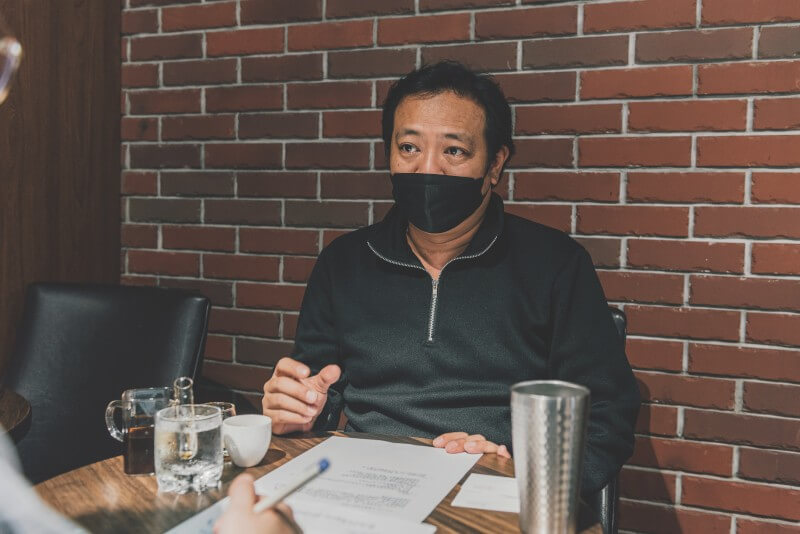 However, as Taiwan's coffee farmers are mostly independent producers, and have to do everything on their own, the production costs are extremely high, making it hard to compete with mass-produced imported coffee beans. Furthermore, without commercial flavor correction, it is difficult to produce a standardized flavor profile. As a result, Taiwan has not been able to develop an internationally recognized brand such as Jamaica Blue Mountain or Hawaii Kona.
To tackle these issues, San Formosan brought professional baristas to the farmlands to optimize harvesting and raw bean processing. In this way, San Formosan is helping to gradually reduce costs and continuously improve the quality of raw coffee beans. (Read also: Coffee in Taiwan – How an Island of Tea-drinkers came to love the bean!)
San Formosan believes that "Improving the quality is the only way forward for Taiwanese coffee," says Doong. After nearly a decade of ongoing efforts, they have led Taiwan's coffee industry to follow the recent trend of "the third wave of specialty coffee" in the international coffee market, which focuses on roasting in the right way to bring out the unique flavor of the land while emphasizing Fair Trade practices and environmental sustainability.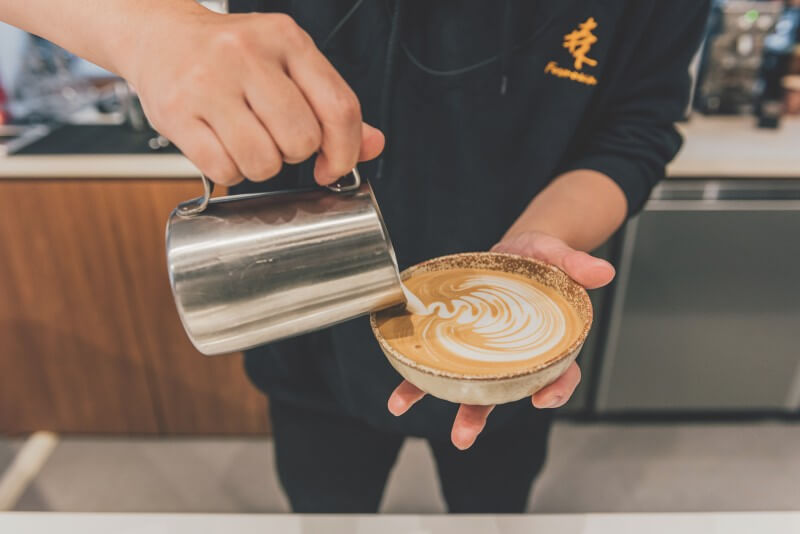 In addition, San Formosan encourages farmers to plant their coffee under betel nut trees for sustainable farming. Many hillsides have suffered from erosion due to the shallow roots of betel nut trees. Coffee, with denser and wider roots, can grip the soil and help maintain soil and water conservation, while the betel nut trees provide shade for the coffee. The two plants complement each other, allowing Taiwanese coffee to thrive while creating new opportunities for environmental sustainability.
Experiencing Taiwanese Coffee in Taipei
"Taipei is the best place to taste coffee from all over the island," highlights Doong. With a lot of cafés in Taipei, people have become quite receptive to diversified flavors, and more and more coffee shops are sourcing local coffee beans and offering different options. However, since the production of Taiwanese coffee is still small-scale and relatively expensive, San Formosan is looking forward to expanding its cooperation with coffee shops. By providing coffee beans processed with different roasting methods or from different origins, and using different brewing equipment such as hand- powered grinders, siphons, or espresso machines, San Formosan hopes to showcase the diverse aspects of the Taiwanese cup of Joe in Taipei so that enthusiasts can get more familiar with local coffee.
Interestingly, many competing cafés are happy to point those who want to sample the local product in the right direction even if they don't offer Taiwanese coffee themselves. If they meet customers who want to drink Taiwanese coffee, they will recommend them to the right cafés, says Doong. San Formosan, known for selling Taiwanese coffee only, is naturally the first choice. (You might also like: Not Another Hipster Café : Taipei's Old-School Coffee Shops)
San Formosan uses its three stores in Taipei to promote local coffee from different angles. The shop located in an historic building in Dadaocheng (大稻埕), one of Taipei's oldest neighborhoods, is the home of the brand's hand-brewed coffee. Here, San Formosan hand brews and fine-tunes the steps according to customers' needs, just like making personalized cocktails.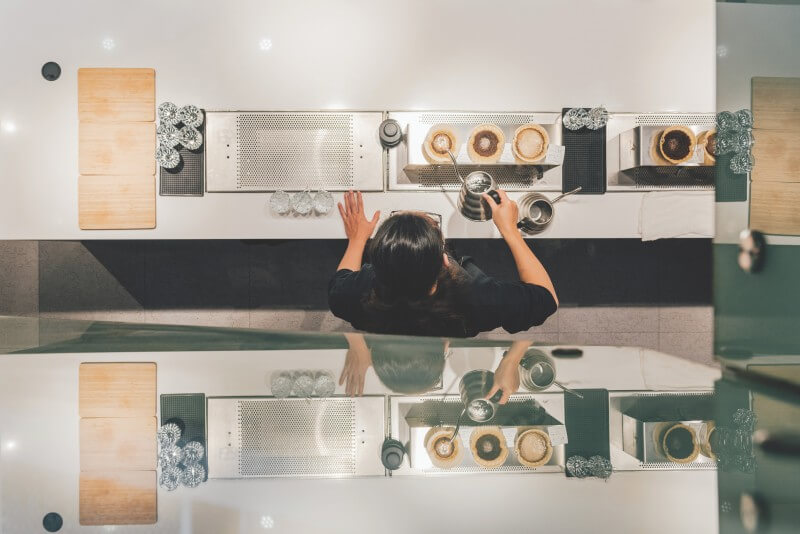 In an old red-brick house in Huashan 1914 Creative Park, there is a "coffee lab" that uses the steeping method to brew coffee that anyone can easily learn. In this way, customers can learn how to brew coffee directly, and are encouraged to buy Taiwanese coffee beans to take home to create their own unique flavors.
The flagship store on Zhongshan North Road (中山北路) provides Italian-style coffee and all kinds of specialty coffee, presented in different ways such as hand-pouring and wine steaming, as well as freshly-made and specially-seasoned meals and desserts that pair well with the dark, rich beverage of choice. In this café, San Formosan hopes to demonstrate the diversity of Taiwanese coffee in many aspects, and let customers know the myriad possibilities of the homegrown coffee.
Ways to Taste Taiwanese Coffee with San Formosan
– HAND-BREWED COFFEE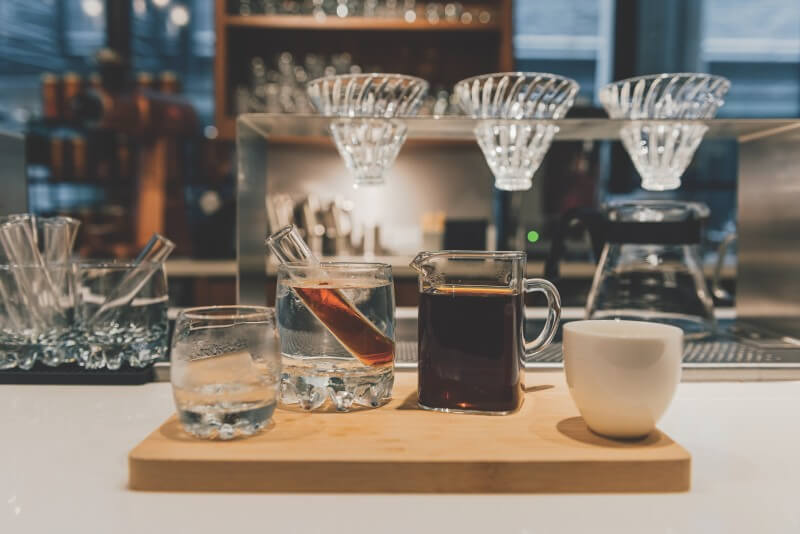 Drinking San Formosan's hand-brewed coffee is like a small coffee tasting ceremony. The iced coffee tasting tubes and the hot coffee pots are designed to let customers feel the aroma and layers of coffee at different temperatures. Take a sip of iced coffee for its true flavor, then slowly pour the hot coffee into a white porcelain cup and savor the changes in flavor brought about by the temperature.
– ITALIAN-STYLE COFFEE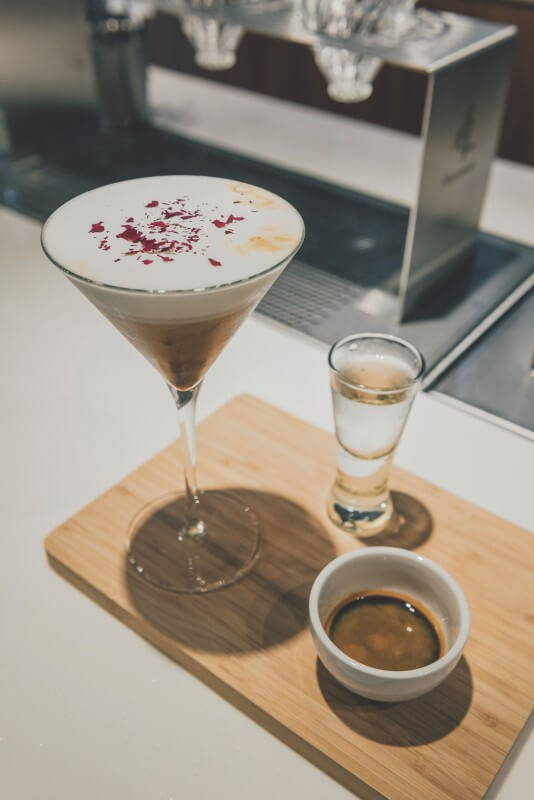 Espresso beans are blended with the best beans from different regions of Taiwan to showcase the sweet aftertaste of Taiwanese coffee. If you order a latte, there will be an extra-small cup of espresso for the customers to feel the thick and sweet aroma of the Taiwanese coffee beans. Moreover, San Formosan has also developed flavored coffees which allow customers to enjoy the aroma of roses or osmanthus.
– WINE-STEAMED COFFEE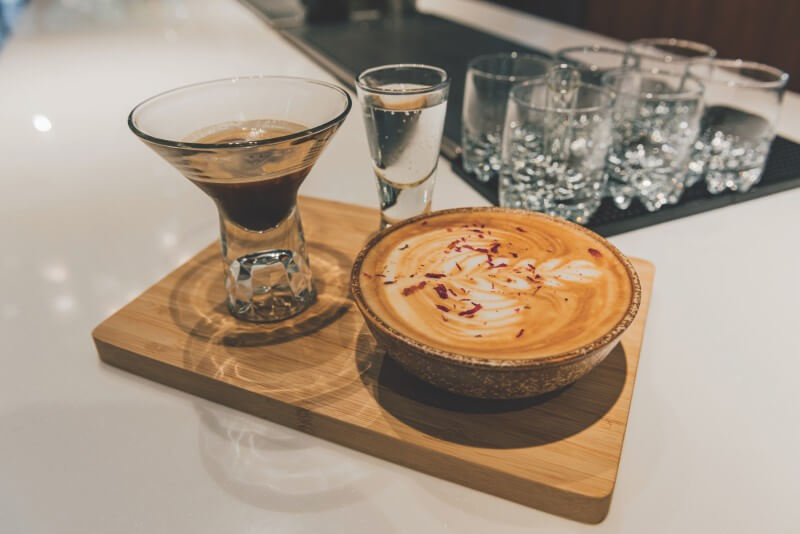 Wine-steamed coffee is an exclusive product of San Formosan. The coffee beans are steamed with whiskey, rice wine, millet wine, Shaoxing wine (紹興酒), and vodka to replace the water in the beans with alcohol, imbuing the coffee beans with a special wine flavor. The coffee is then roasted at a high temperature to allow the alcohol to evaporate naturally, so the brewed coffee has the aroma of the wine but without any alcohol.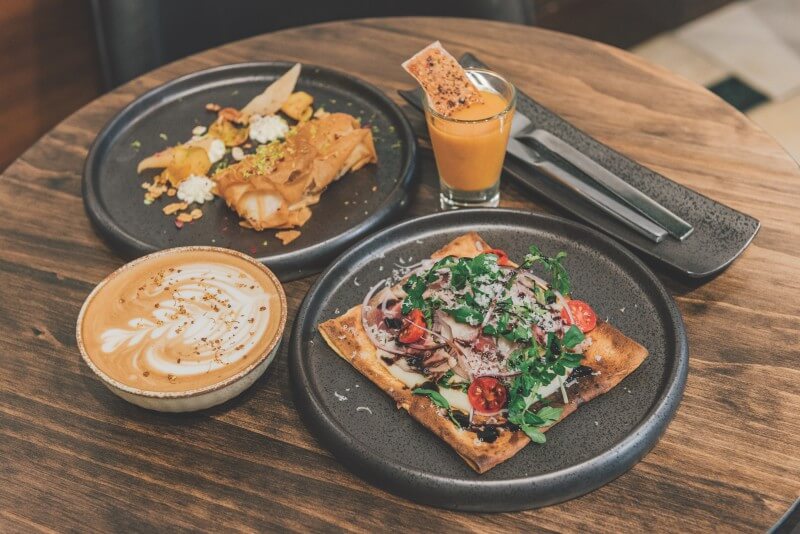 Find Taiwanese Coffee Beans at San Formosan
This article is reproduced under the permission of TAIPEI. Original content can be found on the website of Taipei Travel Net (www.travel.taipei/en).
Learn More about Taiwanese Drinks