Surfing in Taiwan has been enjoying a surge in popularity over the past decade, with a growing number of surf spots popping up, perfect for different boards and skill levels. Despite this, information on where to surfing and when to surf in Taiwan is pretty limited. So in this post, we'll dive in with an overview of what you need to know, where you need to go, and most importantly some of our favorite spots to check out in Taiwan.
The Taiwan Surf Season
Taiwan is a year-round destination for surfers, and you can get great swells at any time. Conditions do vary though. November to March is widely considered to be Taiwan's high season, which starts around the same time as the Taiwan Open of Surfing (pictured below). During the winter, the Northeastern Monsoon (東北季風) brings in bigger waves and longer wave periods. The east coast can be especially good for more experienced surfers during this time. And the water temperature, while cool, is not too bad with a wet suit. Some spots can be quite challenging for solo beginner surfers, but surf schools remain open and consistent swells can make this a great time to learn.
(⬆Video by taitung_ola, post by hongchi__s)
Summer as a rule of thumb is a lot calmer, though typhoon swells (normally a couple of days before or after a storm) can produce great conditions. Otherwise, summer is an ideal time for less experienced surfers. Conditions can be very flat at times, but most surf shops will be able to give you a good idea of when you can still get a good session in. For example, last summer in Dulan, Taitung, the best surfing was generally an hour after low tide, when the shallower water meant it was easier for waves to break. You should remember that beaches are always changing though. Checking with a rental shop, guest house, or school invariably yields the best results.
The Best Time of Day to Surf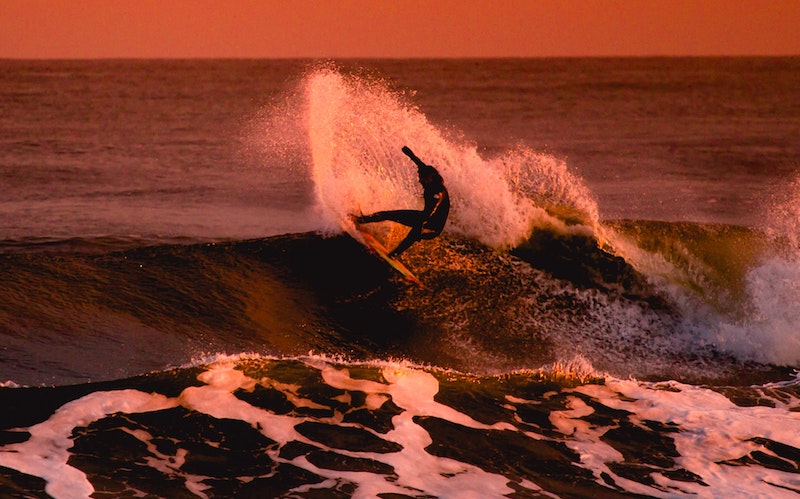 Generally speaking, early morning and late afternoon are the best times to surf in Taiwan as it's less likely to be windy during this time. This is especially important as most of the beaches in Taiwan are relatively exposed and breezy weather can make for some pretty unsatisfying surfing. Still, some spots like Xiaoyugang and Wushigang feature harbor walls, which may shelter you depending on the wind direction.
Another consideration to be made here is high and low tide. As a rule of thumb, better waves are up for grabs as the tide rises from low to high. But as with everything about surfing, there are a lot of variables to consider, so a call to a local rental shop is your best bet.
Getting to Taiwan's Surf Spots
Most beaches in New Taipei and Yilan can be reached by bus or train. That said, if you're traveling with your own kit, know that Taiwan's public transport is not particularly board-friendly. Most TRA trains will let you travel with a board of up to 165cm, meaning short boards, fish, and shorter fun boards might be OK. Otherwise, Facebook groups like Taiwan Surf Carpool are great places to carpool to and from surf spots for the price of gas, though most users post in Chinese.
Taiwan's Best Surf Spots
First, a disclaimer:
It's probably scratched into the side of a camper van somewhere but there is an unspoken rule in the surfing community about not over-sharing secret spots. While no one outright owns any of Taiwan's beaches, we believe that Taiwan's completely secluded beaches should be discovered by hanging out for a few days in the local area, and not through a travel magazine.
That being said, here are some of our favorites that won't earn us the ire of the local surferatti.
1. Zhongjiaowan, New Taipei
Less than an hour's drive out of the capital, Zhongjiaowan is one of the most accessible beaches from Taipei. Previously, this was one of Taiwan's busiest beaches, through it's quietened down considerably since the opening of highway tunnels to the beaches in Yilan.
Surfers can make use of two breaks here, with a point break on the beach's northern side and a beach break just in front of the parking lot. Surf boards can be rented at a couple of spots in the sleepy surrounding area, and there are also a couple of cute coastal cafés to check out after your session.
2. Green Bay/Wanli Surf Spot, New Taipei
Not far from Yehliu Geopark, Wanli Beach is a lengthy band of sand that runs several hundred meters along the Northeast Coast. The spot has a dystopian feel due to a couple of derelict resort buildings on the beachfront and an abandoned UFO holiday park just around the corner. Most people come here for the surfing, and the overgrown car park is full of camper vans and local surfers waxing their boards as they check the tide.
Most will paddle out at only one of the two surf spots, which are located a kilometer or so apart at either end of this massive beach. Both are beach breaks going left and right, with Green Bay in the north and Wanli Spot at the south end of the beach. Generally, Wanli Spot is more sheltered from wind and more suitable for beginners, though Green Bay can be a lot of fun.
3. Fulong, New Taipei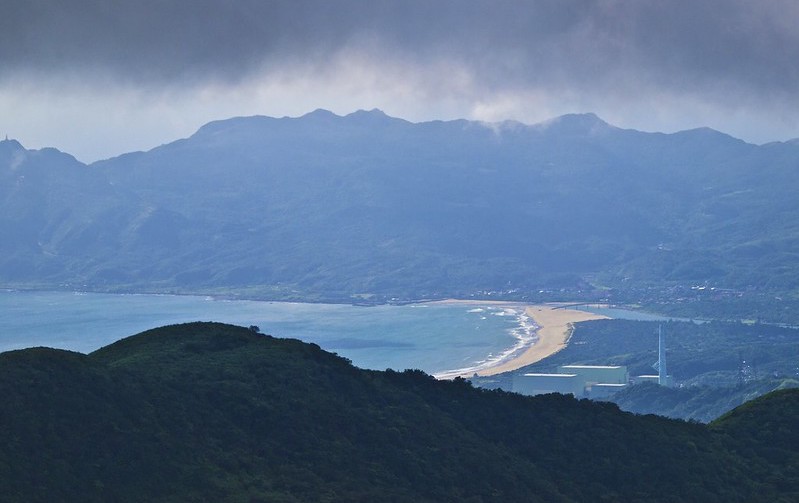 One of Taipei's more developed beaches Fulong is more widely known a place to loll around on the sand — or check out the gigantic sand sculptures that are built here every July. The main beach is a slim finger of sand that follows a river estuary and there's a fee to access it. But the best surfing is supposedly on the free side of the beach (to the right of the river mouth down toward the temple.
Fulong breaks both left and right, with the righties giving up some lovely long rides when the conditions are right. But be aware of rip tides, which can be quite strong when the wave height reaches around 2m .
If you don't have your own board, you'll find rentals at guesthouses in the town. Being Homestay is one option just over the highway.
4. Yuguangdao, Tainan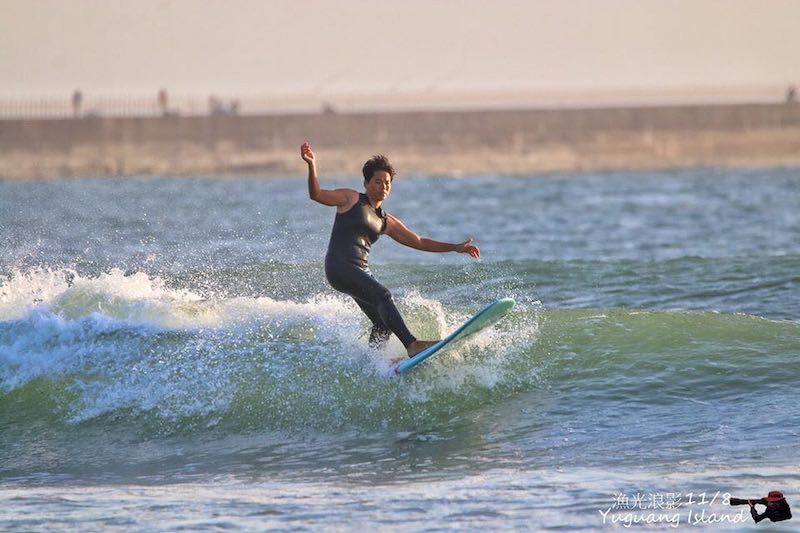 Western Taiwan generally has doesn't have the best reputation for surfing, but some pretty satisfying sessions can be enjoyed at this southern favorite located just over from Tainan's Anping District. An artificial island, Yugangdao was a pretty unpleasant city backwater until recently, with nothing of interest but an abandoned (and supposedly haunted theme park). These days, though, it's in much better shape, and is a cute spot to watch the sun set over the Taiwan Strait.
Waves wise, the Yuguangdao can turn out some nice rides in the summer when typhoons and southwest fronts bring better swells. It's a beach break with both lefties and righties when conditions are right. However, it's a good idea to stay away from the south side of the beach, as fisherman often put out their nets there.
5. Nanwan, Pingtung
With white sand and cerulean waves, Nanwan in Kenting is one of Taiwan's prettiest surfing beaches. It's also one of the most popular, and so you can expect crowds, especially on long weekends when people flock downs from the cities.
Overall, the beach offers a bit of everything, with a strip of bars and restaurants at the east end of the beach and activities like banana boats and jet skis. The surfing is generally concentrated at the west end of the beach, just before the abandoned military bunker. The swell is pretty gentle most of the time, and with a couple of rental shops offering lessons just next to the restaurants, this is a good spot to check out if you're surfing for the first time.
For more advanced surfers, Nanwan is great for short borders on bigger days. You'll sometimes get barrels too.
6. Jialeshui, Pingtung
Following the coast round past Taiwan's Southernmost Point, Jialeshui is hallowed waters for Taiwan's surfing community. Officially known as Gangkou Beach, the spot is located just outside a National Scenic Area and feels worlds away from the heavy development and commercialism of more popular nearby areas like Kenting Night Market and Baisha Bay.
Flanked on both sides by looming forested mountains, the beach is easily one of Taiwan's prettiest. Like Fulong, a river intersects the beach, emptying out into the Pacific. Unlike Fulong however, one of the breaks flows back in toward the estuary, providing the novel experience of getting on your board in salt water and hopping off into fresh water.
On smaller days this break is fantastic for long boarders, offering some lengthily glides back toward the beach. And when the swell picks up you can get barrels here too. Additionally, Jialeshui has a second reef break located at the north end of the beach, which is good for those whose stance is goofy but sometimes best to stay clear of when the tide is low and rocks are more exposed. You can get a more detailed rundown of this beach at one of the handful of tiny guesthouses up in the village. Summer Point is a great one run by a veteran surfer that also offers cozy affordable rooms and a decent kitchen. All in all, you don't go to Jialeshui and come away feeling anything less than 100% satisfied.
7. Daxi, Yilan
Also known as Honeymoon Bay, Daxi is a relatively sheltered crescent-shaped beach twenty minutes' drive up the coast from Toucheng. Being around two hours' drive from the capital, you can expect it to get fairly busy on weekends. But greater distance from the bus Yilan-Taipei highway tunnels and the Toucheng bus stations means that things aren't as crowded here as they are further down the coast.
Daxi is a pretty barebones surfing experience, which might be why it ranks so highly with local surfers. A marquee for rainy weather and a single bare-bones shower are all you can expect in terms of facilities. Though a guesthouse does rent boards if you need one.
The beach itself is a beach break that can give you some lovely long rides if conditions are good, though do be aware of rocks, especially on the south end of the beach.
8. Double Lions, Yilan
Shuangshi, as it's known in Chinese, is a protected inlet just north of Wai'ao, separated from the main beach by a large white Islamic mansion (the N$300 million private residence of a local business tycoon).
A strip of guesthouses, surf rental shops, and schools along the beach provides everything you might need. The spots are a beach break with leftys and rightys all the way down the shore. Though on past trips the breaks in the center and on the right-hand side of the beach have been more consistent. Be wary of the far left-hand side as the current can take you around behind the rocks, and then someone will have to come rescue you. An advantage of Double Lions is that despite its proximity to Toucheng, most people are here to surf. So, you're less likely to have to worry about swimmers getting up in your space.
9. Wushigang Harbor, Yilan
Often referred to as Wai'ao, Wushigang is Toucheng's main beach, running up from the harbor toward Wai'ao train station. As one of northern Taiwan's most popular surfing destinations, you can expect crowds to come rain or shine, and it's known to be packed even on weekday mornings and when conditions are poor.
Still, surfers keep coming back to Wushigang. A lengthy beach break, which runs several hundred meters up the shore means that there's plenty of different spots to try on repeat visits. More experienced surfers may want to try swimming around the harbor, where a second break pushes back toward the wall. Be prepared for a longer paddle and check if conditions on the day are suitable for doing this. First timers meanwhile can pick up a foam board and practice their pop up on the beach breaks. The fact that most of the rentals are either on the sand or just behind the beach means that you can swap out your board if it's not working for you without losing too much time.
10. Duli, Taitung
Midway down the Taitung coast, the indigenous village of Duli/Torik is best known for its Amis heritage and sheltered, half-moon beach, which at full tide is a popular Instagram spot. The beach, also known as Secret Cove, is pretty popular in the summer but doesn't tend to get overrun with surfers. A couple of shops in the village, including Torik Ocean Surf can sort you out with board rentals. And there are a couple of secret surfing spots in the surrounding area too, but you'll have to find those for yourself.
11. Donghe, Taitung
Located in Donghe, Taiwan's unofficial surf capital, Jinzun hosts Taiwan's National Surf Competition every November, drawing in some pretty serious talent. Most of the time, most of the people in the water here are seasoned locals, but the long drive from Taipei and Kaohsiung means that you'll never see the kind of crowds here that you would in Yilan. Jinzun is a consistent beach break, turning out leftys and rightys that push in toward the harbor wall. The distance from the break to the shore tends to be pretty short though, so you'll need to be good at maneuvering your board if you want to get a good ride here. Jinzun can get big year-round, but especially in winter when it's not at all suitable for first timers. Most shops in the village don't rent out beginner boards during that time anyway.
12. Xiaoyugang, Taitung
On the other side of the harbor, Xiaoyugang is a much better spot for lower intermediates. Featuring a point break at the harbor wall and a reef break further in, the spot is very sheltered from wind, meaning that you can often still surf here when the rest of Taitung is blown out. What's more the layout of the spot means that the waves here consistently break in the same spot, meaning you can spend more time up on your board and less time sat around trying to predict the break.
The flip side of this is its quite a long paddle out to the break, and you'll have paddle out every time a fishing trawler needs to come in or out the harbor, which happens once or twice a session. In short, expect to come away from Xiaoyugang with sore arms and a big smile.
Featured photo: Gian Luca
More about Taiwan outdoors