"Appearance is more than the way someone looks, it's about one's attitude and respect to life quality and details. A barbershop is a place where a gentleman's etiquette and exquisite tastes are created, exclusively for men."— TaiwanBarbershopTravel
How much do you know about Tainan? In addition to delicious food and a large number of big and small temples, Tainan is also a city with the highest density of old-fashioned barbershops in the country. From the Qing dynasty, to the Japanese Era, and on to modern times, Taiwan's barbershops have integrated various services and relaxing functionalities under the tutelage of Chinese, Japanese, and European barber systems, and created a unique Taiwanese style along the way. (More about Tainan: More About Tainan: How to do Madou and Shanhua)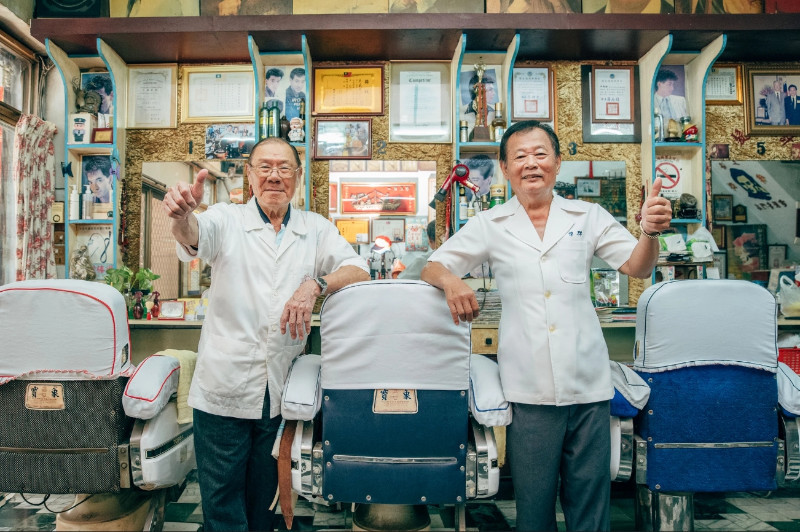 To know better about the culture of Tainan's barbershops, we need to start from the booklet Between the Barbers of Tainan (《從臺南老理容院出發,重返昔日老紳士的日常》). The booklet introduces the background of men's barbershop culture in Tainan, facial steps, interesting but rarely-known knowledge, and some barbershops that are still in business with the support of regular customers. We also spoke with Tseng Ching-chun (曾敬淳), who's in charge of the "Shampoo Our City" project (城市洗頭文化實驗) and a second-generation barbershop operator.
A Booklet, A Documentary, and A Hair Washing Vehicle
Tseng's family has run an old-fashioned barbershop, Huagu Barber Shop (華谷理容院), for nearly 50 years. It's one of the most symbolic barbershops in Tainan. In 2015, she went home to help with her family's business. She also happened to discover another old-fashioned barbershop, Mei-Na-Shi Barber Shop, (美娜士理髮廳, since 1963) when she was waiting for a traffic light to change. In talking with businessowner Huang Chi-hui (黃機會), Tseng realized that there are so many old-fashioned barbershops in Tainan, prompting her to interview barbershop operators and even promote barbershop culture.
In 2017, thanks to the collective efforts of Tainan's barbershop community, Tseng published a barbershop booklet based on the idea of a mobile exhibition. Travelers can make a reservation at barbershops with the booklet and share their thoughts with business operators. In other words, it's like a timeless, time-traveling exhibition of barbershops in the city.
However, within two years of the publication, four barbershops closed. In addition, the owner of Chi-Kan Barber Shop (赤崁理髮室) passed away. Thus, Tseng decided to speed up her documenting of various old-fashioned barbershops. In 2018, she made a hair washing vehicle that allows travelers to have their hair washed while enjoying the view of Tainan between old-fashioned barbershops downtown. When the vehicle is not moving, it can serve as a movie theater where documentaries of barbershops are played or lectures are held, just like the performances during a pilgrimage in front of Tainan's temples. This marked the beginning of the Shampoo Our City project. "I hope barbershops in Tainan and even throughout Taiwan can be a starting point for everyone to explore their cities," Tseng says.
Since its humble beginnings, the Shampoo Our City project has extended further still. For example, a Japanese version of the barbershop booklet was published in 2019 as another way to introduce Taiwan to the international community, creating a familiar but novel experience. The exhibition/book Smiling Barbers (理容院笑咪咪) curated last year no longer focuses on disappearing barbershop culture, but instead on the personal interests of barbers after hours. For instance, all of Tseng's mom's clothes are made of materials selected herself and are tailor-made. The project's picture were illustrated by the Zhao-An Barbershop (昭安理容院) operator, depicting eight barbers and their hobbies, unveiling a classic image of Tainan's.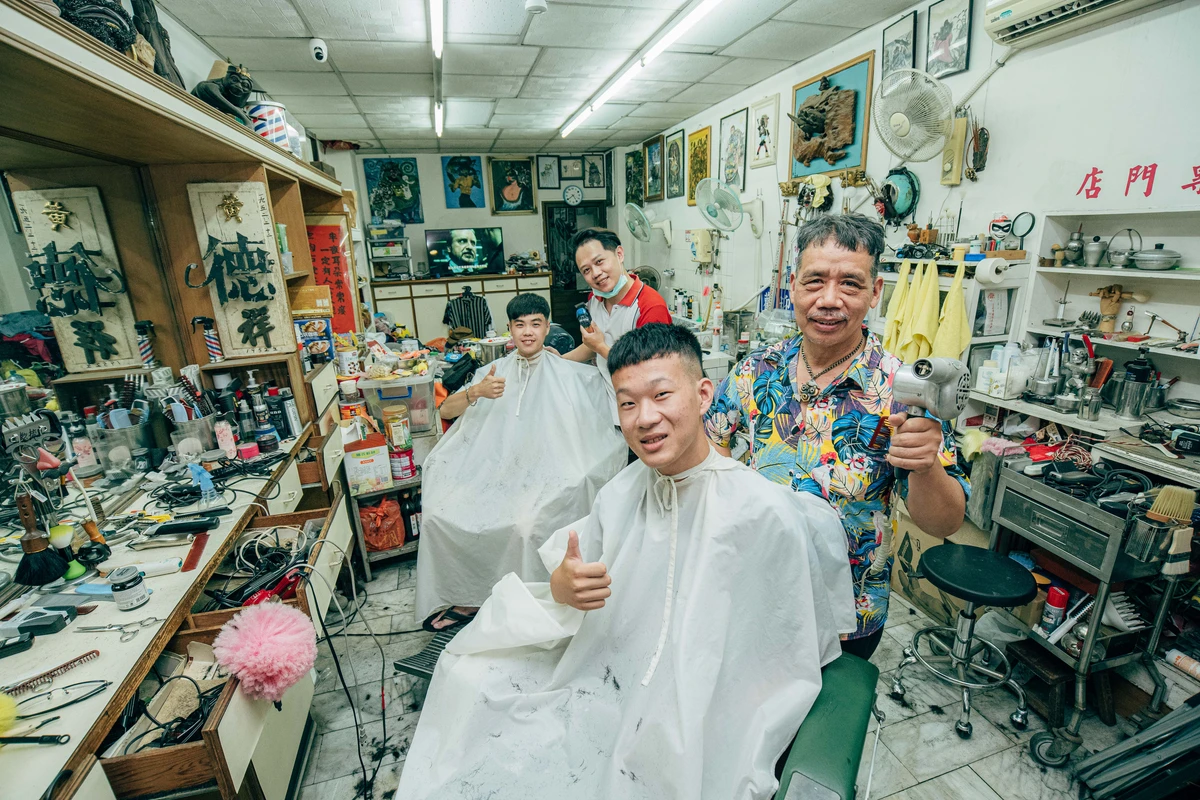 "To you, barbering is…?"
The event is open to people of all ages. From July to September, people who have participated in printmaking or online workshops can experience barbering services in person and answer the question, "To you, barbering is…?" Their thoughts will be shared via an online publication.
The Barbershop Travel booklet has also become a publication that pushes for collective action. With her life experience, Tseng recorded the glorious past of Tainan's old-fashioned barbershops, connecting young and old generations, the passing on of invaluable life experience, and city travel through barbering culture, passing down exclusive city memories, while seeking understanding of the people, things, and places that are closest to her heart.
"This year, I tried manicure services for the first time. The barber said, 'Your nails are round and almond-shaped, different from your sister's, but similar to your father's.' It was a comfortable and bizarre experience. To me, barbering is taking care of ourselves. Don't forget to treat yourself better!"
More Southern Taiwan…