Are you planning a trip to Taiwan? You will definitely want to check out the incredible hiking trails crisscrossing their way all over the country. Taiwan is well-known for being covered by mountains and forests, making it an excellent place for nature lovers to explore. 
Taiwan features hiking trails that allow you to experience and enjoy many incredible attractions on your route. These trails feature different difficulty levels to make it easier for hikers to choose one that suits their capabilities. 
From simple strolls in nature to more challenging climbs to a high mountain peak, you'll find the perfect trail for you. So, if you're a hiking lover, here are a few historic trails you should try in Taiwan.
Ruitai Historic Trail 瑞太古道
The Ruitai historic trail connects the towns of Ruili (瑞里) and Taihe (太和), covering a distance of 5.2 kilometers in rural Chiayi (嘉義). The Ruitai Trail features the incredible scenery of the Moso Bamboo Forest and virgin broadleaf forests. (Read also: A Guide to Hiking in Alishan)
These forests are home to different indigenous plants and animals you may encounter while exploring the trail. Other lovely sights include giant stout camphor trees, the "cow pen"  a structure surrounded by mud walls, representing the wisdom of the early occupants, the husband-and-wife tree that from a certain angle look like they are holding hands, and of course the beautiful misty mountains themselves. 
The views change as you get to the top of the trail, introducing you to a breathtaking valley filled with tea farms and betel nut trees. The calm and peaceful environment on the Ruitai Historic Trail is one to experience. During the firefly season, the views you get while hiking this trail are elevated to one-of-a-kind status. The estimated duration to complete this trail is just over three hours.
All in all, it's a one-day adventure that allows you to fully experience the trail the Han and indigenous Tsou people once used for their commute, as well as to trade and ship their goods quickly.
Alangyi Historic Trail 阿朗壹古道
The Alangyi Historic Trail covers eight kilometers and passes through Pingtung (屏東) and Taitung (台東) counties. It is estimated to take four to five hours to complete the hike including rest periods and leisure stops. 
The Alangyi historic trail has been preserved well over the years, considering it was built during the Tonghzi (同治) era of the Qing dynasty. Back then, this route was used by indigenous tribes to facilitate easy transportation of goods for trading. (Read more: Hiking in Taiwan: A Seashore Trek along the Alangyi Historic Trail)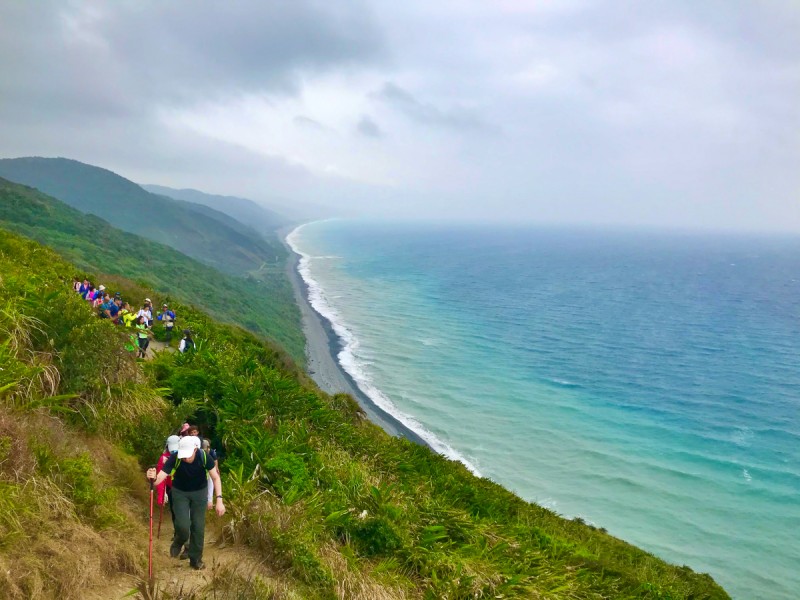 This trail is found on the southeastern coast of Taiwan and does not feature shade from trees in the forest like other historic trails do. 
With this in mind, exploring this trail when the weather is a bit more favorable, like early spring or when the sun is not too hot, is advisable. It will enhance your experience while exploring this magnificent hiking trail.
On the Alangyi historic trail, you can expect a dose of different scenery, like incredible mountain vistas, the blue pacific ocean, a unique pebble beach, and the overall beauty of the breathtaking Taiwan landscapes. 
Nenggao Historic Trail/Nenggao Traverse Trail 能高越嶺古道
The Nenggao Historic Trail begins in Nantou (南投) County and goes on to Hualien (花蓮), passing through the Qilai (奇萊) and Nenggao series of trails. This historic trail is a long one that takes at least two to three days to complete.
Going for an adventure on the Nenggao trail will include packing a backpack to ensure you have everything you'll need for your hike. In addition, exploring this trail will immerse you in the rich history it embodies.
The Seediq tribesmen (賽德克族) used the Nenggao trail to travel and hunt. During your trip, you'll see the area these local tribes used as hunting grounds. Unfortunately, the Japanese used these same grounds to subdue the tribes. But, after the Japanese Era, this trail became Taipower's high voltage cable maintenance route.
The incredible scenery on the Nenggao Trail makes the hike worth the time and effort. You can expect breathtaking views of the Danda major wildlife habitat, mountain views, virgin forests with giant trees, waterfalls, mountain springs, deep gorges, ravines, and Qilai Lake.
If you're looking for an action-packed adventure, the Nenggao Trail is the one for you. It will immerse you in the region's rich history and expose you to breathtaking and unforgettable views.
Tamsui-Kavalan Trail (淡蘭古道)
The Tamsui-Kavalan Trail is a network of paths and roads connecting Tamsui and Kamalan (Taipei and Yilan in the present day). It holds over 200 years of history, playing a significant part in Taiwan's social, political, and economic development. (Read also: Nuannuan—Five Surprising Things to Do in Keelung's Backyard)
This trail is unique since you can take different paths to explore the incredible scenery around you. It is divided into three parts: the northern, middle, and southern trails. 
The northern trails cover the mountains between Ruifang (瑞芳) and Dali (大里). On these trails, you'll see inscriptions from ancient officials. On the outskirts of Ruifang, you'll find a temple (containing a tablet dedicated to Bailan who pioneered most of these northern trails) while exploring the Caoling Trail (草嶺古道) and Jinzibei Trail (金字碑古道). 
The middle trails start from Nuannuan (暖暖) and go on to Neiganjiao (內柑腳) Village, where the route separates into two paths to converge later at Sanshuitan (三水潭). While exploring these paths, you'll pass through the old mining town of Shifen (十分) and enjoy surrounding forests with clear streams.
The southern trails cover Zhongpu Mountain Trail (中埔山步道) in Taipei, ranging all the way to Yilan. While exploring this route, you'll enjoy the sight of beautiful tea bushes as you trek towards Shiding (石碇) and Pingling (坪林).
Syakaro Historic Trail 霞喀羅古道
Syakaro is another great Taiwan historic trail to explore that may take up some of your time, but will expose you to beautiful views in return. This trail connects Wufeng (五峰) and Jianshi (尖石) townships in Hsinchu county (新竹). It covers a distance of 21.6 kilometers, with an estimated two days required for completion. During the Japanese Era, the Syakaro Trail was a police patrol road, where police stations and artillery batteries were situated. 
The views from this trail are breathtaking, making the two-day adventure totally worthwhile. Some scenic experiences include beautiful suspension bridges, rare foliage such as cherry and cedar grooves leaves, bamboo trees, and river valleys. In addition, during autumn, the hills are covered in red, making for a beautiful sight.
Tianmu Historic Trail 天母古道
The Tianmu Historic Trail is relatively easy to hike and only takes a few hours for you to explore and enjoy the incredible scenery. This trail features different footpaths near Yangmingshan (陽明山) along a water main.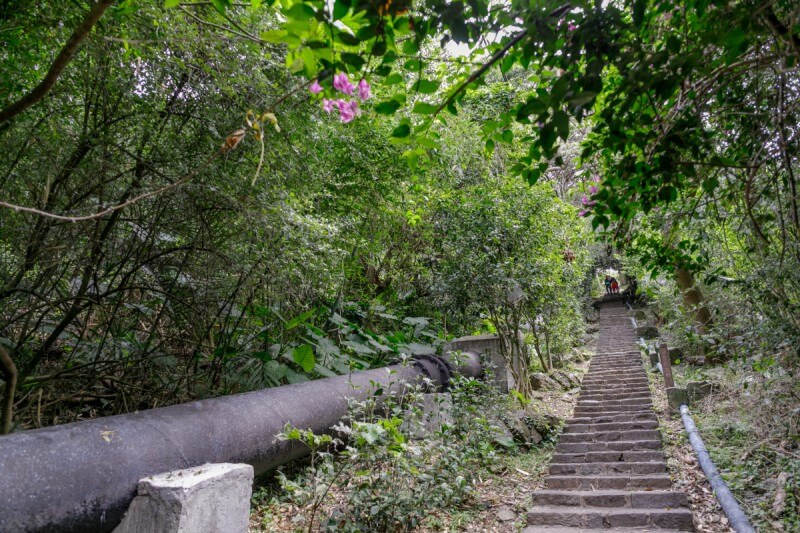 The different footpaths lead to various attractions and feature great shade, allowing you to hike in the summer. The Cuifeng Trail (翠峰古道) is one of the footpaths that leads to Cuifeng Waterfall (翠峰瀑布) within an incredible broadleaf forest. This path also leads to the Huodong industrial road.
The ecosystem along the Tianmu Historic Trail makes it a great option to explore. You may come across some monkeys on your hike and also see other animals in the trees such as Magpies and Lizards. However, it is advisable to avoid feeding the monkeys to prevent getting injured, as they have been known to fight for food.
Jinshuiying Historic Trail 浸水營古道
The Jinshuiying trail starts in Pingtung County and ends in Taitung County. It covers a distance of 18 kilometers, and takes several hours to complete. This ancient trail crosses the central mountains and features a vibrant history. Many ancient ruins such as the Kantouying ruins can be seen while hiking the Jinshuiying Trail. 
While en route, you'll enjoy views of local wildlife like wild boars, pangolins, and several species of birds. You'll also come across a suspension bridge surrounded by incredible forest cover. As you explore this historic trail, the views shift with the ever-changing terrain, so you'll never be bored.
Words by Nicole McCray
More Amazing Trails in Taiwan