Author Rick Charette
Photographer Yuskay Huang, Parks and Street Lights Office, Geotechnical Engineering Office, Public Works Department, Metro Taipei 
People in Taiwan have developed a passion for the bald cypress over the last decade or so. These elegant trees, which grow tall and comparatively thin, turn russet red, golden yellow, and tawny brown in late November/December, and sometimes can hold on to their colors into March according to weather and climate conditions. Over the pages to come we'll take you on a quick-tour of some of Taipei's prime destinations for breezy weekend outings, all easily accessed via public transportation.
In recent times local authorities, looking for a pretty decorative plant to cultivate in abundance that would add dynamic splashes of changing color to tourist landscapes, have found that the bald cypress — which hails from the southeastern United States and is also called the swamp cypress — handles Taiwan's lower-elevation heat, humidity, and oft-wet conditions superbly. It now graces parks, roadsides, tourist-railway-sides, riversides, trailsides, and other travel destinations all around this fecund land.
Lishan Park 麗山公園
🚍Transport S12 bus from MRT Kunyang Station, Bannan Line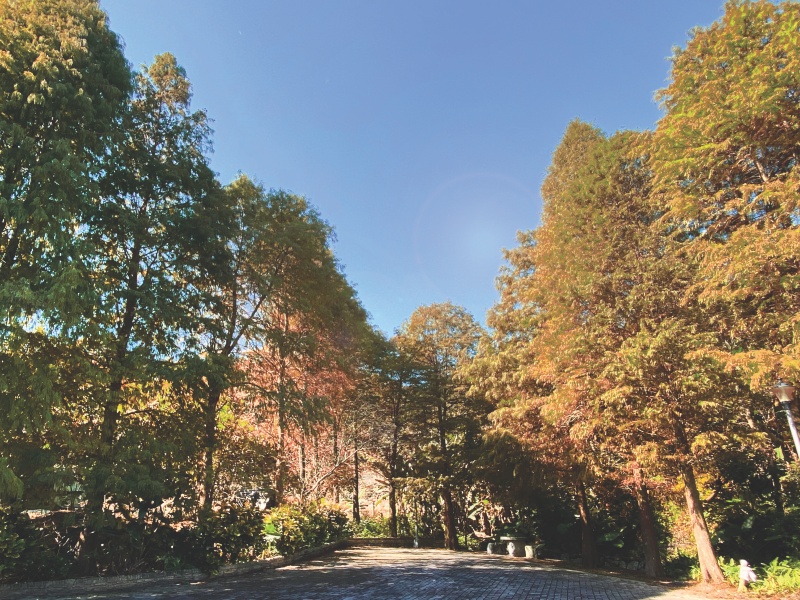 Also called "Lishan Farmers' Square (麗山農民廣場)", this is in the quiet and comparatively sparsely populated Nangangshan (南港山, Mt. Nangang) area just southwest of Academia Sinica (中央硏究院). The thickly forested small park is heavy with bald cypresses, found all around the roadside square and along the meandering stream-side pathways. The roadside stone-paved square has attractive Japanese-style rest pavilions. Further inside, the most-photographed spot is two side-by-side heart-shaped stream crossings made of stones, arched bridge behind, with bald cypresses all about.
Lengshuikeng Trail 冷水坑步道
🚍Transport S15 bus from MRT Jiantan Station, Tamsui-Xinyi Line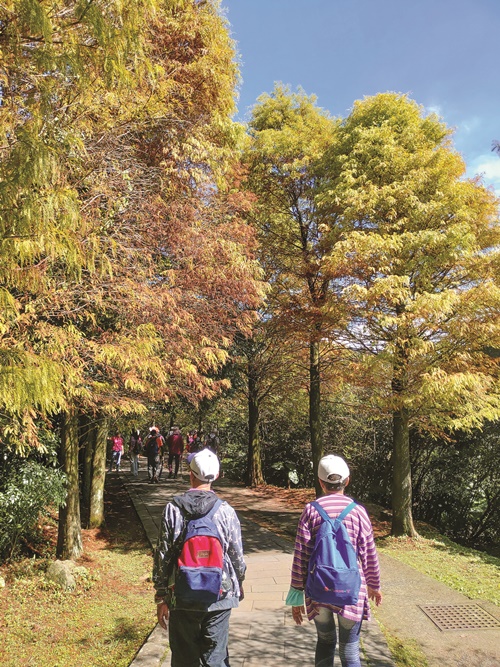 The bald cypress can also handle low-mountain conditions, as evidenced by its stately presence along Yangmingshan National Park's (陽明山國家公園) Lengshuikeng Trail. "Lengshuikeng (冷水坑)", literally "cold water craters/pits," is an area complete with natural hot springs, a free public hot-spring bathhouse, waterfalls, hiking trails, wildlife, and a visitor center. Why "cold water"? Because compared to the surrounding hot springs, these are Yangmingshan's (Mt. Yangming) coolest hot-spring waters, about 40 degrees Centigrade.
The bald cypress can be found right next to the visitor center and spread out along both sides at the entrance of the trail. The Lengshuikeng area sits right against the base of mighty Qixingshan (七星山, Mt. Qixing), Yangmingshan's tallest mountain. When the weather turns cold, shutterbugs love capturing the colorful bald cypresses with the swaying silvergrass of the mountain's steep slopes as background, especially in the early mornings when there's a frost coating.
Dahu Park 大湖公園
🚍Transport MRT Dahu Park Station, Wenhu Line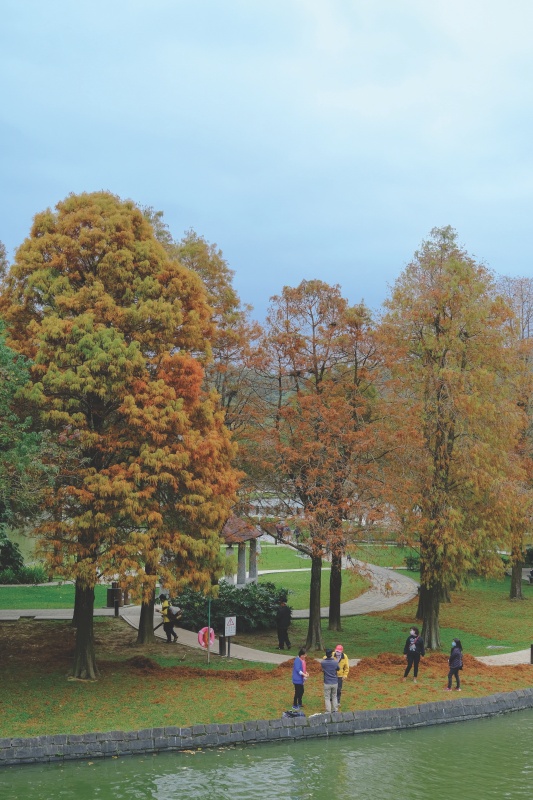 This large landscaped park is Neihu District's most iconic scenic attraction. A densely populated flatlands area is laid out along the base of the city's northeast- side mountains, and Dahu Park sits at the innermost end of a basin formed by a mountain spur. The trailheads of a number of popular hill-hiking trails begin just outside the park grounds.
"Dahu (大湖)" means "big lake," referencing the park's expansive 13-hectare mirror-like centerpiece. "Neihu (內湖)" means "inner lake," referencing the lake's basin-head position. Bald cypresses are found in stands along the water's edge and elsewhere around the grassy grounds. Over the water itself are the park's most camera-captured beauties, each built in ancient Chinese imperial style: a long arched bridge named Moon Bridge (錦帶橋) that crosses the lake, and a zigzag bridge that ends out in the middle at rest pavilions with bright-red pillars and golden-yellow ceramic-tile roofs. Avian beauties in abundance also add splashes of color on the still waters, notably egrets aplenty.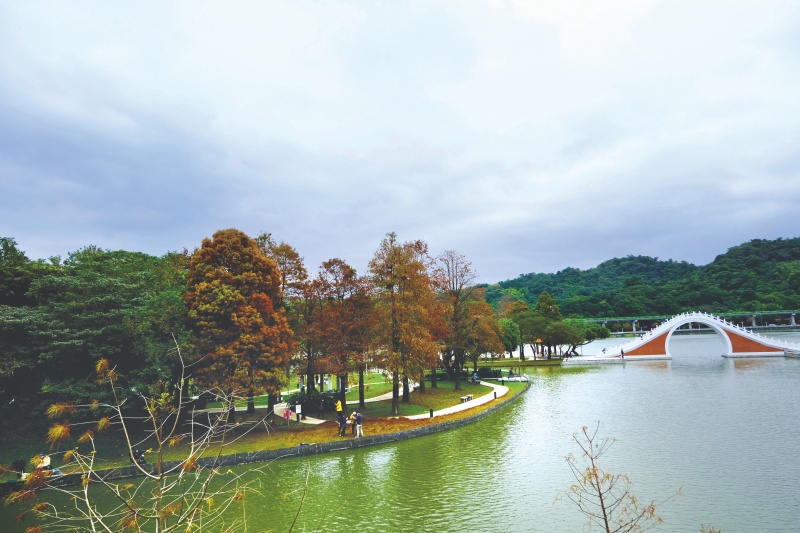 The park is always busy on weekends, with picnickers, fishermen, and folks strolling the scenic pathways for exercise or romance. If you visit here in autumn or winter, you will see the beautiful bald cypresses mainly distributed in three parts of the park such as the grassland area, the playground and in front of the Moon Bridge.
Indigenous People's Park 原住民文化主題公園
🚍Transport 255 shuttle, 815, S18, or S19 bus from MRT Shilin Station, Tamsui-Xinyi Line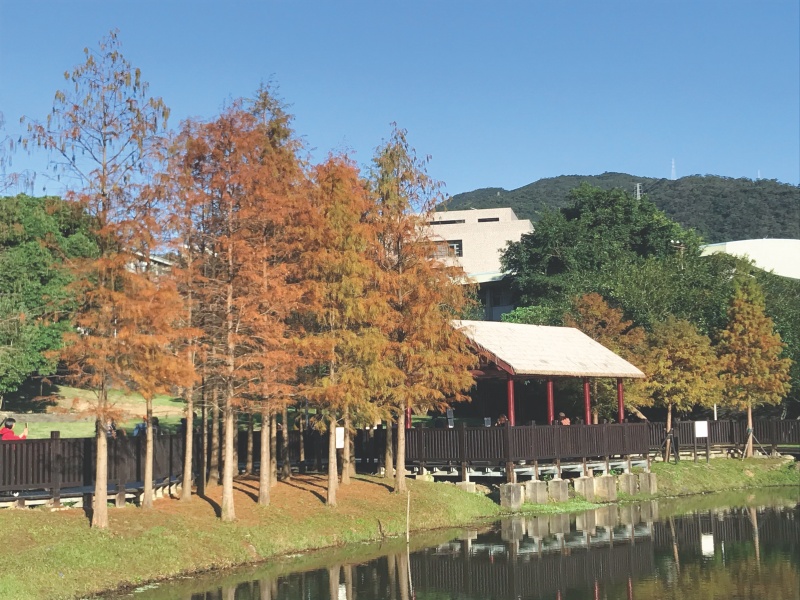 Across the street from this park in Shilin District is the Shung Ye Museum of Formosan Aborigines (順益台灣原 住民博物館). Beside it is the famed National Palace Museum (國立故宮博物院). Sitting in a narrow river valley, the north-side backdrop for the park and the museum is the mighty Yangmingshan massif.
Moving from the street to mountain base, the grassy park has a long, roughly hourglass shape. A paved- pathway corridor runs the length of the grounds, bringing visitors past artworks and information signage that provide understanding of Taiwan's indigenous cultures — most dramatically, large sculptures of a warrior showing traditional headgear and facial tattoo, the antlered deer sacred to some tribes, and a line of bas-reliefs displaying figures from different tribes in traditional attire.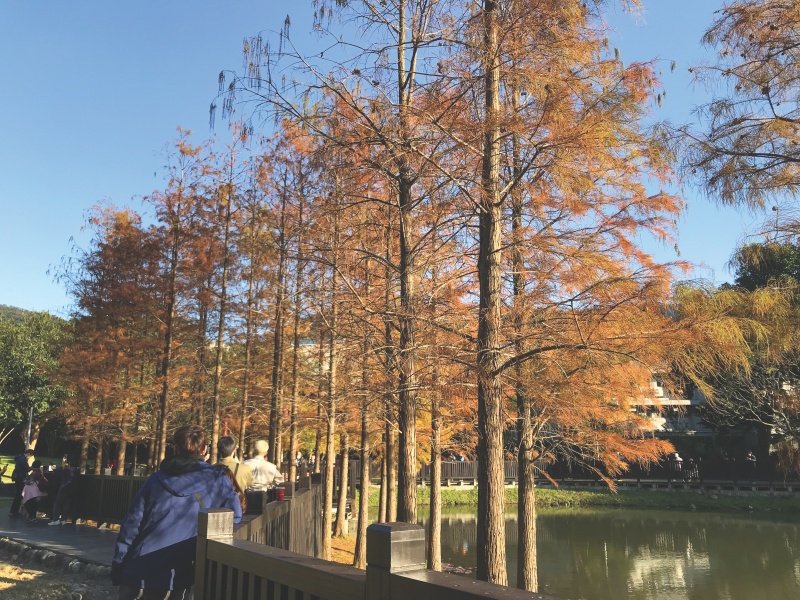 In the back section is a compact, serene lake. This is where the bald cypresses are concentrated. A thin line of young cypresses runs along one side by the pathway, and at the lake's rear is a thick stand of older, taller trees in two staggered rows crowding the water's edge, with a dark-stain wooden viewing pavilion beside. This is the most photographed spot — trees and pavilion reflected in the still water, mountain base as backdrop. The scene is at its most lovely when the colored cypress needles begin to fall and dapple the lake's surface.
Guizikeng Soil and Water Conservation Education Park
貴子坑水土保持教學園區
🚍Transport 216, 218, or 602 bus from MRT Xinbeitou Station on Xinbeitou Branch Line; bus stop across from station on Zhonghe St. (中和街); 15 min slight uphill walk after disembarking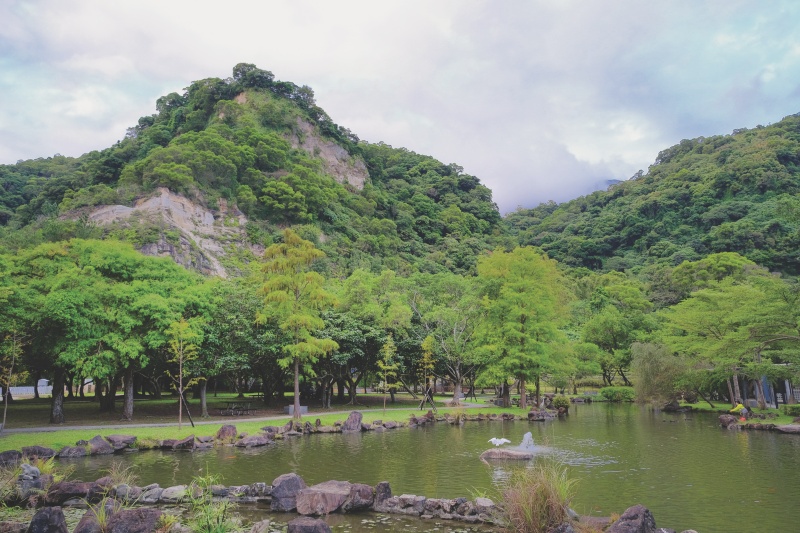 This small, verdant park is in a shallow valley at the base of the Yangmingshan massif in Taipei's northwest, in Beitou District. Long mined for sandstone and clay, the denuded valley was prone to landslides and caused flooding on the flatlands below. Since the 1980s it has been a showcase for soil and water conservation, using plant maintenance and grid-type slope protection. Educational sessions are regularly held, and there is abundant explanatory signage and demonstration facilities, with good English.
In the park's middle is the small, exceedingly pretty Valentine Lake (情人湖), busily populated with herons, egrets, turtles, and other water-loving denizens. This is where the majority of the bald cypresses are found, standing tall and thin by waterside, mixed among a compellingly pretty selection of other landscape trees. There's also a line of significantly taller and thicker cypresses at the park's rear (upper end). As you look up-valley across the lake, adding greatly to the scenic drama is a massive bare-rock cliff looming over the park. This is the Taipei region's oldest exposed geological formation. A boardwalk trail brings you right to its edge.
Fuxinggang Bald Cypress Trail 復興崗落羽松步道
🚍Transport MRT Fuxinggang Station, Tamsui-Xinyi Line
This short urban trail, just a few hundred meters long, starts immediately past the east end of this Beitou District metro station beside a YouBike (微笑單車) bike-rental station; turn right after going out Exit 1.
It is in a narrow corridor between the metro line and MRT Beitou Depot (捷運北投機廠) works on one side and the tiny backyard plots of old, low-rise residential buildings on the other. The path is a mix of low-raised boardwalk and ground-level pavement. The close- planted bald cypresses line both sides in some sections, trees intersecting and forming a tunnel effect, just one side in other very narrow corridor sections. Decorative bushes and flowers planted in quantity fill out the painter's canvas.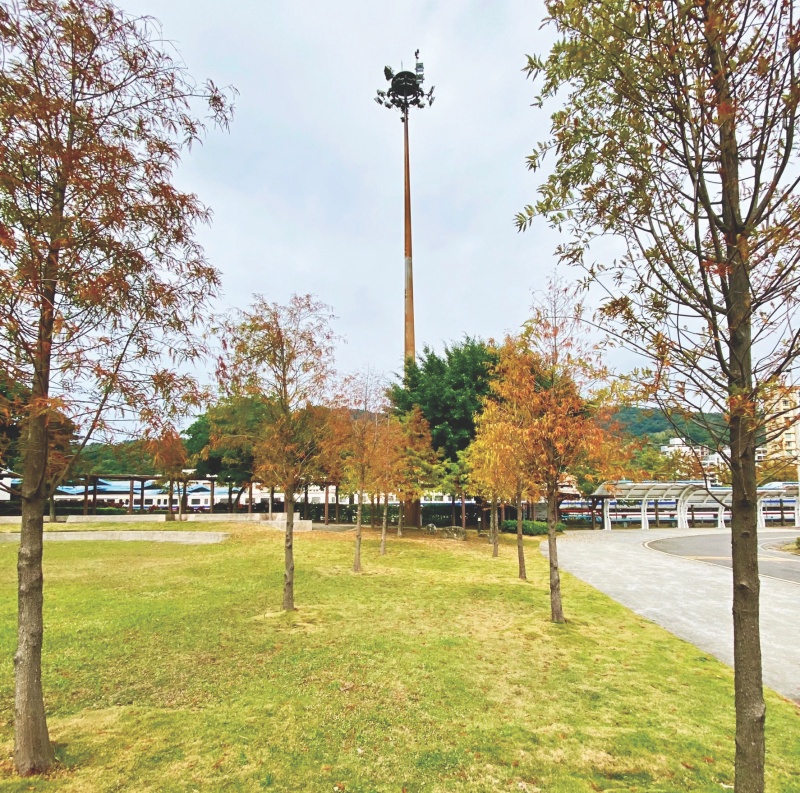 In two long sections, parallel to the pathway, artistic faux railway tracks have been created using wooden rail sleepers overlaid lengthwise with flat metal runners, concrete blocks laid between the sleepers as filler.
Cicada-song is frequent. The setting is especially richly hued and textured at sunset, when the reddening sun is allowed long, unfettered access over the open depot yards and the cypresses are set aglow.
This article is reproduced under the permission of TAIPEI. Original content can be found on the website of Taipei Travel Net (www.travel.taipei/en).
Greenspaces in Taipei: