Author Jenna Lynn Cody
Photographer Yuskay Huang, Department of Information and Tourism, Taipei City Government, Taiwan Scene
Every winter, Taipei decks itself in golden light for two separate yet equally spectacular celebrations: the Lunar New Year and the Lantern Festival. Especially during the Lantern Festival, many stunning illuminations and alluring light installations can be spotted on the streets, adding a unique and lively atmosphere to Taipei's nights.
Taipeiers, famous for staying up late for food and drink, will also go out of their way to enjoy glittering night views from one of the city's many scenic spots, and there are indeed a plethora to choose from. Taipei may be in a natural basin bisected by rivers, but it's also surrounded by mountains and dotted with hills.
You don't need to climb a mountain to enjoy Taipei's nighttime views, however. Lively street scenes in the city's many shopping districts and quietly lit historic sites provide the chance to stay out late and enjoy the city after dark. Whether you want to stay downtown and shop, eat and look at beautiful architecture or head up to one of the many observation decks in the mountains around Taipei for an unparalleled night panorama, there's always a reason to stay out a little longer. As such, we've curated six of Taipei's top spots for enjoying the city at night, from urban delights to quiet semi-rural spots that can be reached after the sun goes down.
🌟The City at Night
Although Paris is the original "City of Light," Taipei has plenty of night scenes to compete for the title. You don't need to go to the top of a building or head up a mountain road to enjoy Taipei after dark; vibrant street life and historic sites open after sunset offer plenty of opportunities to enjoy the city.
Xinzhongshan Linear Park 心中山線形公園
Originally the path of a railway line crossing Taipei, the long park that connects MRT Stations Zhongshan (捷運中山站) and Shuanglian (捷運雙連站) is packed with families, shoppers and cafe-goers during the day.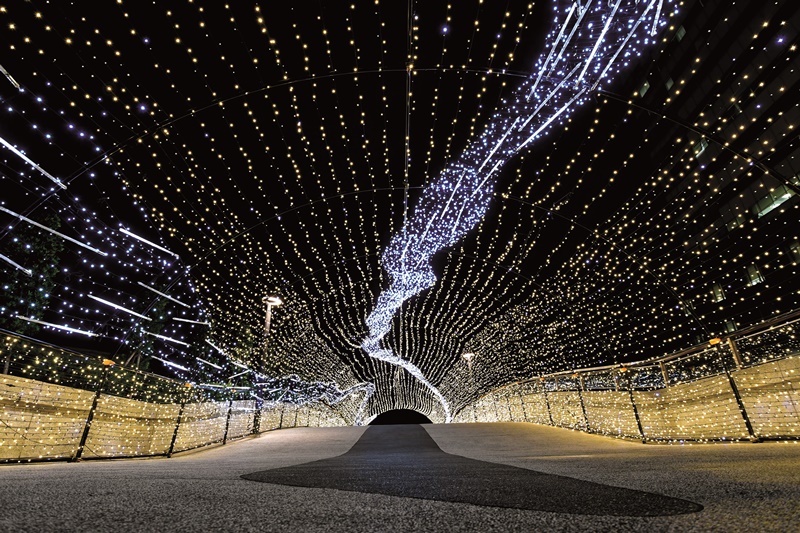 Xinzhongshan Linear Park is also a great choice to take a walk in the evening. There are often various kinds of lights and art installations on display that brighten the city according to the calendar, such as the shining decorations of Christmas during the holiday season that paint Taipei with a rich, eventful palette. During Christmas time, Xinzhongshan Linear Park will be decorated with a 10 meters tall Christmas tree. There will be more people than usual for it and it is a famous, winter limited check-in spot.
At night, chic shops lining the park and nestled in the alleyways that branch off shine like gems, lighting up the city nightscape and reflecting Taipei's characteristically vibrant feel.
In sum, the lights here create the entrances that lead you to a dreamy, romantic experience while wandering between the eye-catching decorations and exquisite shops that will surely make your daily life into a fantastic fairytale.
Rongjin Gorgeous Time 榕錦時光生活園區
The neighborhoods around MRT Dongmen Station (捷運東門站) are filled with Japanese buildings once left to the elements, many of which are now undergoing renovations under the guidance of the Taipei City Government. Near the Jinshan South Road (金山南路) and Jinhua Street (金華街) intersection, a complex of buildings constructed in the Japanese colonial era (1895-1945) has been turned into a long walkway of old architecture, ancient trees and romantic lighting.
Originally built in 1905, the complex acted as a dormitory for government workers in the nearby Taipei Prison (台北刑務所). It was renovated as part of the Old House Cultural Movement Plan (老房子文化運動計畫) through the Taipei City Department of Cultural Affairs (台北市文化局), and recently opened to the public.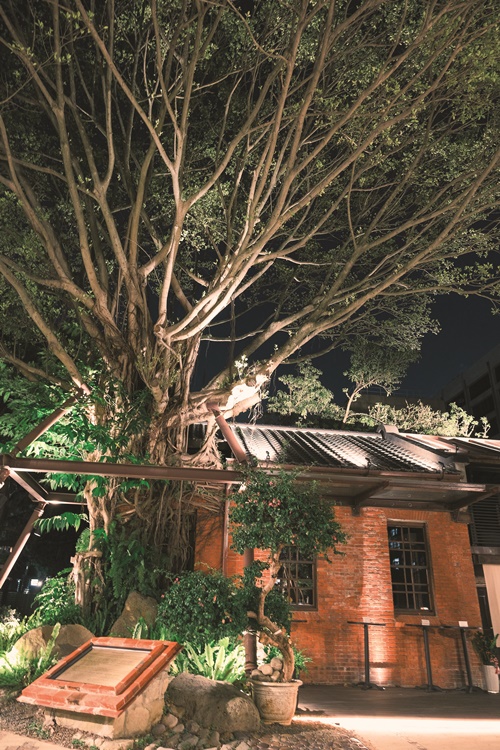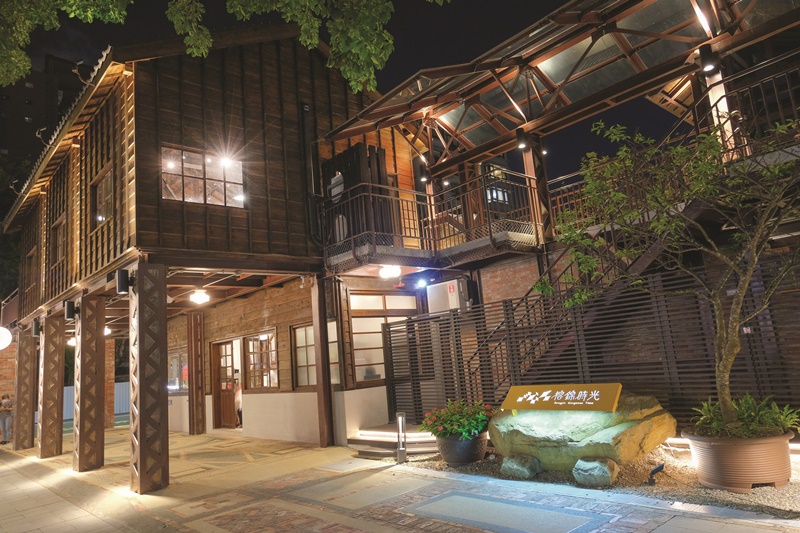 After sunset, the interplay of natural elements such as trees and stone with softly-lit traditional Japanese architecture make for a pleasant stroll to enjoy the evening air or snap photographs. The buildings themselves house cafes — one of which is pet-friendly — restaurants and shops. These include several Japanese restaurants and cafes such as Kyushu Pancake's Waffle (九州鬆餅瓦芙) and Jin Jin Ding (金錦町), famous for its gold-foil topped honey cakes.
Not only is walking down the long outdoor path a bit like falling back in time, but the renovation of these buildings imbued with a history into a gorgeous leisure spot shows how far Taiwan has come in modern times.
Taipei Confucius Temple 台北市孔廟
In Taipei, most temples close soon after dark. Confucius Temple, however, stays open until 9:00 p.m. most nights, and takes on a very different feel at night than during the day.
The temple was built in 1879, then destroyed and later rebuilt in 1930, although Confucian rituals were replaced by traditional Shinto ritual music until 1945. Before being restored to a fully functioning temple, it briefly housed the Examination Yuan (考試院) as well.
The temple's architecture is appropriately austere, as are most temples dedicated to Confucius. However, the Taipei temple is the only one in Taiwan festooned with ceramic decorations in the style of southern Fujian, despite being modeled after the Confucius Temple in Qufu, Shandong, China.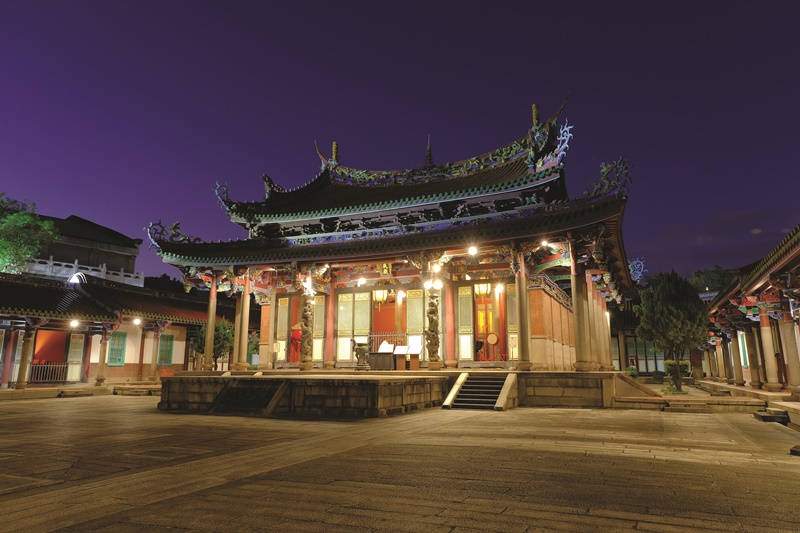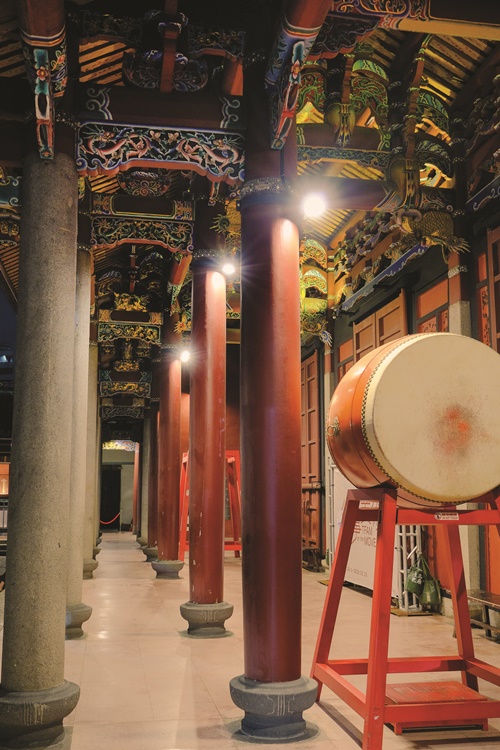 At night, the temple lights up so as to highlight the decor. It's said that the simple lines with fine ornamentation look more magnificent at night than by day, with the crimson, gold and cobalt blue of the temple's color scheme given a chance to shine under the spotlights and lanterns.
🌟Outdoor Light
Taipei's unique geography makes it possible to enjoy night views from any number of scenic overlooks and pavilions dotted along the hills encircling the city. From Hushan (虎山, Tiger Mountain) in the east to Beitou (北投) in the north and Maokong (貓空) in the south, there's always an option nearby. Featured here are three options that are reachable at night via public transportation, short drives or walks.
Hushan Peak Observation Deck 虎山峰觀景台
The views of eastern Taipei from Xiangshan (象山, Elephant Mountain) are well-known. It can get crowded at the end of the steep hike, especially at sunset. Just a little further down the road, however, is the observation deck on Hushan, with views to rival Xiangshan day or night.
Hushan also boasts a somewhat more relaxed ascent than Xiangshan; the slopes are gentler, and the trailhead can be reached fairly quickly by bus, leaving an easier hike to fantastic panoramas of Xinyi District. It's also reachable via MRT Houshanpi Station (捷運後山埤站), albeit with a longer walk.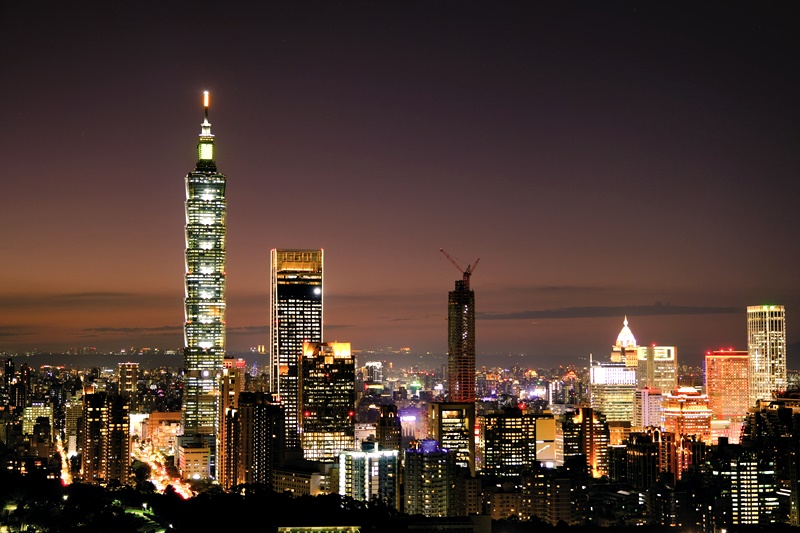 Whether you're after a glittering night view of Taipei 101 or a look at Taipei on a clear day, this outdoor spot offers a better chance at an uncrowded view and is easier on your knees. The Hushan Peak Observation Deck is quite easily reachable at night. While you probably won't be alone if you come up here on New Year's Eve or during other fireworks displays, you likely won't have to jostle as much for a prime view.
Beitou Four Seasons Corridor Observation Deck 北投四季長廊觀景台
This scenic overlook in the north of Taipei is a treat! The Four Seasons Corridor Observation Deck is along a road and reachable by car or bicycle, or via the S6 bus from MRT Beitou Station (捷運北投站).
Although the area is home to a maze of mountain trails, the Four Seasons Pavilion is one of the best spots to enjoy the unbeatable night view. You don't have to hike up any dark roads or trails to get here. Once here, you can feast your senses on the cooler mountain air and filtered light across Taipei Basin and the Guandu Plain (關渡平原), with views of the Tamsui River (淡水河) and the city beyond. Come at night to see Taipei glittering beneath you, or during the day in the right season to enjoy pink cherry blossoms up the mountain and at the nearby Wu Family Ancestral Hall (吳氏宗祠).
Maokong Zhangshan Temple 貓空樟山寺
Near Maokong Station (貓空站), the last and uppermost station on the Maokong Gondola (貓空纜車), the Zhangshu Trail (樟樹步道) offers an easy, family-friendly hike on a stone-paved walking trail with fantastic views. Taking the trail, you'll come to Zhangshan Temple, which offers commanding views across Taipei to rival the Maokong Gondola itself. From here, you can see all the way to Dadaocheng (大稻埕) on the other side of the city, and further still along the Tamsui River to Guanyinshan (觀音山, Guanyin Mountain). On a very clear day, you might even glimpse the ocean just beyond Tamsui.
The temple itself was built in 1931, but has been renovated since. It's a Buddhist temple dedicated to Guanyin, housing a stone which is rumored to perform miracles. What many don't know is that you can also walk this trail at night — be careful as it can be a little uneven — for unbeatable night views of Taipei laid out like a carpet of light below you.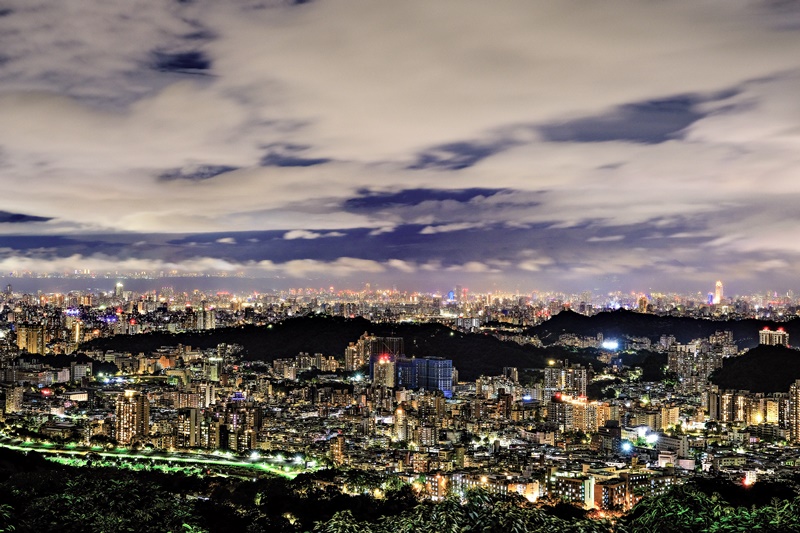 Nearby, enjoy tea and a meal at any one of the neighboring teahouses; Maokong has many to choose from. The Maokong Gondola and several bus routes run along the mountain after dark, making the night view accessible and Zhangshan Temple easy to reach.
This article is reproduced under the permission of TAIPEI. Original content can be found on the website of Taipei Travel Net (www.travel.taipei/en).
Nights in Taipei: