Author Catherine Shih
Photographer Samil Kuo
The nostalgia behind CDs and cassette tapes in the music business is often compared to that of a classic, old- fashioned romance — both are timeless and enduring. In fact, in recent years, there has been a whole new revival of these beloved mediums among consumers. Connoisseurs love the detailed qualities of the sounds, but young people take it as trendy art collection.
We explore two record shops, BTB Music Workshop (沒有新歌的唱片行) and RK Record (駱克唱片行), both long- standing Taipei institutions that can shed light on the local music industry with their experience and observations.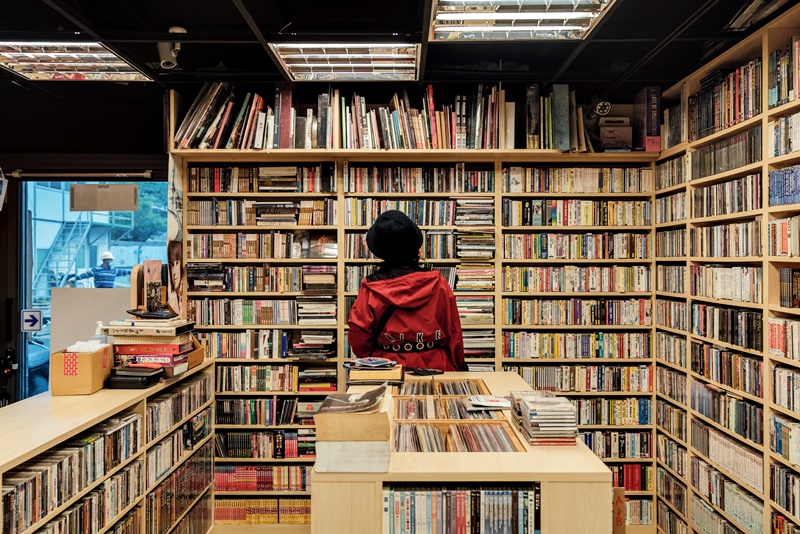 Being Nostalgic for Good Old Days
Although BTB Music Workshop is near Exit 4 of MRT Guting Station (捷運古亭站), it is hidden among the back alleys of Heping East Road (和平東路). If you don't look closer, you might just accidentally miss the workshop. Just like its signboard with Chinese characters implies, they mostly sell music dating back before the year 2000, with no recent music.
"Don't be fooled," store owner Odie Zhan (詹宏翔) jokingly tells us, "Just because there are no new songs, it doesn't mean they aren't brand new!" His eyes sparkle with joy.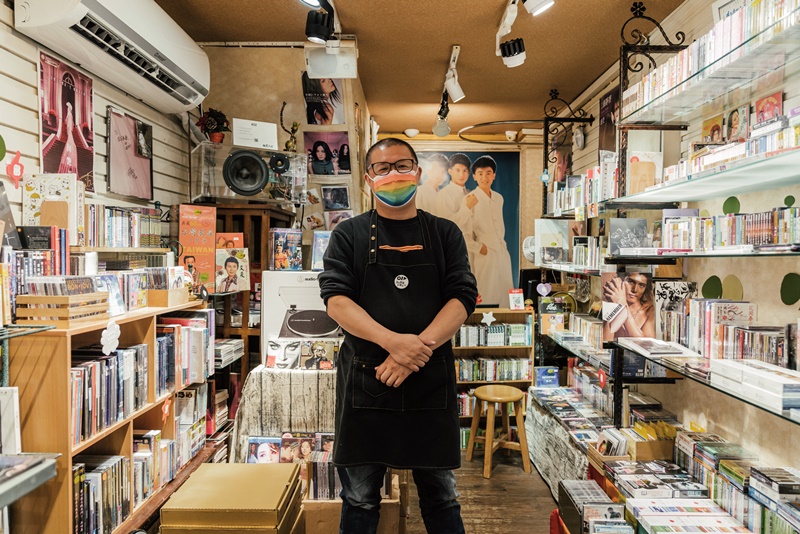 In a small space of about 534 square feet, there are stacks and stacks of CDs, vinyl records, and even old tape cassettes. The music genres range from Western pop to Asian classics and more. Adorning the walls of the store are posters and cards of many former singers. These precious relics are all a part of Odie's personal collection.
"People who buy cassettes have different demands than those who buy CDs," he tells us. "Often, the main age group for buying CDs are those born in the late 1960s to the mid-1980s. But the main age group for cassettes are people who just simply have an obsession with listening to cassettes. Nowadays, cassettes are even regarded by young people as collectibles. It's a recent trend that has been mostly brought on by Taiwanese dramas," Odie shares. "Sometimes these young people choose to buy cassettes because they recognize the name of the singer, or they base it off the cover or packaging. Others don't know how to choose, so they'll end up buying blank cassettes instead."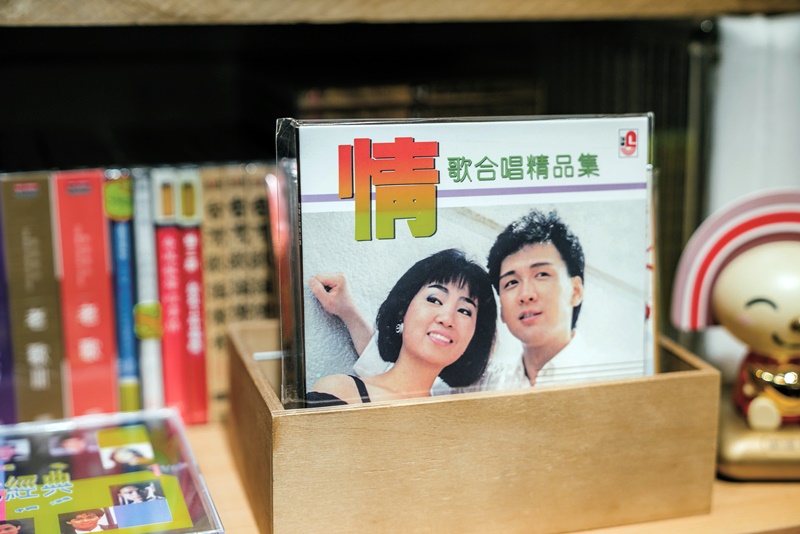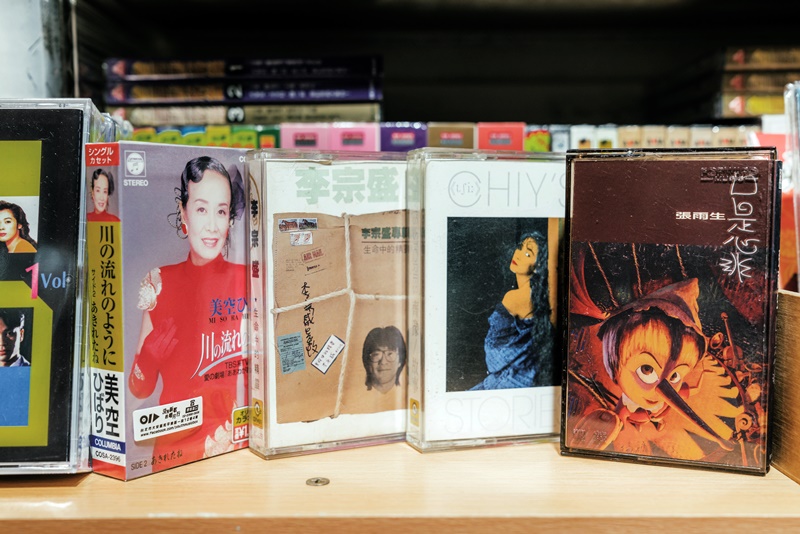 Odie goes on to share with us the history of cassette tapes, from inception to revival. "Cassettes were popular in the mid-to-late 1970s to the late 1990s," he says, "mainly because Sony introduced the Walkman in the '80s, which made cassettes more accessible and widespread." He continues, "However, beginning in the 1990s, CDs became more and more popular, reducing the need for cassettes. And so began the heyday of CDs in the '90s. Not long after, the year 2000 saw the rise of digital music and MP3s, with music streaming following in 2010 up until today."
Looking back, the 1980s and '90s were the golden era of Taiwanese pop music, linking the past and inspiring the present. Odie informs us, "In the 1990s, there were many record stores in Ximending (西門町) — most noteworthy was a shop called Cross Line (交叉線唱片), which specialized in Western music and also promoted dance hall culture." In 1990, Taiwan began to produce CDs, bringing the music industry to new heights."Even up until 2006 or 2007, CDs were still popular," Odie shares. However, around the year 2000, with the rise of MP3s and the popularity of CD burners, it became easier and easier for the public to obtain music for free. Sadly, as a result, music sales also fell sharply.
What is Odie's biggest challenge? "In fact, some of the customers who come here don't know music well at all. Many people have no concept of copyright, and they don't know much about the process behind music production or about artists' songs. In addition, there are many CDs floating around that are often fake or pirated," he shares in exasperation.
That doesn't seem enough to deter Odie, though. "Although the introduction of digital music has reduced physical sales, I don't believe that digital music will cause physical music to disappear entirely. The digital and physical realms can coexist together — just like how you might stream music on your way home from work but put on a CD when you get home. Either way, you are at home with music."
🎧Recommended
🎵Jonathan Lee The Spirit of Life Album 李宗盛《生命中的精靈》
🎵Tom Chang Duplicity Album 張雨生《口是心非》
🎵Chyi Yu  Stories Album 齊豫《故事》
🎵Hibari Misora  Kawa no Nagare no Yō ni Single 美空雲雀〈川流不息〉
BTB MUSIC WORKSHOP
ADD 4, Ln. 12, Sec. 1, Heping E. Rd., Daan Dist.
HOURS 11:00am – 8:00pm (Monday to Friday)
11:00am – 7:00pm (Saturdays)
(Closed on Sundays)
A Nearly 30-Year-Old Record Store
RK Record first opened its doors in July 1994, located close to MRT Stations Taipei Arena (捷運台北小巨蛋站) and Nanjing Sanmin (捷運南京三民站).
For store owner Martin Ting (丁寶萬), the motivation behind opening the store was to set up a music library. "Of course, there were practical difficulties with such an idea, so I settled for the next best thing and opened a record store with a 'personality,'" he chuckles. "I was a bit late to the game, though. The year was 1994, when the record industry had already passed its peak. And three years into our opening, we began selling used cassette tapes and CDs." He goes on, "At the time, the second-hand market only focused on exchange, not buying and selling. It was us who broke the mold and began to move second-hand products in the form of buying and selling."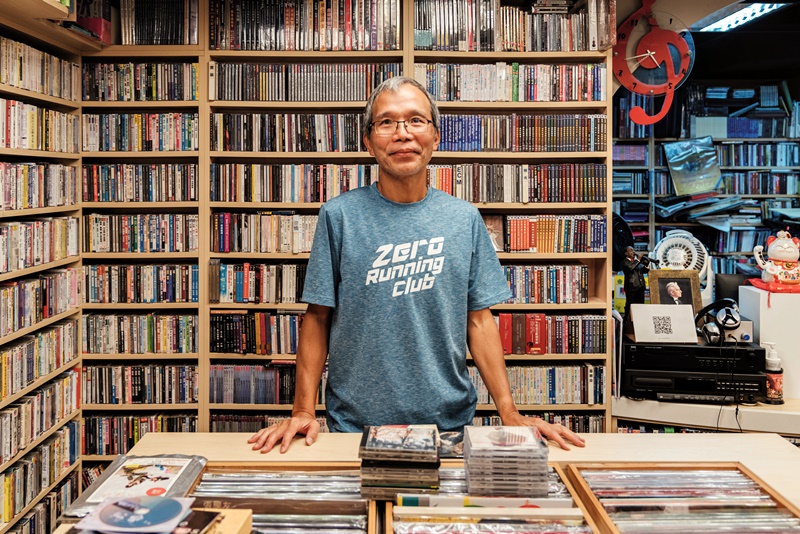 In the late 1990s, record stores didn't sell many cassette tapes because the recording companies themselves didn't release many cassettes. However, instead of discarding or throwing them away, Martin kept them in boxes and continued selling them in the store. "To my surprise, a few years later, customers would find cassettes while flipping around — and just like that, box after box of cassette tapes were sold!" he exclaims proudly. "Nowadays, cassettes are not cheap — about NT$400-500 per tape. Some people listen to cassettes for the sound quality, while others listen for the memories. Taiwanese dramas will sometimes also feature cassettes, which makes people reminiscent of the past, so we do get repeat customers who come back because of these dramas."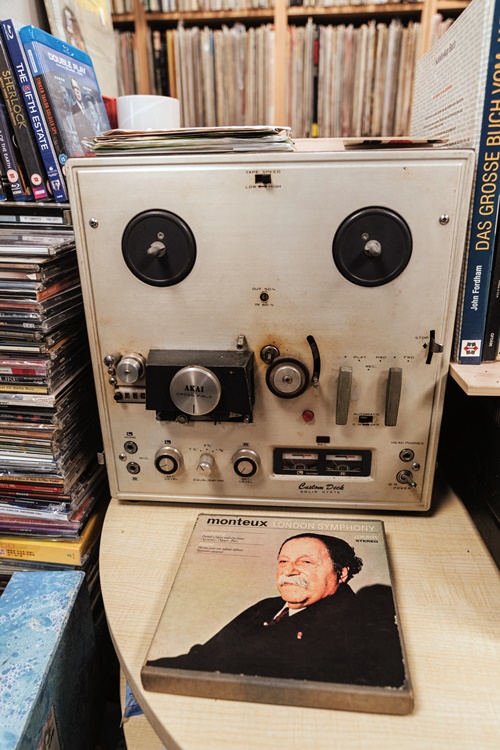 RK Record's strength lies in its professionalism, abundant inventory and variety, as well as their constant updates to the music database on their website every day. "Even our storefront is a constant work in progress," Martin explains. "The record store needs space, and there are about 1,000 items to be stocked every month. In addition to new products coming in, old ones must also be replenished. And because of our lack of space, we have no choice but to place some products temporarily on the ground. But actually, this also serves a dual purpose — which is to give customers a feeling of 'treasure hunting,'" Martin smiles mischievously.
"It's not all rosy and dandy, though," he goes on."We also face many challenges. Landlords are always raising the rent, which constantly forces us to move. In addition, there's also a lot of competition in the industry. After many music CD chain stores closed, more and more independent sellers appeared, driving prices up." However, RK Record still stands true behind their principle to sell only at reasonable prices.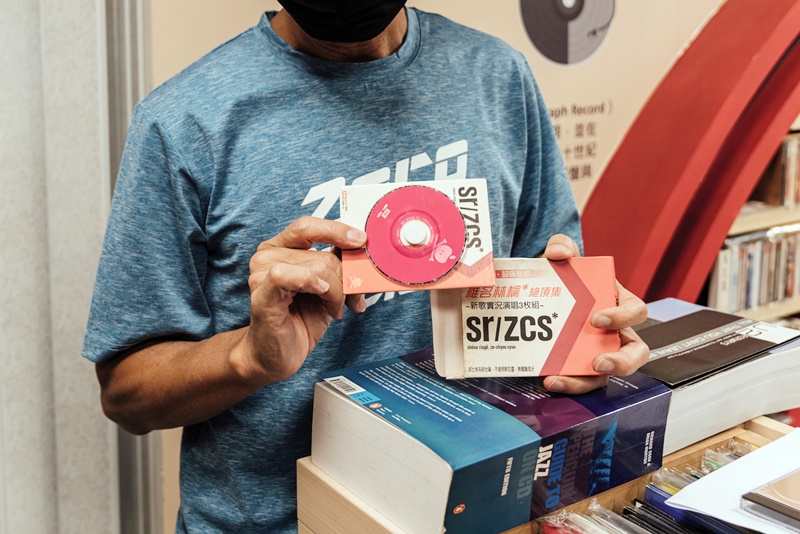 "Most of the people who come here are older folks in their mid-forties to sixties. They're the ones who usually prefer an actual physical store. However, we do also get young people, especially office workers in their twenties or thirties, but most of them just use online ordering and then pick up in-store," Martin tells us. "People still buy cassettes, but not necessarily to actually listen. Recently, a client came in to buy various types of cassettes in different colors and constructions to use in a design. And we also get TV and film production companies borrowing cassettes for filming. Even our old shop location was featured in a famous Taiwanese band Mayday's (五月天) new "World Crazy (瘋狂世界)" music video and Hong Kong singer Joey Yung's (容祖兒) "Lonely Portrait (獨照)," Martin smiles proudly. "Clearly it won't be that easy to get rid of us anytime soon."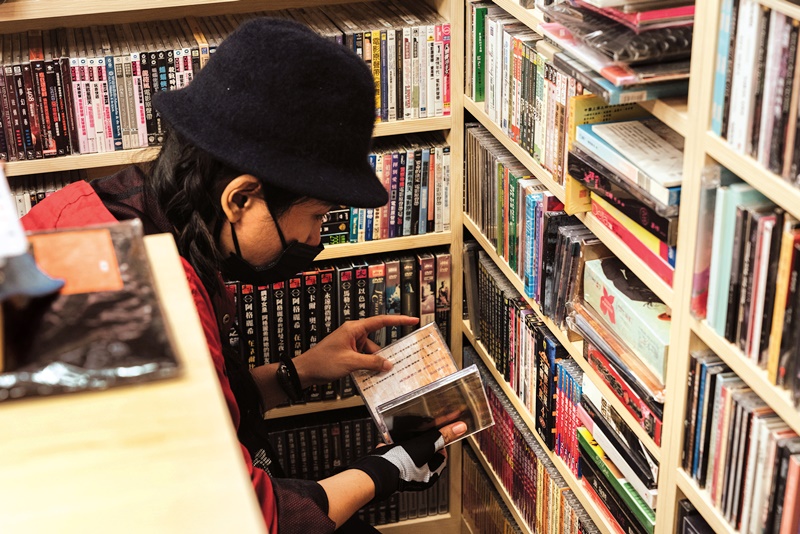 🎧Recommended
🎵Tsai Chin Opportunity Album 蔡琴《機遇》
🎵Jolin Tsai  Journey Swarovski Music Journey Theme Song 蔡依林〈旅程〉
🎵Ringo Sheena Ze-Chyou Syuu/The Acme Collection 3-CD Set
🎵U2 All That You Can't Leave Behind Album
RK RECORD
ADD 21, Ln. 85, Guangfu N. Rd., Songshan Dist.
HOURS 11:00am – 7:00pm (Monday to Friday)
1:00pm – 6:00pm (Saturdays)
(Closed on Sundays)
This article is reproduced under the permission of TAIPEI. Original content can be found on the website of Taipei Travel Net (www.travel.taipei/en).
Music in Taipei: