Author Catherine Shih 
Photographer April Chen, Department of Information and Tourism, Taipei City Government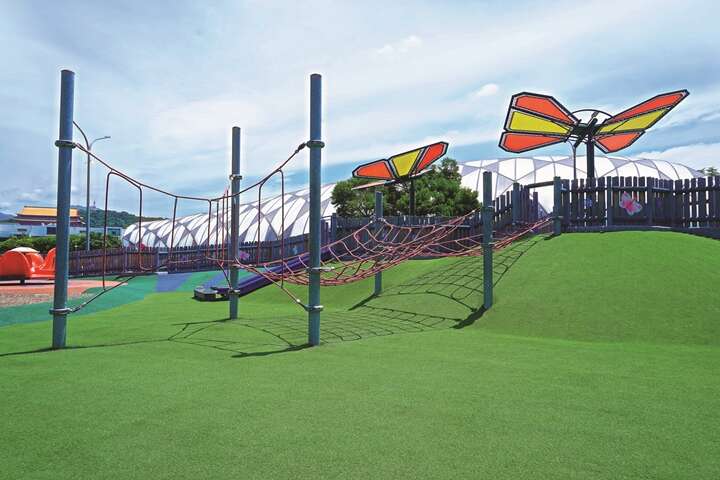 A cool, crisp autumn day is the perfect time for children to run, play, and jump around outdoors. There are many inclusive playgrounds in and around Taipei City for parents to take their children to, satisfying their needs through open, interactive, and diverse facilities. We explore three inclusive playgrounds located in different areas of Taipei that cater to the dreams of these young wonderland adventurers.
Wenshan Forest Park 文山森林公園
Just 10 minutes away on foot from MRT Wanlong Station (捷運萬隆站) lies Wenshan Forest Park, a city oasis that just had its grand opening in April, 2022. Apart from the well-known Daan Park, this is also one of Taipei's many planned forest parks that offer children a safe haven to run amok amidst the chaos of the city.
Sitting on an 11-hectare-wide piece of land, Wenshan Forest Park is sectioned off into five different themed areas. The rope webs and grass skiing area of the playground are spread out on the hill, adding more excitement to play time. Not surprisingly, the biggest attraction for children is the 50-meter-long slide made with granite, featuring an S-shaped curve. To access the slide, children must climb up the steep steps on the side or traverse an artificial rock-climbing course alongside the slide first. By giving children a place to play securely and freely, it's no wonder parents flock to this forest park in droves.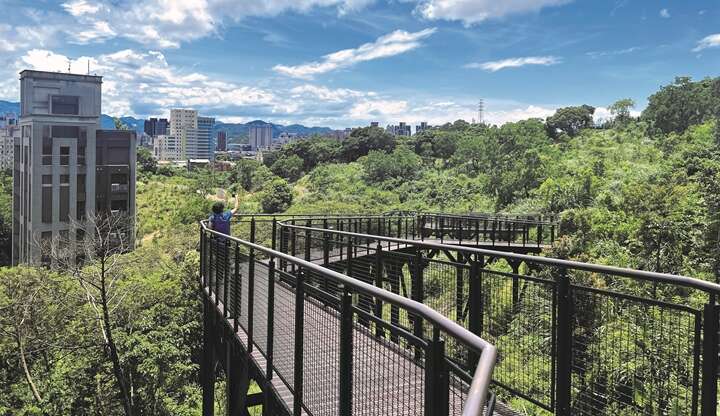 For adults, the park offers many trails that were built based on the shape of the land itself, allowing them to stroll along the park or exercise with ease. For the flatter sections, gravel was laid down to create an easy walkway or footpath, while the steeper terrain saw planks and boardwalks installed for some sharper drop-off sections. A series of hilly trails and a 1.5-kilometer skywalk connect two preexisting parks: Wenshan Jingmei Sports Park (文山景美運動公園) and Fuxing Park (福興公園), providing a grand view of the residential area in Wenshan District from the three-story high viewing platform.
WENSHAN FOREST PARK
ADD 17, Ln. 95, Fuxing Rd., Wenshan Dist.
Jiancheng Park 建成公園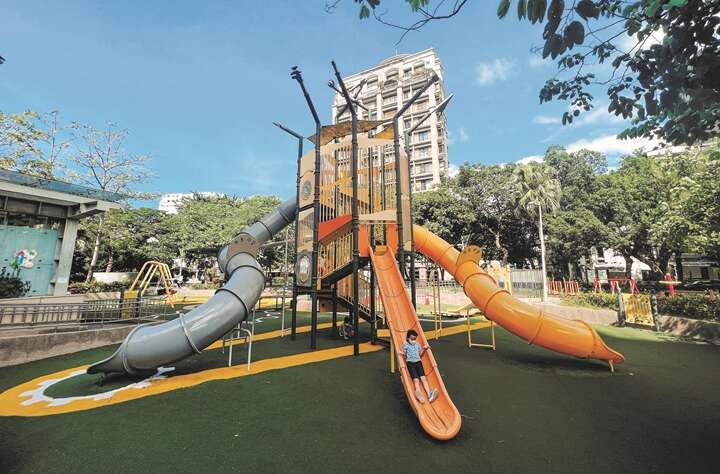 Within a five-minute walk from MRT Zhongshan Station (捷運中山站), Jiancheng Park is another famous park in Taipei that has won the hearts of countless children. Located adjacent to Chifeng Street (赤峰街), otherwise known as "Blacksmith Street," the park reflects the background of the industry in the neighborhood. The designer who created this park drew inspiration from the height of the blacksmith era, as shown by the placement of gears and tools on the lawn and an awning frame exhibiting an image entitled "Chifeng Blacksmith Shop."

Perhaps one of the park's most famous features is its tower slide — composed of two higher enclosed slides that look like a chimney above. Echoing the park's theme throughout are images of blacksmith tools that sit atop the slide, which really show off its local charm and characteristics. A short, open slide is set up next to the tower. With its roller design on the surface, those with disabilities can also enjoy sliding from the top.
Other unique aspects of this park are the turntable and seesaw, which allow children to enjoy the feeling of both wind and speed, while also testing their balance and coordination. As is the case with any inclusive playground, they are both designed for two or more kids to share.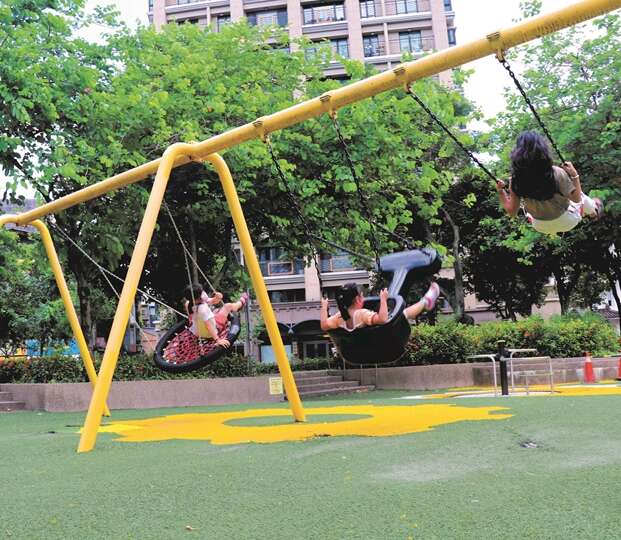 Not far from these facilities are the music chimes, which help develop children's sensory experiences such as listening and tapping. As if all of that wasn't enough, three kinds of swings are set up to fulfill different needs: a general swing, parent-child training swing, and bird's nest swing. The bird's nest swing allows people with disabilities to experience the feeling of zero gravity. With all of these facilities and more, it's definitely worth checking out!
JIANCHENG PARK
ADD      35, Sec. 2, Chengde Rd., Datong Dist.
Tianmu Dreamland 天母夢想樂園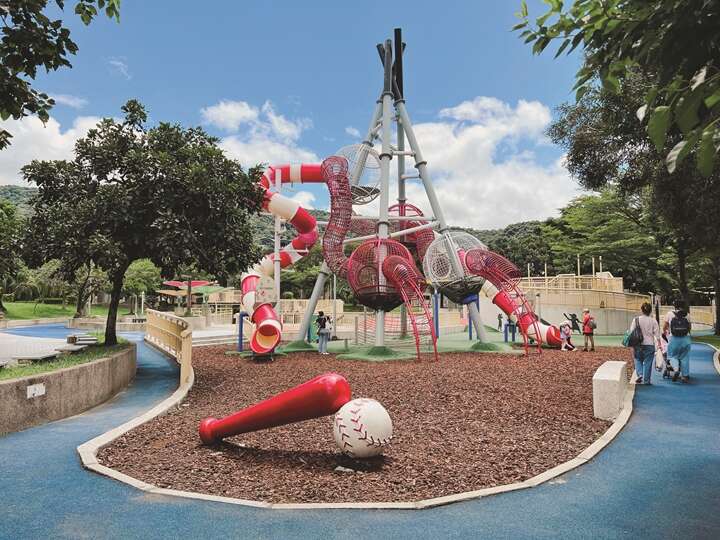 Located inside Tianmu Sports Area (天母運動公園) is Tianmu Dreamland, an interesting park which opened in 2020 and incorporates all the exciting features of a baseball stadium and sports park in one place. With four exciting, adventurous, and safe recreational facilities, namely the baseball-themed area, inclusive sandpit area, landscape slide, and zipline area, it is no wonder adults enjoy bringing their children here to explore.
The highlight of the baseball-themed area is the climber and slide, which stands over nine meters tall. Its body is supported by four baseball bats, four climbing frames composed of spheres and snake cage tunnels, and two rotating water tube slides. There are no stairs in the entire facility, so children have to climb up using their hands and feet. However, there is a small climbing net under the slide, where young children can experience the fun of climbing even if they can't enjoy the bigger facilities. Part of the ground is covered with green artificial turf and others with sawdust, making the ground soft and safe for children to step on.
The sandpit is equally fun for children young and old to enjoy. It is quite large in size, and there is even a tap that allows them to play with wet sand. Around the sandpit are some raised hills on soft mats for children to run around on and enjoy the rush of gravity. Next to the sandpit is the landscape slide area, which is designed with no stairs but a gentle, wide ramp so that kids with disabilities can also easily roll on with their wheelchairs to have fun on the slide.
Lastly, the slope of the zipline here is designed so that elementary school students can go up and down and pull back to the starting point by themselves. All of these facilities and more make for an exciting yet challenging experience for children.
TIANMU DREAMLAND
ADD 77, Sec. 2, Zhongcheng Rd., Shilin Dist.
This article is reproduced under the permission of TAIPEI. Original content can be found on the website of Taipei Travel Net (www.travel.taipei/en).
Other outdoor activities in Taipei: