Author Seb Morgan
Photographer Yuskay Huang, Taiwan Scene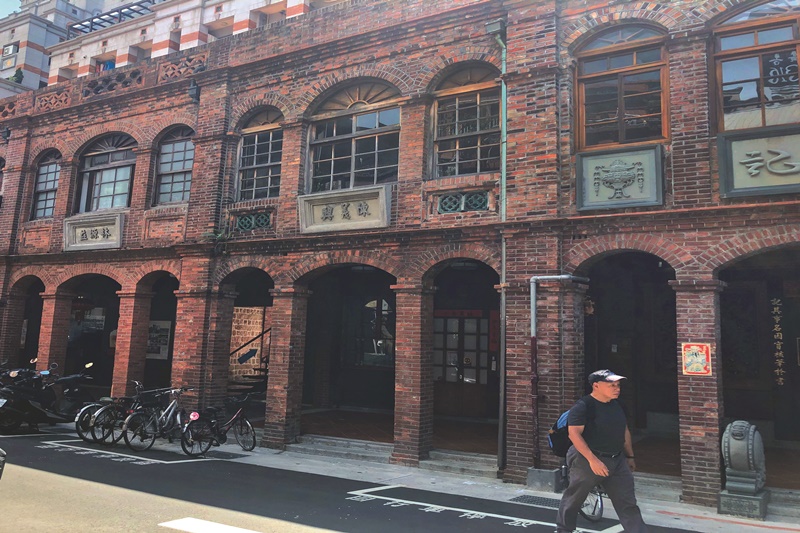 Dihua Street (迪化街), a narrow red-brick artery in the Dadaocheng (大稻埕) area that runs north-south through Taipei's old town, is arguably unbeaten when it comes to traditional shopping in the city. Developed first as a commercial center trading in rice, tea, and other typically Taiwanese goods, the storied thoroughfare is a window into Taipei as it once was, resplendent with Japanese-era architecture and independent retailers operated by the same families who first opened them decades ago.
There's no shortage of things to do on Dihua Street. In addition to shopping for souvenirs and traditional snacks, you can spoil yourself at one of the many independent cafes, visit local museums, thumb through vibrant fabrics at Yongle Market (永樂市場), or simply take in the atmosphere of this historic neighborhood.
Whether you're looking to pick up some unique keepsakes or just want to immerse yourself in Taipei's rich history and culture, each store on Dihua Street has its own fascinating story to tell.
Kuo's Astral Bookshop 郭怡美書店
Located just north of the Minsheng West Road (民生西路) intersection, Kuo's Astral Bookshop encapsulates Dihua Street's unique charm. Nestled in a handsome Japanese-era terrace, the storied retailer has been part of the local landscape for over 100 years, and is worth visiting just to poke around.
Like so many of its neighbors, Kuo's is a family venture. The enterprise was founded in 1922 as a general store by local entrepreneur Kuo Wu-long (郭烏隆) and later converted into a bookseller by Wu-long's grandson, Kuo Chung-hsing (郭重興). Today, Kuo's Astral Bookshop is one of Dadaocheng's biggest independent bookstores.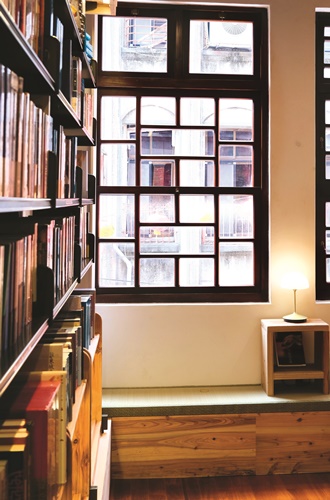 A mix of modern and traditional elements, the store's interior is easily one of Dihua Street's prettiest. Sleek details like glass skylight flooring contrast with the building's wooden-beamed ceilings and lattice work. One of the structure's most intriguing architectural elements is a staircase that is made of wood and burnished metal, which passes through the building's atrium between the second and third floors.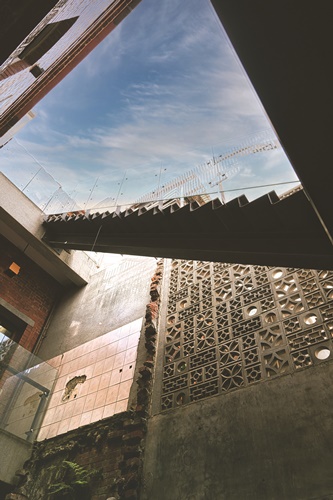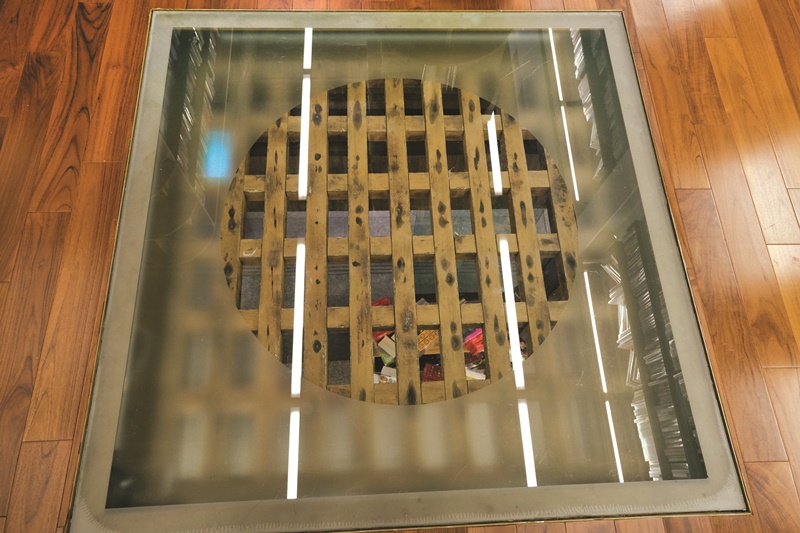 If you're there to read, explore Kuo's lower levels. The first floor of the bookshop is mostly nonfiction, with a focus on travel and culture. On the second floor, you'll find a wide selection of fiction, both by local and translated authors. It's worth noting that most of the literature at Kuo's is in Chinese, though you'll also find some bilingual editions, as well as photography books and similar coffee-table stock. Books regarding fields related to art and photography can be found on the top floor, which was built in a traditional Taiwanese house style with the wooden decoration. Here is also a showroom which is sometimes used for exhibits, adding an extra layer of interest to this already fascinating shop.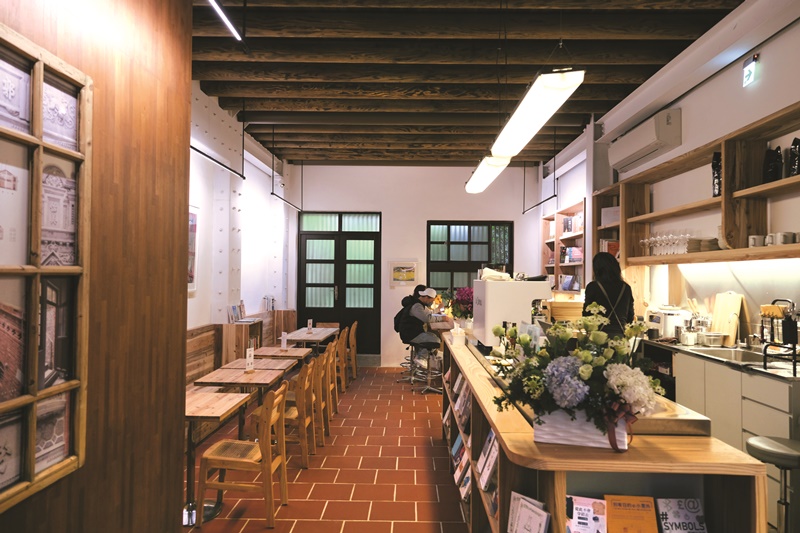 A standout piece of history on an already remarkable historic street, Kuo's Astral Bookshop is well worth a visit. Whether you're a book lover, want to enjoy the beautiful old school architecture and atmosphere in their inside-bookstore cafe, or just curious about the neighborhood, this charming nook is sure to delight.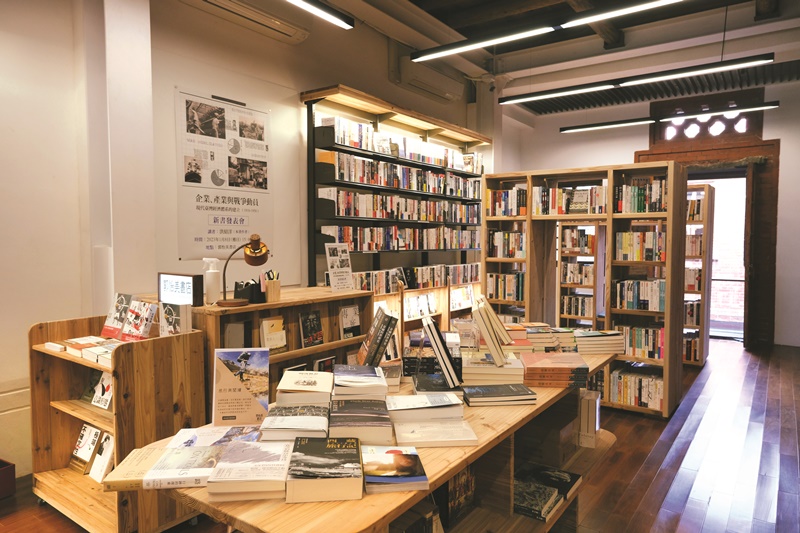 KUO'S ASTRAL BOOKSHOP
ADD 129, Sec. 1, Dihua St., Datong Dist.
HOURS 2:00pm – 10:00pm (Monday to Friday)
11:00am – 10:00pm (Saturday to Sunday)
Dachun Soap 大春煉皂
Like many Dadaocheng businesses, Dachun Soap has been in business for over 100 years. It was founded as a Japanese company and taken over by a Taiwanese family from 1950. Befitting of its location, the business derives its soap from Taiwanese plants and herbs, in particular the same stock that Dihua Street traded in during its commercial heyday, including rice, tea leaves, and medicinal herbs.
Today, one of the store's most popular products is its Classic Rice Soap (經典米萃皂) — a mild cleansing bar made from rice germ oil extract that is both moisturizing and rich in vitamin E. More invigorating is the Classic Tea Soap (經典茶萃皂), which is made from ground oolong leaves with tea extract essence that helps restore skin elasticity and has a refreshing, herbaceous scent that can relax mind and body.
The sheer variety of native ingredients used in Dachun's soaps is enough to overwhelm anyone but a professional botanist. But don't let that put you off. A large metal grain bin turned wash basin serves as a testing station where you can lather up with each soap and test them out before you buy them.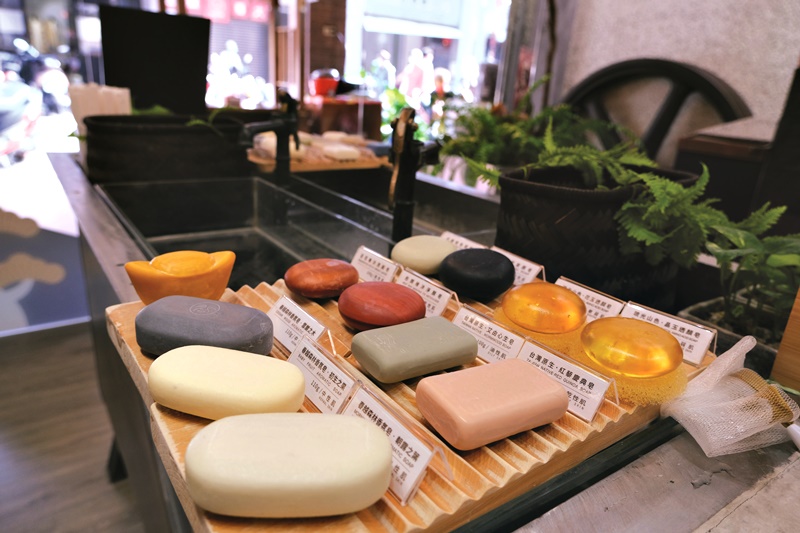 If soap bars aren't your thing, Dachun has plenty of other fragrant stuff to please the senses. The distinctive perfumes are well worth a spritz, coming in enticing scents like citrus, cedar, and gooseberry. The same can be said for the hand creams — try the earthy wormwood or the red quinoa that helps to moisturize your hands for soft and smooth skin.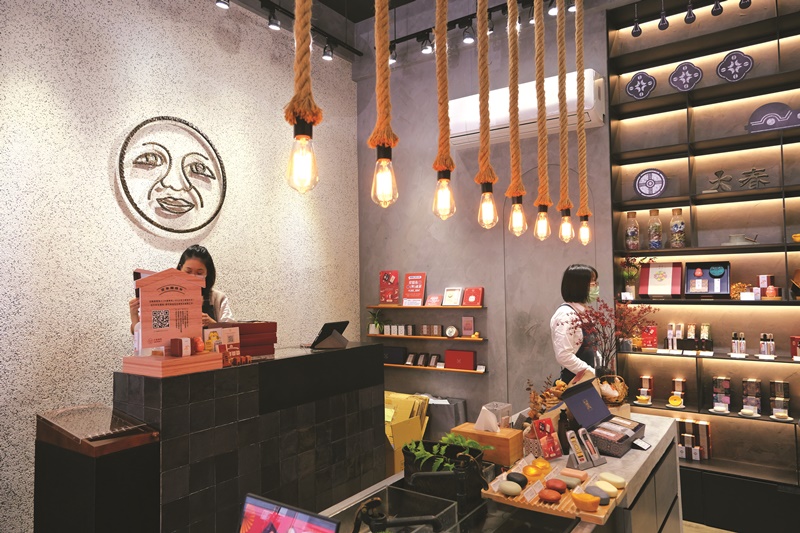 For souvenir shoppers, Dachun offers some special mementos to take home with you. The gift boxes in particular make for marvelous gifts and come beautifully presented in paper boxes decorated with the same motifs you'll find throughout Dihua Street's elegant neo-Baroque architecture. Like everything else at Dachun, the contents are made without any unnatural additives, meaning that the fragrant keepsake you take home from Dachun is also an eco-conscious one.
DACHUN SOAP
ADD 234, Sec. 1, Dihua St., Datong Dist.
HOURS 9:00am – 6:00pm (Monday to Friday)
9:00am – 7:00pm (Saturday to Sunday)
Full Mountain 富自山中
Food and history are two of Dihua Street's biggest draws. Nestled among the nostalgic architecture and bustling vendors, you'll find Full Mountain — a unique store that combines both of these qualities.
Full Mountain was opened by a family from Chiayi County (嘉義縣) in southern Taiwan, and it remains a family business to this day. Adding to the charm of the store, Full Mountain's interior is designed like a Showa-era Japanese grocery store, with untreated wooden shelves, Japanese noren curtains, and wares heaped in wooden crates all contributing to its historic atmosphere. But this intriguing interior isn't just a pretty sight — it's also a trove of traditional Taiwanese snacks.
Specialties like dried fruit, nuts, oolong tea, and other local staples like rice and quinoa are some of the most popular stock. All of Full Mountain's produce is natural, organic, and free from additives. In addition to local fare, the store also offers a variety of imported ingredients like Mexican chia seeds and Peruvian quinoa, making it a great destination for guilt-free grazing.
The qualities of their locally made merchandise are excellent. Don't miss their Alishan oolong tea or delicious dried pineapple, and if you're a fan of brown sugar candy, this sweet is a steal as they are all priced in a reasonable range. So, you won't need to bust your wallet to take home a little bit of everything.
FULL MOUNTAIN
ADD 220, Sec. 1, Dihua St., Datong Dist.
HOURS 9:00am – 6:30pm (Closed on Sundays)
Gao Jian Bucket Shop 高建桶店
Tricolored "qiezi-dai (茄芷袋, retro kagiami bags)" are to Taiwanese people what red telephone boxes are to the British — kitschy, culturally iconic, and evocative of the good old days. Anyone and everyone you ask in Taiwan will be able to recall a grandmother or auntie hauling one of these colorful hold-alls home from the market after an intensive weekend shopping trip.
The bags can be bought all over Taipei, but you'll find the best selection at this traditional Dihua store, whose chic, durable wares have become something of a cult favorite among Japanese tourists. Qiezi-dai, reed bags, and the many other traditional woven accessories the store has earned a name for, practically spill out into the street. From some angles, Gao Jian appears more bags than shop.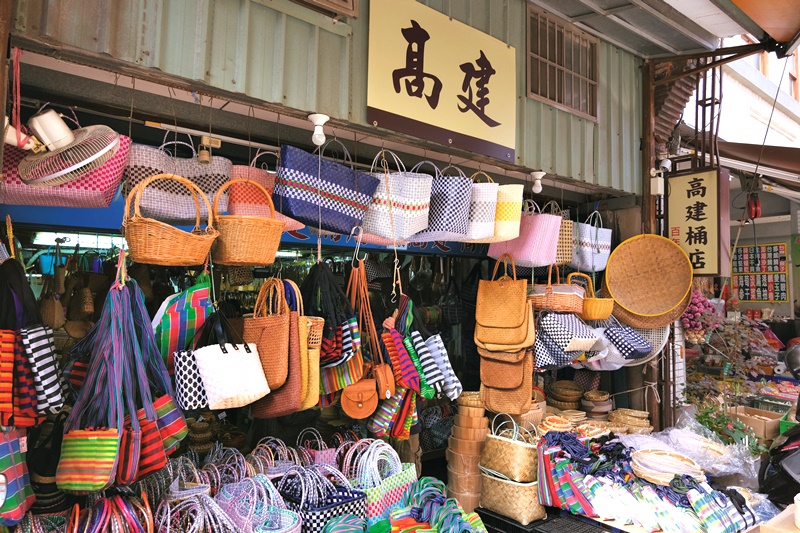 In a street largely known for its teas and dried snacks, Gao Jian is the place to go for a more practical souvenir. The store trades in homewares with a traditional Taiwan twist — carved wooden kitchen utensils, decorative storage boxes, and adorable rattan picnic hampers.
The best part? These beautifully crafted items are surprisingly affordable, making them an accessible option for any budget. A qiezi-dai or even some of the more "expensive" bags don't fetch more than the equivalent of a couple cups of coffee. If you're looking for something distinctive and uniquely Taiwanese to brighten up your living space, Gao Jian is the place to go.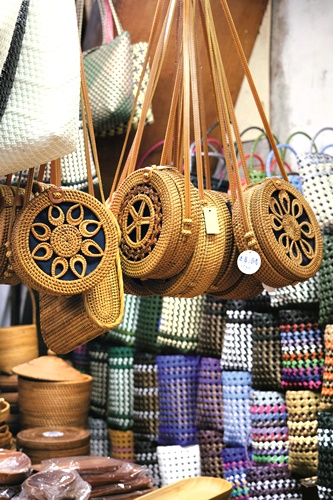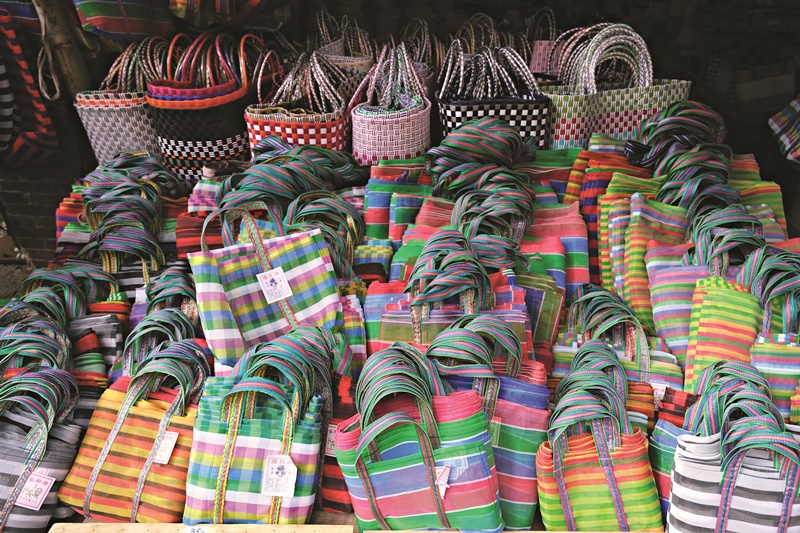 GAO JIAN BUCKET SHOP
ADD 204, Sec. 1, Dihua St., Datong Dist.
HOURS 9:00am – 7:00pm (Closing time varies)
This article is reproduced under the permission of TAIPEI. Original content can be found on the website of Taipei Travel Net (www.travel.taipei/en).
Wandering around the old area: