If you like food AND funny things, there are restaurants in Taipei you must absolutely try. First because it is an occasion to travel to different parts of the city in search for food, and second, because you might never see restaurants like this in your home country! Taiwan is one of those countries that made themed restaurants popular so it would be a shame not to have a look while you stay in Taipei. It was the first time I tried it, and I thought it was quite funny, so here is a selection of three restaurants that you can visit either alone or with kids! (Read also: Glamping for Kids in the Heart of Taipei)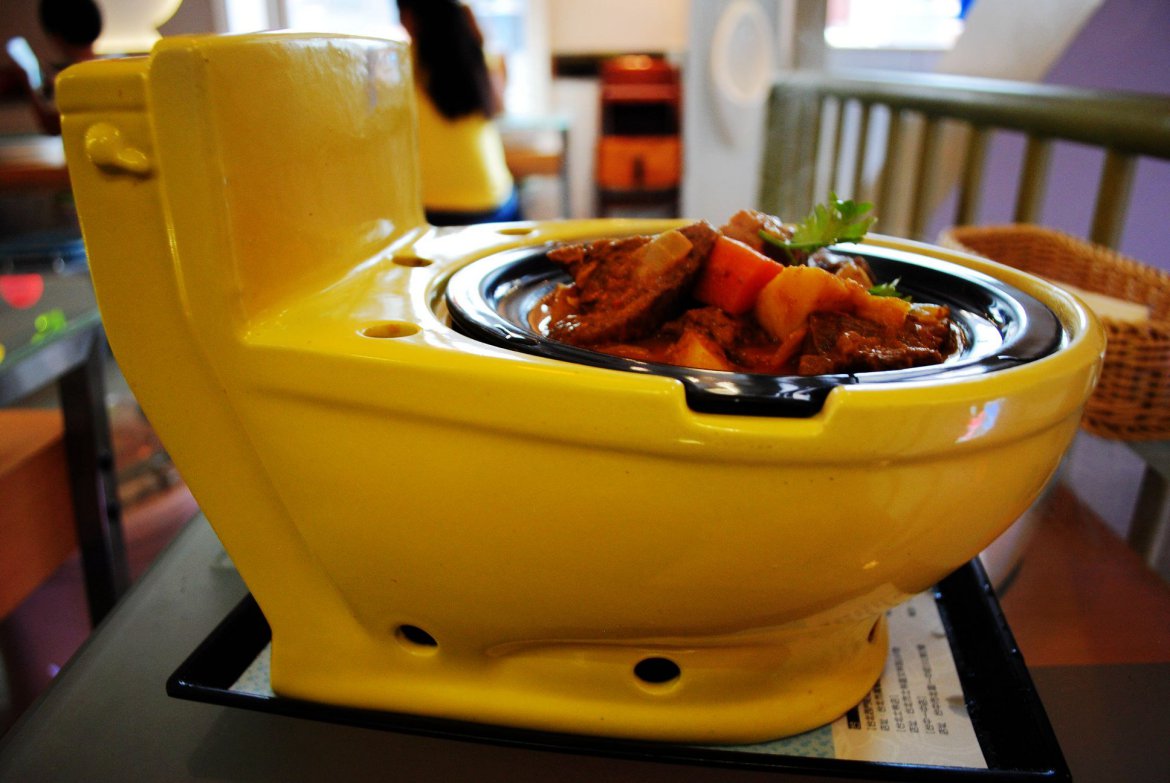 You might wonder, what the hell is that thing? Well, it is a restaurant that has toilets and, in a certain extent, poop as a theme. While certain people might avoid the topic of toilets when possible, some people actually decided they would make a whole restaurant on that theme, no shame! Being a fan of funny, stupid things, I really wanted to try this one.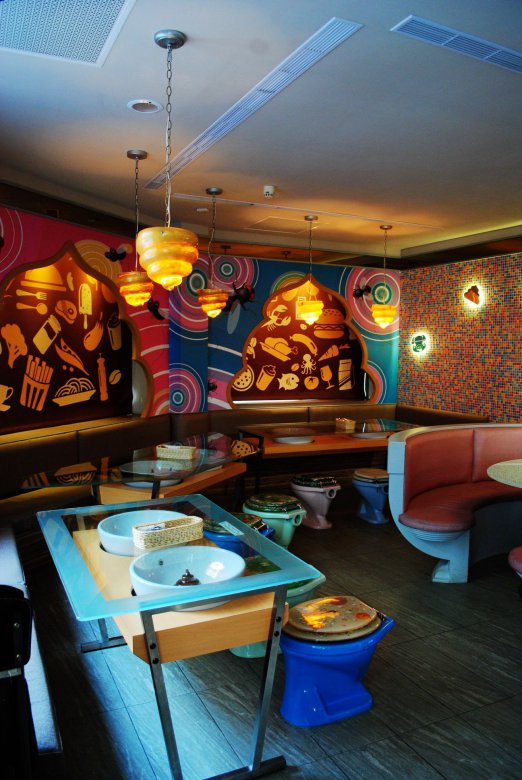 When I arrived, waiters came to me straight away and placed me at a table on the second floor. I was given a menu and a glass of water. Good thing is, the menu is in English so you will have no problems deciding what to take. It is mostly foreign food that is served here, with a lot of pasta with different sauces, steak meals, but also hot pot meals (probably the most Chinese thing on the menu). If you take a "classic theme meal", you will have a drink and a dessert included. I went after lunch hours so it wasn't very busy.
I decided to try one of the classic theme meals and opted for the Modern Toilet Beef Curry (NT$ 270). And my thirst for funny stupid thing was quenched as they served me (very quickly, I must say) my food on a tray. And here it was, my beef curry proudly cooked on a toilet 'plate'. The toilet is actually a stove so there is a flame that keeps you meal warm and hot for about three minutes before dying out. The meal includes the beef curry with potatoes and carrots, seaweed soup, a bowl of rice, a tea drink and a dessert (ice cream) so I would say the final price of NT$270 is rather correct. In my opinion, the curry was quite good, the beef very tender and I was very full in the end! It's not a restaurant you will necessarily come back to but I feel like it is worth the experience, and after the meal you get to wander in Ximen streets so it's a win-win! (You might also be interested: Taiwan's Shittiest Restaurant)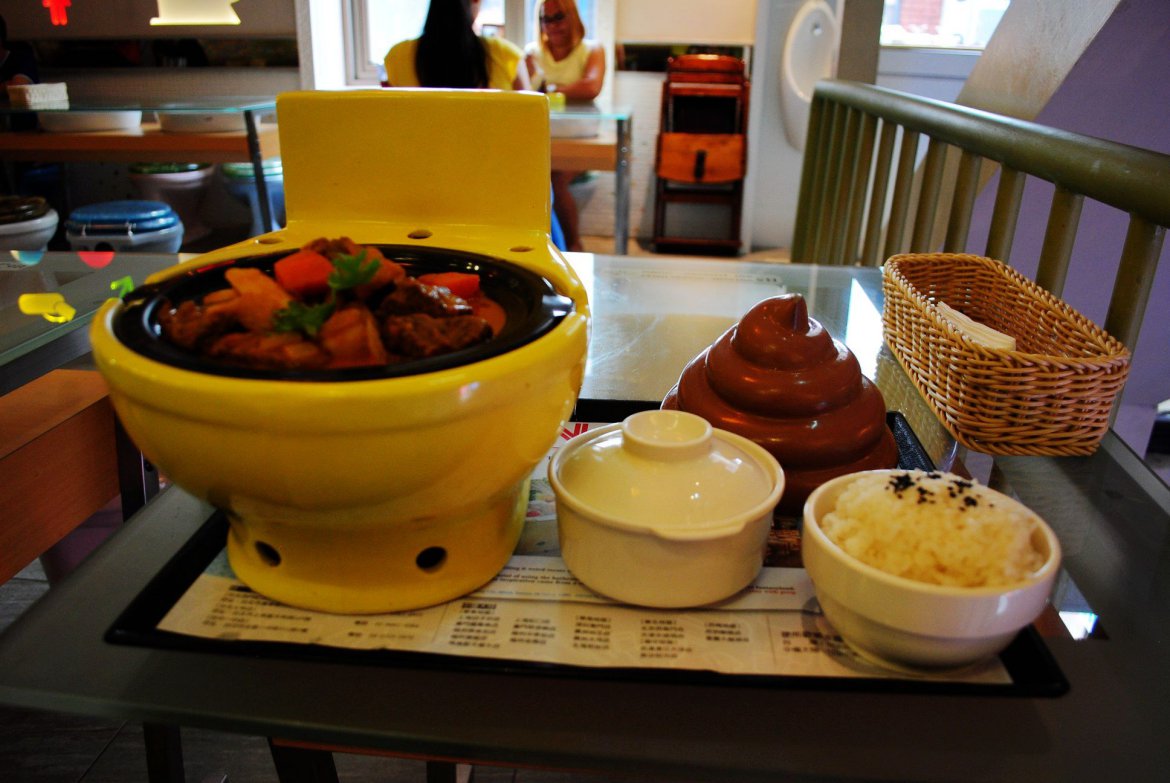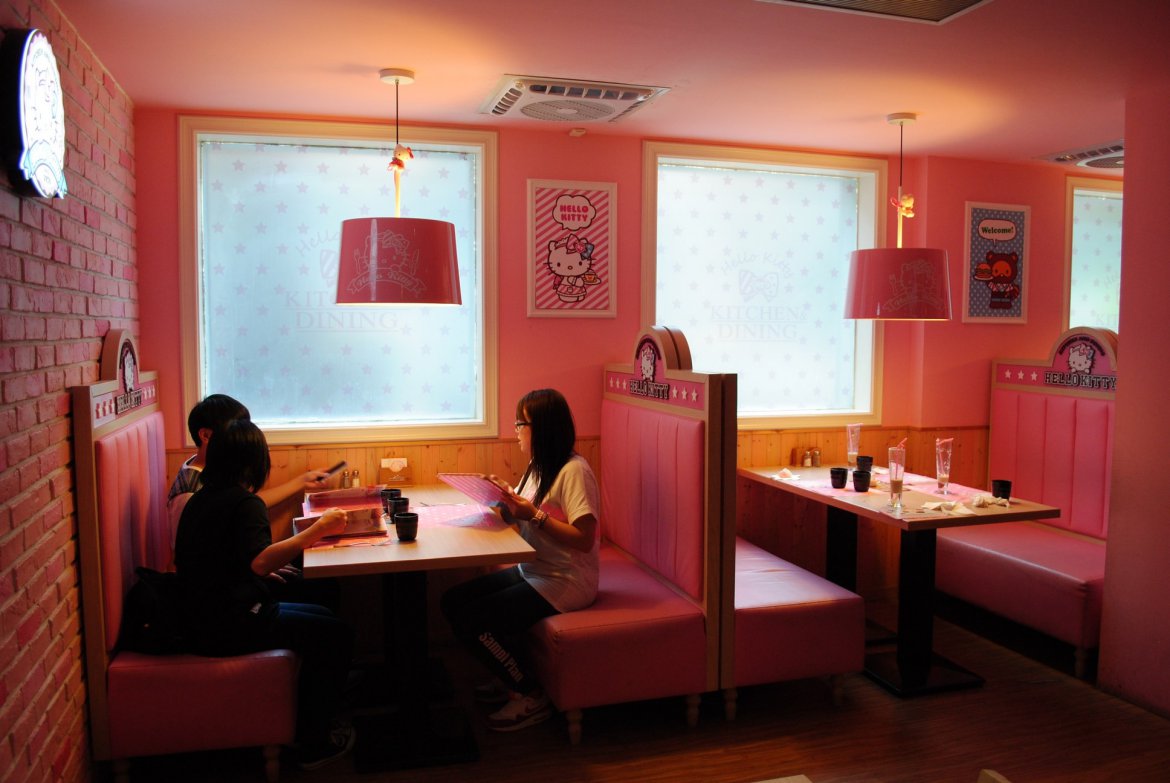 If you are travelling in Taiwan, then you certainly have noticed the insane love that Taiwanese people have for the Japanese kitty. It's almost everywhere, and after while it becomes harder and harder to resist the cute little thing. Some people took it a step further and decided to dedicate a whole restaurant to the cat. Before going there, be prepared to be drowned in cuteness, and a lot of pink. If you are pink allergic, this is definitely not the place for you. Please note that there is a minimum spending of NT$300 per person required and apparently in busy hours you can't stay more than 45 minutes so I'd suggest you to go in the middle of the afternoon for coffee and cake. If you plan to go for lunch or dinner, you might have to wait a little so be prepared.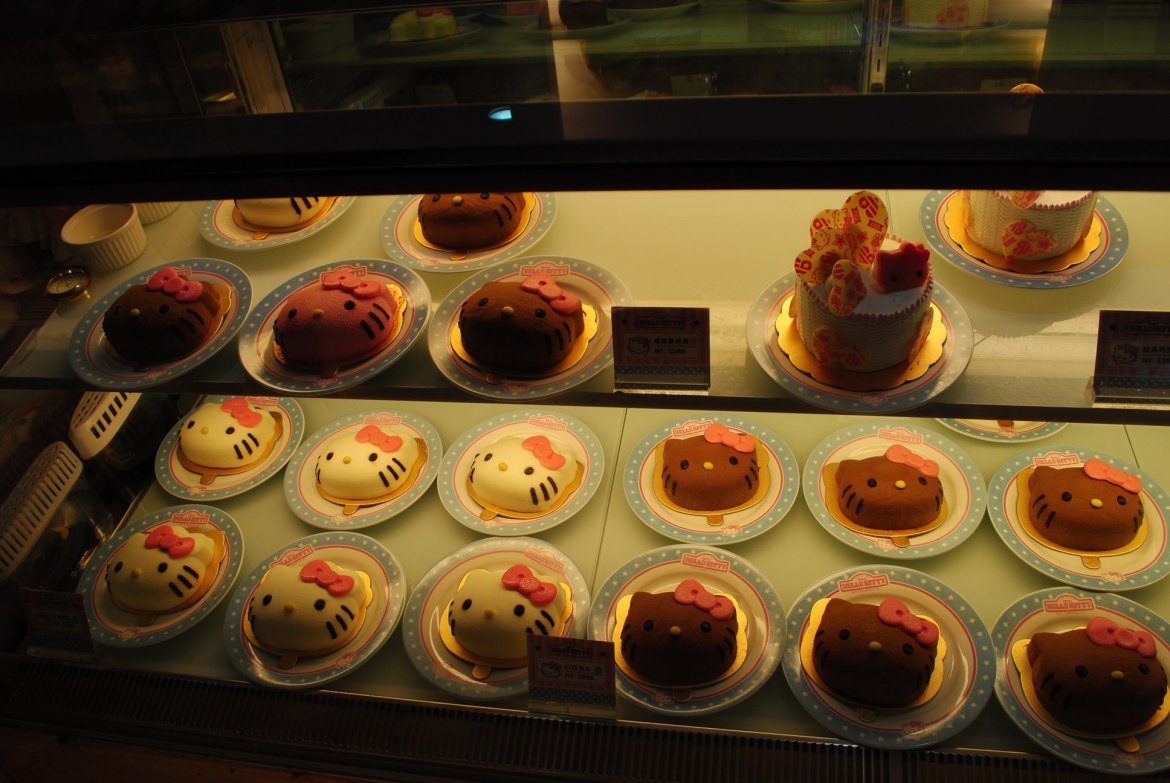 When I arrived I was greeted by one of the waitresses. Even though she didn't seem to speak English, she showed me some cards, written in both Chinese and English, informing me that I needed to spend at least NT$300 and that at this hour (around 2:30pm) it was tea time, so no lunch meals were going to be served.
They put me on a single table on the first floor and bring me the menu. The waitresses speak English. I choose the orange and strawberry cheese cake as well as a hazelnut coffee. Buying a cake gives you a free drink but you can only choose two and coffee is not amongst the ones offered so I pay an extra NT$50 for it but in my opinion it's not the end of the world. Before being served what I ordered, I'm given a hello kitty pudding as a starter, on the house (everyone gets one).
But the best comes with what I've ordered. It's probably the cutest cake I've ever had in my entire life. It tastes really good and is quite filling for what it is. The coffee is quite good as well. The restaurant has free WIFI so you can just sit back and chill for a while.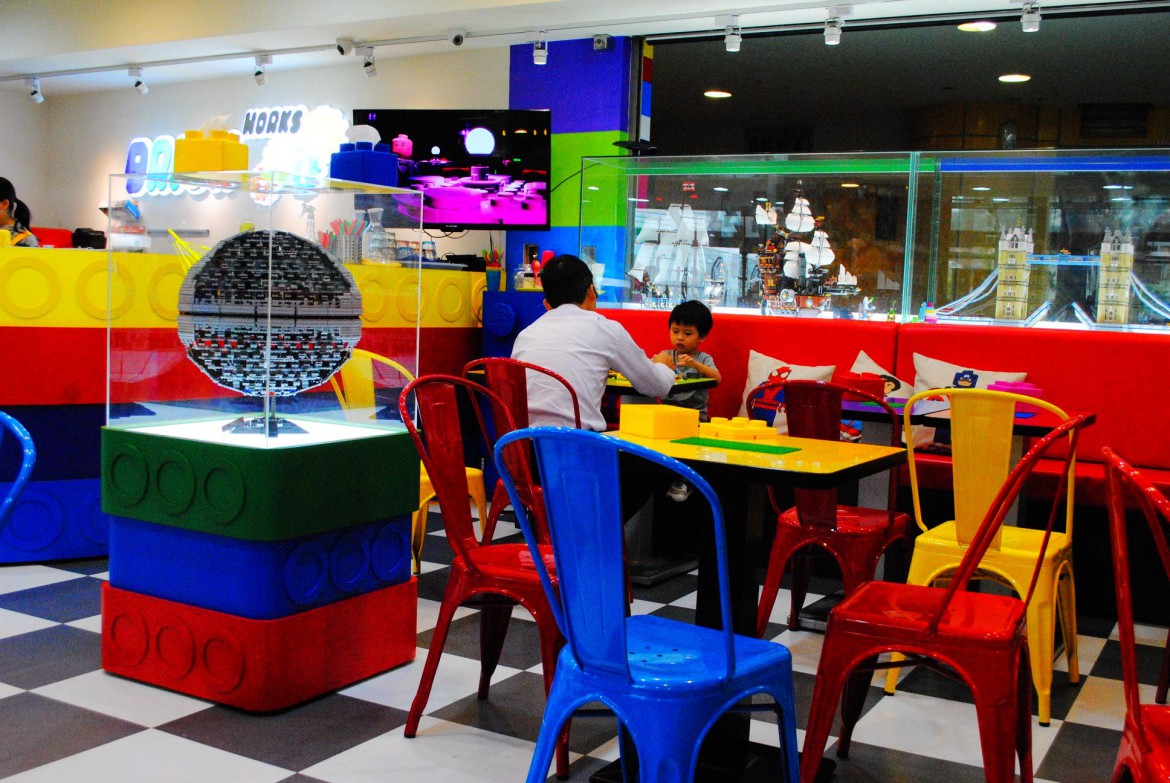 I don't know which generation you belong to, but growing up in the nineties, I've played with Lego my entire childhood and was very curious to see this restaurant. Honestly speaking I think it's more worth seeing if you have children but you can go at any age, as long as you are a Lego enthusiast.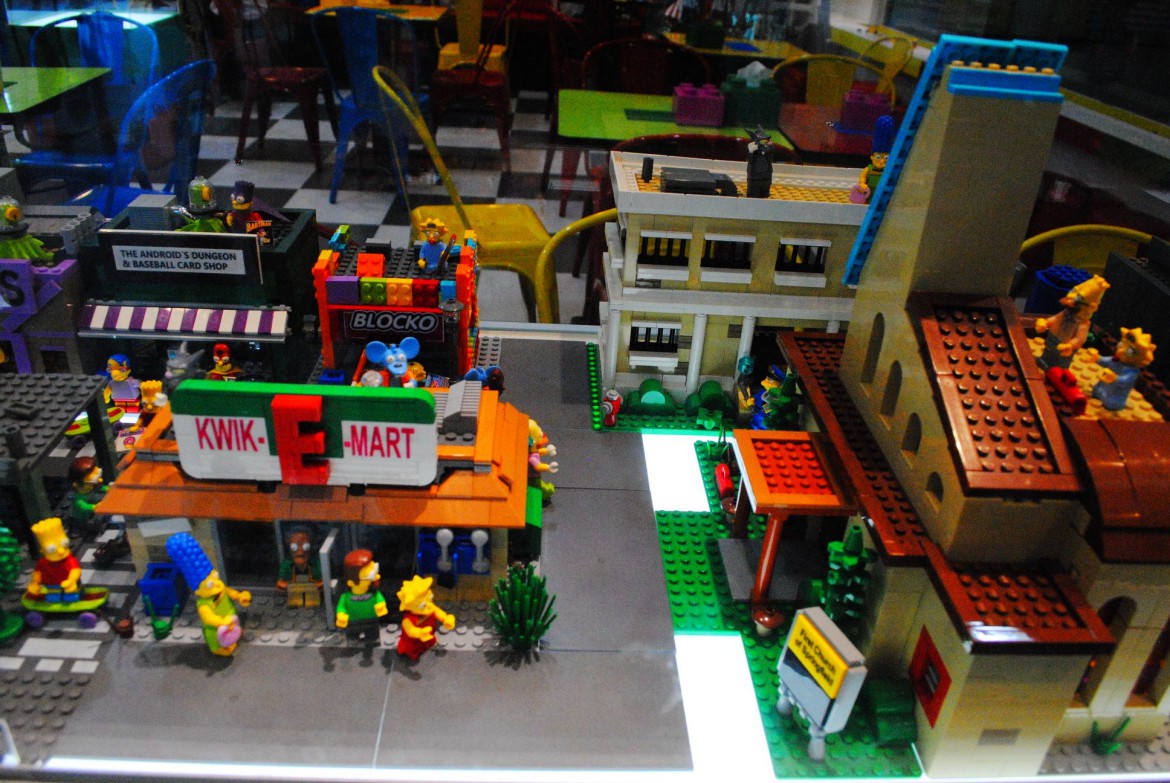 The restaurant is small but well decorated with Legos everywhere. You can have fun trying to figure out all the references (from Star Wars' Death Star to Ghostbusters or the Simpsons). On the left wall there are Lego pieces in boxes so you kids can play with them and build their own Lego characters. The whole room is very colourful and there is a wall covered in little Lego characters so your kids will probably really like the place.
As for the food, it is a bit pricey in my opinion but it does its job. It tastes good and it is enough for a snack. I pay a total of NT$280 for a little cake and a delicious pancake with ice and mango. You can also order coffee, tea, waffles… Given the size of the restaurant, it probably get crowded around lunch and dinner time so I suggest you go there for a snack or dessert in the middle of the afternoon.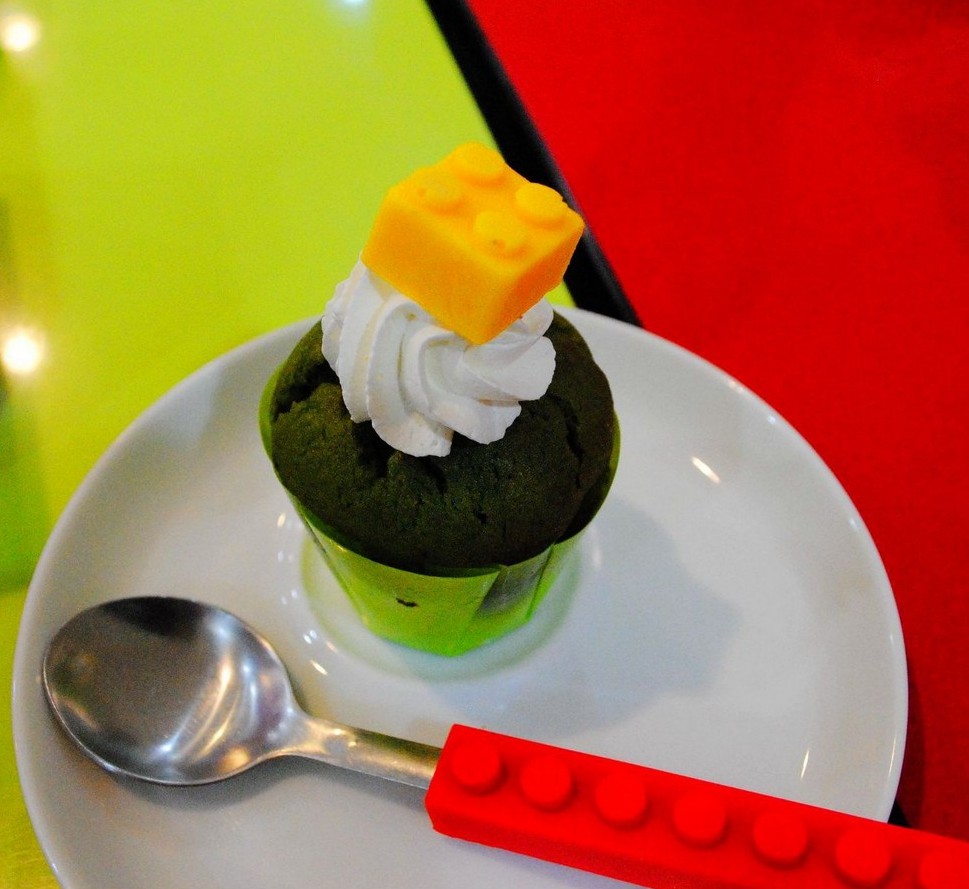 Upon leaving the restaurant, you can have fun looking at the glass façade to see all the different characters and buildings represented. Inside there is a shelf full of Lego boxes so my guess is you can probably buy those if you are interested.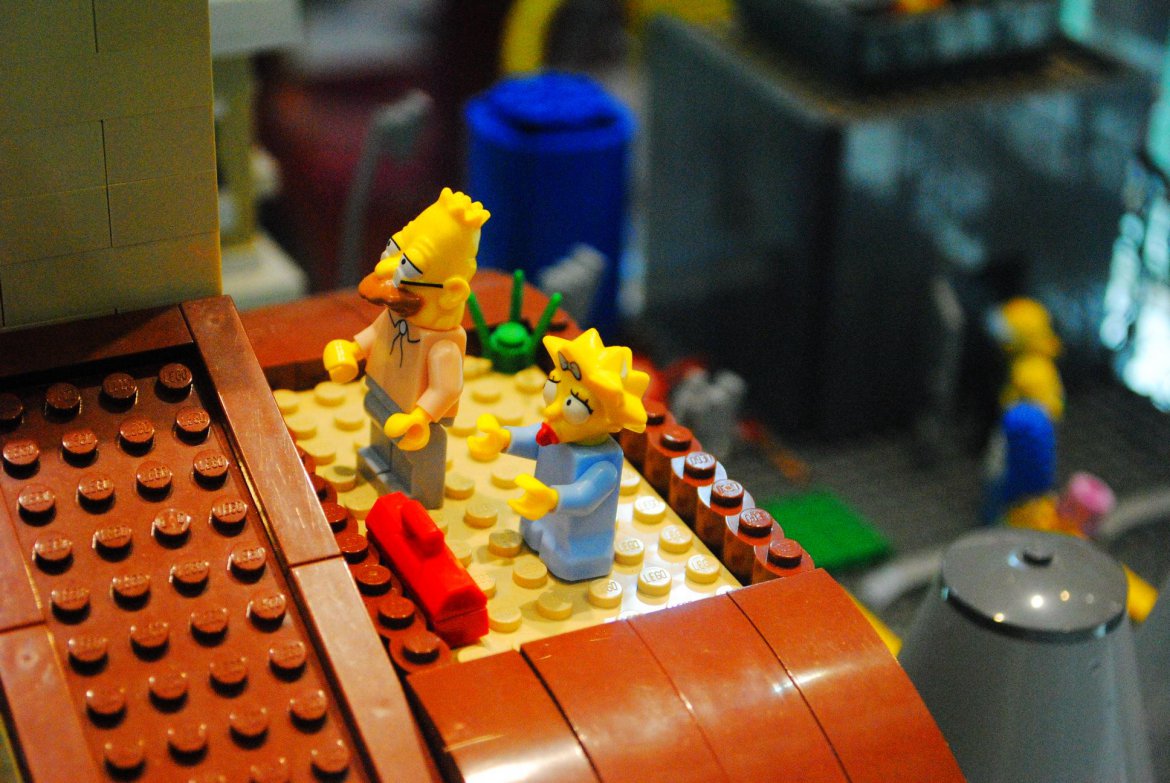 Related reading: From Classic to Fusion: Five Taipei Restaurants Worth Visiting
Explore more in Taiwan with MyTaiwanTour!