By Sunny Wu
Michelin Guide Taipei has announced its selection for 2019. Let's look at the five new entries and the two that earned additional stars. What did they do right? What's their secret to success? (Read more: Celebrating Michelin Gastromonth in Taipei)
The Michelin Guide Taipei has announced its selection for 2019. Out of the 24 restaurants to be awarded the coveted Michelin star (compared to the 20 restaurants in 2018, one of which has gone out of business), this year there are five new entries, two old entries that earned additional stars, and eighteen entries that maintained their status. Not a single restaurant lost a single star.
Let's look at the five new entries and the two that earned additional stars. What did they do right? What is their secret to success?
Trending Now: Casual Fine Dining
Dining trends come and go. The old style was to deliver the unique taste of Taiwan using mainly local ingredients. The new fad is more vaguely defined as something called "contemporary diverse cooking."
These last couple of years, as Taiwanese chefs gradually gained confidence in their culinary innovations, they've become more comfortable with putting their "signature" on what they make.
They've freed themselves from the shackles of "tradition"; now they strive to invent surprising new flavors with familiar ingredients.
Each course tells a different story, perhaps about the chef's personal background. Local foods are combined with diverse cultures, and there is no prejudice toward the techniques used. Similar ingredients can become vastly different cuisines in the creative hands of different chefs.
Perhaps this is what is meant by "casual fine dining": a sense of surprise, a dash of mischievous joy. The food may look outlandish, but it tastes familiar. Restaurants such as "Taïrroir", "RAW", "Impromptu by Paul Lee", and "logy" fit this category. Their presence in the Michelin Guide shows this may be the new hot trend in gourmet cooking.
The Newcomer Who Won Two Michelin Stars
Of the five new entries in 2019, one newcomer managed to net two Michelin stars: the sushi shop Amamoto (鮨天本). It has only twelve seats and has been almost impossible to get a reservation at since opening in 2015.
According to people familiar with the matter, the only reason it wasn't listed in the guide last year was because the anonymous Michelin scout couldn't even get in! At the award ceremony this year, Amamoto did not send a representative. According to host Jacko Chiang, it was because the chef Amamoto Shogo (天本昇吾) was busy serving customers in his shop.
Amamoto uses natural spring water from Nagano Prefecture in Japan to make rice for their sushi. The fish is also freshly imported, mainly from Kyushu, but partly from Tokyo. A complete course is comprised of twenty dishes including twelve kinds of nigiri (hand-formed) sushi. The Michelin Guide praises the taste as being genuinely authentic.
Shogo's older brother Masamichi (天本正通) is the owner of his own two-Michelin-star sushi shop Amamoto (天本) in Tokyo. iFuntuan Dining Club (愛飯團) founder Cindy Hsu (許心怡) notes that neither restaurant makes "classic" sushi: "They treat every piece of sushi as an individual dish, so it's more than a great taste, it's an entire seafood course in one bite." She adds that sips of sake in between each mouthful further enhance the experience, "they should've gotten into the guide last year!"
Reigning Champions Who Won Extra Stars
Two restaurants who had one Michelin star last year got an extra star this year: "Taïrroir" (態芮) and "RAW."
The Michelin Guide commends Taïrroir chef Kai (何順凱) as being "extraordinarily talented he promulgates the concept of matching fine dining with traditional Taiwanese culture, and he uses local ingredients to reinvent Taiwanese cuisine. He turns food into works of art with his modern techniques. The mingling of scent and taste elevates the gourmet's dining experience to new heights." (Read more: Taïrroir, New Michelin star of Taiwan blends Chinese cuisine with western aesthetics)
Famous epicure and expert in restaurant marketing Sandra Lee (李姝慧) observes that Kai was trained at a proper chef's school, and learned his craft from masters of traditional Taiwanese cuisine. Therefore, he has a very clear understanding of what the Taiwanese taste is, and "he is bold. He doesn't just borrow elements or ingredients or themes from Taiwanese cuisine. His attitude is simple: This is what I make this is my interpretation of the Taiwanese taste."
"RAW" was created by famed cook André Chiang (江振誠) and the Hasmore Restaurant Group. It also gained an additional star in 2019. The Michelin Guide states, "RAW presents Taiwanese cuisine with extremely creative modern techniques. Commonplace and popular Taiwanese snacks return to your table with brand new looks and flavors." RAW's set menu includes nine dishes, each of which is a delicious yet familiar example of modern Taiwanese cooking.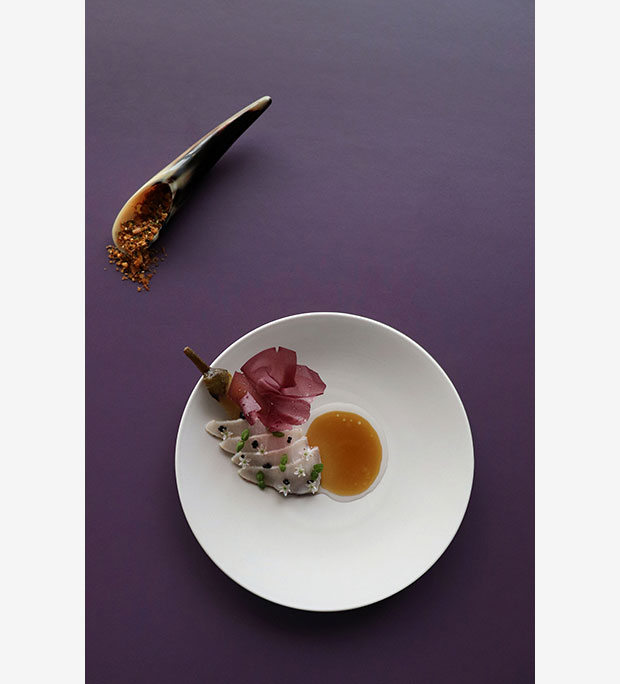 Chef Alain Huang (黃以倫) says this is "the original taste of Taiwan." At the award ceremony, Huang pointed out: "Our mission statement has not changed since RAW opened in 2014. We want to present the unique element and culture of Taiwan on the global stage of fine dining. We want to establish an international brand that truly belongs to Taiwan, and to create a platform for young Taiwanese chefs to learn about the world."
Taiwanese food expert Hsu Zong (徐仲) says RAW has defined its own style in recent years, and strives to present their understanding of the "Taiwanese Taste" in the flavor and presentation of their dishes.
Newcomers Who Won One Star
Four new entries won one Michelin star each. Three are new restaurants that opened in the last year or so: "Impromptu by Paul Lee", "logy", and "Mountain & Sea House" (山海樓). One is an old-timer called "Tainan Tantsumien Seafood Restaurant" (台南擔仔麵).
"Impromptu by Paul Lee" was the first newcomer to be awarded a star at the ceremony. It offers fine Western cuisine. Chef Paul Lee (李皞) was born in Taiwan but grew up in California. He worked in restaurants when he was a student, cutting his teeth on menial tasks like washing dishes. His love for the art propelled him from a part-time worker who made US$6.5 an hour to an executive chef with a six-digit annual salary.
The name "Impromptu" captures the spirit of his restaurant.
Lee explains, "This word is fascinating to me because I don't like being shackled or following established rules. Western restaurants in Taiwan are bound by too many limitations and stereotypes. I want my own cooking to reflect my personality, unfettered and undefinable by any fixed style, technique, or method of presentation."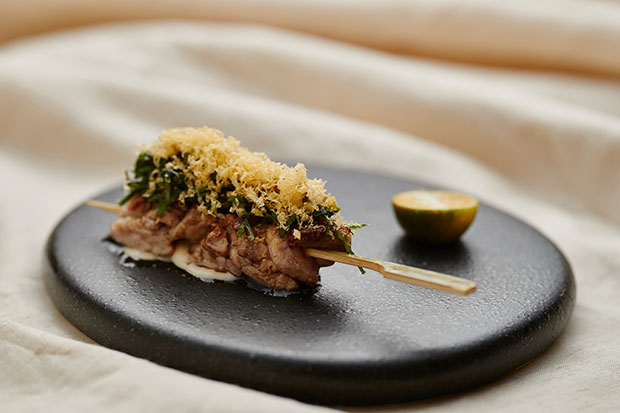 Lee first came back to Taiwan in 2017 at the behest of the Regent Taipei to provide catering for 700 VIP guests at the annual Regent party (麗晶之夜). Regent public relations manager Beth Tsai (蔡惠茹) notes that, "the hors d'oeuvre we serve at parties are small in portion, but Paul's talent shone through. Every course was immensely popular and gobbled up in an instant.
Afterwards, many boutiques and guests of honor hired him to cater for their private parties in Taiwan." Building on his popularity, the Regent Taipei invited him to be their guest chef-in-residence for two months.
Lee spent his time at the Regent Taipei learning more about Taiwanese cuisines and palate. He ultimately decided to set up his own business in Taiwan. He opened his first restaurant in the basement of the Regent Taipei and was soon awarded his first Michelin star.
The restaurant "logy" took its cue from the Japanese restaurant "Florilege" in Tokyo, which is itself the proud winner of two Michelin stars. The cuisine is Western, but customers sit at a bar and are served directly by the chef in the style of Japanese restaurants. Chef Ryogo Tahara (田原諒悟) is from Hokkaido. Even before the restaurant opened in November of 2018, he had been working and traveling around Taiwan, drinking in the culture and learning about the food.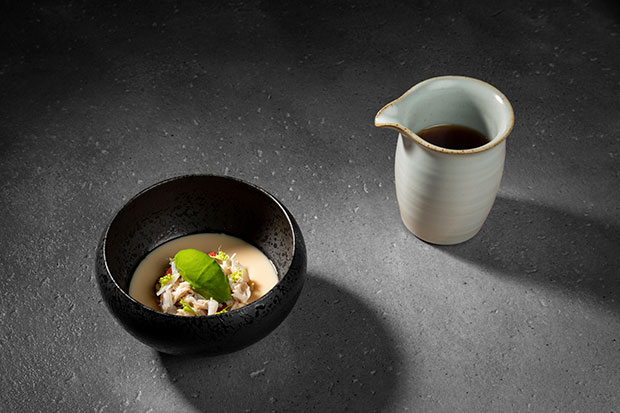 Coffee expert and founder of Fika Fika Café James Chen (陳志煌) says Ryogo Tahara was very diligent in his fact-finding mission. "Ordinary people just taste the fruit, but Tahara would taste the leaves of the fruit tree as well. He'd also look at what else was growing nearby and try to integrate all the natural ingredients into his dishes."
Chen points out that the Japanese chef's lack of knowledge about Taiwanese food allowed him to break the mold. "Tahara is very creative and unique in his methods. He offers a new spin on the taste of Taiwan, and he does so in a way that makes you smile instead of being jolted by surprise."
For example, the dish crispy amadai fillet is inspired by Taiwanese salty fried chicken. The duck breast sauce incorporates elements of spicy hot pot. Tahara turns sticky rice into risotto and braised pork rice into takoyaki. Every course is a surprise, but the taste is always a delicious new blend.
Taiwanese Cooking Makes a Splash with Michelin
"Mountain & Sea House" presents Taiwanese cooking in the setting of a traditional banquet of the 1930s. The ingredients come directly from organic farms and harbors owned by the same company to ensure that customers always eat fresh. The Michelin Guide praises it for "serving refined and authentic traditional Taiwanese cuisines." Food expert Hsu Zong says the food served here is well-suited for wining and dining special guests, because the lavish setting and graceful mood are reminiscent of fine dining in world-renowned restaurants.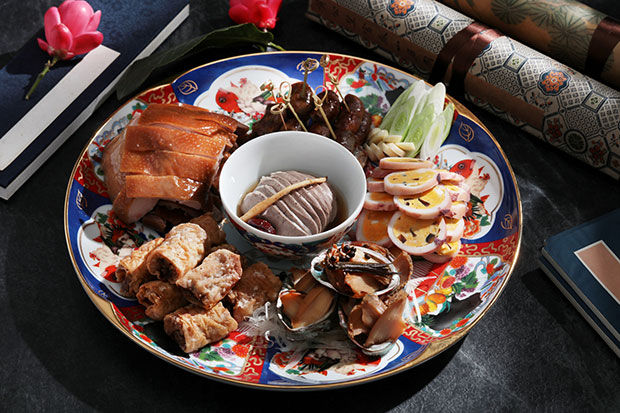 The key person behind this restaurant's success is Ho Yi-jia (何奕佳), CEO of Green & Safe, which is part of the Yuen Foong Yu Group. She is overjoyed that her restaurant made the cut.
"Native Taiwanese ingredients are transformed by the old masters' craft. It's as if beautiful flavor crossed time and space to delight our customers' palate. The joy our customers feel is the greatest honor that can be bestowed on Taiwanese cooking. It is also the best affirmation of our local foods."
She anticipates that recognition from the Michelin Guide will bring broader exposure to native ingredients and the taste of Taiwan.
Tainan Tantsumien Seafood Restaurant is located on old Huaxi Street in Central Taipei. It's famous for its extravagant seafood dishes, and it's recognized as the highest standard for seafood restaurants in Taiwan. The Michelin Guide recommends that customers try the traditional danzi noodles in addition to the seafood. Cindy Hsu says the elaborate chandelier, elegant European utensils, and fresh seafood would have already made this old restaurant eligible for an entry in the Michelin Guide thirty years ago.
Translated by Jack C.
Edited by Sharon Tseng
(This article is reproduced under the permission of CommonWealth Magazine English Website. It does not represent the standpoint of Taiwan Scene.)
Read more: Michelin star-studded summit in Taiwan serves up mouthwatering cuisine