Hot pot is a communal feast consisting of a cauldron of broth into which diners place a nearly-endless variety of raw ingredients over the course of a leisurely meal. It's an interactive dining method comparable to Western fondue, except that instead of dipping bread or fruit, a full multi-course meal is cooked in a flavorful (sometimes very spicy) soup base. It's extremely popular in Taiwan, especially in the cooler months.
Taiwan Scene sent guest columnist Francesca Chang out to experience five excellent hot spot restaurants in Taipei offering unique takes on this traditional meal.
1.A Taste of Guizhou in Taipei: Mu Chili Hot Pot (牧羊人)
Before visiting Mu Chili Hot Pot, I thought that spicy hot pot could only be eaten in one of two ways: hot and hotter. But the fresh, stir-fried spices provided a complex array of flavors that I had never experienced at any other hot pot spot. The never-frozen meat was fresh, moist and tender, making the whole meal a genuine gastronomical delight!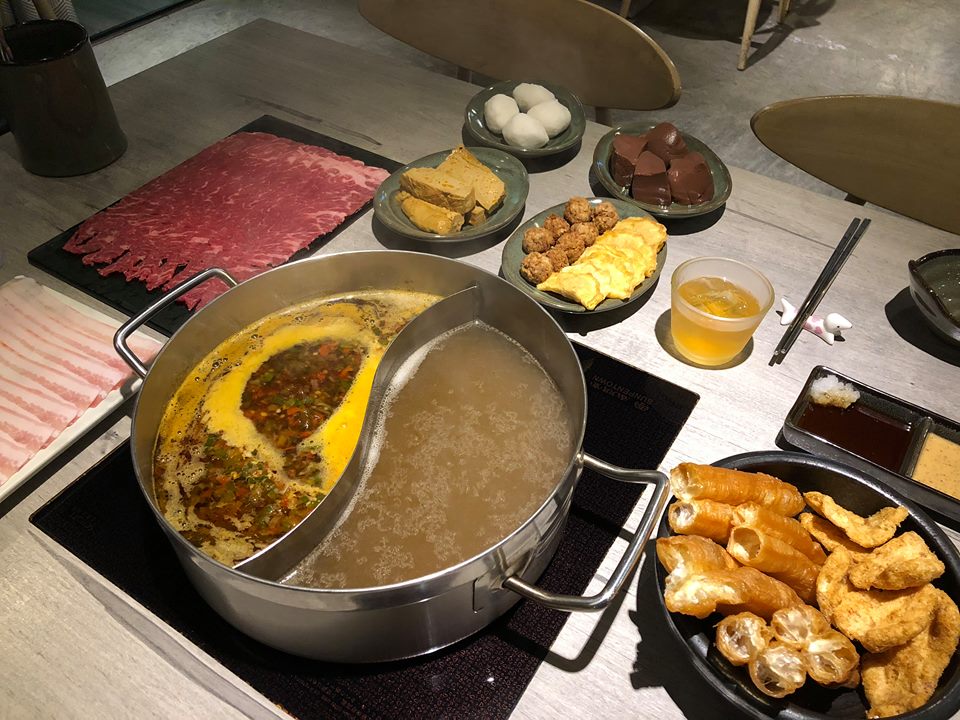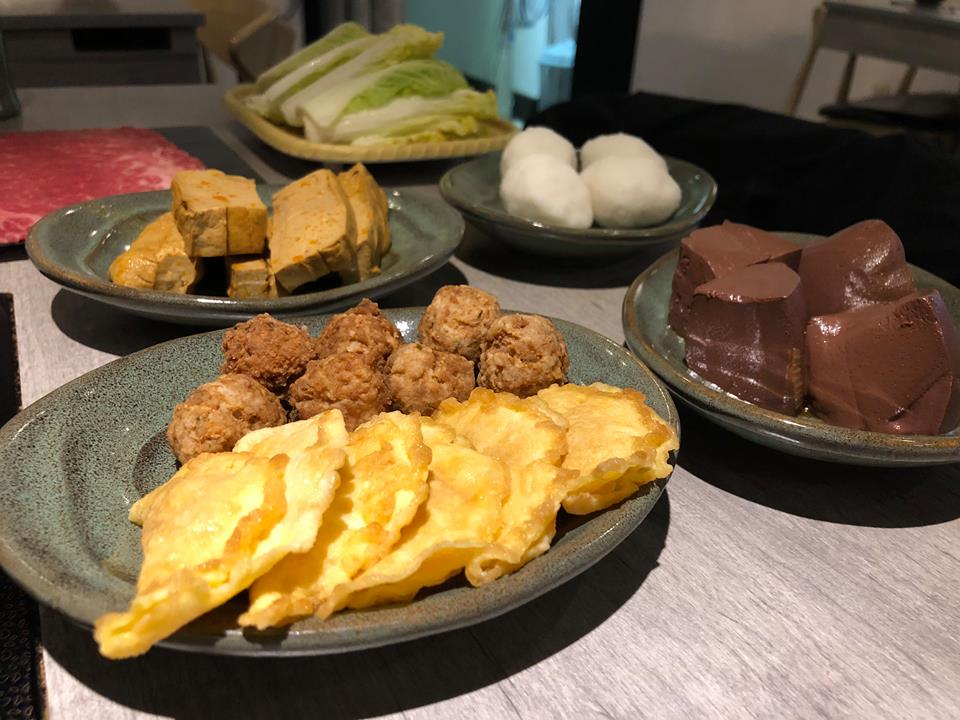 While most of the hot pot places in Taipei use soup bases originating in central China's Sichuan province, Mu Chili Hot Pot offers a cooking style from Guizhou, a more tribal part of southeastern China. So instead of a typical Sichuan base made from hot chili oil and peppercorn, their famous chili hot pot soup base is made from fresh spices that are stir-fried. Thus, there is no numbing effect; only pure, hot spices that season the broth and double as a garnish for the meat.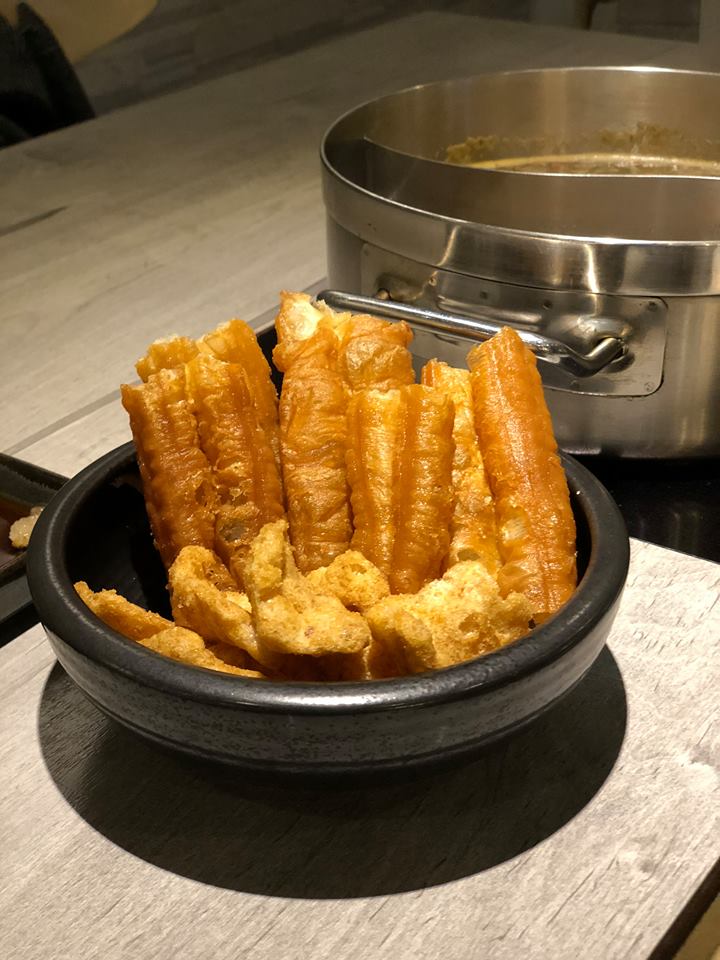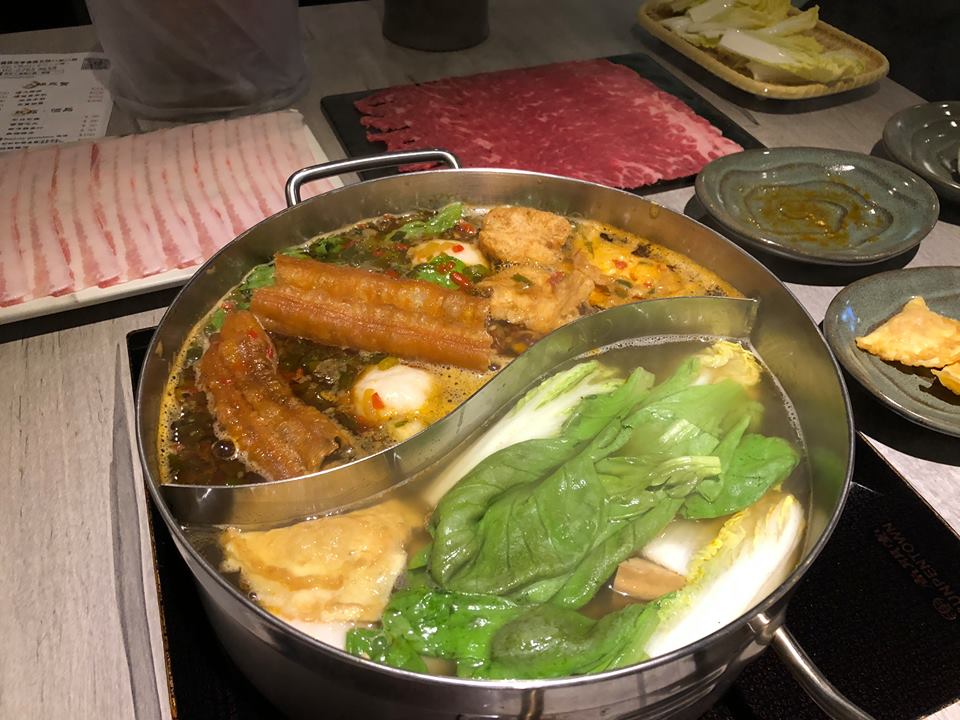 This traditional Guizhou recipe is kept alive in Taipei by a young Taiwanese named Mr. Mu – the inspiration for the restaurant's Chinese name, "Shepherd Mu's chili hot pot", who remains closely involved in the day-to-day operations. All food entrees to be cooked in the soup bases are ordered a la carte, including USDA Prime 1855 Angus Beef (never frozen), fresh fish balls and meatballs from Taiwan's FuZhou meatball company, their soy sauce-braised duck blood and tofu (made in house), deep-fried dough sticks, and fresh vegetables. They even offer cherry duck, a specialty from Yilan, Taiwan. For the faint-of-heart, Mu Chili offers a non-spicy white broth with stir-fried onions that can be served alongside the chili base.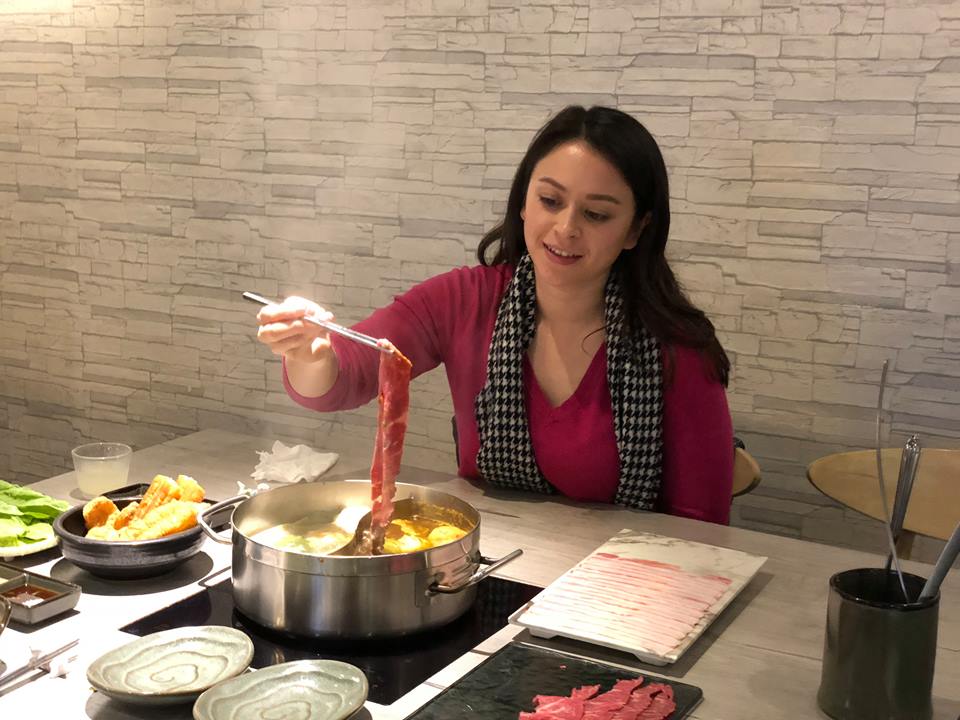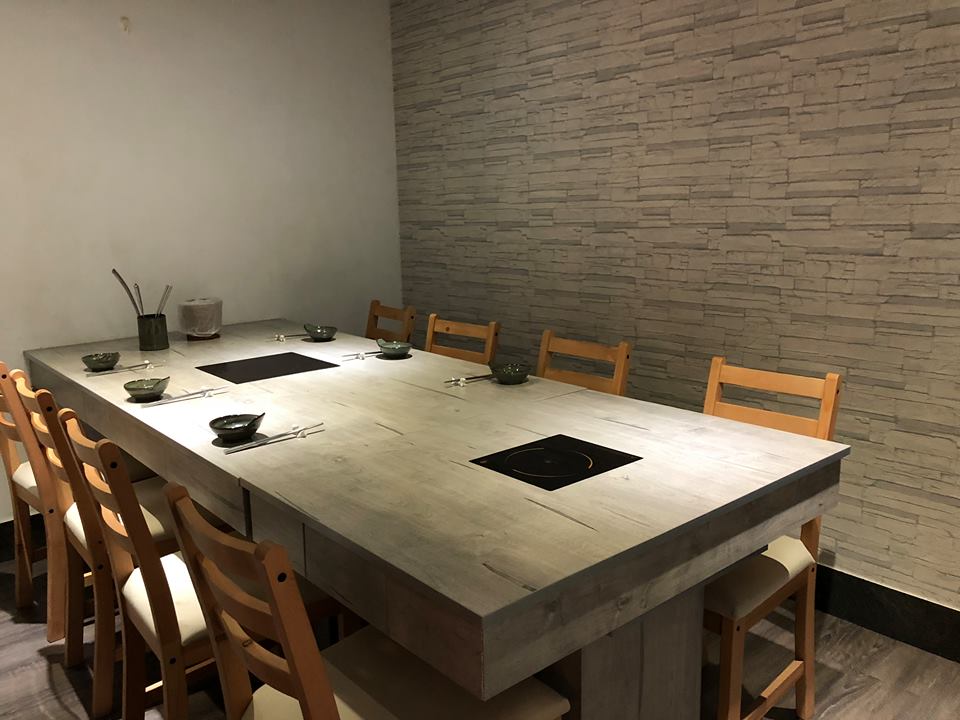 2.From Surf-and-Turf to Sashimi: Togo Market 
This unique and experimental venue will make you look at dining in a whole new way. From the non-GMO grocery store to the fresh seafood tanks lining the walls, every visit here is a true farm-to-table experience. Togo Market is a massive all-in-one restaurant, sushi bar, grocery market, and bakery. Two stories high, each department is led by its own designated chef. Fresh, live seafood tanks line the entrance against a bright blue wall across from the sushi bar island lined with chefs and fresh cuts of seafood. There's a full service sushi bar, and as the name implies, hot lunch boxes can be ordered to go during the lunch hour.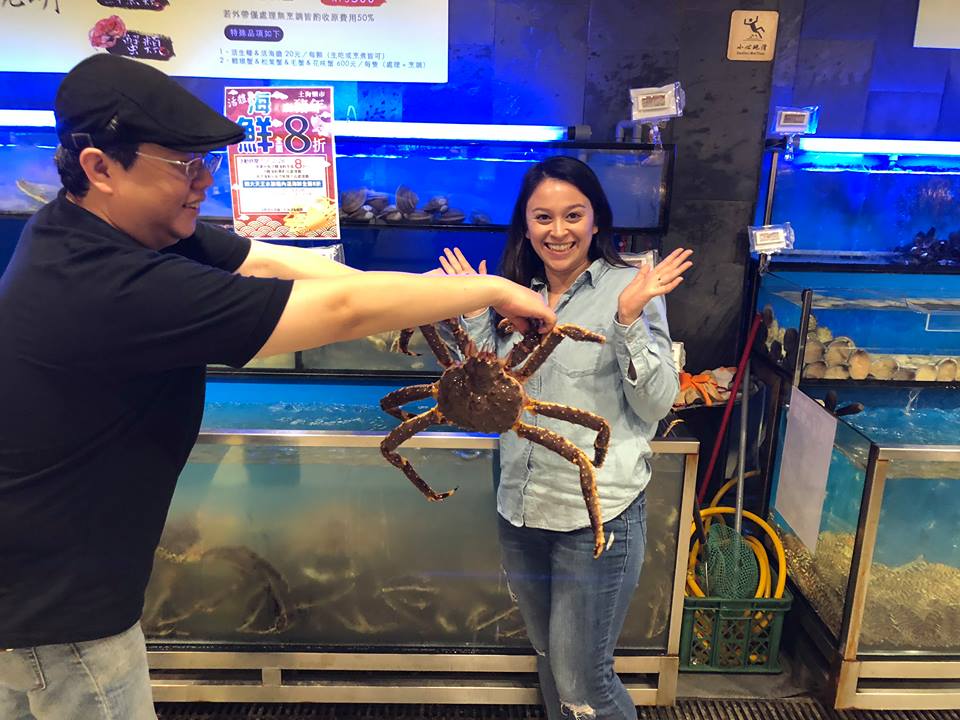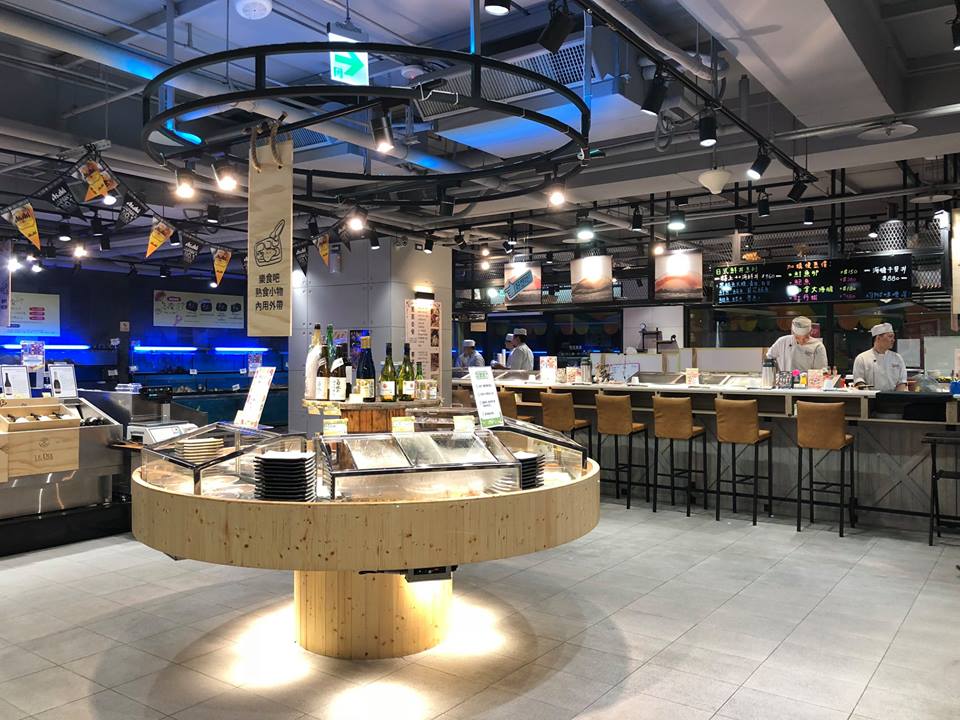 We'd come for hot pot, so we headed to the basement level next to the fully-stocked grocery store for a unique "surf and turf" hot pot combination including fresh seafood served on ice (1 king crab, 6 white shrimp, neritic squid, 2 eggs, clams, oysters, and abalone) and 150 grams of wagyu beef from Kagoshima, all to be cooked in a spicy or non-spicy soup base. The owner of this true "supermarket" prides himself on sourcing ingredients that are free from pesticides or GMOs, so only all-natural ingredients were included in the hot pot set.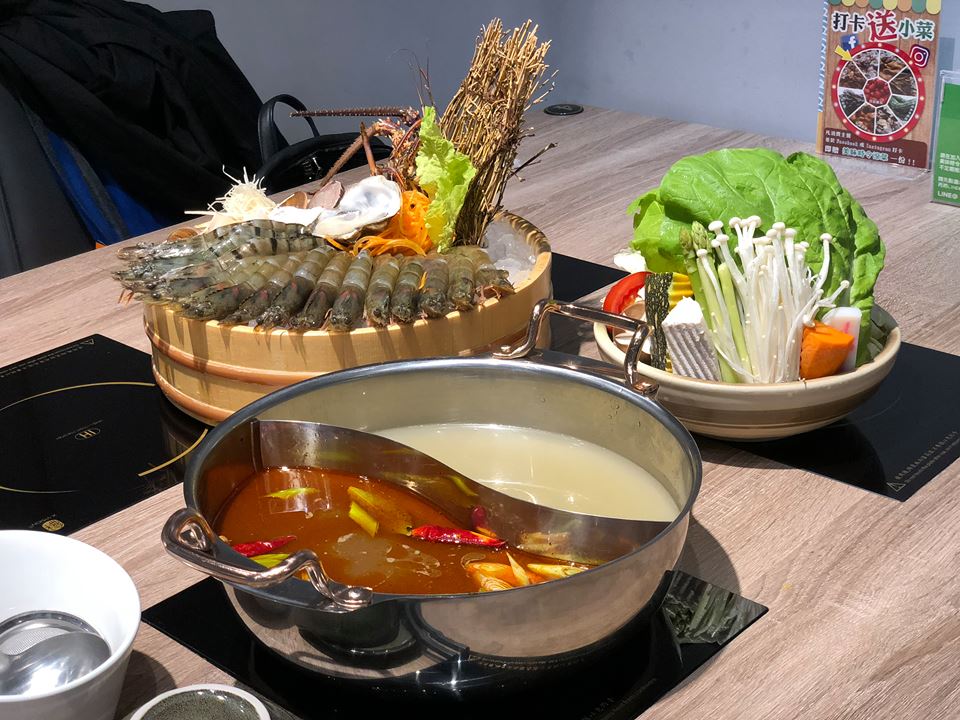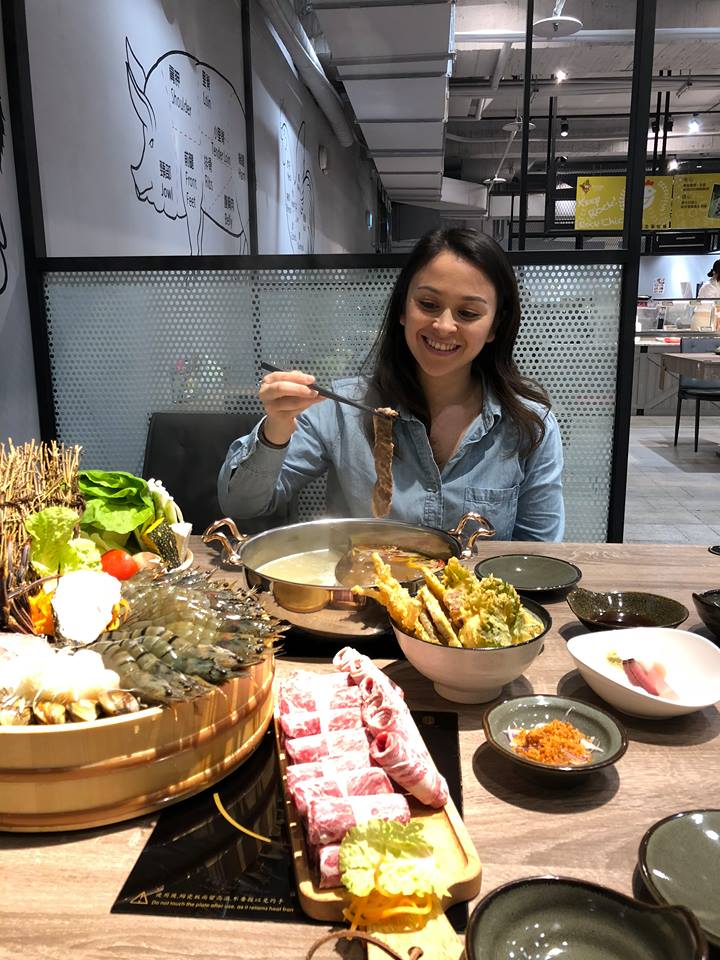 The surf-and-turf hot pot included fresh ingredients, and I got to sample a bit of their fresh sashimi as well as Japanese cuisine like tempura and scallops wrapped in sweet potato leaves. Spicy hot pot is just one piece of this progressive food movement found in the middle of Taipei city. We left fully sated. The food, as well as the philosophy, will definitely bring me back to Togo again and again.
3. Traditional Chinese Medicine meets Taiwanese Hospitality: Yu Pin Yue Hot Pot
Yu Pin Yue Hot Pot is a traditional hot pot venue whose red walls (the color for fortune, good luck and prosperity in Chinese culture) stand prominently against all-black furniture and trimming. Located in the heart of the Xinyi District with a view of Taipei 101, this restaurant is an example of how Taipei preserves its traditions in the modern world with its chic design, downtown location and staff of older women who believe that food should not just feed, but promote health as well. The soup base for the spicy hot pot at this restaurant is made with Chinese herbal medicine, simmered for hours, and never enhanced with chemically-based pre-packaged soup bases.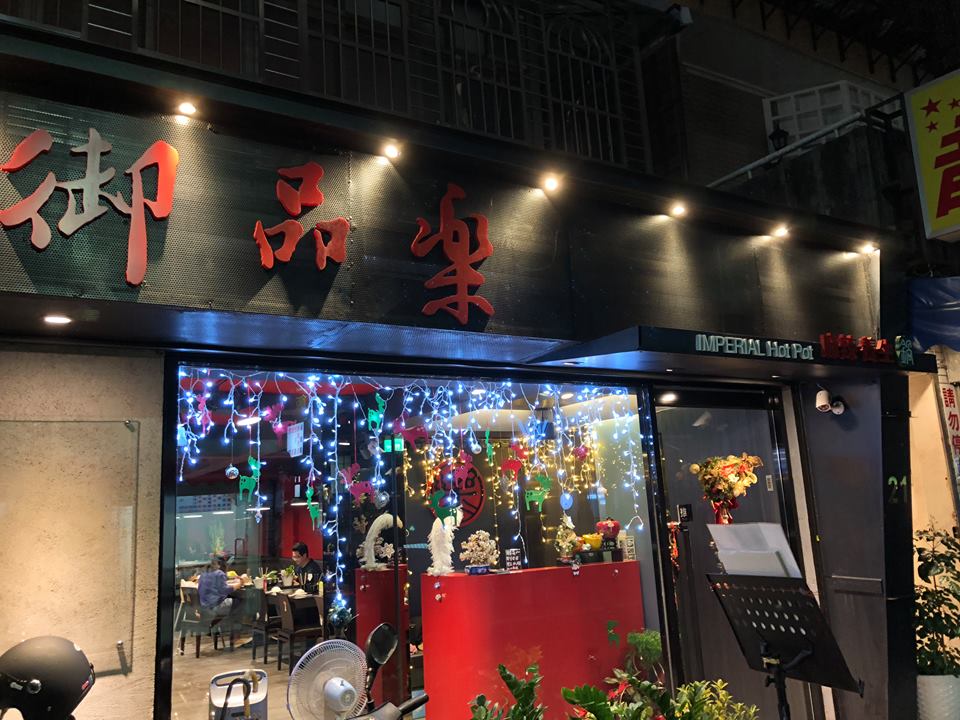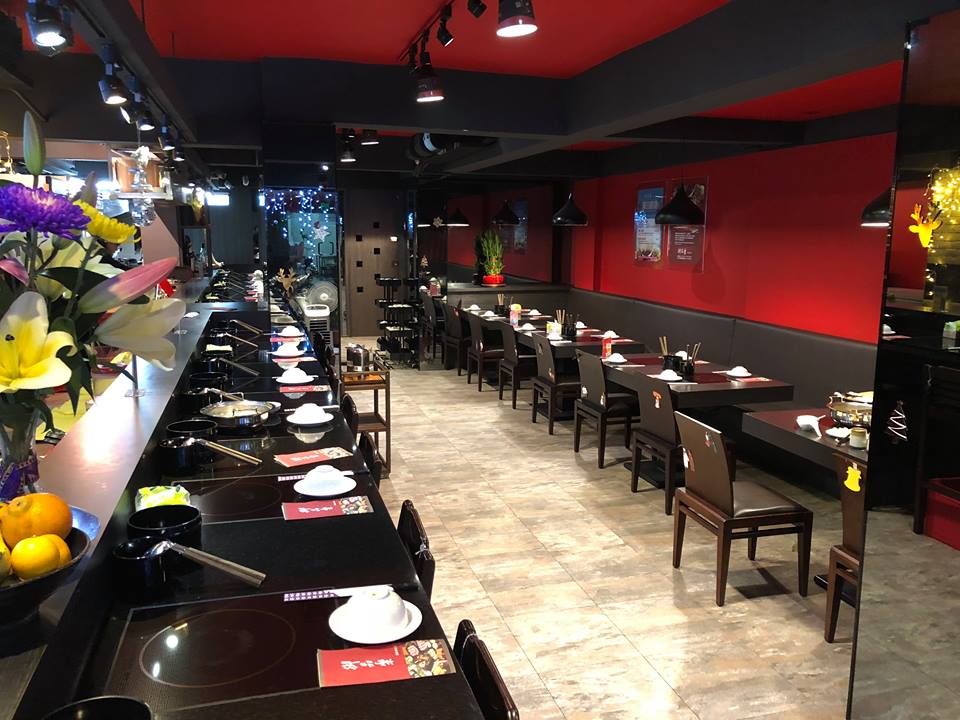 We were welcomed and greeted by two "aunties" (a term used affectionately for any older women in Taiwan) who treated us like family and made sure we had everything we needed. The Chinese-herb-infused spicy hot pot soup base was both healthy and hearty, and a glass of fruit vinegar was provided for us to cleanse our palates between courses. The fresh ingredients tasted even better with our dipping sauces, which we made ourselves in the self-serve section of the restaurant. We enjoyed a side of their "QQ" noodles, the Taiwanese word to describe a perfectly chewy texture. And the mushroom "meatballs" and pork crisps are both must-try items. The quality of the food combined with the Taiwanese hospitality was a true representation of the food culture that dominates the island.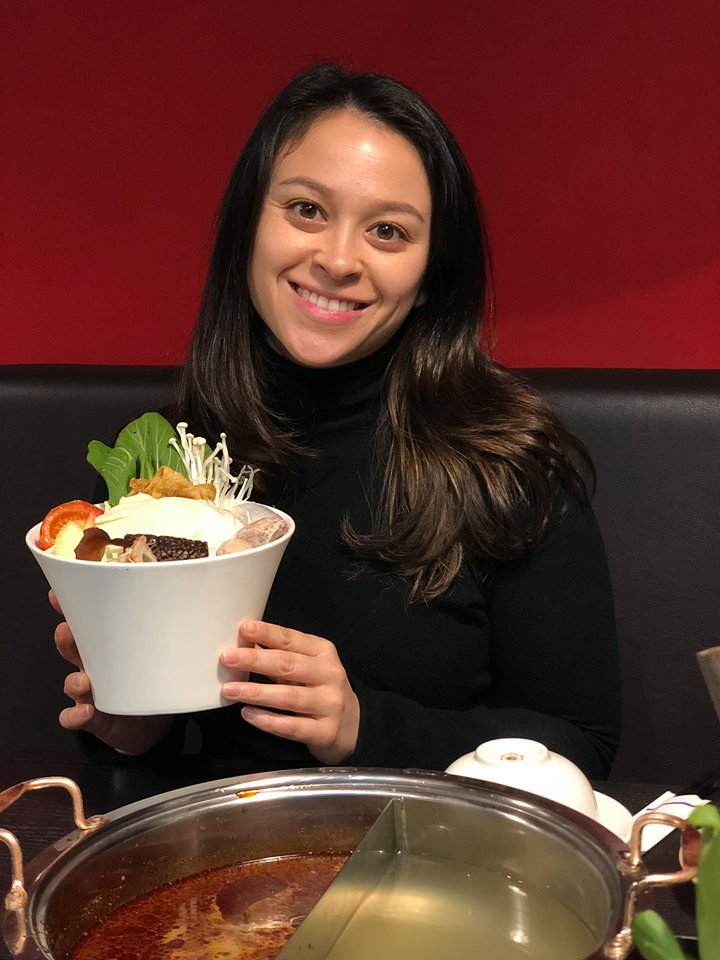 4.Fresh, free-range and farm-to-table: Nabe Muteki 
If it's local flavor you're after, look no further: Nabe Muteki features the finest ingredients from all over Taiwan. They offer twelve different meat sets to be cooked in their vegetable soup base, radish soup base, chicken soup base, or Korean style spicy miso soup base, with all seven of their pork cuts from free-range raised black pig farms in Yunlin. Their chicken is also from free-range black chickens raised around Taiwan, while their locally-famous fish and shrimp dumplings come from Taipei's Nanmen market. Their well-known Guan Miao noodles come directly from the southern city of Tainan, and are made from Taiwanese water and flour.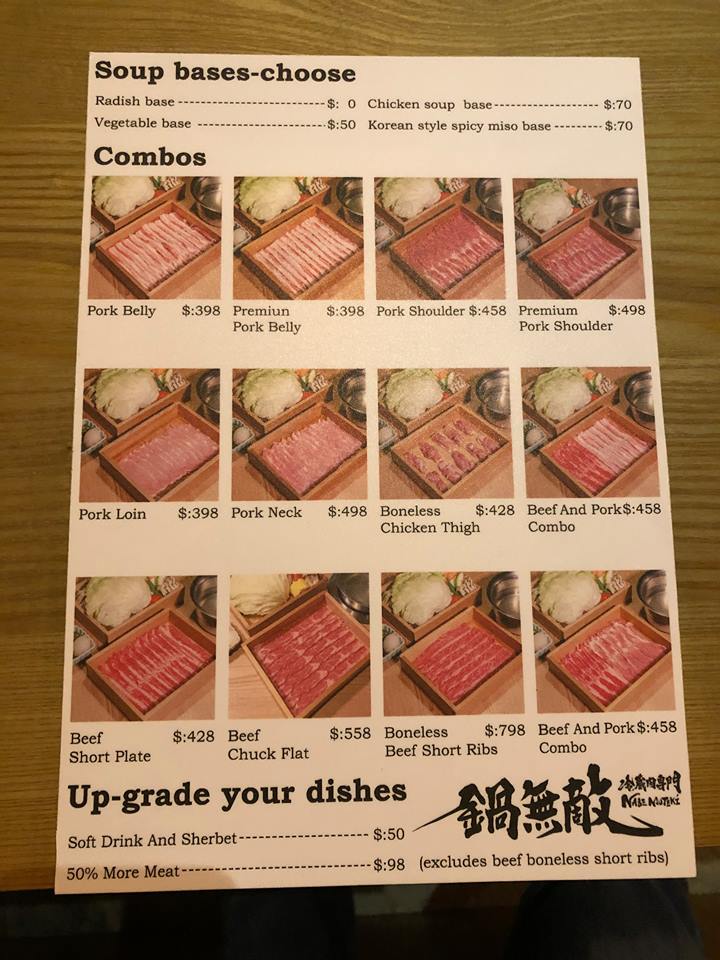 Everything at Nabe Muteki is super fresh. Their egg dumplings – with the outer shell made completely from a cooked egg – are made in house, their cuttlefish balls are made from freshly caught squid, and (unlike most other hot pot restaurants) shrimp are served peeled and deveined. Instead of a self-serve sauce station, their dipping sauce is a pre-made house specialty consisting of soy sauce, ground garlic, green onions, and crushed radish.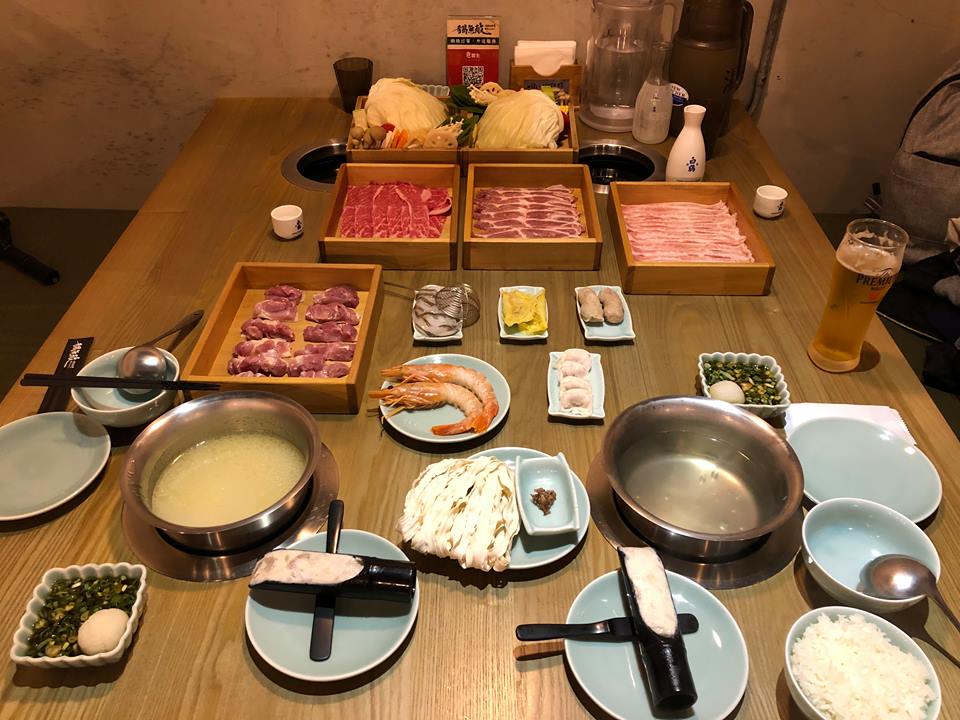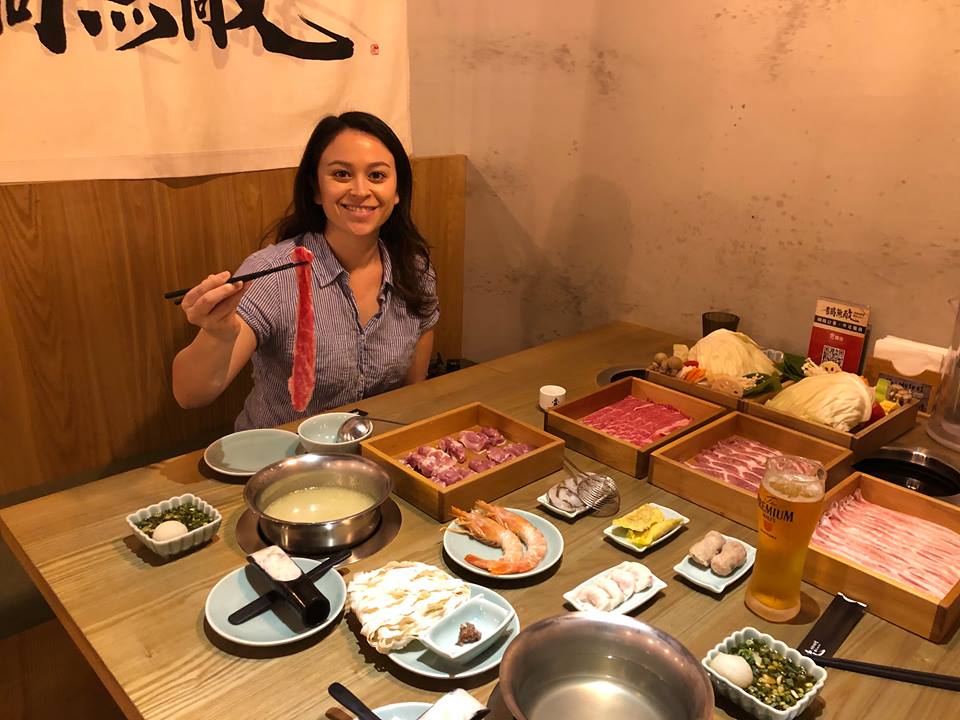 Nabe Muteki staff are well-versed in all things hot pot, from the source of the ingredients to how to properly cook the meats and vegetables in the soup base. Wearing matching uniforms, staff are happy to introduce all specialties and ingredients and give personal recommendations as well. We ultimately went with the vegetable soup base, and the chicken soup base, each with our own respective pots. We tried the highly recommended local pork shoulder, American short rib, pork belly, and free-range black chicken (my personal favorite), all which were extremely fresh and tender. Between the professionalism of the staff and the quality of the ingredients, we felt like we were dining at a Michelin-star hot pot restaurant.
5. Taipei's Hippest Hot Pot Spot: La Ching
Boasting the look and feel of a nightclub (with chill music and a laid-back staff), La Ching is probably the least-traditional spot on our list. A small venue with blue, pink, and purple mood lighting, La Ching offer private booths and a full service bar. Naturally, the place is popular with couples. La Ching offers both seafood and meat combinations for their hot pot selections, but with a few unique ingredients that allow for an exotic experience.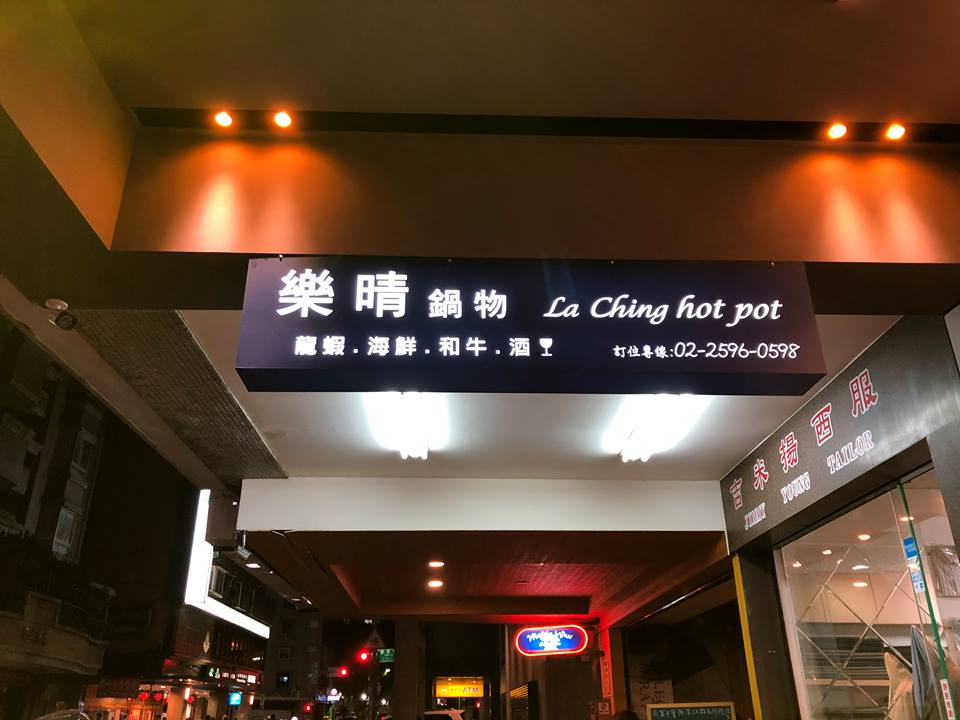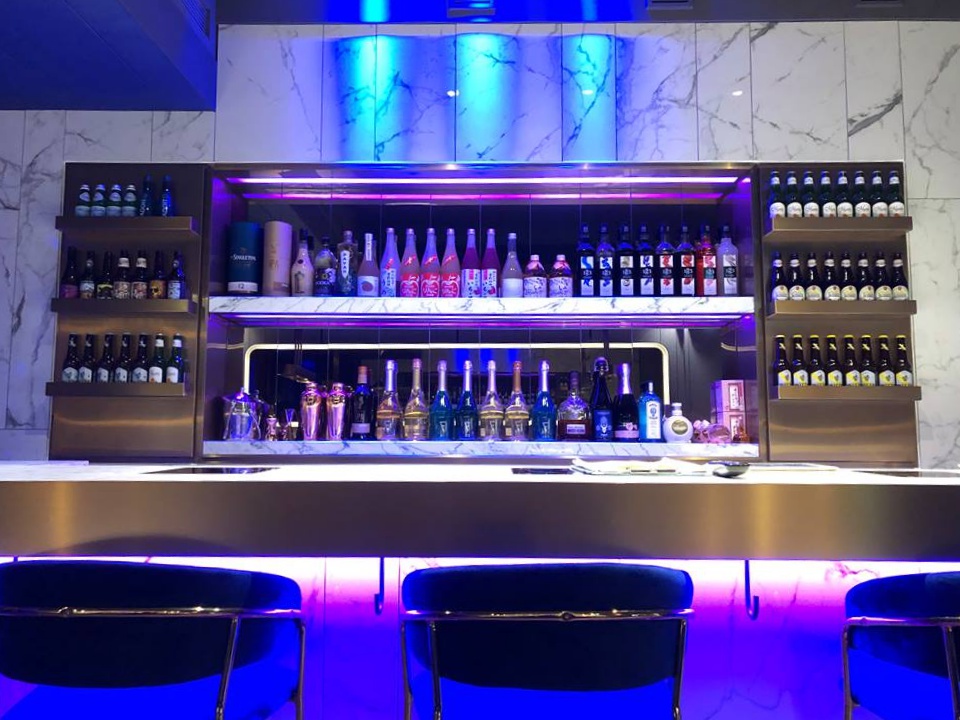 Most notable is their Mayura Wagyu, cattle from Japan that is raised in Australia and fed two kilos of cocoa beans every day for 600 days in addition to a nutritious, hormone and antibiotic free grain diet. This "chocolate wagyu" has a very sweet taste when it is cooked in one of their special soup bases, such as kelp, tomato, pure milk, or Sichuan spicy soup base. Their soup bases are also free from chemicals and are made from fresh vegetables, resulting in a light taste that allows you to experience the flavor of the meat to its fullest. Their pork is Berkshire black, a breed comparable to Kobe in quality, and their live lobster (flown in from Boston) are hand-selected when a customer orders the seafood platter. Vegetarian combinations are also offered.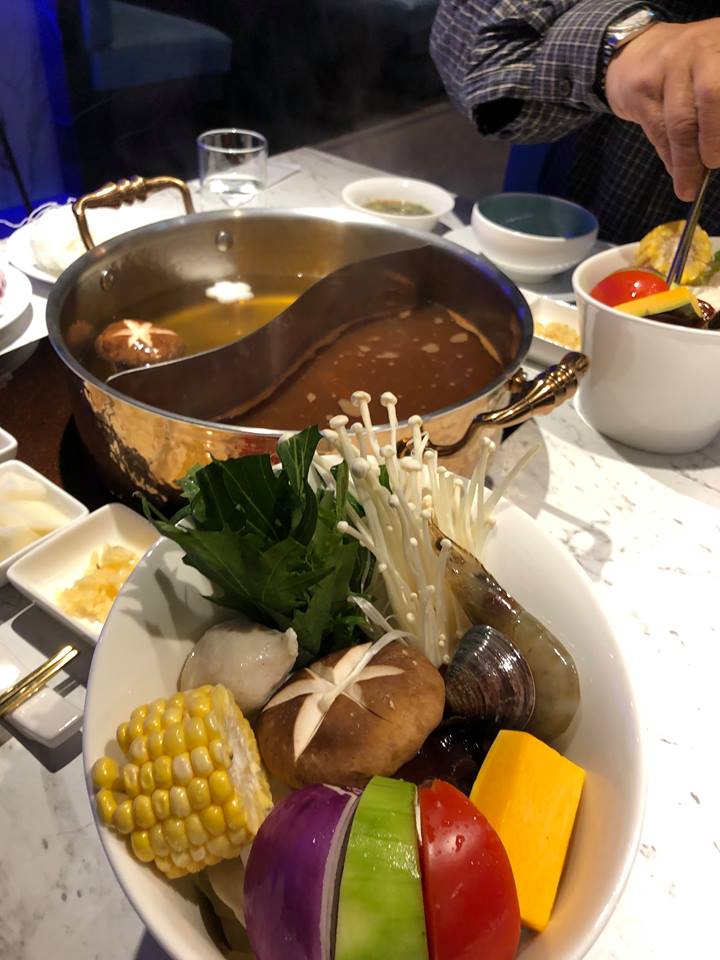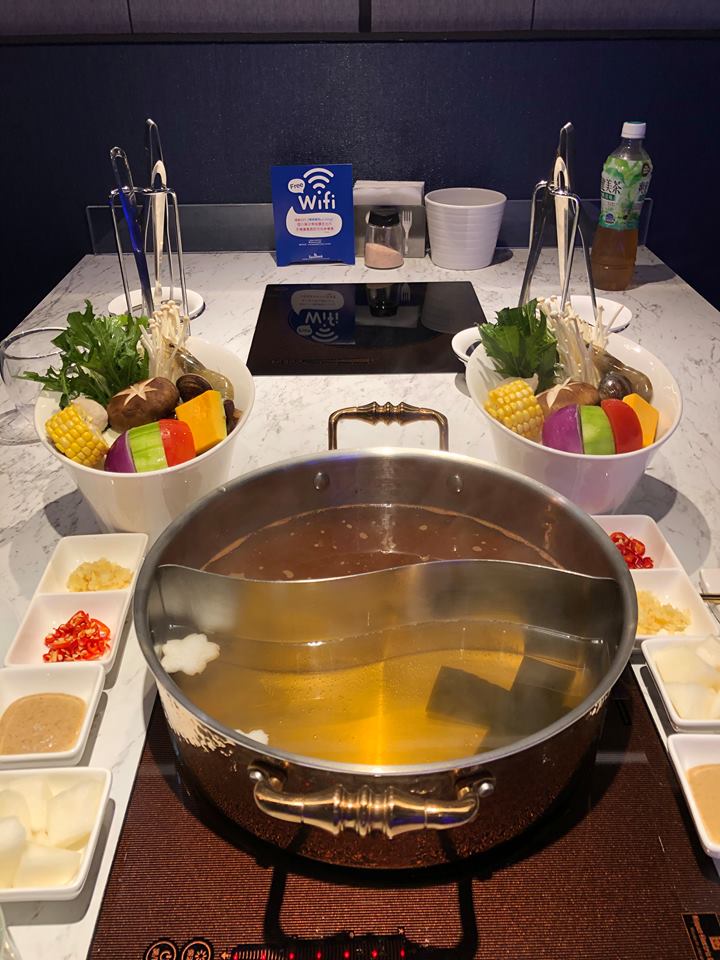 We ordered both the Seafood platter for two and the Meat platter for two, going with the staff recommendation of kelp and tomato soup bases (served in one large pot split down the middle). For our meat selection, we tried their famous "chocolate wagyu" and the Berkshire black pork belly. The wagyu was truly sweeter than any other meat I had ever tried before and the pork belly was super fatty and tasty. The restaurant recommended we try the meats with a bit of their pink Himalayan salt and dip the fresh seafood in their unique kumquat dipping sauce, but the flavors tasted good regardless of how we ate them. The restaurant prepares a special dipping sauce made with soy sauce and kumquat; the sour flavor is meant to complement the meats and fresh seafood.
From Chinese medicine broths to Wagyu beef that is fed chocolate, the variety of hot pot restaurants in Taipei is as diverse as this ever-evolving city. Each restaurant above still holds on to tradition in some way without sacrificing quality. Regardless of which hot pot venue you choose, expect to spend an evening eating and bonding over an age-old pot that always seems to bring people together.
Read more:
"Baby, it's cold outside!" Winter in Taiwan
Goats and Gas Masks at Taiwan's Hell Kitchen
From Classic to Fusion: Five Taipei Restaurants Worth Visiting