Food waste is a common problem encountered by many metropolitan areas these days. As Chief of Zhongqin Village (忠勤里), an enclave of Taipei's inner-city, Fang Hesheng (方荷生) has been working hard to tackle the issue and raise awareness of the concept of "continuous food." Not only has he set up Taipei's first-ever community food bank to redirect what would otherwise have been wasted food from big businesses to those really in need, but he has also launched a café and community fridges to cut food waste and empower the community. He is now looking to spread his "continuous food" revolution across Taipei.
THE ROOTS OF "CONTINUOUS FOOD"
Nanjichang (南機場), one of Taipei's oldest neighborhoods close to Wanhua (萬華), is where Fang grew up. The area was once Taipei's city center during the Qing Dynasty (清代, 1636 A.D. – 1912 A.D.) and highly prosperous during the later Japanese era. However, as other areas of the city, Fang says, have seen investment and infrastructure quickly develop, Nanjichang has been left behind. "There are many single parents in the community, unemployed families, new residents, senior citizens, middle-to-low-income households and others that need care," he points out. (Check out the night market in Nanijichang too: Taiwan Knows Food: A Guide to Taipei's Michelin-Worthy Night Markets)
In the past, disadvantaged families and those in need received food packages from charities or social welfare organizations, but these aid packages do not take into account a person's specific circumstances and needs. Sometimes, food would be wasted.
"The rice was often stored in one place, and then stored in another place, and, after a month or two it would have insects growing inside," Fang explains. "That food should be used properly. If it is sent to people who don't actually need it, it will be wasted."
In 1998, after being elected Chief of Zhongqin Village, Fang began redistributing unused or unwanted food to those in the community who need it by setting up Taipei's first-ever food bank.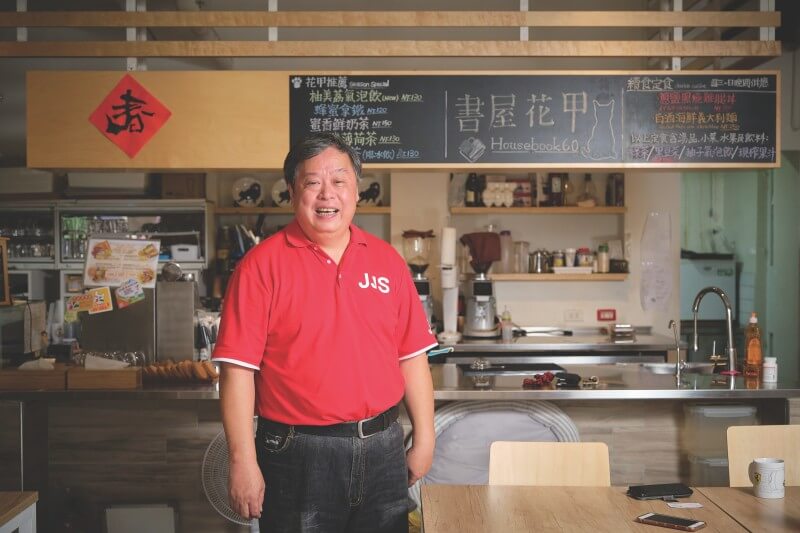 Fang succeeded in persuading the government to repurpose an abandoned post office on a small Nanjichang street for storing and displaying donated or unwanted food, so that disadvantaged community members could choose the items they need. It is essentially a well-stocked supermarket where local residents could find what they need without having to pay. He named it The Nanjichang Happy Food Bank (南機場幸福食物銀行) — Taipei's first community food bank.
Rather than just relying on food donations from the community and other welfare groups, Fang quickly sought out commercial partners to not only provide for the needy but also cut down on big companies' food waste. He started with Carrefour. (Read more: Dreaming of Food in Taipei: YouTube Star Ku of Ku's Dream Shares His Love of Local Taiwanese Eats)
"I found that mass merchandisers always need to take products off the shelves before the product actually expires, otherwise it will affect the goodwill from customers," Fang observes. "However, in order to deal with these soon-to-expire packaged foods like instant noodles, biscuits, and canned food, companies like Carrefour have to pay processing fees. It is a waste of both money and food."
Consequently, Fang convinced Carrefour to allow him and his fellow volunteers to take the soon-to-expire food and share it with people in need. It is a win-win situation, he says. "Carrefour can save food processing fees, and we also have free resources to distribute to those in need."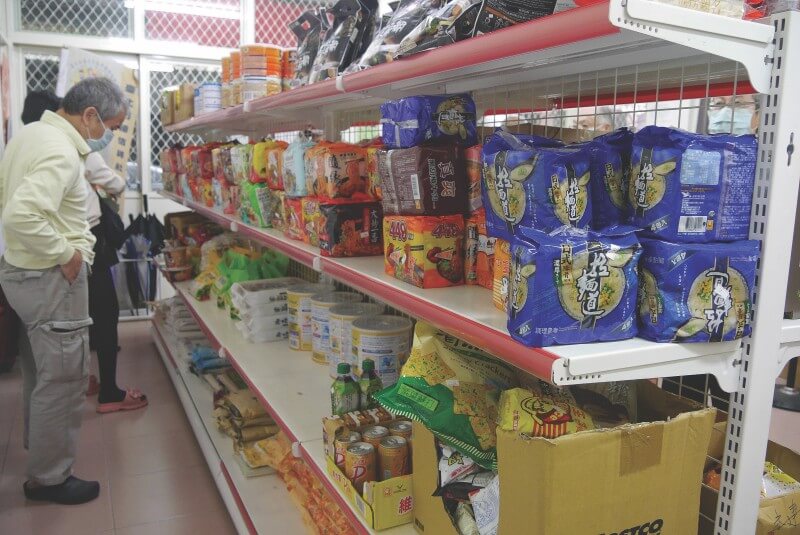 Supporting the idea, 117 Carrefour stores across the country now send unused products to welfare groups across Taiwan every day.
In addition to Carrefour, Fang works with several other brands, including the noted Wu Pao Chun Bakery (吳寶春麥方店), to bring food that would otherwise end up in the trash to hungry Taipei bellies. According to Fang, the beauty of being food wise is that it solves two problems at once.
"If you can use the food and ingredients that one person doesn't need and let another person, who is lacking food, use them instead, this will solve the waste of food and help feed the disadvantaged," Fang asserts. He calls the concept "continuous food."
HOW FOOD SUSTAINABILITY WORKS
Today, Fang oversees a network of more than 170 food banks. As being food-wise is key, Fang has perfected a system of donors, partnerships, volunteers, and memberships that makes sure Taipei's surplus food gets to the hungry mouths that need it.
It begins with acquiring the food. Aside from the effort to use nearly-expired goods from Carrefour, in 2014 Fang launched a buy-one-get-one scheme to encourage Carrefour shoppers to donate extra daily necessities received in special offers. Carrefour provides a large collection box by the tills in most stores.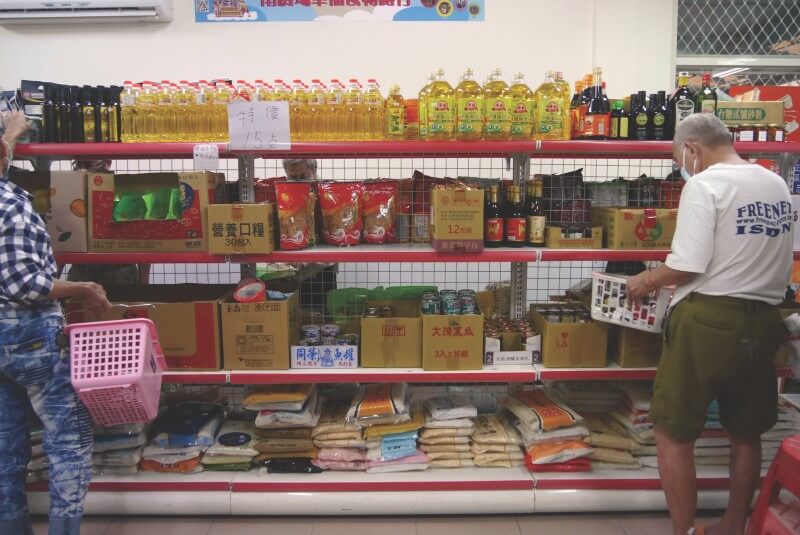 "A win-win situation between manufacturers and the community will attract more manufacturers to join and provide food and daily necessities," states Fang.
The next step is to work with the local District Office to help find Taipei citizens in need — perhaps someone from a low-income household, a new single parent, a family that has had an accident, or a disabled resident — and help them to start using the food bank.
New members receive a physical passbook with 500 points, which can be used to shop at the food bank for products equivalent to between NT$1,500 and NT$2,000 in value. The food banks use a point-of-sale system to scan barcodes and regulate stock just like any regular shop. Fang and his staff are easily able to provide information on how food was distributed and to adjust the points "price" of individual items. (Read more: A brief guide to shopping (and bargaining) in Taipei)
Members can also earn extra points on their cards by volunteering at the food bank and other services provided by Fang's team. Food banks have become a hub for community spirit and people of all walks of life often get involved. "Students can also volunteer and even bring their classmates to serve the community. Food banks have more than enough helpers," Fang says.
COFFEE, COMMUNITY, AND CONFIDENCE
Food sustainability is not just about the food itself, but also about creating a civic-minded and caring community in Taipei. To build relationships and create more camaraderie within neighborhoods, Fang quickly expanded his sustainability operations based on the same principle. His café, Housebook 60 (書屋花甲), is the first in Taipei to use sustainable food. (Read also: Not Another Hipster Café : Taipei's Old-School Coffee Shops)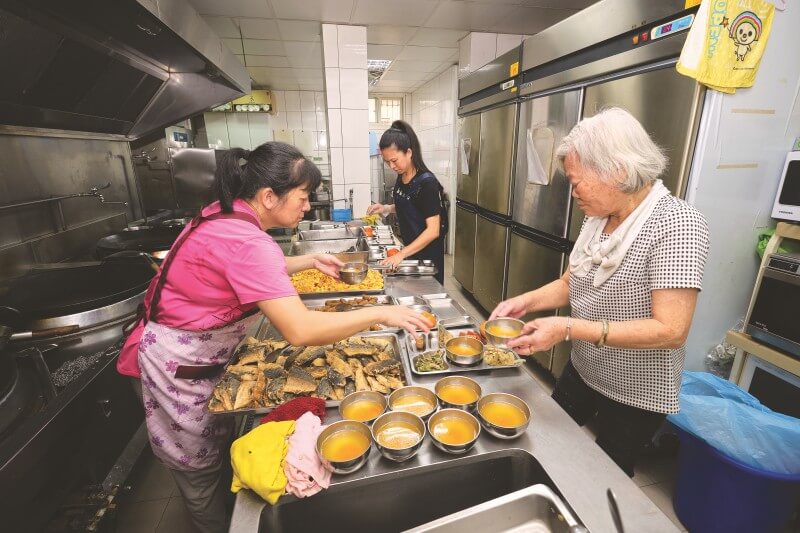 In the process of providing supplies and interacting with families, Fang found that many residents also had trouble making sure if elderly people who mostly spend their time at home are fed, or in finding childcare and after-school tutoring.
For senior residents in the community, Fang invites them to have lunch together in a common space, or delivers lunch boxes to those who have difficulty getting around. The meals served are cooked with donated food and the products off the shelves from supermarkets. While sharing food, local seniors also have a chance to interact with each other, enhancing the community bond.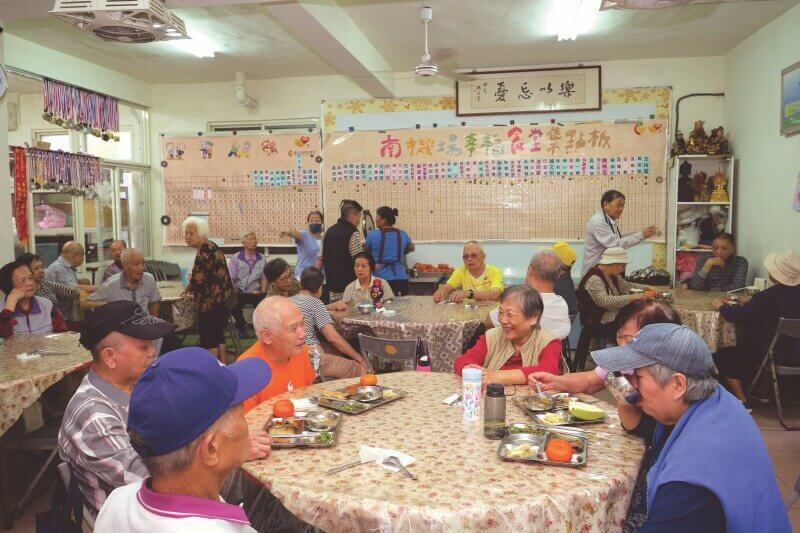 Fang was also aware of an uptick in interest in coffee culture among the community's youth in 2012 when the barista boom hit Taipei. "I opened coffee classrooms and took young people to places with many people to make coffee for guests to build their confidence," he recalls.
This initiative also evolved into a common space where young people can learn barista skills, study for certificates using the materials provided, get a good meal, and learn vocational skills while working in a real coffee shop. The venue's restaurant serves food with a new menu every two to three days, built on what food is sustainably available — perfect for feeding those hungry students. (You might also like: 6 Cafes to Enjoy Pet Day in Taipei)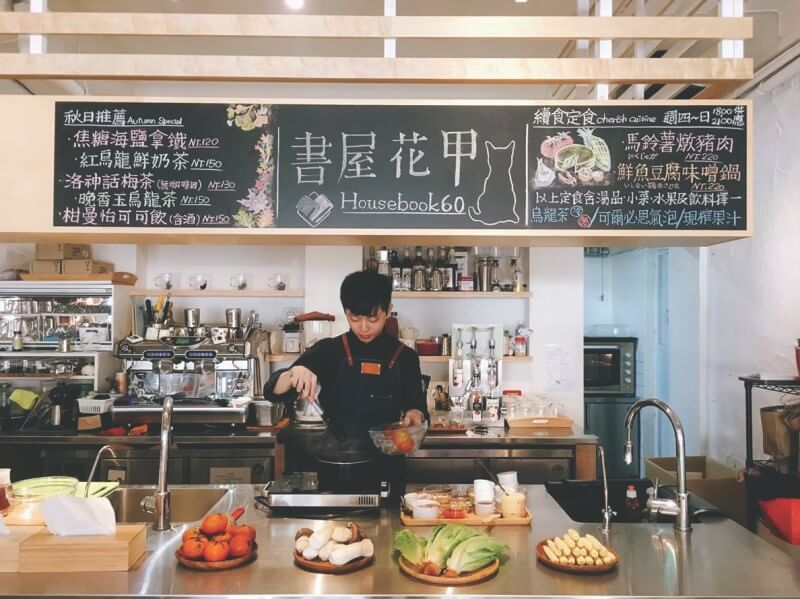 Housebook 60 書屋花甲
🏠 42, Ln. 307, Sec. 2, Zhonghua Rd., Zhongzheng Dist.
⏱ 12:00pm – 10:30pm (Wednesdays to Fridays)
⏱ 10:30am – 10:30pm (Saturdays & Sundays)
*Closed on Mondays & Tuesdays
MOVING TOWARDS A FOOD-WISE TAIPEI
Though community-based solutions are a good start, minimizing food waste and promoting food sustainability requires the participation of the whole city as well as smart, innovative solutions.
The key is to search out where there is food waste, and where there is a need for food, then connect the two. For example, through his cooperation with Carrefour, Fang realized just how much bread is thrown out at the end of each working day. The baked goods are totally edible but deemed not quite fresh enough to be put on the shelves the next day. Fang set about cooperating with some of the city's biggest bakeries to save all of those baked goods destined to be destroyed.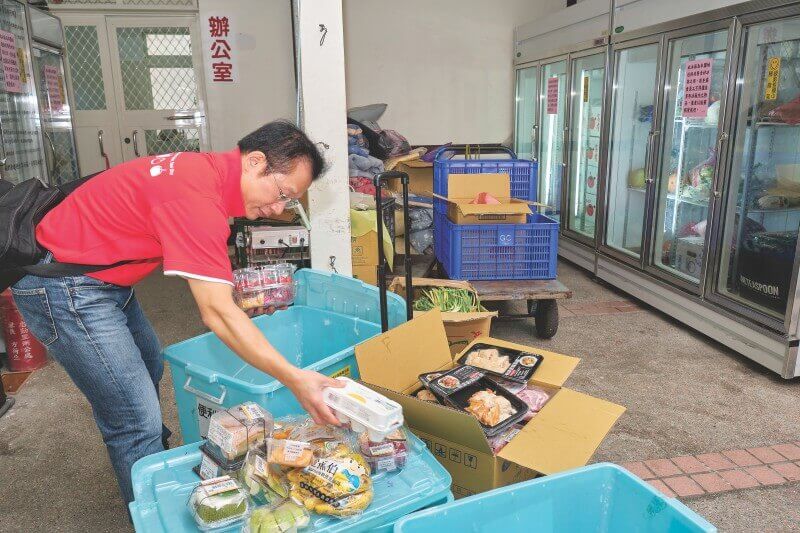 Crucial to Fang's system is a fleet of refrigerator trucks. These trucks head to the city's bakeries to pick up the day's bake. Workers and volunteers strip off the products' original packaging and check the quality before driving the trucks to neighborhoods in need of food.
These repacked food items will then be placed in what Fang calls the Shixiang Refrigerator (食享冰箱), or community fridge. The most recent version of these refrigerators — are like giant automated vending machines. They use state-of-the-art facial recognition software to check a member's identity and allow members to access the refrigerators and take two items of bread without the need to have volunteers permanently on duty.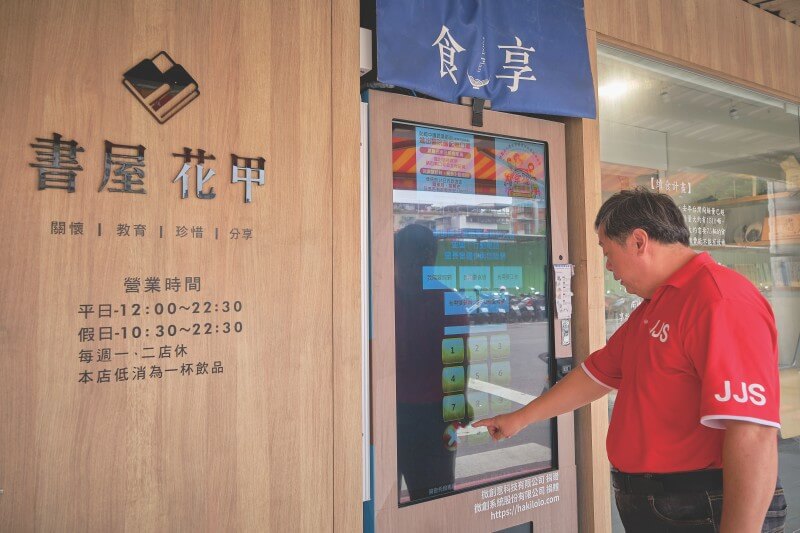 This food-wise high-tech system means the bread of close to 30 well-known bakery brands destined to be destroyed — equivalent to 2,000 kilograms of goods per week — is saved from the trashcan and brought to people in need. (You might also like: The Best Chocolate Shops in Taiwan)
As operations continue to expand, Fang encourages anyone who might be in need to contact his food bank through social media. For the rest of us, he encourages us to drop some food in the Carrefour baskets when shopping. "Next time you buy a large package of noodles, you could donate one packet to us, or if you get one free, just drop it in the basket!" Fang also accepts cash donations.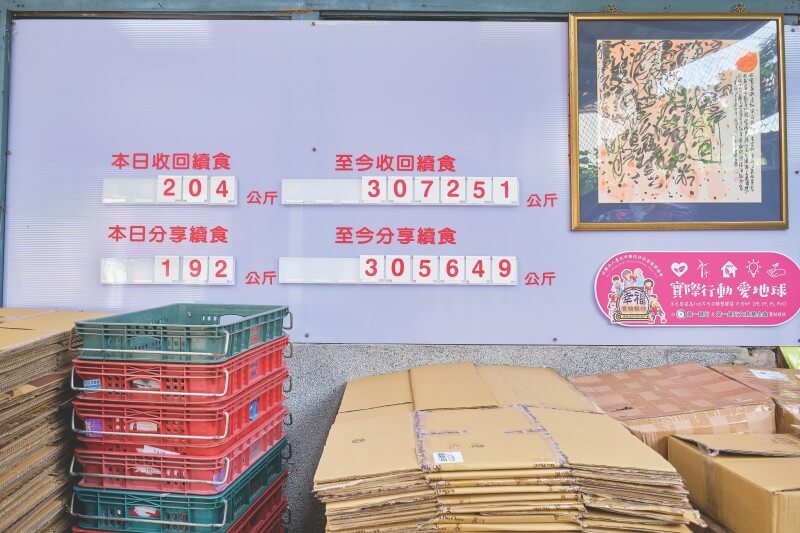 From Fang's viewpoint, a great change in how people see food sustainability and waste is occurring, and he is eager to capitalize on the enthusiasm of the citizens and business leaders of Taipei to share his experiences and expertise. His ability and agility in seeking areas to be food-wise across the city, quickly adapting new systems and technology to cut down food waste, and bringing the benefit of "continuous food" to all of Taipei can easily be adopted by all of the city's residents.
"At present, more and more people are coming to learn the business model of continuous food with me," Fang says. The latest plan is to set up an education center near MRT Linguang Station (捷運麟光站) where all of Fang's operations will be based. "The purpose is to allow people to see all the business items and models in one place when they come to Taipei to observe."
He calls this Project 319; a dream that in the future all 319 townships in Taiwan can implicate a "continuous food" model, so that no food in Taiwan is wasted and every citizen can access the food they need.

Words by: Rik Glauert
Photos by: Yenyi Lin, Taiwan Scene, Housebook 60
This article is reproduced under the permission of TAIPEI. Original content can be found at the website of Taipei Travel Net (www.travel.taipei/en).
More Stories from Taipei