Author Catherine Shih, Kuan Yuan Chu
Photographer Taiwan Scene, Little Tree Food, Machiko Lan 
Back in 1997, when Michelin inspectors were busy shuttling through high-end establishments, they were also looking for good local bang-for-your-buck restaurants. Thus, the Michelin Bib Gourmand Award was born. As a special category in the Michelin Guide, it was created to promote authentic, high-quality restaurants with dishes offered at medium price points while also respecting the uniqueness of local cuisine.
Recently, the 2022 Michelin Bib Gourmand Award list for Taipei has been released, and here are six new local restaurants throughout the city that have been featured. When you are visiting the 2023 Taiwan Lantern Festival in Taipei, we highly recommend you to visit these restaurants and try their award-winning dishes.
🍴Traditional Flavor
Ah-guo Soup Noodles 阿國切仔麵
Located on a busy section of Zhongshan District on Tianxiang Road (天祥路), Ah-guo is famous for its old-fashioned qiezai noodles (切仔麵). The restaurant offers not only chewy noodles but also soup that is slow-cooked with pork bones for several hours a day, giving it its light yet fragrant taste. Topping all this off is a drizzle of soy sauce, bean sprouts, and a once- secret ingredient passed down by the owner's very own father — crispy homemade shallots.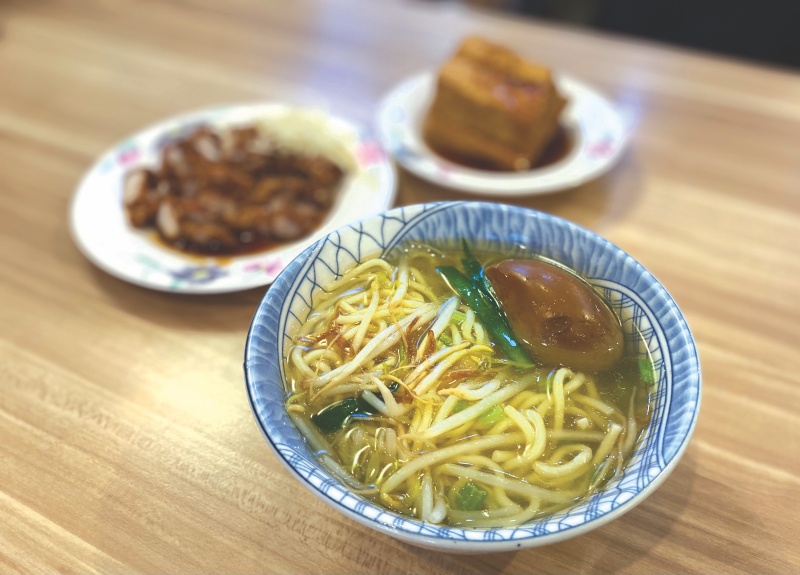 In addition to their soup noodles, other famous side dishes in the store include red-yeast pork (炸紅燒肉) and fried tofu (油豆腐), both cooked to absolute perfection. This old shop has no secrets, as evidenced by its simple taste and lack of extra seasoning or additives.
The store is covered with Michelin plaques, a fine testament to its award-winning pedigree. And like many old restaurants in Taiwan, the environment is really clean, chill and comfortable. Combined with the good food here, we advise you to be sure you check out this local favorite next time you're in Zhongshan District!
AH-GUO SOUP NOODLES
ADD 1, Tianxiang Rd., Zhongshan Dist.
HOURS 11:00am – 8:00pm (Closed on Tuesdays)
🍴Worth a Try
Chuan Mu Yuan 川畝園
Just a stone's throw away from MRT Zhongshan Station (捷運中山站) in an alley next to Chifeng Street (赤峰街) lies Chuan Mu Yuan. Don't be fooled by its exterior — although small in size, the entrance is seemingly always crowded with people!

Upon arriving, the store clerk will give you a number. Without it, you cannot be seated, regardless of dining indoors or out.
Here they are known mostly for their scallion pancake beef rolls (牛肉捲餅) and steamed dumplings (蒸餃). The crust of the scallion pancake is fried to a golden crisp before being wrapped with beef tendon, scallions, and a sweet noodle sauce filling — making for a delicious combination!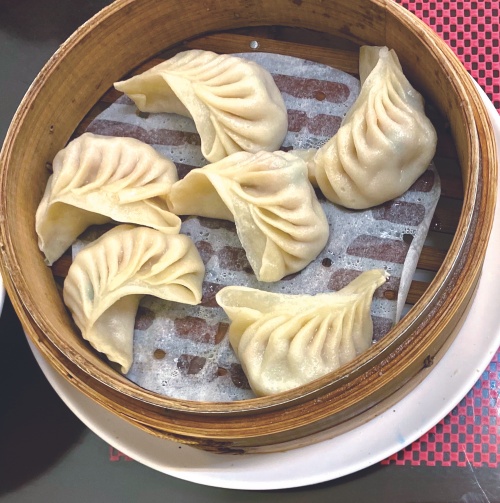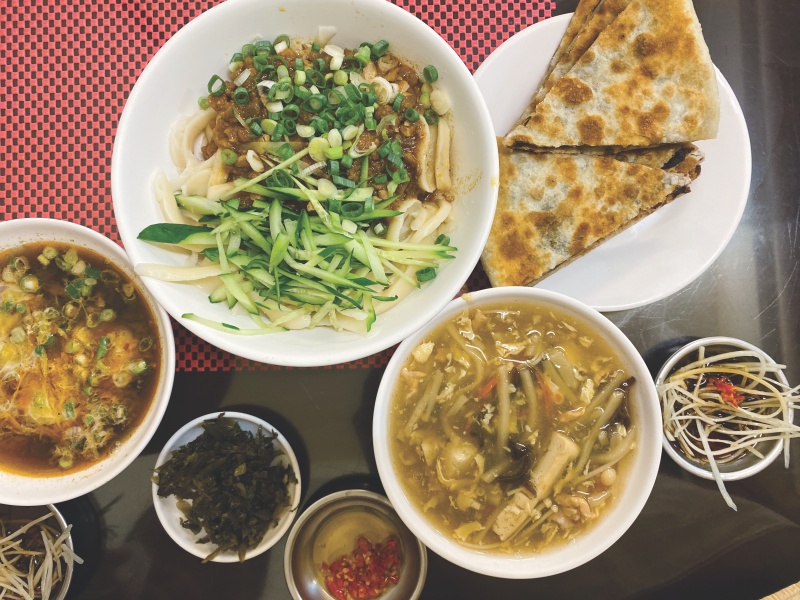 Their steamed dumplings are also a favorite among locals. Available in three different fillings, including shrimp, beef, and vegetarian, their most popular is no doubt the shrimp. It has a slightly chewy texture on the outside, and as soon as it enters the mouth, you can taste the fragrance of the shrimp! A touch on the messy side, yet wholly delicious, it is definitely worth savoring every single bite!
CHUAN MU YUAN 
ADD         31, Ln. 1, Sec. 2, Chengde Rd., Datong Dist. 
HOURS    11:00am – 2:00pm; 4:30pm – 7:30pm 
                  (Closed on Sundays) 
🍴Popular with Japanese Tourists
Chi Chia Chuang 雞家莊
Founded in 1974, Chi Chia Chuang has two branches both near MRT Zhongshan Station — their main store on Changchun Road (長春路) and the other branch near Liutiaotong (六條通). Both locations are over 40 years old, with styles reminiscent of the 1970s, appealing to locals and tourists alike. Their authentic, retro chicken logo and chickens in the window only serve to add further charm. Most of the menu items are based on traditional Taiwanese home-cooked dishes, with prices in the medium to high range.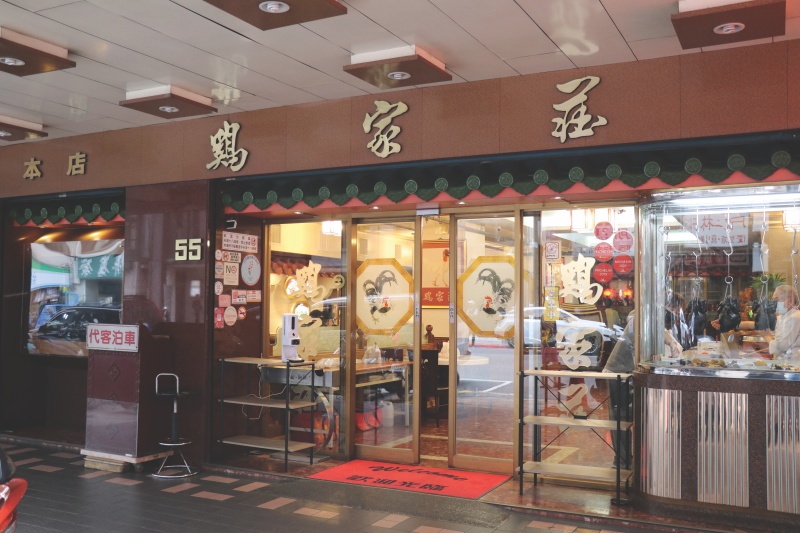 Their signature dish, three flavor chicken (三味雞), is made from Taitung-raised chickens cooked in a rich marinade. Consisting of three different varieties of chicken — silkie chicken, white chopped chicken, and smoked chicken — they are placed together on a combination plate and served with a side of sweet and spicy dipping sauce, ginger chicken essence, and sauerkraut.
Another famous dish, pineapple with bitter-melon chicken casserole (鳳梨苦瓜雞鍋), has a flavor best described as fresh, sweet, and not too greasy. In addition, it lacks the bitterness commonly associated with most bitter melon soups, making for a harmonious blend of ingredients.
CHI CHIA CHUANG 
MAIN STORE
ADD          55, Changchun Rd., Zhongshan Dist. 
HOURS     11:00am – 10:00pm 
BRANCH
ADD 9, Ln. 105, Sec. 1, Zhongshan N. Rd., Zhongshan Dist.
HOURS 11:30am – 9:00pm
Yuan Wei 元味料理
Yuan Wei is located in a very inconspicuous-looking shop adjacent to Puji Temple (普濟寺) on Huayin Street (華陰街) near Taipei Main Station (台北車站). As one of the newly-selected restaurants on Taipei's Michelin Bib Gourmand Award list in 2022, they are not only praised by netizens as having "the best fried rice in Taipei," but also frequented by foodies everywhere for their secret hidden menu. Their fried rice served upside-down on a plate has a firm texture, with the aroma of soy sauce, eggs, and green onions permeating the air upon serving. The rice is fired up quickly in a wok, removed just in time before being burnt.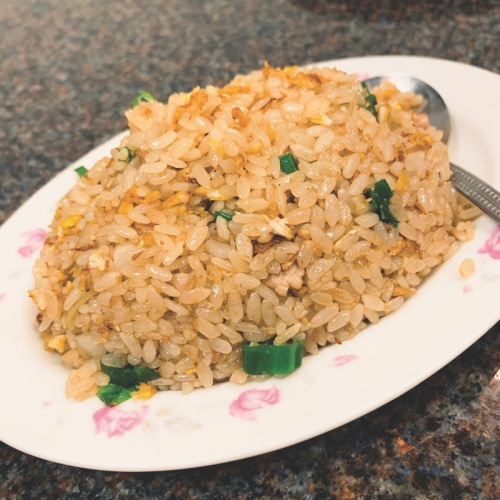 When it comes to seafood, customers often order their crispy stir-fried shrimp (海驢蝦) and steamed snapper (蒸石雕魚). The fresh steamed fish is naturally delicious, and the seafood here really lives up to its sterling reputation. Don't miss out on this hidden gem the next time you are wandering around Taipei Main Station!
YUAN WEI 
ADD          2, Ln. 227, Huayin St., Datong Dist. 
HOURS     12:00pm – 5:00pm (Closed on Sundays) 
🍴Vegetable Lovers Note!
Little Tree Food 小小樹食
Little Tree Food is a specialty restaurant known for its Instagram-worthy decor and exotic, mouth-watering vegetarian dishes. There are two locations, including the Michelin Bib Gourmand Award-winning branch on Daan Road and another on Dunhua South Road (敦化南路). However, this is still not enough to fulfill the appetites of Taipei locals!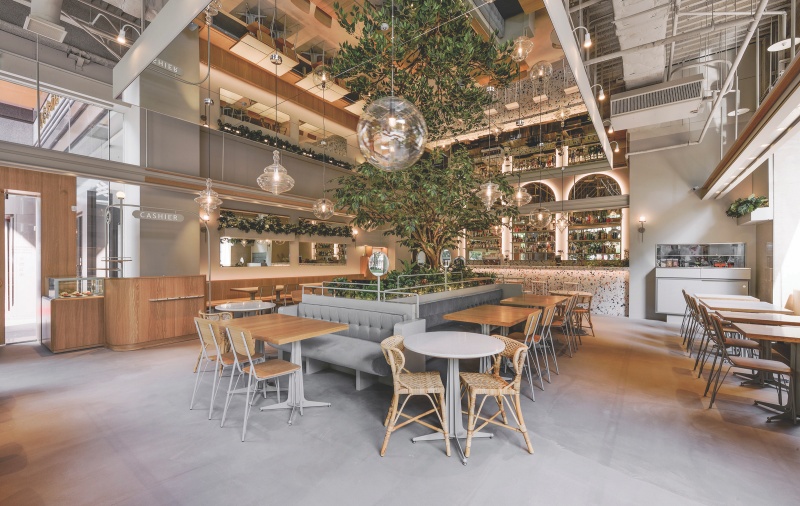 At the Daan Road branch adjacent to MRT Zhongxiao Fuxing Station (捷運忠孝復興站), upon walking in, you are immediately greeted by an abundance of green plants near the entrance.
Their signature dish, Sichuan spicy dumplings (紅油皮蛋豆 腐餃), comes with four round, plump pieces on a plate. Although the chili oil is slightly spicy, the filling is full of flavor — fooling even the most seasoned vegetarians!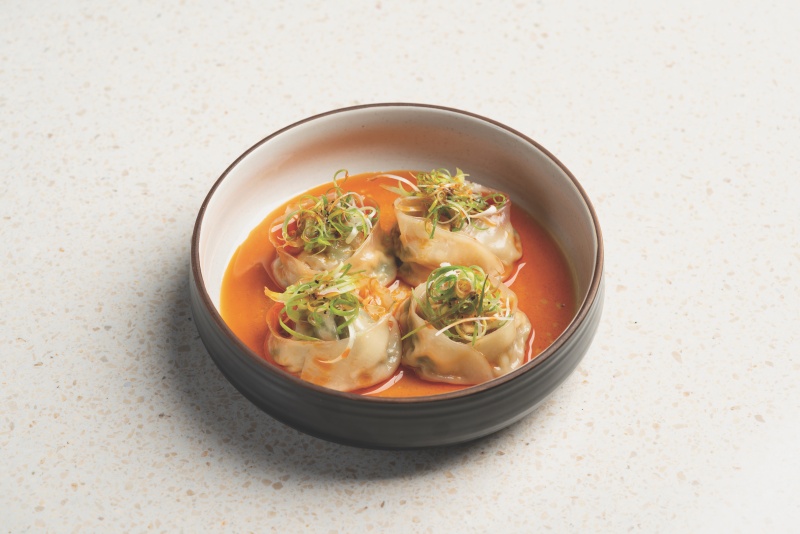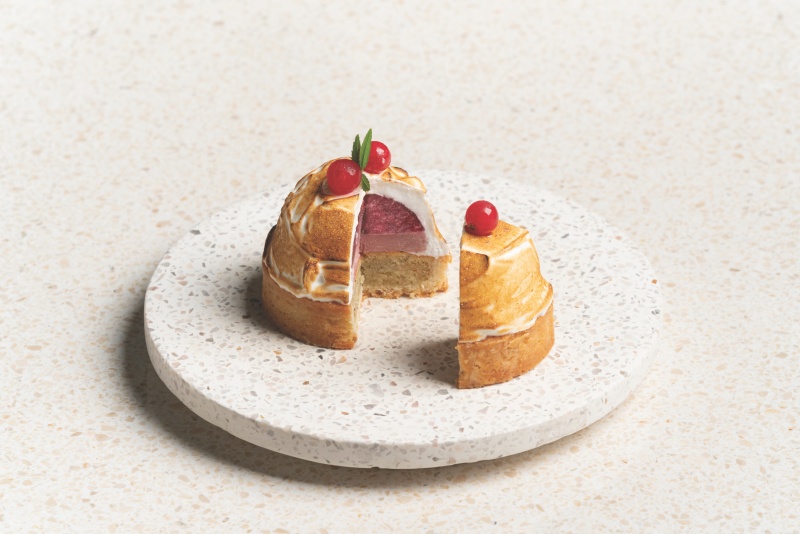 Another popular item on the menu, garlic and chili pasta (蒜味辣椒義大利麵), is cooked to perfection, with the taste of garlic and olive oil coated evenly throughout. The portion of the noodles is very fulfilling, with just a tad of chili added to enhance the dish's natural flavor.
Be sure to make reservations in advance, as both locations tend to fill up rather quickly!
LITTLE TREE FOOD
DAAN BRANCH
ADD 17, Ln. 116, Sec. 1, Daan Rd., Daan Dist.
HOURS 12:00pm – 3:00pm; 5:00pm – 9:00pm
(Closed on the last Monday each month)
DUNNAN BRANCH
ADD 39-1, Sec. 2, Dunhua S. Rd., Daan Dist.
HOURS 11:30am – 3:00pm; 5:00pm – 9:00pm
🍴Authentic Yunnan Cuisine
Jen Ho Yuan 人和園
Jen Ho Yuan is located near MRT Minquan West Road Station (捷運民權西路站) on section two of Zhongshan North Road (中山北路二段). Many locals and tourists flock to this restaurant for its classic Yunnan specialty dishes. One of their signature items and top recommendations is the steamed pot chicken (汽鍋雞). It is light, refreshing, and not too greasy on the palate. However, because the stew takes time to prepare and cook, it is advised to book or reserve this particular dish in advance.
Another famous dish, pork slices (大薄片), is also a favorite among foodies familiar with Yunnan cuisine. Local Taiwanese black pork jowl from the cheeks is cooked briefly in boiling hot water, frozen, then served in thinly-cut slices.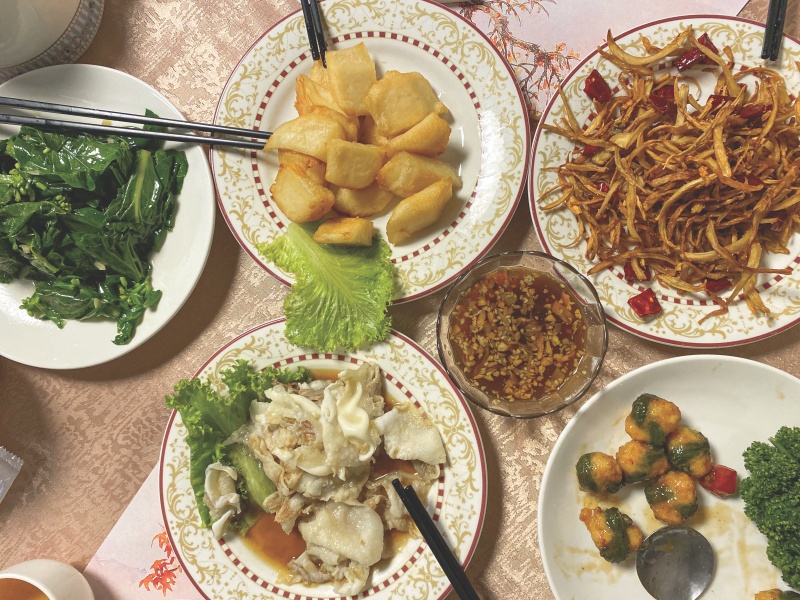 Lastly, another delicacy called milk fan cake (乳扇) hails from ethnic minority groups in the northwest of Yunnan. Made from a type of cheese and rolled into white layered rolls, it can be eaten raw, dried, or deep-fried. If you are in the mood for Yunnan cuisine, don't miss out on this local favorite!
JEN HO YUAN
ADD 2F., 112, Sec. 2, Zhongshan N. Rd., Zhongshan Dist.
HOURS 11:30am – 2:00pm; 5:30pm – 9:00pm
This article is reproduced under the permission of TAIPEI. Original content can be found on the website of Taipei Travel Net (www.travel.taipei/en).
More Delicoius Food in Taipei: