Author Catherine Shih, Kuan Yuan Chu
Photographer Zha Nan, Taiwan Scene, ABV Bar & Kitchen
After touring the lantern festival and feasting your eyes on some colorful, splendid light displays, another feast of late-night snacks awaits! We've got four popular dining spots in Taipei that are open late to satisfy your stomach and taste buds while enjoying the sleepless vibe of Taipei's winter nights.
❗️DRINK RESPONSIBLY❗️
🍺 Zha Nan Taiwan Bistro Xinyi 渣男 信義一渣
Wandering around the alleys of Xinyi District near Xiangshan Park (象山公園), one cannot help but notice Zha Nan Taiwan Bistro. With its glass door with a wooden frame and retro neon signs, it is certainly eye-catching. With six branches throughout Taipei, the Xinyi (信義) branch is undoubtedly the most popular, being their first location.
Interestingly enough, the idea behind the name of the restaurant "zhanan (渣男)" (or "scumbag" in basic English terms), comes from the ideology that "Every successful man, at some stage in his life, was once an out-and-out scumbag."The restaurant reflects this theme furthermore by giving its environment a very suave, low-key vibe just right for men (and women) who prefer a bit of solitude to hide out and relax.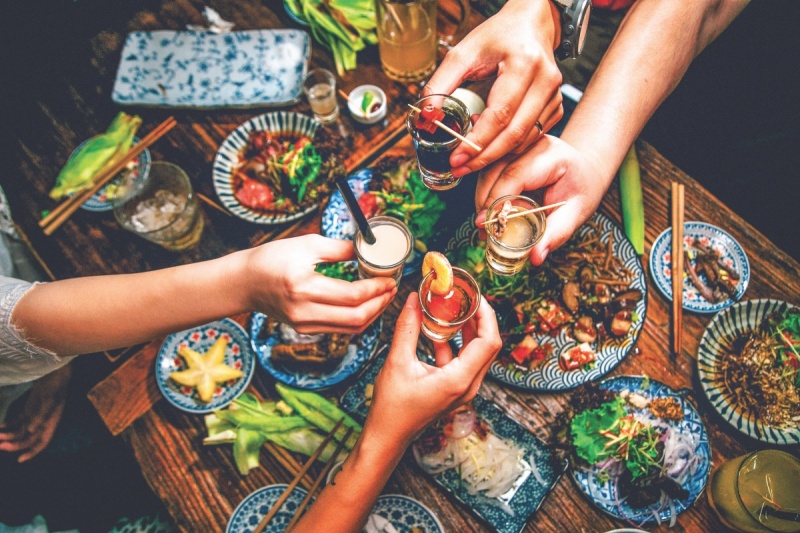 The highlight of Zha Nan is luwei (滷味, Taiwanese traditional braised food) and local dishes. The bestseller is their braised platter. As a Taiwanese-style bistro, it is undoubtedly the most local plate you can find on the menu.
Some other popular dishes include cold cucumber (涼拌黃瓜), spicy tofu with duck blood (麻辣豆腐鴨血) and Taiwanese traditional plum juice (台味酸梅湯), just to name a few!
Their cold cucumber is fresh with a spicy kick and served with a side of addictive sauce — perfect for a hot summer's day. For winter nights, however, we recommend their spicy tofu duck blood. The medium spiciness is just what the doctor ordered to warm up the body on a cool winter evening. In addition, the duck blood is moist and the tofu is soft and tender.
There are also many types of drinks such as cocktails, shots, beer and wine. But the best thing to have at Zha Nan is their Wheat Ale along with the braised platter!
ZHA NAN TAIWAN BISTRO XINYI
ADD 12, Aly. 315, Ln. 150, Sec. 5, Xinyi Rd., Xinyi Dist.
HOURS 5:30pm – 1:30am
🍺Izakaya Santora 三虎居酒屋
Tucked in the alleys near MRT Sun Yat-Sen Memorial Hall Station (捷運國父紀念館站) is Izakaya Santora, the latter word of which translates to "Three Tigers" in Chinese. Here the biggest aesthetic feature is the mural of three tigers painted on the wall, said to have been contracted to a local artist from southern Taiwan. The dining area is divided into a wraparound bar and four-person booths, all of which provide ample room for good conversation and drinking. At the bar, you can view the craftsmanship of the chefs as they use hot flames to roast skewers in front of onlooking hungry customers.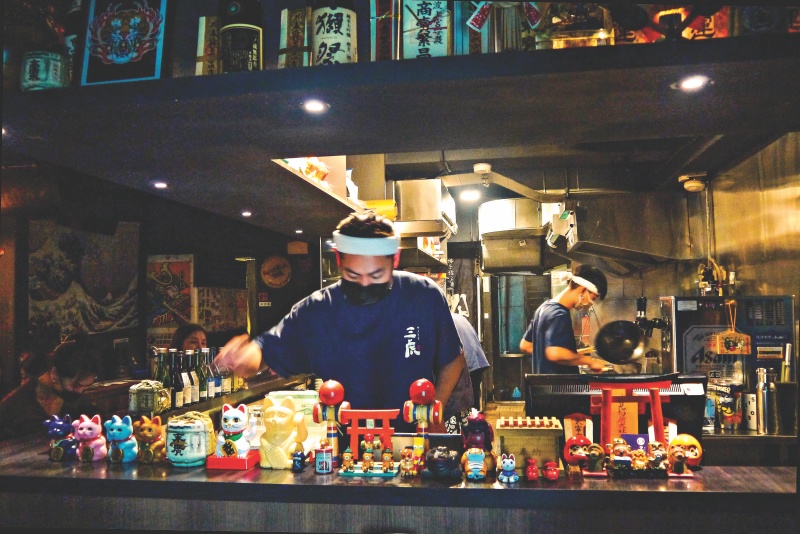 Here a variety of dishes are available, including skewers, barbecue, rice, fried foods, wild vegetables, and more. Drink options are no less ample, with beer, Japanese sake, and plum wine offered.
Their yakitori combo (三虎盛和) is said to be a "must-order" for first-timers. It includes seven signature skewers, featuring chicken with onion, chicken with roe, bacon with tomatoes, miso pork belly, pork with green onions and salt, beef ribs, and garlic beef. Be sure to order this dish with draft beer, and you're all set to go!
Another favorite is the local Okinawa bitter melon with salted eggs (沖繩苦瓜鹹蛋). Stir-fried using bitter melons, sliced meat, vegetables, and tofu, it also pairs well with draft beer.
Lastly, a visit to the izakaya wouldn't be complete without ordering fish. Here the grilled salted mackerel (鯖魚塩燒) is cooked to perfection by maintaining the fish's tenderness while keeping the skin crispy.
Moreover, fewer bones in the mackerel means more meat for your value — all of which is grilled to the optimal juiciness.
IZAKAYA SANTORA
ADD 11, Ln. 131, Yanji St., Daan Dist.
HOURS 6:00pm – 12:30am (Sundays; Monday to Thursday) 6:00pm – 1:30am (Friday to Saturday)
🍺Woolloomooloo
"Excuse me? What is 'Woolloomooloo?'" you ask. Well, in an Australian aboriginal language, it refers to "the bay where you can catch a lot of fish." But here in Taipei, it is one of the most highly-rated restaurants in the city. Interestingly enough, the restaurant is open nearly 17 hours a day. Coupled with unlimited dining time, free WiFi, and electrical sockets, it's no wonder students and foodies alike flock here to work, study, hang out, or hold meetings.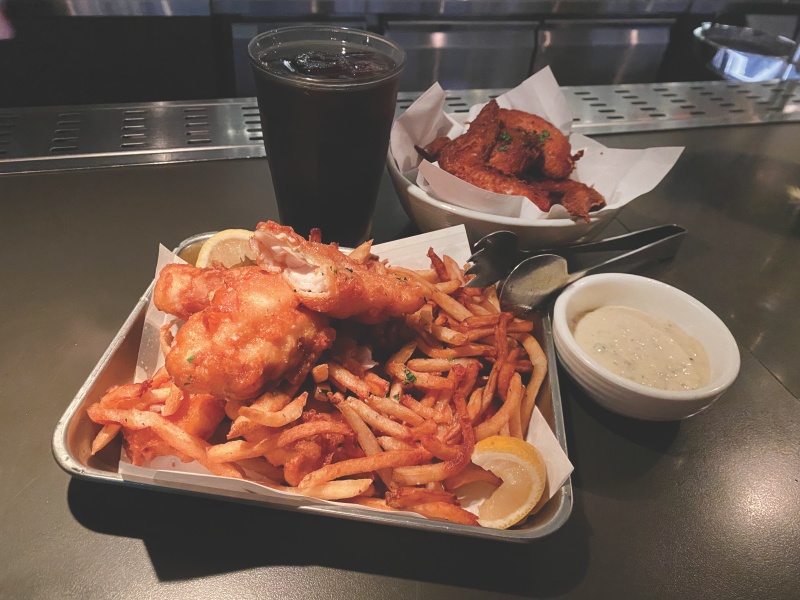 The decor at Woolloomooloo is done up in a light-industrial style, with dining spaces divided into two floors. It's a restaurant that serves Australian food, and ordering a meat pie, "the national dish" of Australia, just seems like the proper thing to do. If you think it is impossible to find a good pie in Taiwan, then you will be proven wrong after tasting the pies here.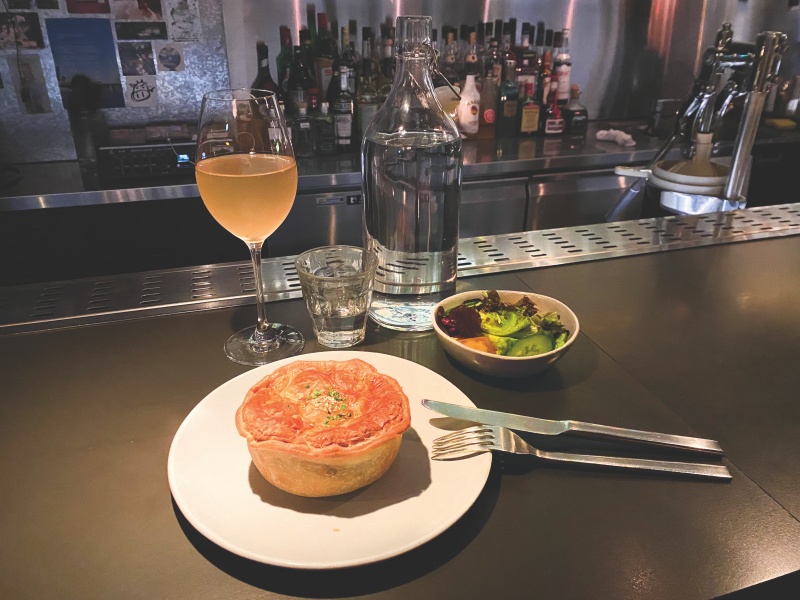 There are four kinds of pies served here and the one we recommend is the "Me'pie please (肉派,謝謝你)!" The fillings of the pie change every day since the restaurant can only decide what will be inside after they choose the best, freshest ingredients every morning. The freshly baked pie crust is worth mentioning here as well as it is crispy with a super nice and soft texture inside. Combined with the meat fillings, it is just a great, satisfying pie — a must-eat in Taipei.
When restaurants put their name on some dishes, you know they must be good. Here the Mooloo fish and chips are also highly recommended, as they are proper fish and chips like the ones you can find in London or other cities that are famous for this dish. This means fresh fish with a rich flavor, of course. Nice chips? Done! The tartar sauce is really impressive as well! It is creamy with a little sour taste courtesy of the little pickles inside; a perfect combination with the mouth-watering fish and chips.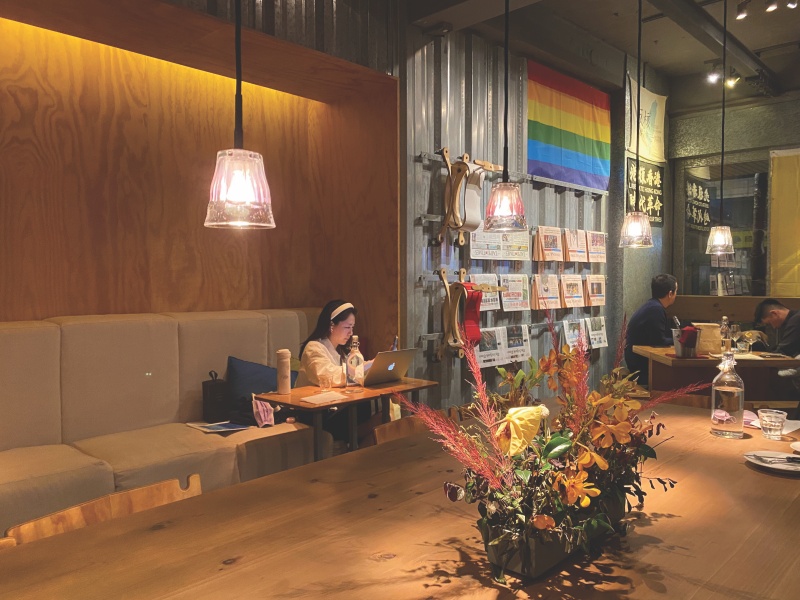 Overall, the food at Woolloomooloo is exquisite and delicious. With the cool decor and atmosphere, it is recommendable especially when you are out wandering under the late-night sky of Taipei City.
WOOLLOOMOOLOO
ADD 379, Sec. 4, Xinyi Rd., Xinyi Dist.
HOURS 7:30am – 12:00am (Sundays, Monday to Thursday)
7:30am – 1:00am (Friday to Saturday)
🍺ABV Mediterranean 地中海餐酒館 – 精釀啤酒餐廳
Near MRT Sun Yat-Sen Memorial Hall Station lies ABV Mediterranean. Here the "ABV" stands for "Alcohol By Volume" — a sign of their commitment to high-quality craft beer while also serving up traditional, classic Mediterranean cuisine. With the goal of becoming a leading brand in the craft beer industry, their restaurant currently offers a whopping 300 types of craft beer from all over the world. In fact, since the store's opening, more than 3,000 kinds of craft beer have been introduced, so you don't need to leave the comfort of the city to travel the world! There are even professional sommeliers on site to assist with beer and wine recommendations to pair with your meal.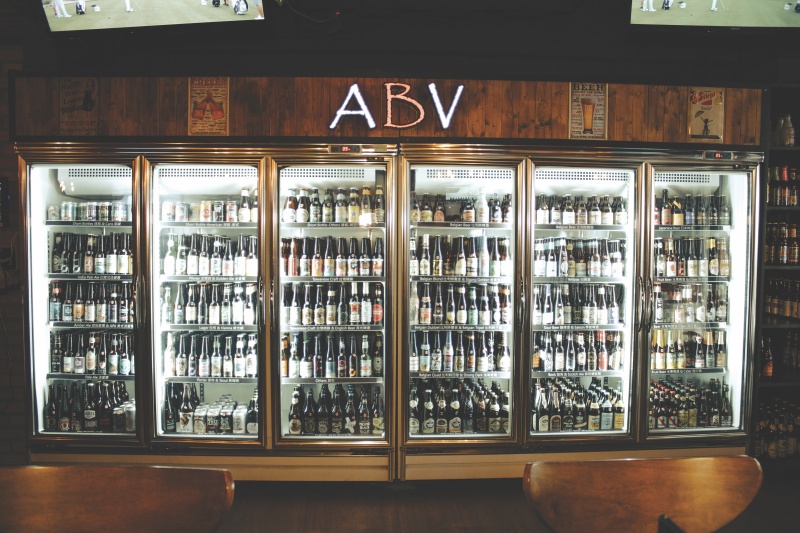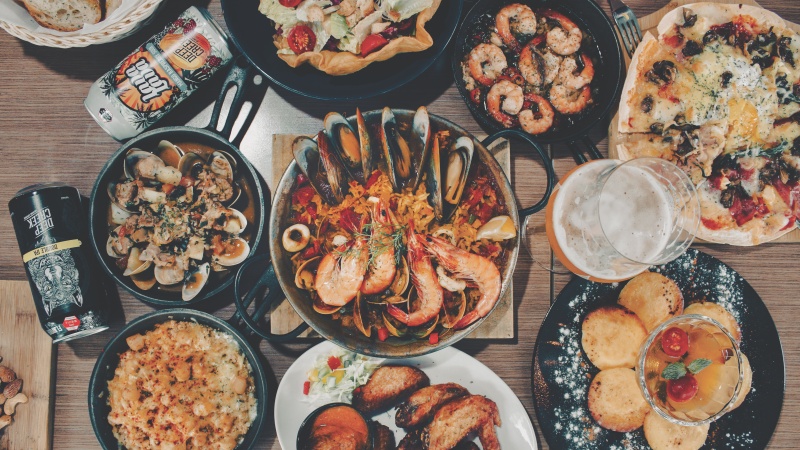 The indoor dining area of the restaurant is decorated with wood undertones, including spacious seating to accommodate large dinner parties. Moreover, multiple TVs adorn the walls broadcasting live sports. The outdoor dining area is also a pleasant place to gather or dine, as plenty of natural light and a pleasant breeze flows through.
ABV Mediterranean offers many classic dishes from the Mediterranean region, covering the lengths of Spain, Italy, France, Greece, North Africa, Turkey, and Croatia. With an abundance of different brunch, pasta, stewed dishes, and snacks to choose from, there is literally something for everyone!
At ABV Mediterranean, their classic seafood paella is a must-eat. It is cooked in seafood stock and saffron and full of mussels, shrimps, calamari and clams. You cannot possibly go wrong by choosing ABV as your next dining destination!
ABV MEDITERRANEAN
ADD 39, Ln. 260, Guangfu S. Rd., Daan Dist.
HOURS 12:00pm – 1:30am
This article is reproduced under the permission of TAIPEI. Original content can be found on the website of Taipei Travel Net (www.travel.taipei/en).
More Delicoius Food in Taipei: