" WHAT TO EAT IN TAIWAN? "
When you arrive in a foreign country, food is the best shortcut to get to know with a place's culture. The encyclopedia of flavors, TasteAtlas selects 10 Best Taiwanese Dishes that you have to try. When you don't know what to eat, this article may offer you some good ideas.
10 Mooncake 月餅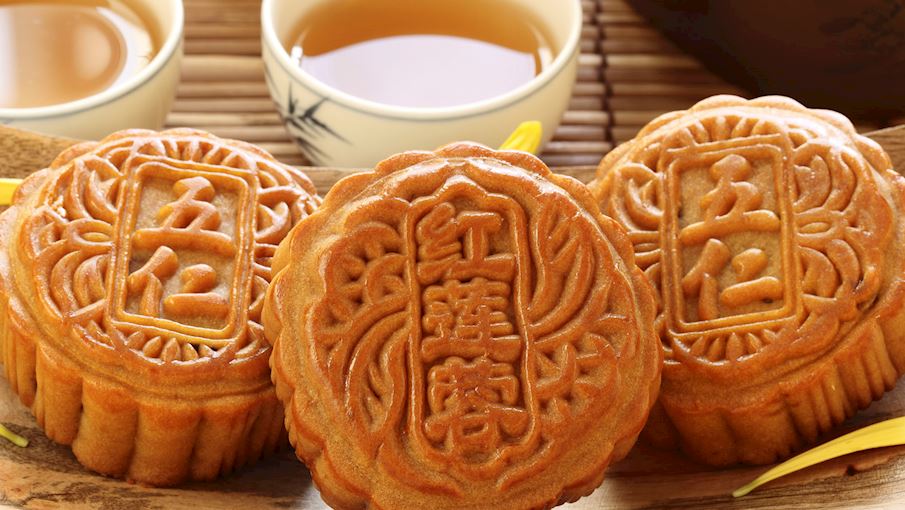 An ancient Chinese delicacy eaten during the Mid-August Festival or Moon Festival, known as mooncake, is a pie-like pastry made with a shortcrust base called yueh ping that is traditionally filled with black sesame seed or lotus seed paste, along with red beans, roasted pork, mung beans, dates, and salted duck egg yolks.
Nowadays, mooncakes are available in a variety of different sweet and savory fillings, some of which are fruits like honeydew, litchi or pineapple; chocolate or mixed nuts; abalone and seaweed; green tea, and even cream cheese or ice cream. Their round shape is not only reminiscent of the moon, but also a symbol of return or a full circle, which in Chinese philosophy stands for fulfillment, oneness, perfection, and unity.
PAIR WITH
Tawny Port Baozhong
09 Gua bao 刈包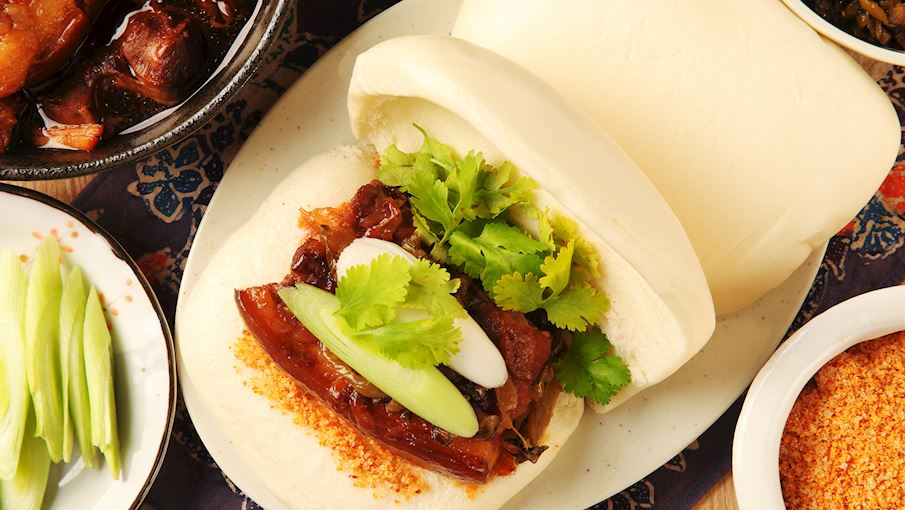 Gua bao is the famous Taiwanese braised pork belly bun. It consists of soft steamed buns filled with tender pieces of pork belly, braised in a mixture of soy sauce and red wine, generously seasoned with five-spice powder. Other essential complements include sour pickled mustard greens, chopped cilantro, and a sprinkle of lightly sweetened peanut powder.
Gua bao is one of the favorite Taiwanese snacks, usually sold by street vendors at popular Taiwanese night markets.
PAIR WITH
Dongfang meiren
08 Braised Pork Rice (Lu rou fan) 滷肉飯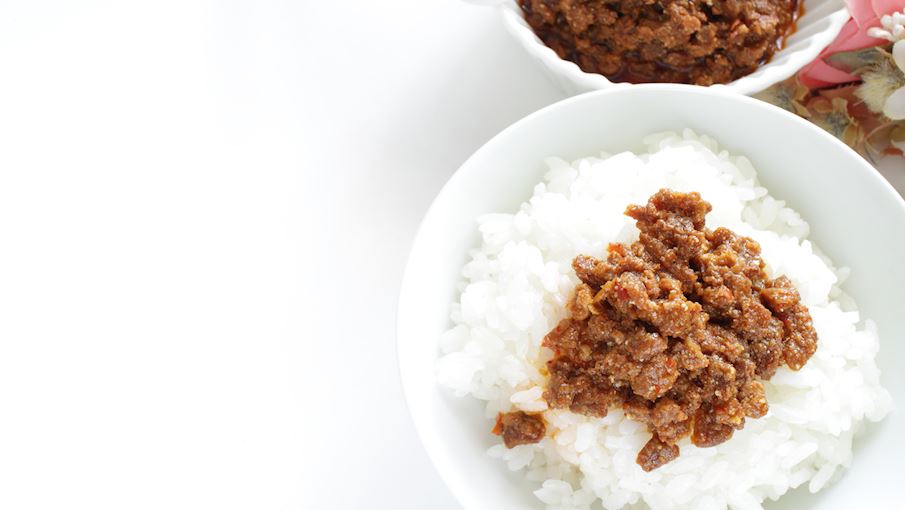 Simple, juicy, and savory lu rou fan is a popular Taiwanese dish consisting of ground pork braised in soy sauce, five-spice powder, and rice wine until it becomes tender and flavorful. It is traditionally served over rice, although some cooks like to replace the rice with noodles.
Sometimes, pickled cucumbers or shiitake mushrooms are served alongside the dish. Literally translated, lu rou fan means stewed meat rice, and the dish is sometimes referred to as Taiwanese ragú. In Taiwan, lu rou fan was originally consumed as a nutritious and healthy meal for farming families, but today it can be found almost everywhere, from home kitchens to restaurants and street stalls.
WHERE TO EAT THE BEST LU ROU FAN
– Jin Feng No. 10-1, Sec. 1, Roosevelt Rd., Zhongzheng Dist, Taipei
– Formosa Chang No. 66, Section 4, Chengde Road, Shilin District, Taipei
07 Turkey Rice 火雞飯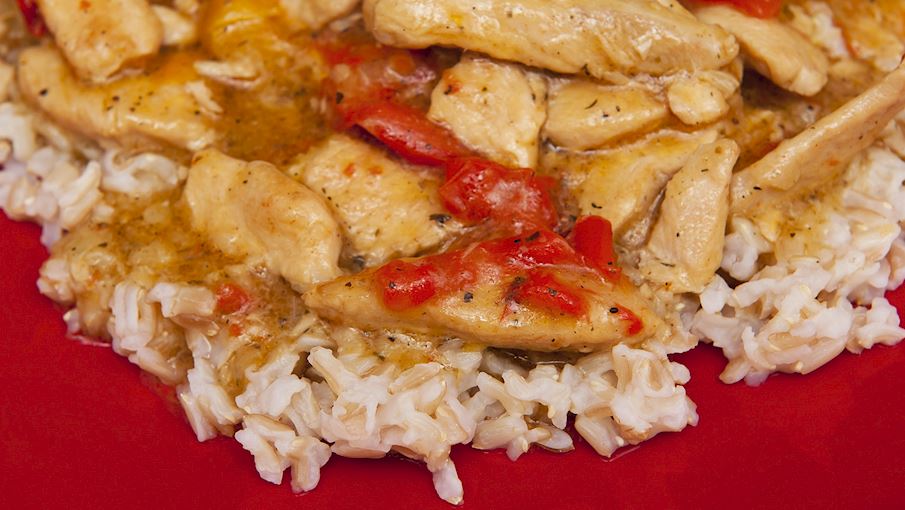 Turkey rice is a simple Taiwanese dish which incorporates shredded turkey meat served over plain boiled rice. Next to tender pieces of steamed turkey and rice, the dish is traditionally topped with soy sauce-flavored drippings and it is usually accompanied by daikon radish.
Turkey rice originated in the Taiwanese province of Chiayi as a frugal and straightforward meal that has quickly become one of the most famous dishes in the country. It is usually enjoyed as a late night snack and can be found at many street food stalls and traditional Taiwanese markets.
06 Fènglísū 鳳梨酥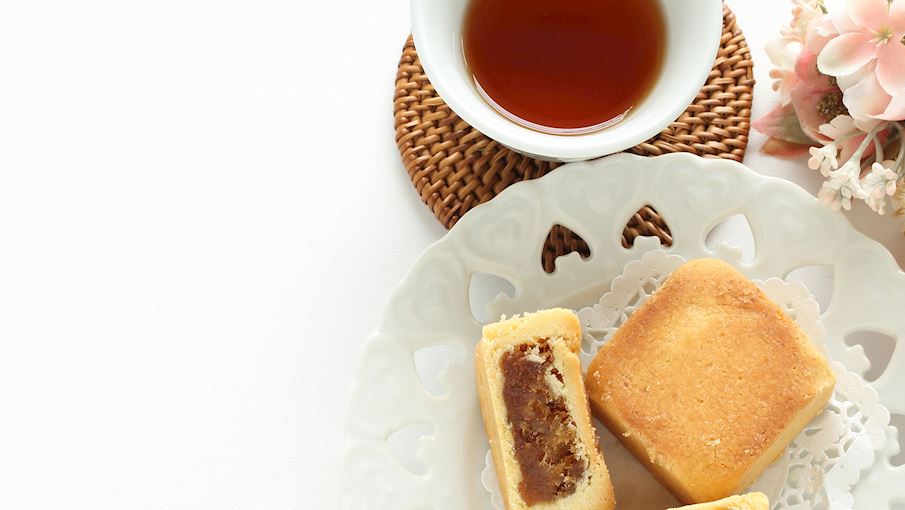 Fènglísū are Taiwanese pineapple cakes, one of the country's most popular desserts and souvenirs. The cakes consist of a buttery, crumbly crust that is filled with a tangy, slightly sweet pineapple jam. The name of the dish is derived from fèng lí, meaning pineapple, and sū, meaning shortcake.
Originally, they were prepared during the period of China's Three Kingdoms Dynasty. The three kingdoms were separated into Wei, Shu, and Wu kingdoms, and the emperor of Shu wanted to marry a sister of Wu's emperor, so he sent a large pineapple cake as a gift.
WHERE TO EAT THE BEST FÈNGLÍSŪ
– Chia Te Bakery No. 88 Nanjing E Road, Songshan District, Taipei
– SunnyHills No. 1 Alley 4, Lane 36, Section 5, Minsheng E Road, Songshan District, Taipei
– Miyahara No. 20 Zhongshan Road, Taichung
– Wo Pau Chun Eslite Spectrum, No.88 Yanchang Road, Xinyi District, Taipei
– Taipei Leechi No. 67, Section 2, Chang'an E Road, Zhongshan District, Taipei
05 Taiwanese Popcorn Chicken 鹽酥雞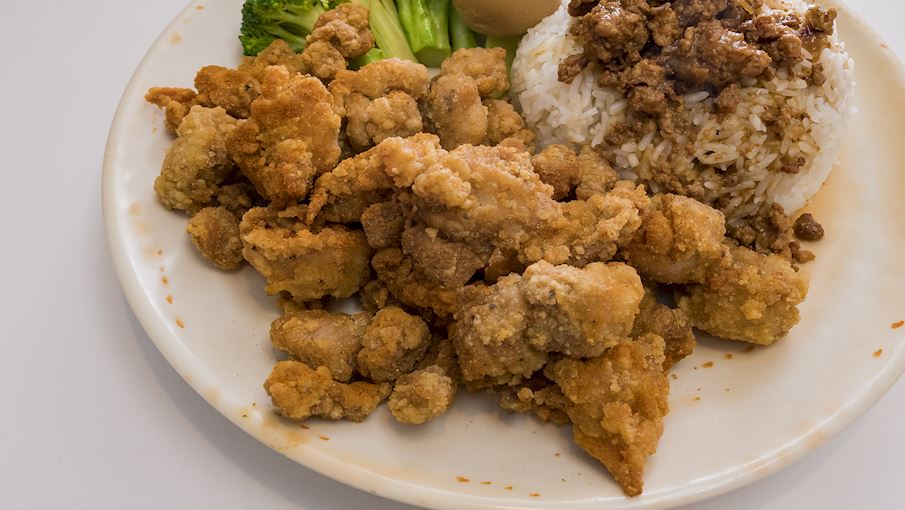 This Taiwanese classic consists of bite-sized pieces of chicken that are primarily marinated in a flavorful combination of soy sauce, garlic, ginger, rice wine, and various spices. The pieces are then coated in potato or corn starch and deep-fried until crispy.
The dish is usually prepared with boneless chicken thighs, and while traditional seasonings include salt, pepper, and five-spice, modern variations may employ a variety of spices such as seaweed powder, mustard powder, or allspice. Taiwanese popcorn chicken is known by many names and it is one of the iconic street food items, enjoyed throughout the country.
WHERE TO EAT THE BEST TAIWANESE POPCORN CHICKEN
– Shi Yun 1, No. 14, Lane 39, Shida Road, Da'an District, Taipei City
04 Peanut Powdered Mochi 花生粉麻糬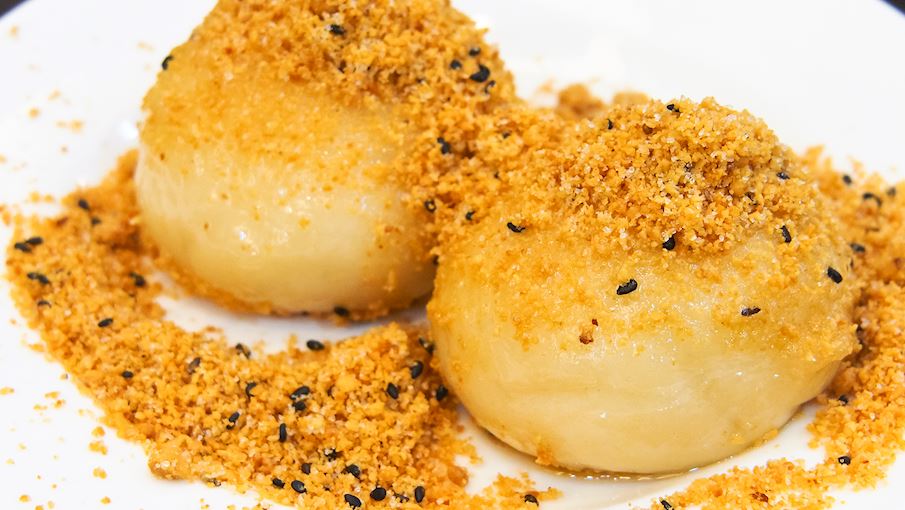 Peanut powdered mochi is a sweet and sticky rice ball with a peanut powder coating. This Taiwanese sweet treat consists of a steamed mixture of glutinous rice flour, sugar, and water. Small bite sizes of the sticky dough are pinched off with chopsticks and then dipped into powdered peanuts.
Sometimes filled with the peanut powder mixture, the soft rice balls make for a simple dessert or a sweet snack. They are best consumed while still warm, accompanied by a cup of tea. Peanut powdered mochi is sold by numerous Taiwanese street vendors.
03 Taiwanese Hot Pot 火鍋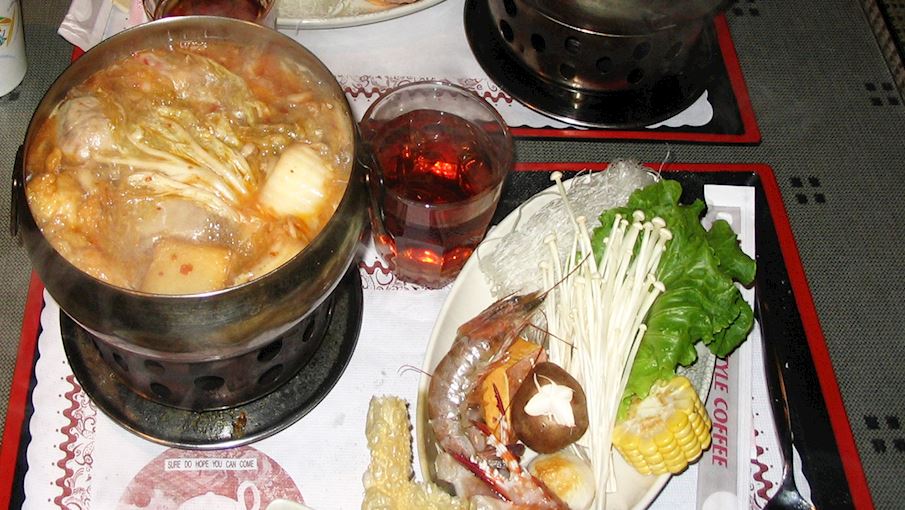 Taiwanese version of hot pot is eaten during the winter, and especially on cold and rainy days. It doesn't have a set recipe, but consists of a pot of broth and a variety of ingredients which are cooked in it, then dipped in the accompanying sauce before consumption.
The broth can be made from bonito and kombu, Chinese herbs, pickled cabbage, pork bones, milk, miso, or kimchi. The ingredients cooked in it often include root vegetables, tofu, dumplings, fish cakes, fried taro, or thinly sliced meat. Most hot pot restaurants have a condiment bar with sauces and garnishes such as sha cha sauce (barbecue sauce derived from satay), soy sauce, white vinegar, black vinegar, sesame paste, garlic, cilantro, chili peppers, daikon, and sesame seeds.
02 Taiwanese Scallion Pancake 蔥油餅
Though similar varieties of scallion pancakes can be found in other Asian countries, in Taiwan they are a common and sought-after treat that is usually enjoyed as a snack or an accompaniment to other dishes. The pancakes are prepared with an unleavened dough that is flattened, sprinkled with sliced scallions, and then rolled and pressed to form a flat pancake that is pan-fried until crispy.
Apart from the traditional version, these tasty snacks are occasionally prepared with the same type of dough that is rolled and deep-fried, before it is smeared with a flavorful combination of scallions. Regardless of the varieties, scallion pancakes are a staple street food in Taiwan, especially popular at traditional night markets.
01 Beef Noodle Soup 牛肉麵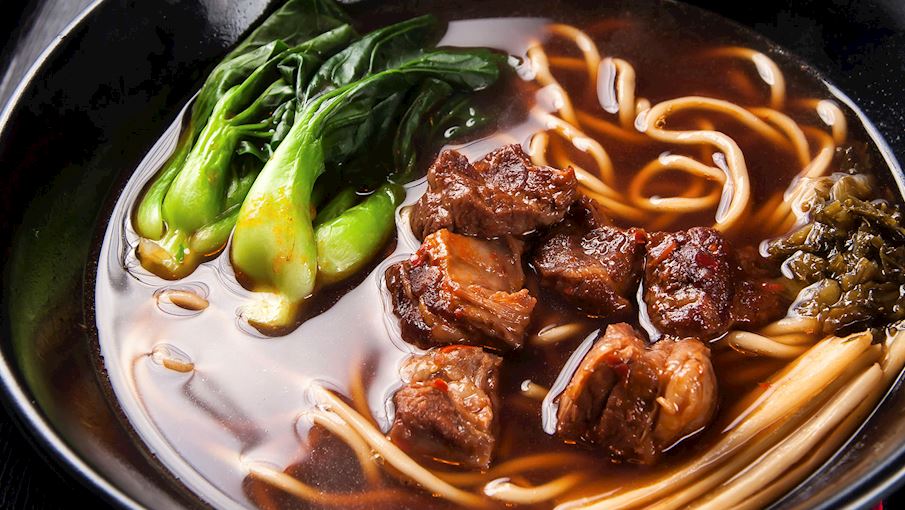 The savory, spicy beef noodle soup is the national dish of Taiwan and the source of immense pride for the locals. The dish is an ideal winter comfort food, typically consisting of beef, broth, vegetables, noodles, and spices. Beef noodle soup has a great Sichuan influence dating back to the 1940s, when China was in civil war and many Chinese people moved to Taiwan, creating this cross-provincial dish and incorporating chili bean sauce and Sichuan peppercorns into it along the way.
Variations are endless when making this long-simmering stew, and in Taiwan, there are numerous side dishes to accompany it, such as seaweed and braised dried tofu. Today, there is even an annual Beef Noodle Festival held in Taipei, where various restaurants and cooks compete for the prestigious title of Best Beef Noodle.
WHERE TO EAT THE BEST BEEF NOODLE SOUP
– Yongkang Beef Noodles No. 17, Lane 31, Section 2, Jinshan S Rd, Da'an District, Taipei
– Lin Dong Fang Beef Noodles No. 274, Section 2, Bade Rd, Zhongshan District, Taipei
This article is reproduced under the permission of TasteAtlas.
About Taiwanese Dishes: